This is not a sponsored post. Cherisa is one of our Staff Writers and she recently asked if we'd be interested in posting her road trip in her Escape Camper Van across North Georgia and the region. We quickly said yes. We hope this inspires you to get out and wander wherever it leads you.
Fall is easily my favorite season. I love the cool weather, the change of color in the leaves and of course, the break from the humidity we know and love so much here in the south. (sarcasm, sarcasm) Being raised in the south I marveled for years at the change in seasons, but I've never taken an actual fall road trip to the mountains. During Autumn, the entire coast turns into a wonderland of orange and gold so once I began planning my trip with Adriana, I wondered why my family didn't take this opportunity sooner. The reason soon became clear, easy access to public spaces and national parks (more on that later).
We saw our first Escape Vans during our trip to Yosemite this summer. Their campers were all over the park stuffed full of families, couples and adventurous tourists alike. We immediately thought that the vans would be an excellent tool for those looking to make the jump into getting outdoors on the East Coast, and were surprised to find out they had a depot in Atlanta.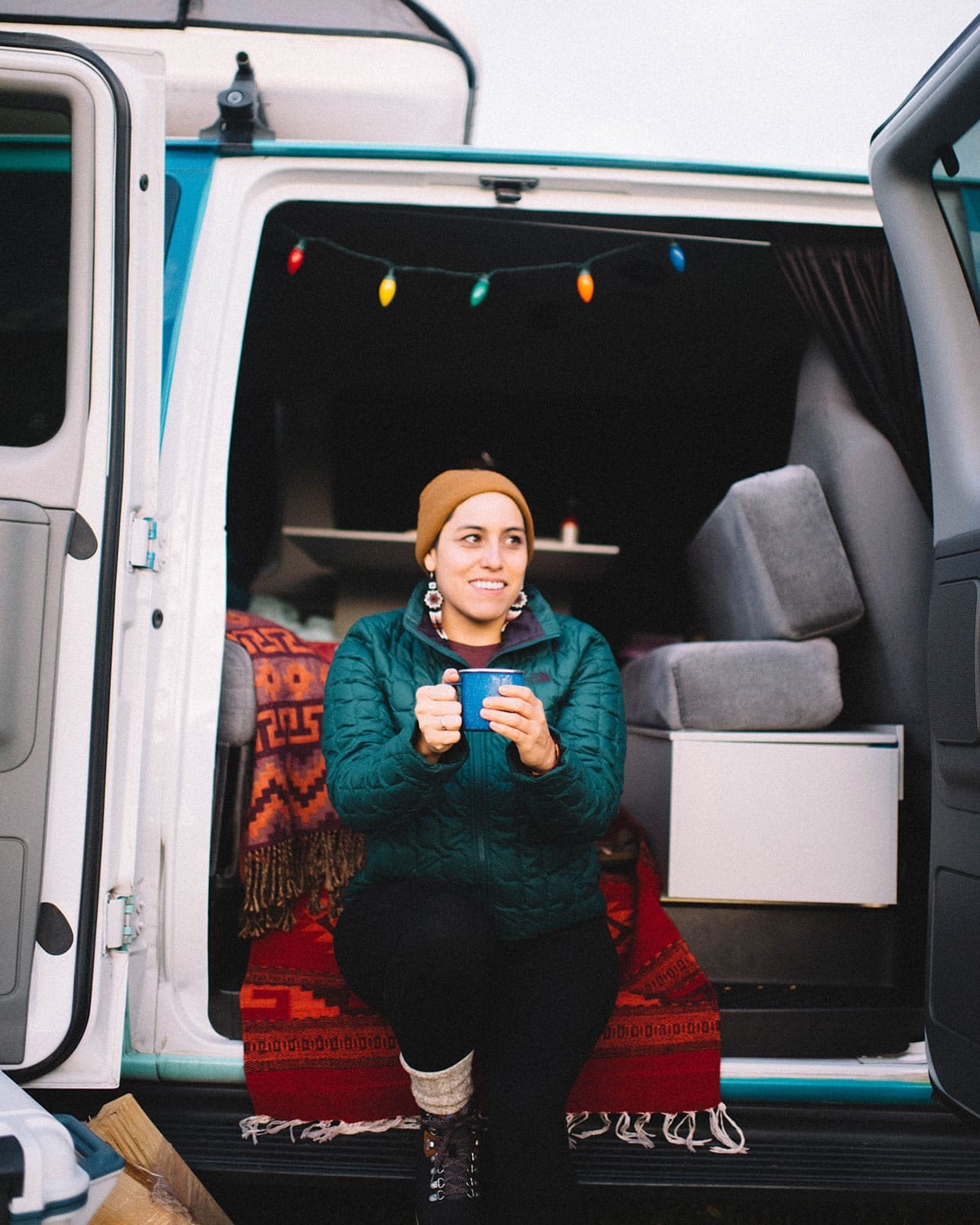 The most common question we get in our DM's is "How did get to the point to feel comfortable to camp outside?" "How do you feel safe sleeping in the woods?" "Aren't you afraid of animals attacking you while you sleep?" Even though I've always loved sleeping in a tent, I do admit that I've struggled a time or two with getting a peaceful nights rest. I believe that feeling comfortable in the outdoors is a mix of positive first experiences, proper planning, and an overall sense of security in your surroundings. We wondered if an Escape van could help address those concerns.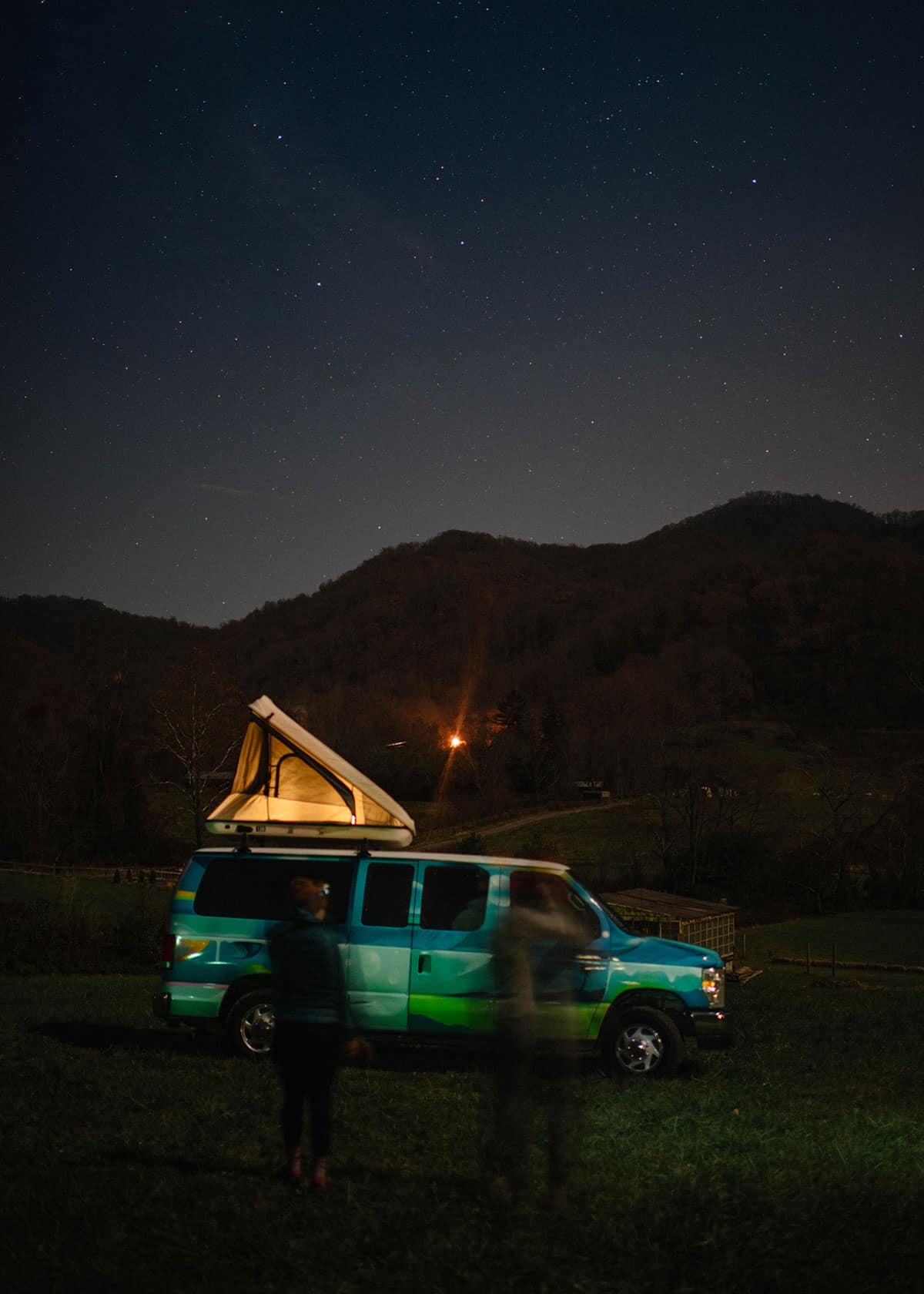 We reached out to Escape Campervans, and Wander North Georgia,they both loved the idea of making the outdoors more accessible to everyone. They agreed to sponsor our trip, so we began to plan our fall road trip hitting all of our favorite spots from Georgia, Tennessee, and North Carolina. We challenged ourselves, the van, and our critical thinking skills to come up with this list of how to plan a fall road trip from Atlanta to Asheville for a beginner camper. Here is what we learned.
Plan Your Route, Plan Your Sites and Then Plan Some More. Then Be Flexible.
Georgia, Tennessee, North & South Carolina and Virginia all have fewer National parks and forests compared to those on the west coast. However, with the Smoky Mountains National Park being one of the only National parks on the east coast it 's the most popular and most frequently visited park in the US. Initially, we thought, "most popular park! This is going to be easy peasy!" Upon planning for our trip, reading reviews, searching for research, we noticed a common theme — a general frustration at the funneling effect that the park tended to have: overbooked sites, high levels of traffic, lots of tourists, difficulty finding peace and serenity in the outdoors.
We had the most difficult time securing a spot in their very few campsites. After expanding our search to state sites, dispersed sites, and hipcamps, we had to be flexible to find places to camp. It was then we realized "Hmm, this was harder than we thought." This turned into the common theme during our trip. Once you leave the larger (most commonly, busier) parks camping becomes much more of a challenge. We slept in a few unplanned spots but never lost our sense of security thanks to being within the walls of the van. During our drive from our first site in the Smokies to Asheville, we decided to shift the focus on how we told our story. Adriana and I both believe in equity in the outdoors and understand that we all gotta start somewhere, and the reason why we 100% agreed to this partnership. We hoped to explore potential spots for those new to the outdoors to feel secure and comfortable camping for the first time.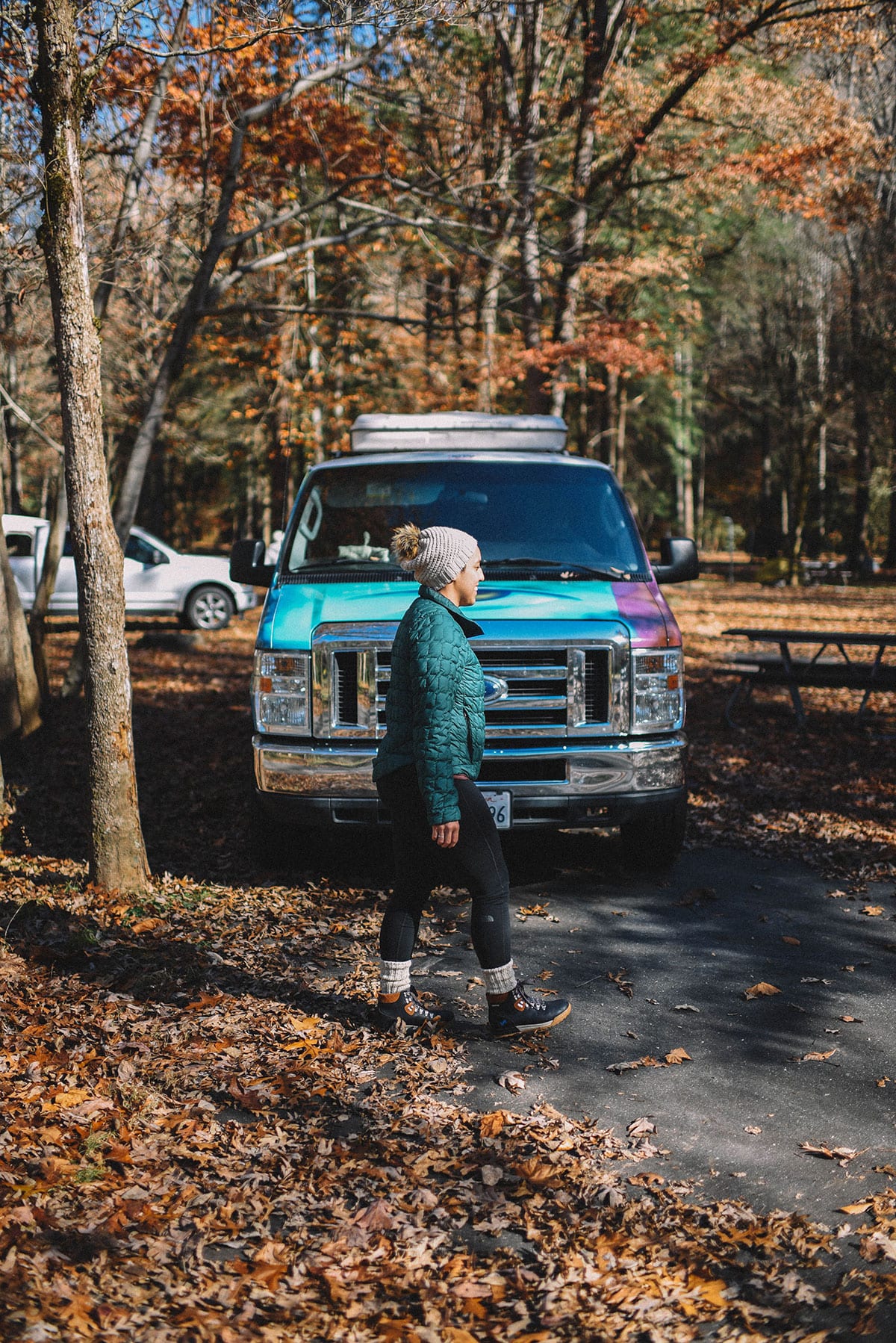 Timing Is Everything.
I would have to say this is the MOST IMPORTANT tip on the list. We thought we would have some leeway with this due to our insane swing weather here in the south. (I'm looking at you 70-degree temps in December). Last year I distinctly remembered visiting family in South Carolina during Thanksgiving, and it was 70+ degrees outside. So you don't know what you will get until the week before. When we started our planning, it was tough for us to pinpoint when exactly the leaves would change, so we picked a date and hoped for the best. About a week before we left fall colors hit peak season, and then the frost & rain hit knocking all of the leaves off the trees. Grrrrrr.
Take Your Favorite Comfort Items.
You're in a van. You have tons more space than sleeping in your tent. You wanna take three pillows? Take em! Do you want to pack a few more cozy outfits to wear while lounging around the fire? Do it! Do you want to bring your favorite device to stream shows all night? Sure! If you've got a great data plan. The Escape Campervans allows for much more flexibility and storage space to bring along the simple comforts that help you feel more at home. Their size compared to big RVs may be small, but campervans can fit into most tent sites and have enough storage to match their mighty mouse size.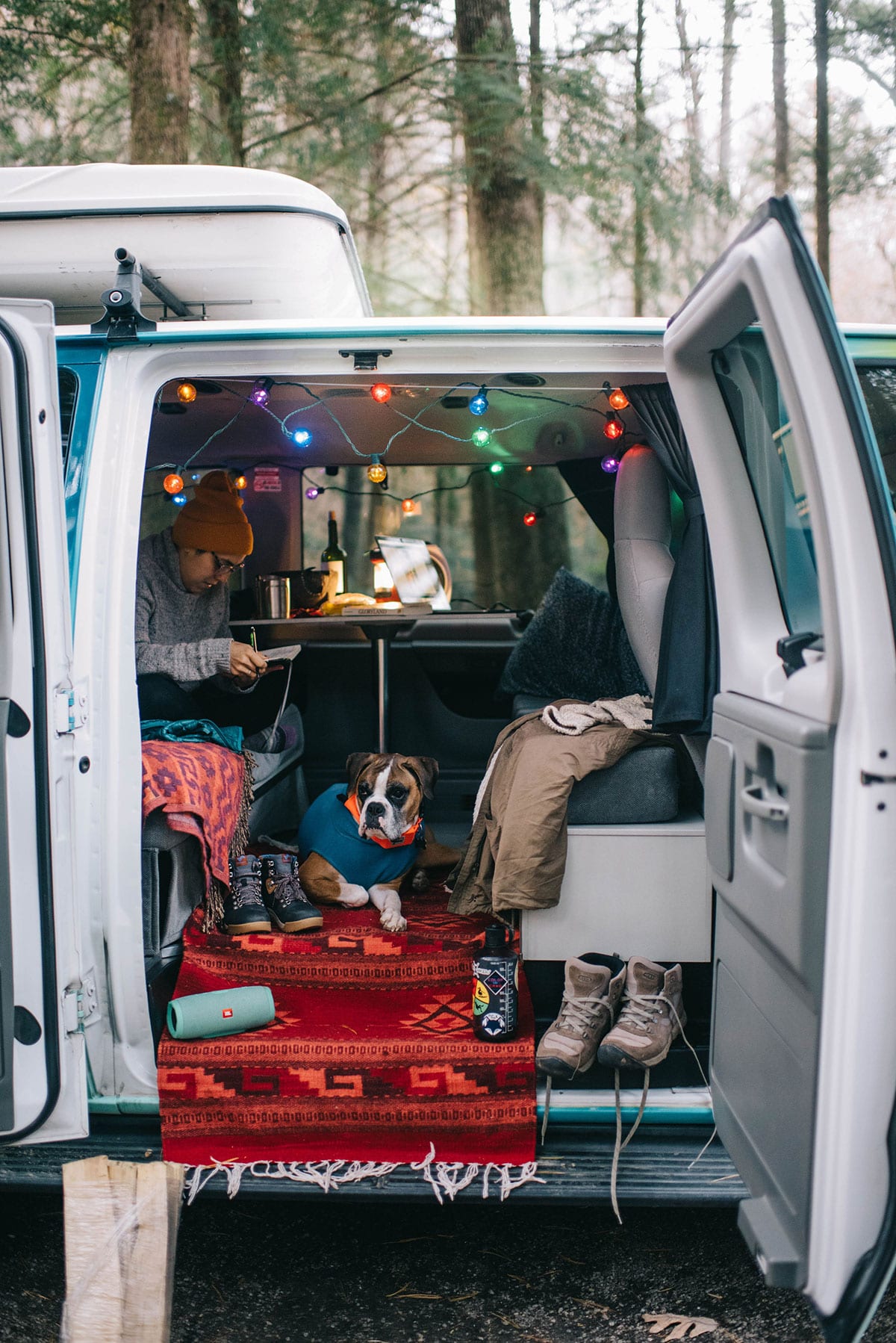 My favorite part about our trip was HANDS DOWN how comfortable and secure I felt in the van at night. Don't get me wrong I love a night in my tent under the stars, nothing makes me happier – except maybe the bed in that camper. Our nightly routine included cooking dinner in the back of the van, then sitting at the dinner table inside to reflect on the day (or watch Netflix) as we ate. Then we would merely unfolded the bed hop in our bags, lock the doors and hit the hay. If the temps dropped during the night, we could plug in our provided space heater and go back to sleep.
Take Allllll The Foods.
Carne asada with homemade guacamole, stir-fry and pork chops with mashed potatoes, pancakes, eggs & bacon, and fresh fruits & veggies the entire trip. Just some of the fantastic, very filling food we had on our menu during our trip. I don't know about you, but all of my best travel experiences have been directly tied to my stomach. A delicious meal can work wonders for your spirit after a long day on the road or after tromping around on the trail.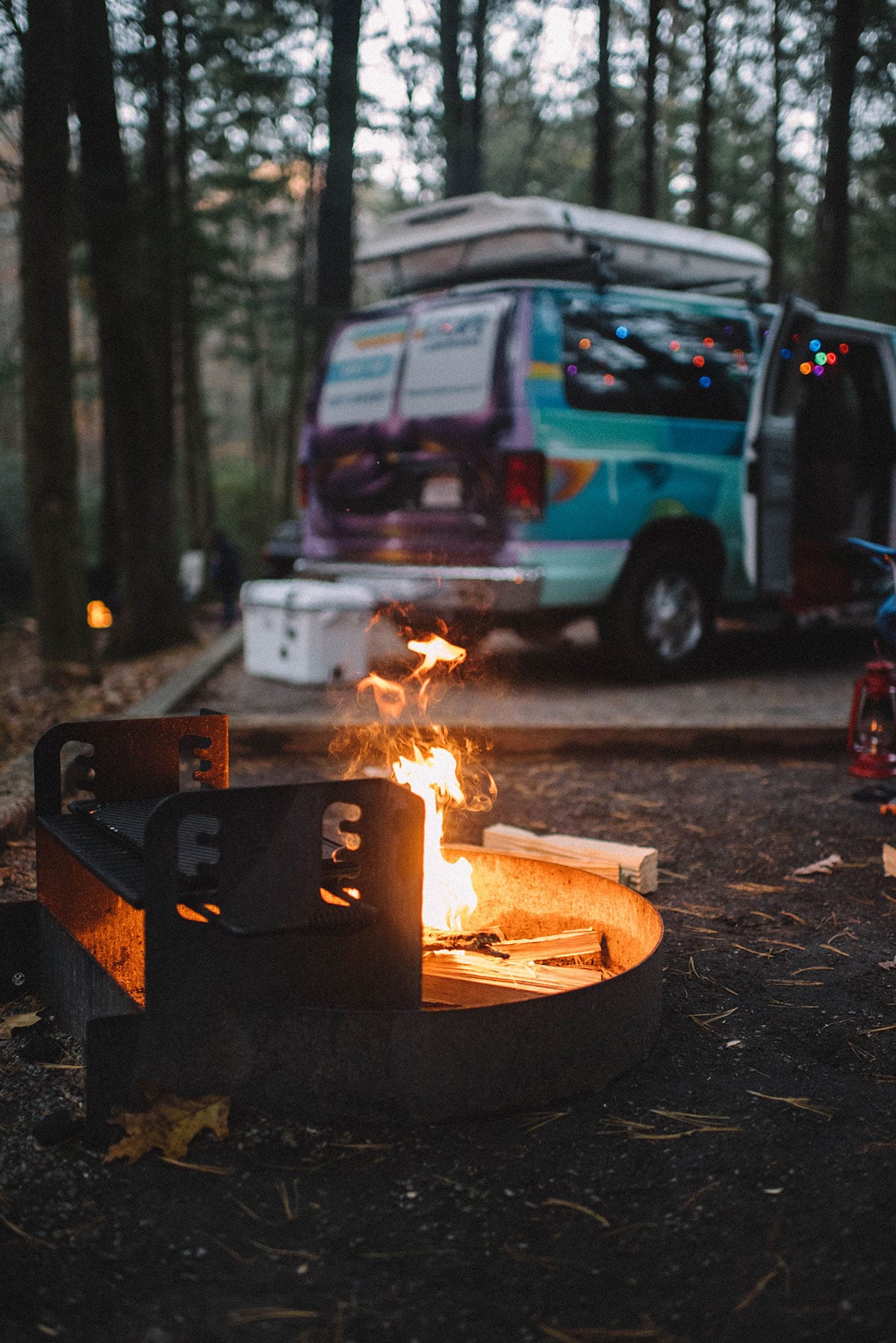 Take all of your favorites on this trip; you will have the storage space. Adriana and I have two completely different diets (*whispers hers is much healthier than mine). We still had the storage space necessary to have items we each wanted most after a long day. The van also includes a 2-burner stove, pump sink, dual-powered fridge, propane, and all the essential cooking utensils you need to make a great meal! Might as well whip up a batch of biscuits! I mean you are in Georgia!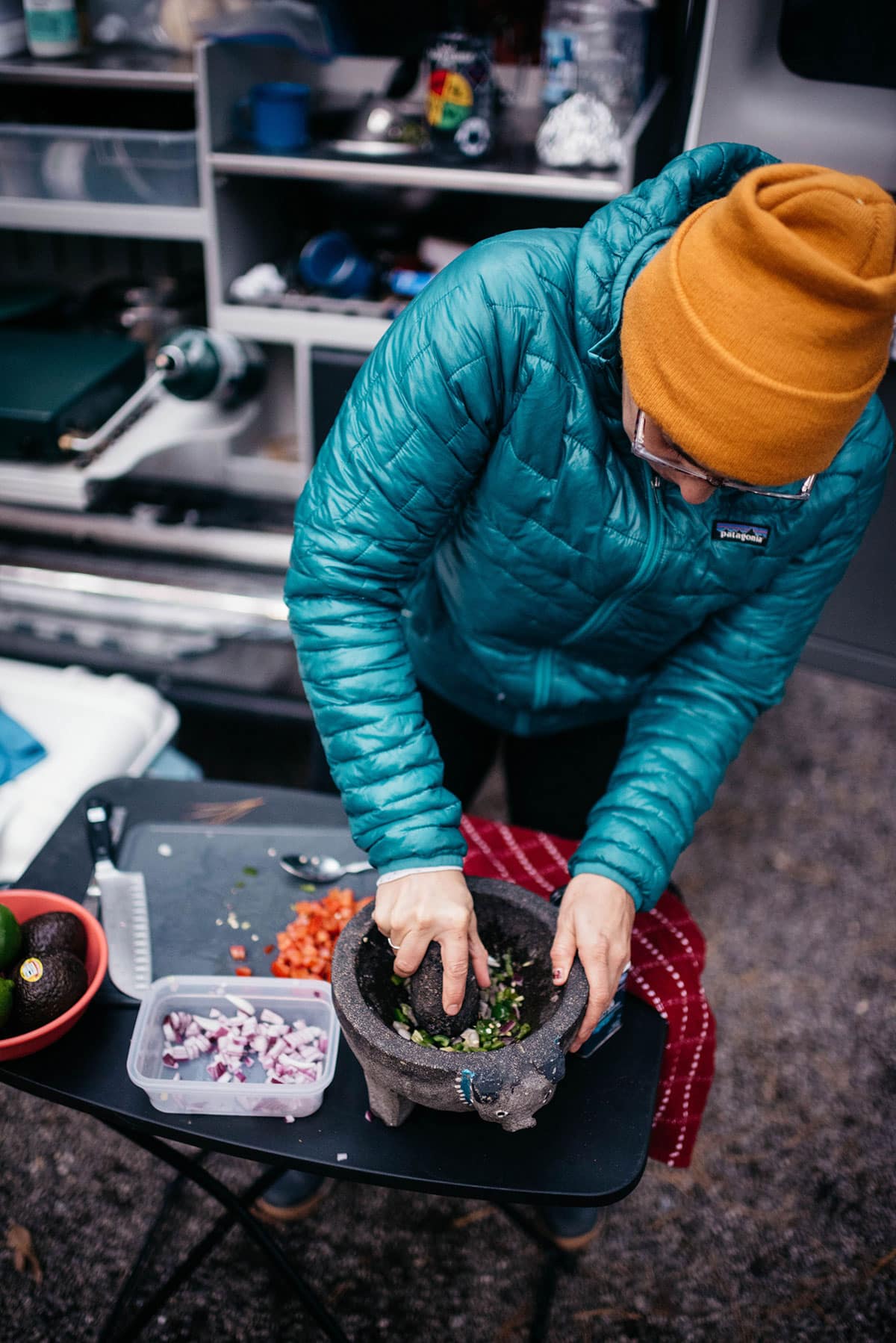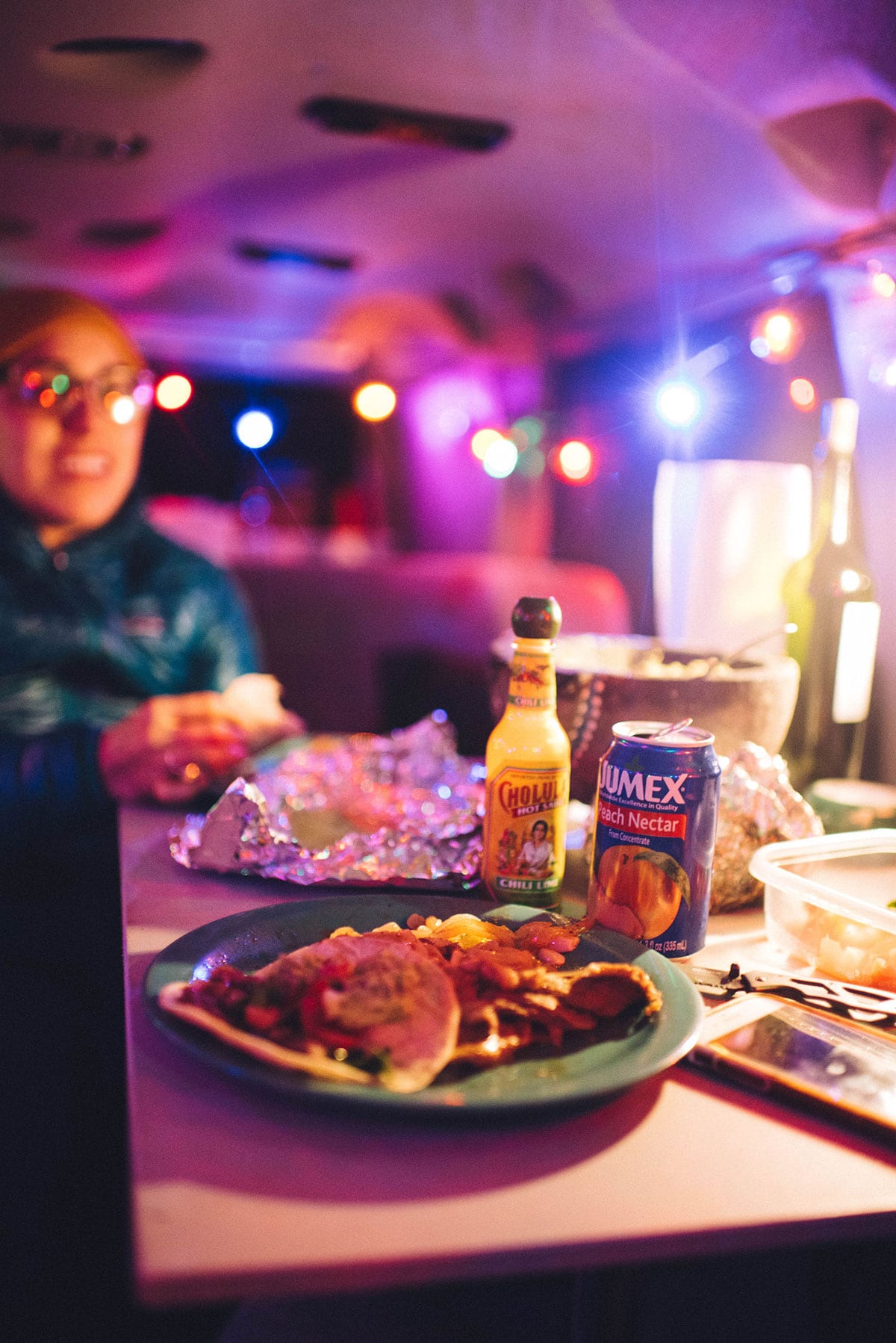 Remember To See All The Things.
Our southern states are stock full of amazing places to see. So much so that you will be hard-pressed to squeeze everything into a single trip. We planned entirely too much at first and had to reduce our plans dramatically.
We hoped to hit the Blue Ridge Parkway from the Smokies at some point, but due to all the ice and snow the previous week it was closed. We were bummed at first until the long way around took us through Cherokee Native Reservation within Smoky Mountain National Park. We were able to stop and learn more about those Native to that land and see how they once protected and cared for the mountains they held so sacred. We then regrouped and dropped by Linville Falls on our way to Asheville. We hiked the falls along with several families and even dropped by the world's cutest post office!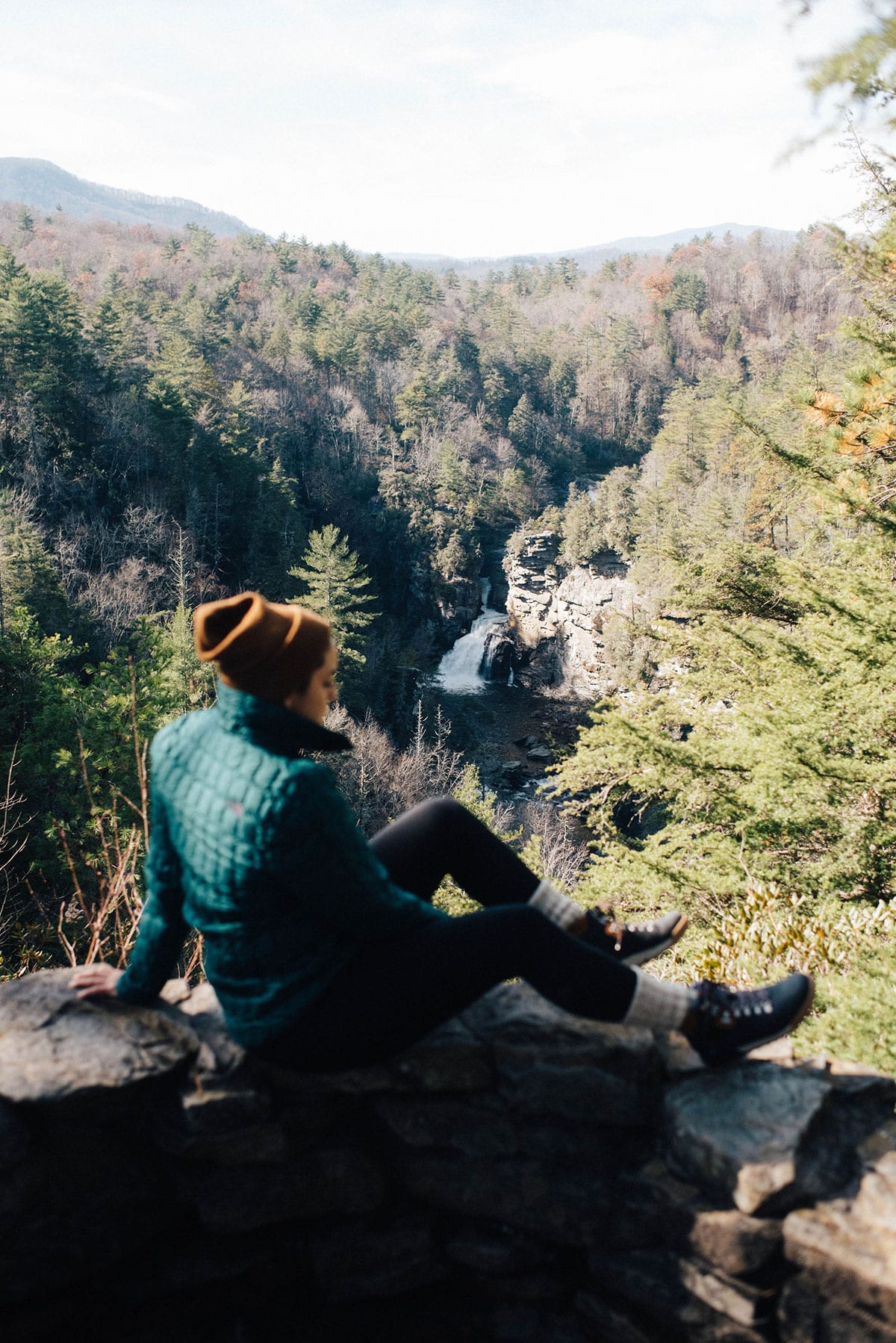 We continued on and found again, the Blueridge Parkway was still closed on that section. We decided to accept this little detour and drop in on Asheville for the rest of the day. Adriana gave me a grand tour of the city and it's incredible and artsy downtown area. We booked a last minute spot on a gorgeous farm a few miles outside of Asheville and watched the most fantastic sunset that evening and foggy sunrise the next morning. After eating another full breakfast of pancakes, eggs, and bacon we hit the road again.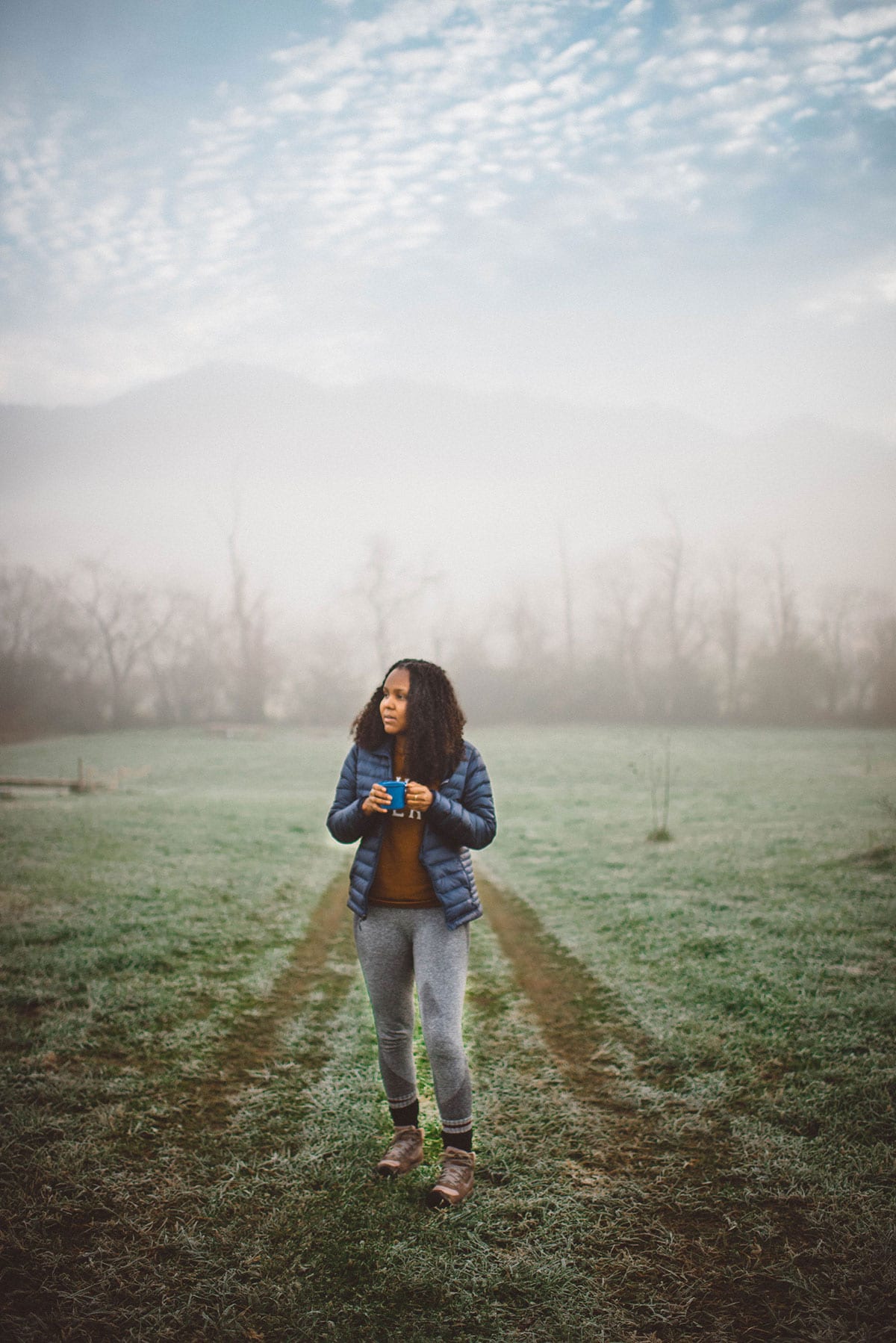 Our next location took us deep into Appalachia Country on the windiest road either of us had ever driven. Once we conquered the twisty road and parked at a remote mountain lodge we found on hipcamp we quickly set out to hike to nearby Max Patch.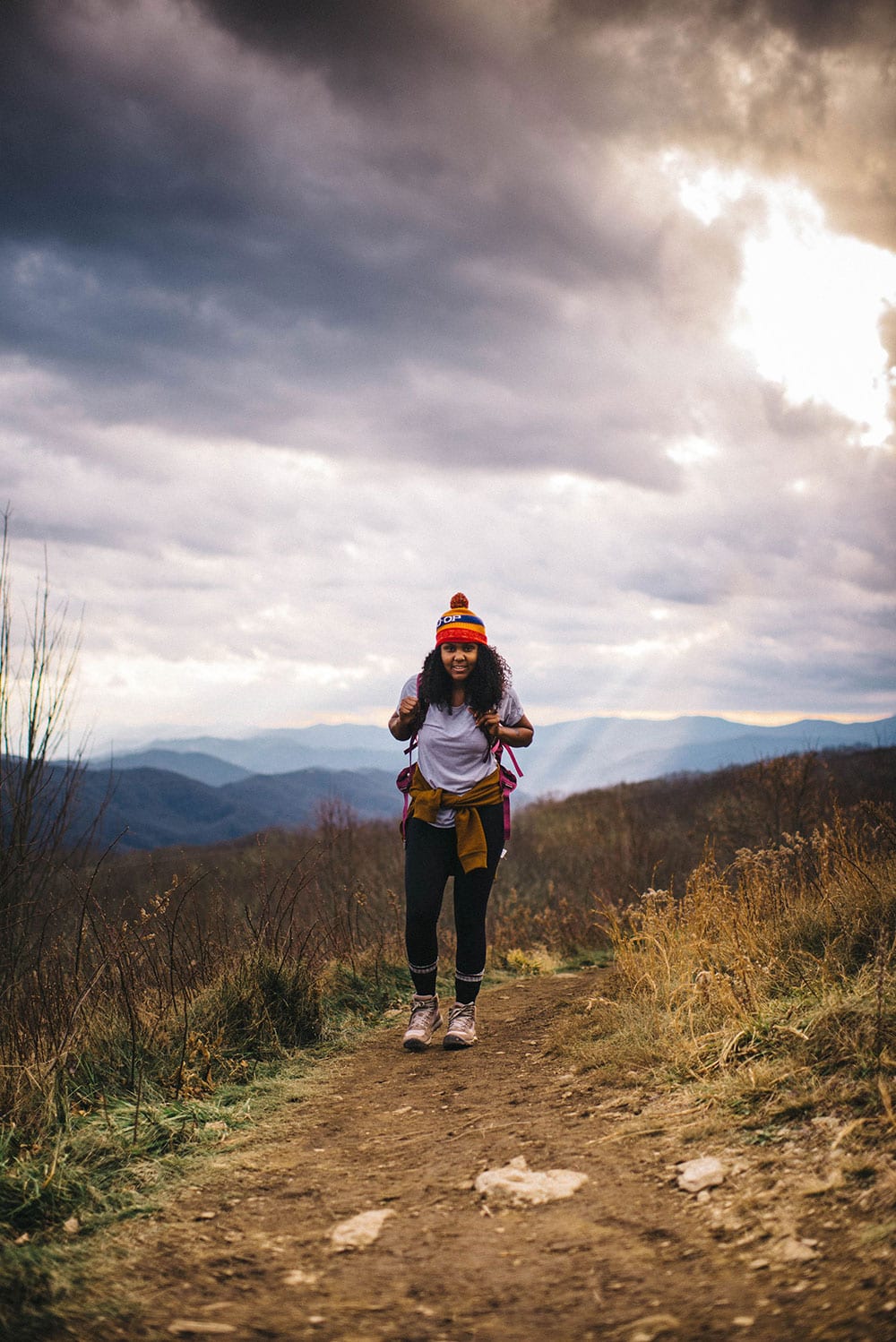 Watching the sunset was the ultimate highlight to our trip. We could see the pink and purple sunlight bouncing off mountains from the Blue Ridges on one side and the Smokies on the other. The fact that the national forest connected directly to where we were camping was a major bonus. Our host for the night even provided us with a hand drawn map directing us along the shortcut which included a short walk through an amazing Rhododendron Tunnel.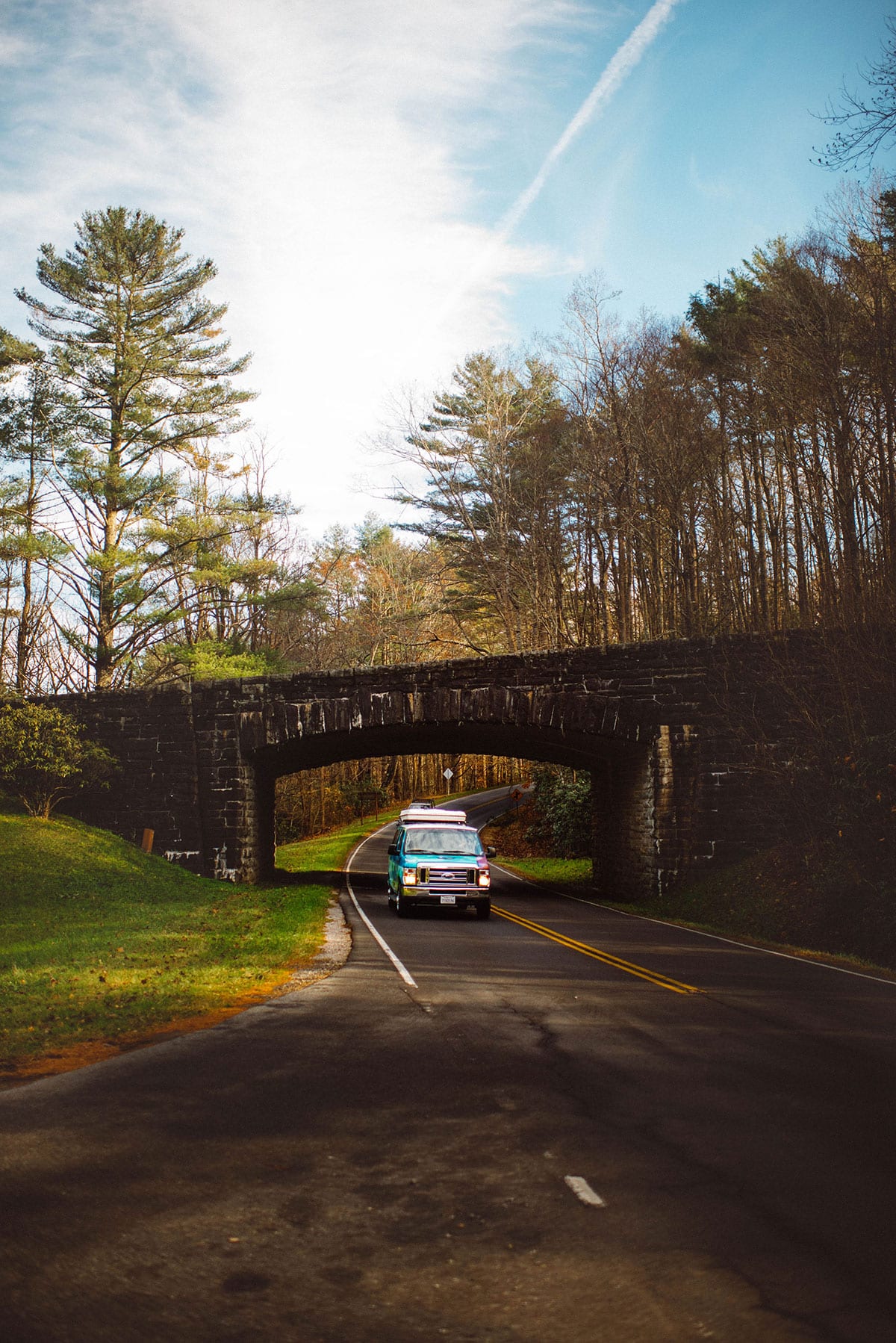 The next morning we headed home to Georgia, stopping for our last night in Vogel State Park where Adriana made us an amazing meal in our little kitchen area. Before heading to bed on our last night we were able to write in our journals and overall just relax & reflect on our amazing trip.
At times our detours felt like a set back until we would stumble upon some new and exciting thing in the next valley. So be flexible, those hidden gems are out there. Having an Escape Campervans can help you get out there while staying within your comfort zone.