How does one tell the story of seemingly the most popular restaurant and patio in all of North Georgia? By talking about the food? The always flowing beer? The patio that spans for days in the shadows of Black Rock and Screamer Mountain? The live music on warm summer nights from local artists? The fire pit that is crackling year round?
The Universal Joint, affectionately known as U-Joint or UJ, may sound familiar to you. You might have stumbled across (or into) their Decautor location. Or the location in Asheville or Lawrenceville.
But the Clayton location . . . the one down the street from us . . . the one that we eat at once a week . . . the one we drink a beer at multiple times a week . . . it's the best location. And it's the best because every bite and every sip tastes better when you have the mountains as your view. It's a proven fact. Scientific even.
And if science doesn't work for you maybe imagining yourself on this patio with a cold drink in hand with the mountains in the background will.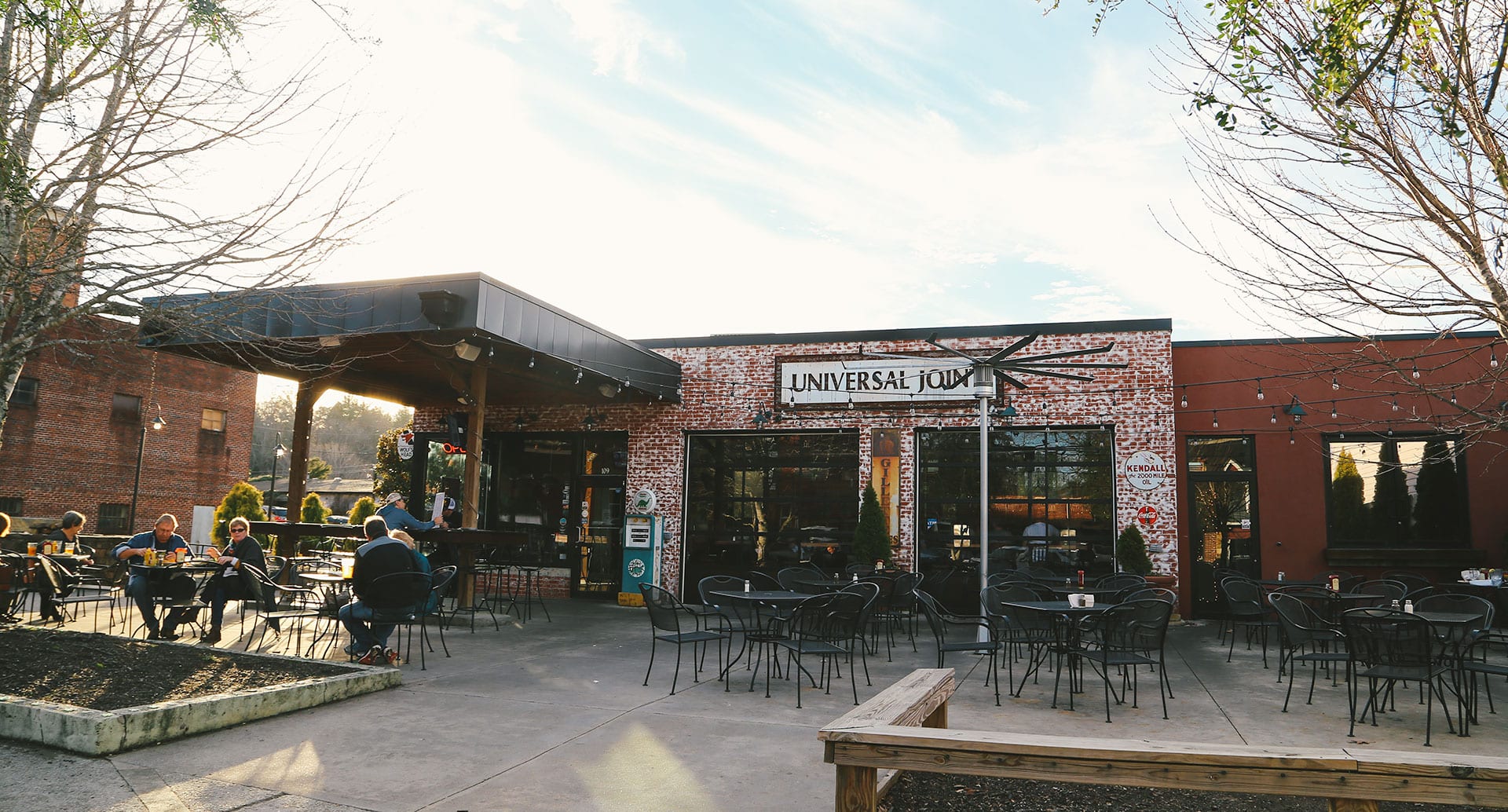 UJ is way more than a nice patio with nice views. People keep coming back again and again because of the food.
First up, the Steinbeck. I thought about making this whole post just an Ode to the Steinbeck. I figured hammering out 2,000 words on the best burger I have ever eaten could serve as my life's work. That one day my undivided love and worship of it could serve as a reminder to my children and my children's children about what it means to follow your passions. But I decided to make it easy for you.
The Steinbeck is simple and brilliant. Chargrilled burger. Spicy pimento cheese. Thick cut bacon. Pickled jalapeños. Toasted bun. It's a gorgeous piece of art and every bit as good as it sounds. My mouth waters thinking about it and I want more when I'm done eating it. Photos don't do the Steinbeck justice at all nor does this description. Just get it and thank me later.
All their burgers and sandwiches are great. The Swiss Mushroom Burger is overflowing with sautéed mushrooms. The Brisket Dip is house smoked and comes with the best horseradish cream sauce on the planet. The Buffalo Chicken Sandwich is fiery goodness. The Bleu Cheese Burger will have you wiping melted cheese off your face for hours.
If burgers aren't your thing – and after that description who are we kidding, they should be – then the Quesadillas and Tacos are a good substitute. The Spicy Black Bean and Southwest Chicken are some of our family favorites for quesadillas and the smoked brisket or flounder are our choices for the tacos.
And don't be shy about their Spicy Egg Rolls or BBQ Pork Nachos.
Where UJ separates itself is it's beer selection. It's not that they have good beers but it's that they have somehow managed to have great ones always flowing without the place devolving into a chaotic and rowdy bar. That makes UJ both family friendly and comfortable enough for those who want to have more than one drink.
They usually have 15 or so beers on tap covering all kinds of preferences. Instead of having 15 IPAs on all the taps they spread it out with light beers, hoppy beers, seasonal specialities, and small runs from local breweries who are testing things out. You can expect to find most of the Atlanta area breweries and then those from Western North Carolina and into Asheville like Wicked Weed and Highland Brewing Company. They're on the chalk board inside and always changing so be sure to jump around and try something you wouldn't normally try.
The patio is massive and this is where the majority of the action is. They have corn hole boards outside to play if you have to wait for a table. The fire pit stays going year round, particularly in the evening, and you can pretty much find live music on most weekends in spring through fall. It's a fairly kid friendly place so don't be surprised (or upset) if you see kids zipping around outside. Odds are they are probably from our crew.
Inside they have a few televisions for sports and a dozen or so tables if you'd rather eat under a roof. In the winter, you pretty much have to eat inside as the patio isn't quite as nice on cold and blustery days. But on nice days you can expect to find the garage doors rolled up letting fresh North Georgia air in. The bar has a full selection of cocktails, bottled beers, and wine in addition to their draft selection.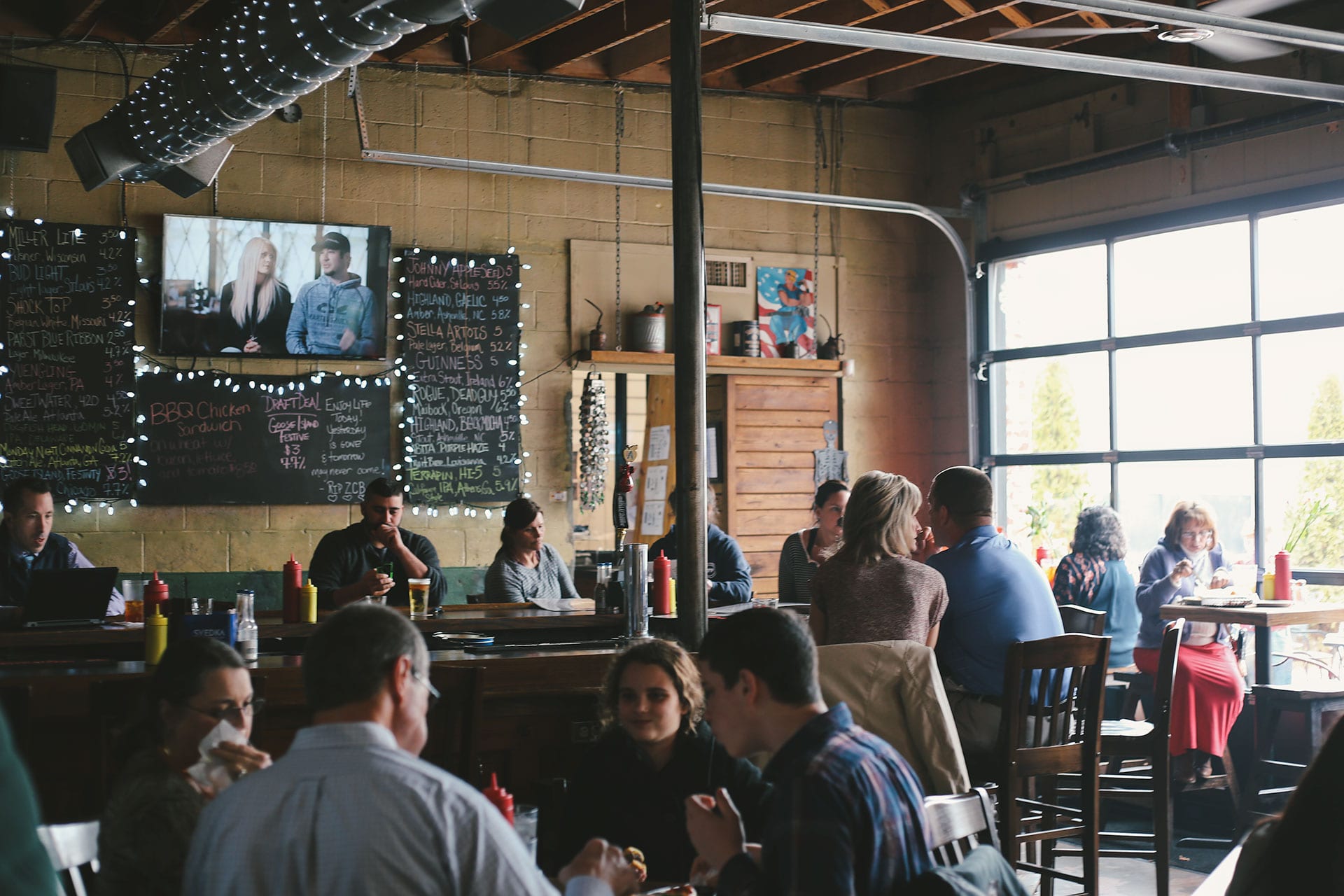 Quick aside. Like most North Georgia towns, downtown Clayton seems to be undergoing a small revitalization of sorts as more and more local business are beginning to call this place home. Like all things, downtowns and small businesses come in cycles and waves and while Clayton has historically had an amazing foundation for small business, U-Joint doesn't get enough credit for kickstarting this latest cycle of growth. And honestly without U-Joint being one of the first to plant their flag in downtown almost 10 years ago, downtown wouldn't have the same vibe down here. So we always like to think of them not as the first, but the latest and best, to make the gamble on Clayton's downtown development and setting the model for others to follow. As a small business down the street and a small business peer, that example means a lot to us.
The restaurant is run by our good friend Jen so if you see her scurrying around checking in on folks, make sure you say hello and tell them we sent you. And for god's sake, try the Steinbeck.