One of the top questions I get from non-campers is "But how do you shower? Don't you feel gross being dirty? How do you function being sweaty all day?"
Well, first of all, there is a certain amount of "I don't care about dirt" when you fall in love with being outdoors. Hiking, exploring, challenging myself and falling asleep next to a roaring river under the stars, to me are some of the best things on this planet. And they usually balance out my need to be super clean. But there are a few things you can do to make sure your adventure comes with good camp hygiene, whether in the backcountry or car camping. Each comes with its challenges to stay clean, but neither is as impossible as my friends and family probably imagine. I may not be able to take a full 20 minute shower with hot water, yet I refuse to walk around with monkey-butt for days.
To date, I've only had the luxury of having a shower when car camping. When I backcountry camp I don't care enough to carry the extra weight of a camp shower in my pack when I hike 5+ miles. In those situations, I will rely on the most basics of items, like anti-bacterial wipes and Dr. Bronner's soap.
If there is a clean creek or river close to camp, I take a quick dip to rinse off all extra sweat and dirt. It's vital to mention that I never bathe or rinse the soap off directly in the water!
Even biodegradable soap can be toxic to the local marine life, so you should always be sure to use all soaps at least 200 ft. from water sources. You can read more about Leave No Trace principles here or check out The Wandering Pledge.
I will then retreat to my tent for a very thorough wipe-down and wash. I add a dab of Dr. Bronners to the baby wipe and go to town! It can be a bit tricky and tiring in a small space like a tent, but I promise if you hit all the necessary (wink, wink) spots once – or twice, it can almost feel as good as the real thing. If I don't have a stream, I will use a small water bottle to help rinse specific areas like my groin, pits, and feet to prevent chafing. The water bottle method usually takes place outside of the tent in a private place.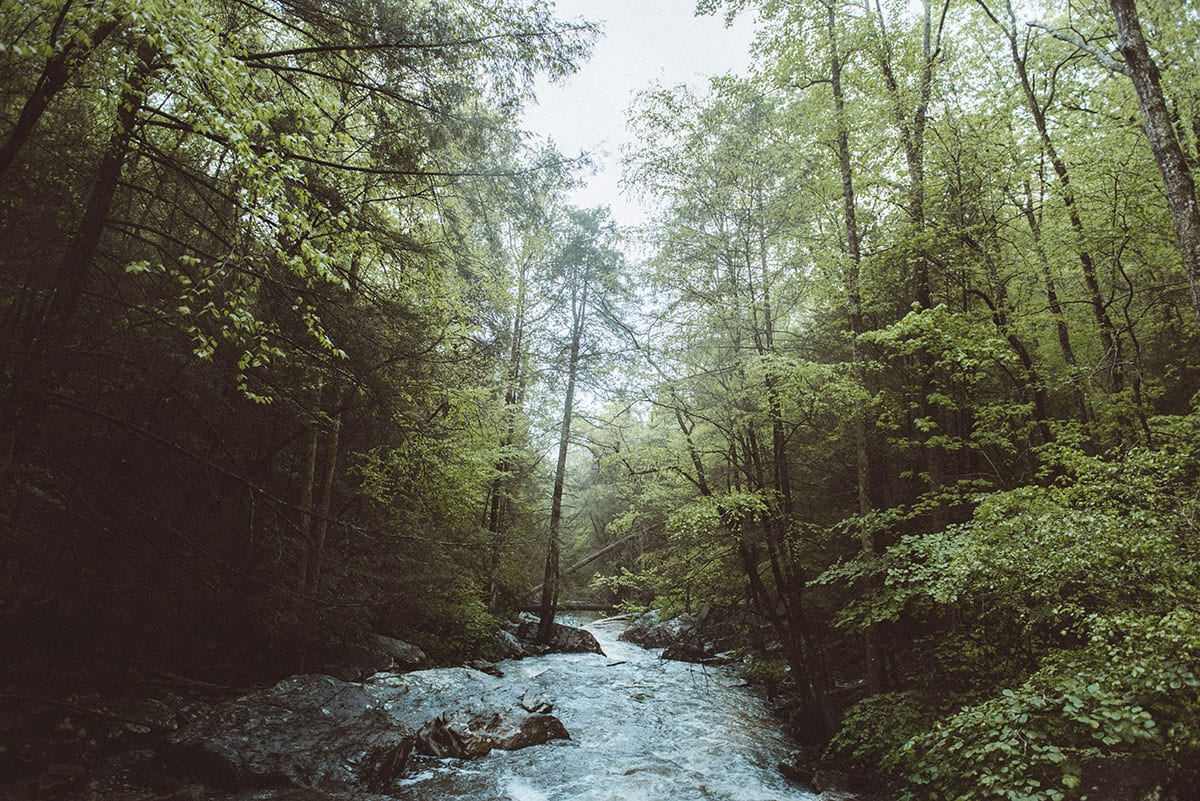 If you insist on having a shower, I recommend purchasing a portable camp shower system. They are usually large black bags with tubes attached that you can hang from a tree. I used one at Burning Man last year for the first time. I would fill it with water during the day and leave it to sit in the sun. How long it takes the water to heat will vary depending on the outside temperature and elevation. After three days in the hot desert, it was a much-needed refresher. I will note that I had to squat while washing because I was so tall and the shower hose was so long. So yeah, that was interesting.
PRODUCTS TO BRING
Hand Sanitizer
This is first on the list because it should be your most commonly used item! Yes, even more than your butt wipes. You should be sanitized before you eat, after you eat, after you take a squat over your favorite hole, after chopping wood, etcetera. Germs and bacteria on the trail are nothing to gamble with and getting a nasty infection several miles down the trail can be a significant issue. (Pro-tip: You can also use them to sanitize your eating utensils.)
Biodegradable Soap
Use biodegradable soap to preserve the environment because they revert and break down to their most basic organic ingredients over time. Products like Dr. Bronner's and Campsuds come to mind. Even when using biodegradable soap, Leave No Trace guidelines (see above) advise that you should keep it 200 feet from any water.
Unscented Deodorant
Some hikers will agree not to bring deodorant at all but, I just can't. I make sure to carry an unscented version, and at night I always place it in a bear bag or container since it may still attract wildlife.
Unscented Moist Wipes
Same
Biodegradable Toilet Paper
Even though it says biodegradable in the name this stuff cannot just be left anywhere. If the rules of the trail allow for you to bury your TP make sure you do so in the correct manner, at least 200 feet from any water source, and at least six inches deep.
Quick-Dry Microfiber Pack Towel
To dry your essential places. Again you want to make sure your vital areas are clean and dry to prevent monkey butt and chaffing.
Toothbrush & Toothpaste
Same rules apply for toothpaste as biodegradable soaps, make sure it was unscented and used at least 200 ft. from water sources.
Menstrual Products for Women
I avoid tampons and pads while on the trail for two reasons.
One, you can't bury them. They are not as biodegradable as toilet paper and some animal will inevitably find it and dig it up! Two, you can carry them in a sealable bag but need to be sure to put them in a bear container at night. Which in my opinion can be pretty gross sitting next to your food.
So what do you do if it's that time of the month and you want to camp? I recommend using a menstrual cup which can be emptied and washed every day, creating no waste or wearing special period underwear like Thinx. I love their brand and personally carry two pairs when I hike during that time. One pair to wear and a spare pair that has been cleaned and hanged to dry. Pro-tip: I add a bit of sanitizer to the soap when washing them to kill any bacteria.
However, you practice your hygiene be sure to take care of your body. You want to avoid fungus and chafing, so pay particular attention to your face, underarms, groin, lower legs, and feet. Backpacking can be fun without being gross and you only have to bring a few simple things to keep you clean, safe, and sanitary for the duration of your trip.