One Percent For Rabun County
We donate 1% of our overall sales each month to local Rabun County non-profits
Donated to local non-profits and civic groups in 2022
Beginning in March of 2018, we began donating 1% of our overall sales each month to local Rabun County non-profits so that our mission can support theirs. This is on our total sales and not profit so even when there are months that we are not profitable, we will still donate 1% percent of our total sales each month. This is a helpful reminder for us to ensure that our community always comes first in our decision making.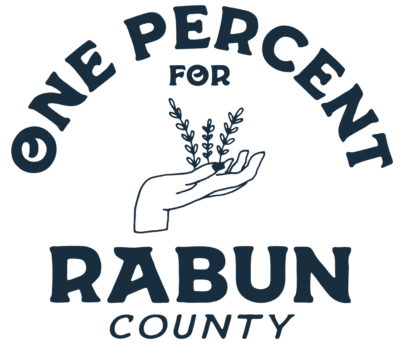 WE WANT TO BE MORE THAN A BRAND
When we first started our "brand" we never had any goals of opening a store. We simply began with the idea of trying to to tell the stories of the people and places that call North Georgia home. That loose framework has evolved into a platform that we hope continues to grow beyond a store. We count ourselves lucky and humbled and everything in between that locals from all across North Georgia and visitors from all across the state, the region, and beyond find us interesting enough to support our small business.
Because of your support, we've been able to raise just over $150,000 for local Rabun County non-profits! Thank you for the opportunity to allow us to serve our community!
2023 NON-PROFIT Recipients
The mission of Rabun Paws 4 Life is to make a positive difference in Rabun County by providing a no-kill animal control and shelter to care for and protect animals from abuse neglect and abandonment. We are committed to maintaining the highest standards possible for the humane and compassionate treatment of all animals.
FAITH provides free and confidential services to victims of domestic violence, sexual assault and child abuse in Northeast Georgia. They do this through Shelter and Legal Services, Child Abuse & Sexual Assault Services, and a Thrift Store & Furniture Store.
The Orianne Society is one of the leading organizations for the conservation of reptiles and amphibians. They are focused on science and the conservation of critical habitats. Though they think globally, they work strategically in specific landscapes through well-designed initiatives. Within each of these initiatives, they define places and species as conservation priorities. They work with a diverse group of partners in each initiative to achieve conservation success.
The Chattooga River Conservancy
The mission of the Conservancy is to protect, promote and restore the natural ecological integrity of the Chattooga River watershed ecosystems; to ensure the viability of native species in harmony with the need for a healthy human environment; and, to educate and empower communities to practice good stewardship on public and private lands.
The Chattooga Conservancy
Paws 4 Life
F.A.I.T.H.
Lost-N-Found Youth
The Orianne Society
Black in Appalachia
Wander With Diversity Grant
The Chattooga Conservancy
Paws 4 Life
F.A.I.T.H.
Lost-N-Found Youth
The Orianne Society
Black in Appalachia
Wander With Diversity Grant
Rabun County Paws 4 Life
The Rabun County Band Boosters
F.A.I.T.H.
The Orianne Society
Food Bank of Northeast Georgia & Teaching Kitchen
The Chattooga Conservancy
Black in Appalachia
Wander With Diversity Grant
Sid Weber Cancer Fund
Friends of Rabun County Public Library
FERST Readers
Foxfire Museum & Heritage Center
The Rabun County Band Boosters
VFW, Post 4570
F.A.I.T.H.
Avita Partners Rabun Clubhouse/Fort Dreaming Tiger
The Orianne Society
Food Bank of Northeast Georgia & Teaching Kitchen
Rabun County Paws 4 Life
The Chattooga Conservancy
The Rabun County Historical Society
Georgia Interscholastic Cycling League
The Rabun County Band Boosters
Friends of Rabun County Public Library
F.A.I.T.H.
Rabun County Fire Department
Avita Partners Rabun Clubhouse/Fort Dreaming Tiger
Food Bank of Northeast Georgia & Teaching Kitchen
Rabun County Paws 4 Life
The Chattooga Conservancy