Clayton is just an hour and thirty minutes from Atlanta and only an hour and fifteen minutes away from Athens, making it the perfect day trip to the mountains. It is also on the way to the Western Carolinas and cities like Asheville, Highlands, Cashiers, and Bryson City making it the perfect afternoon or overnight stop if you are heading in that direction. So whether you are just driving through or looking for a great place to spend a weekend, Clayton has a little bit of something for everyone.
And please consider checking out our Wandering Pledge before your next trip. There are lots of good tips on how to recreate responsibly in the outdoors, minimize your impact, and to leave no trace. But one of the pledges is "to be respectful toward the people that call where I wander home." While we love traveling and visiting new places as much as the next person, it's important to remember most locals have been wise stewards of a place for generations and we're just passing through. So be respectful and considerate of the people and places you visit. Have fun, tip well, practice gratitude and you'll experience hospitality like no other.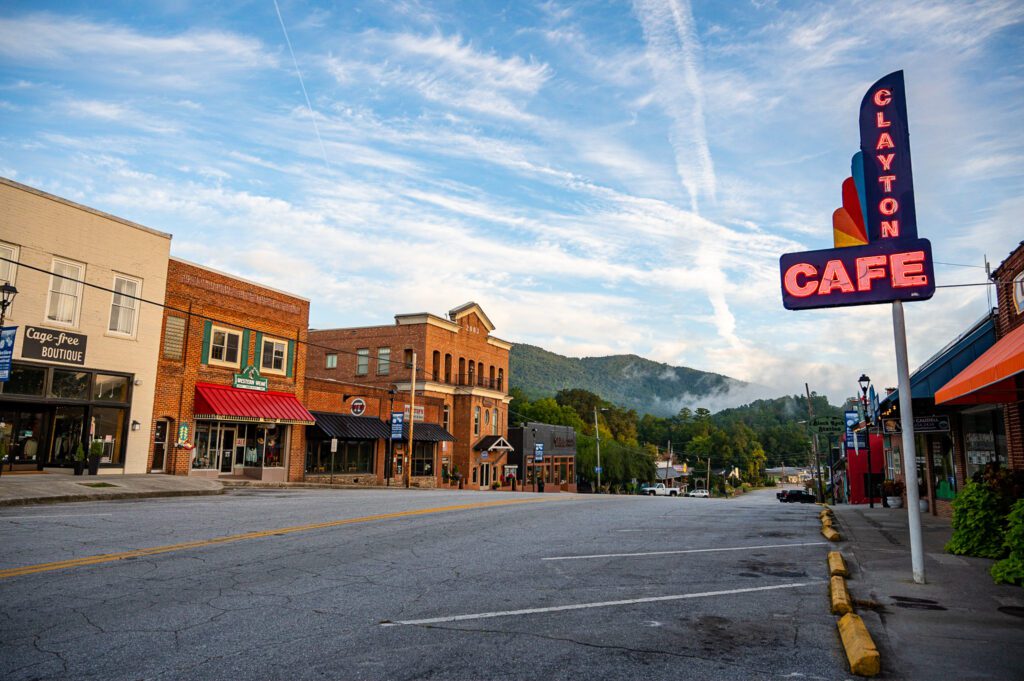 Clayton is situated in the foothills of Appalachia, which places it in an optimal location for many different activities. If you're looking to visit a town with tons of surrounding hikes, waterfalls, and scenic vistas, it's hard to beat. With over 30 waterfalls, most of which are publicly accessible, Rabun County has more waterfalls than any other county in Georgia. This, among many other factors, makes it one of our absolute favorite places to explore in the state.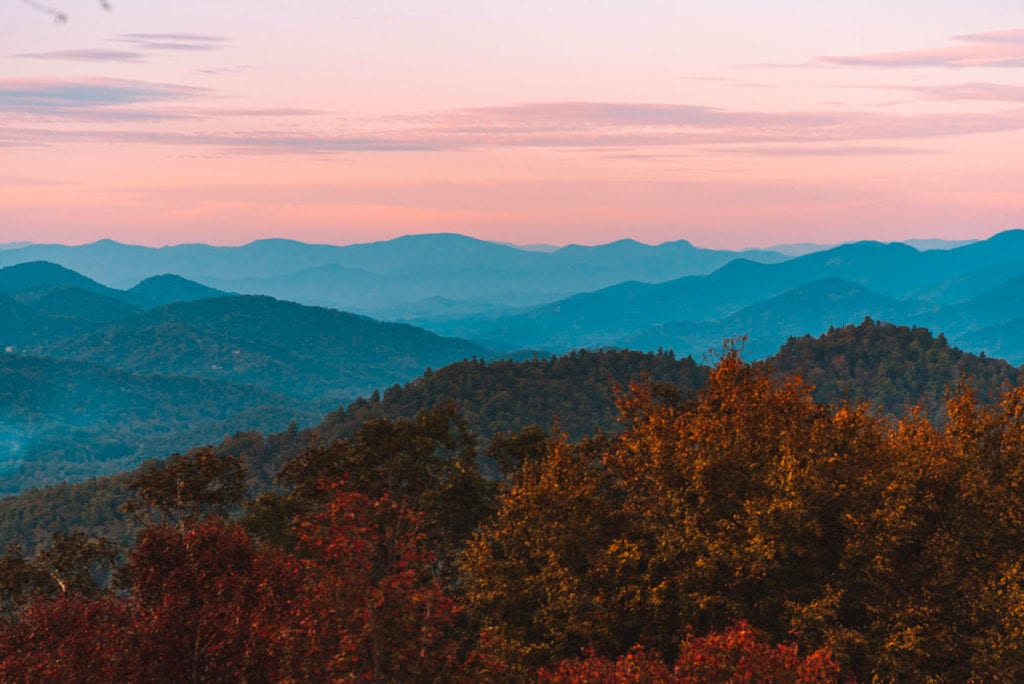 Warwoman Dell, Black Rock Mountain State Park, Bull Sluice, Tallulah Gorge State Park
No trip to the North Georgia mountains would be complete without hiking. With waterfalls seemingly trickling down at every corner, hiking has never been more rewarding with gorgeous waterfalls at the end of nearly every trail. The two closest hikes and waterfalls are the Warwoman Dell trails and Bull Sluice. The Warwoman Recreation area and Becky Branch Falls are a quick five minute drive from downtown Clayton. This is a relatively short hike but it's beautiful year round and is the perfect spot for a road side leg stretching session. This is also a great spot to hop on the Bartram Trail if you're looking for a day hike, or even a multiple day backpacking trip.
Bull Sluice is also a short hike but what makes it stand out is that it's typically full of kayakers and rafters running the Class IV+ rapid. If you have never watched kayakers run a serious rapid, this is a great spot to do it. There are also plenty of spaces for swimming in warmer months. This has become one of our favorite places to grab a couple friends and spend an entire day lounging in the Summer sun next to the river.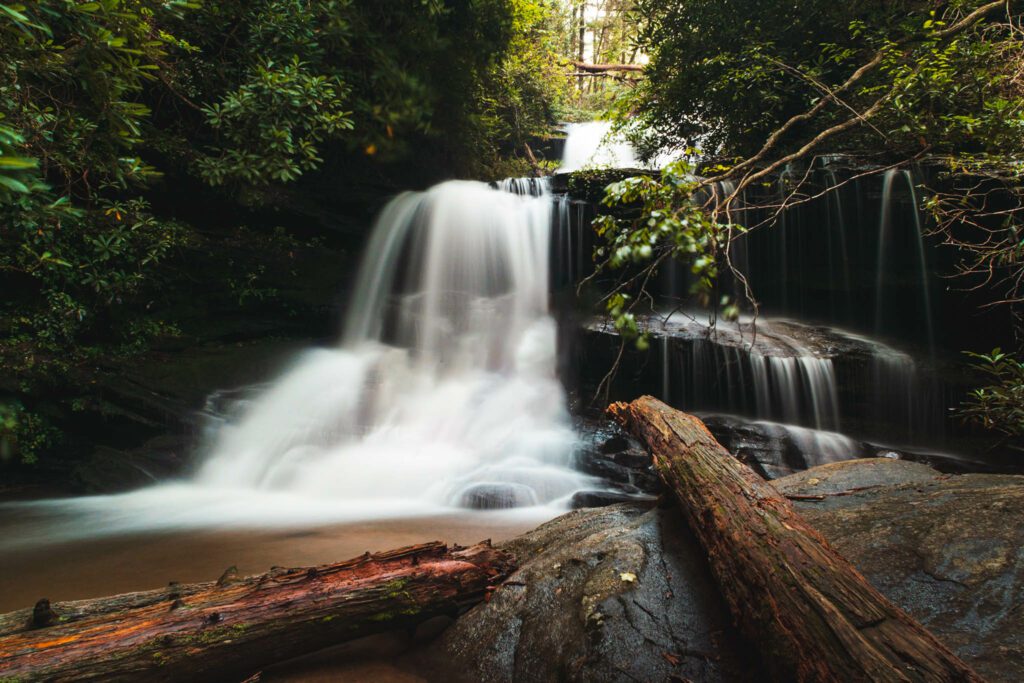 And if you come to Clayton and don't stop at Tallulah Gorge you are missing out. The hike is straight up and down with a HUGE flight of stairs. But it is well worth it if you can handle the workout. If you are not looking for something that strenuous, you can always pop in the location to Instagram and see gorgeous shots from the bottom of the Gorge. One of our favorite events each year are the whitewater releases where the Tallulah Falls Lake dam opens up, bringing the water flow through the gorge up to 500-700 cfs. This increase in flow draws kayakers from across the country to challenge the Class IV-V rapids and it is a true spectacle for anyone wanting to come watch.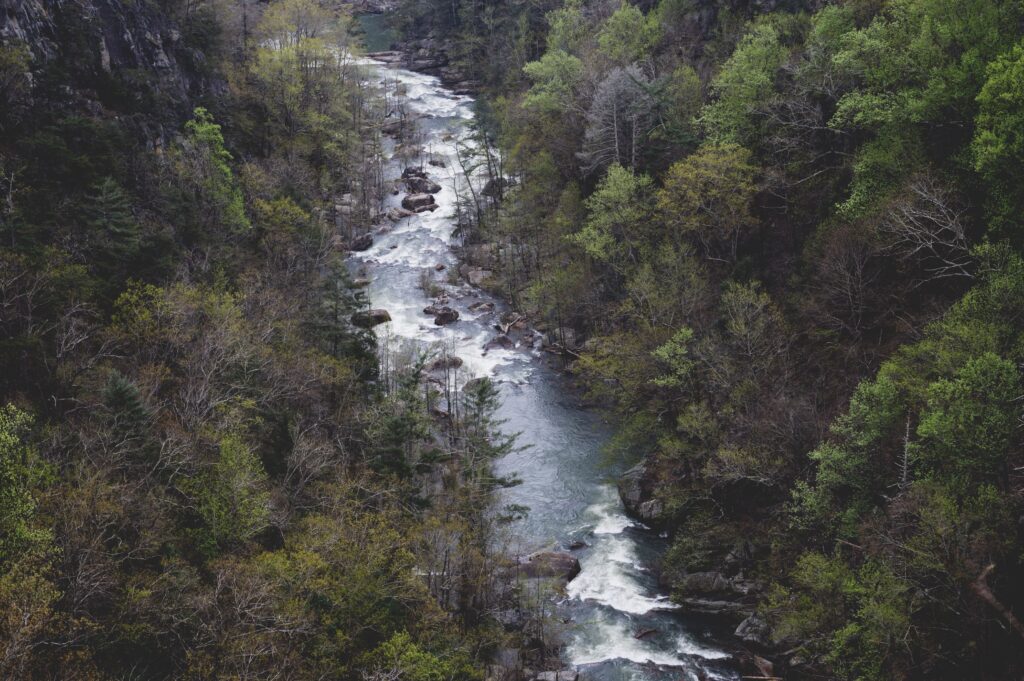 One of our first recommendations for anyone visiting Clayton and looking for some incredible mountain vistas has to be Black Rock Mountain State Park. Black Rock is Georgia's highest elevation state park, not to be confused with Georgia's highest point which belongs to neighboring Brasstown Bald. Black Rock is a classic Georgia State Park, with a wide variety of activities and amenities that make for a great visit every time we go. With 11 miles of hiking trails, a 17-acre lake, 50+ campsites, and more views than almost anywhere else in the state, it has become our go-to for a great weekend outdoors.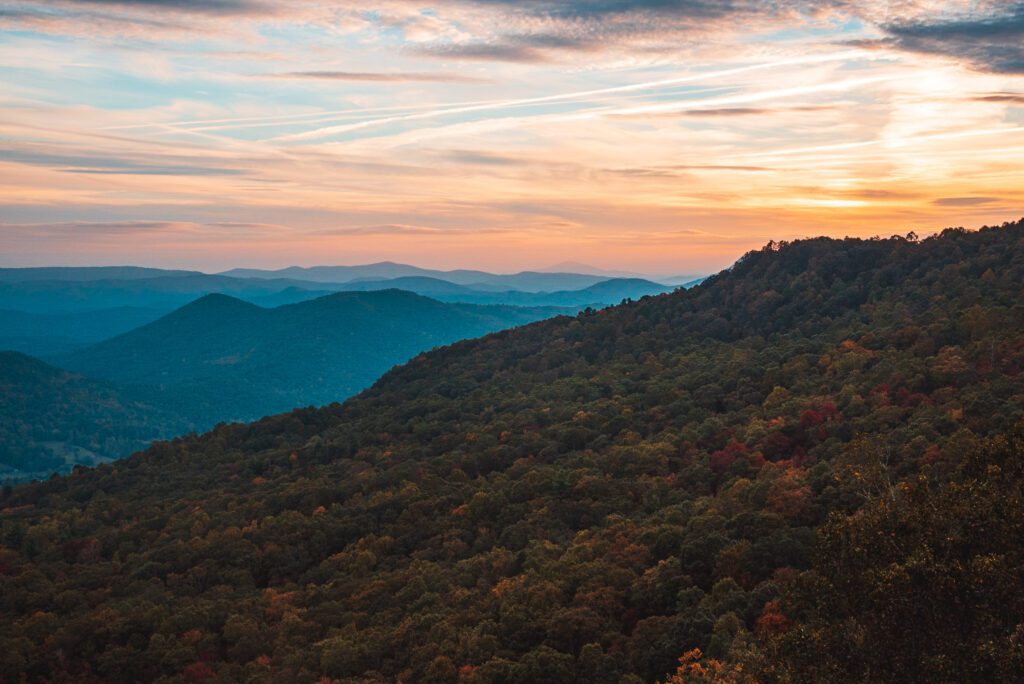 U-Joint, Fortify & Fortify Pi, White Birch Provisions, Sunday Diner, Clayton Cafe, The Hush, Rusty Bike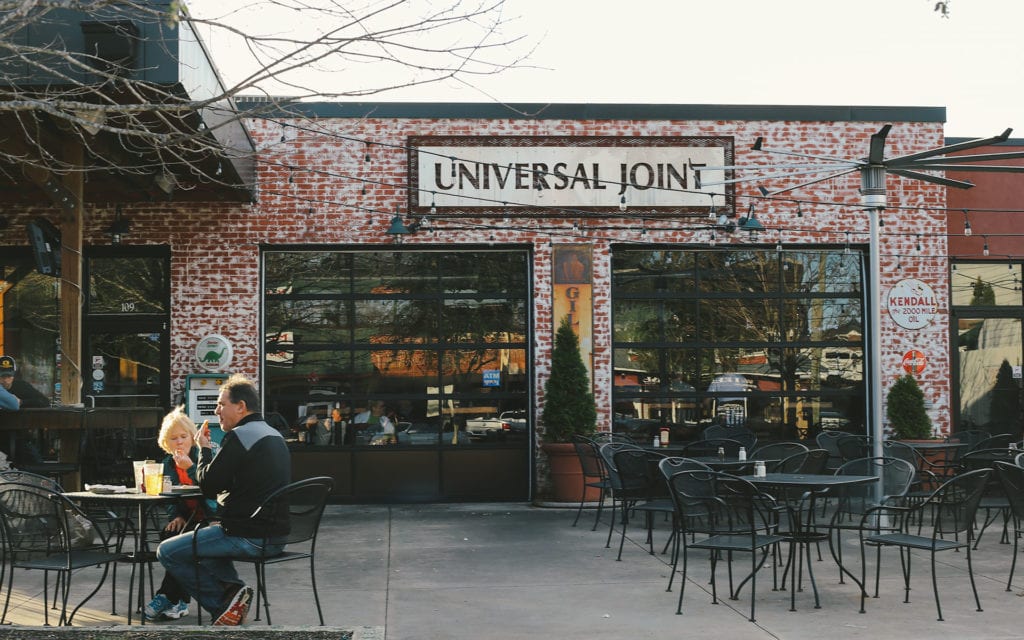 Let's talk about the food. Fortify is the crowning jewel and rightfully so. There is no better place in town for an upscale meal and drinks. This makes for a great date spot or special occasion dinner. The owner, Jack, is a great guy and has put his heart and soul into this place and you can really feel that. Make sure you get reservations if you are looking to eat on the weekend and check out their sister restaurant Fortify Pi for some amazing pizza. Fortify Pi is one of our go-to lunch spots. With some of the best pizza we've had, great sandwiches and wings, and a nice beer selection, you really can't go wrong. 
U-Joint has good food (we are eating there right now) but it is their nice beer selection and huge patio that you are coming for. It is where you'll want to be to enjoy a crowd and drinks. Try the egg rolls or quesadilla or go with their solid burger options (the Steinbeck's is our favorite). And get the tots.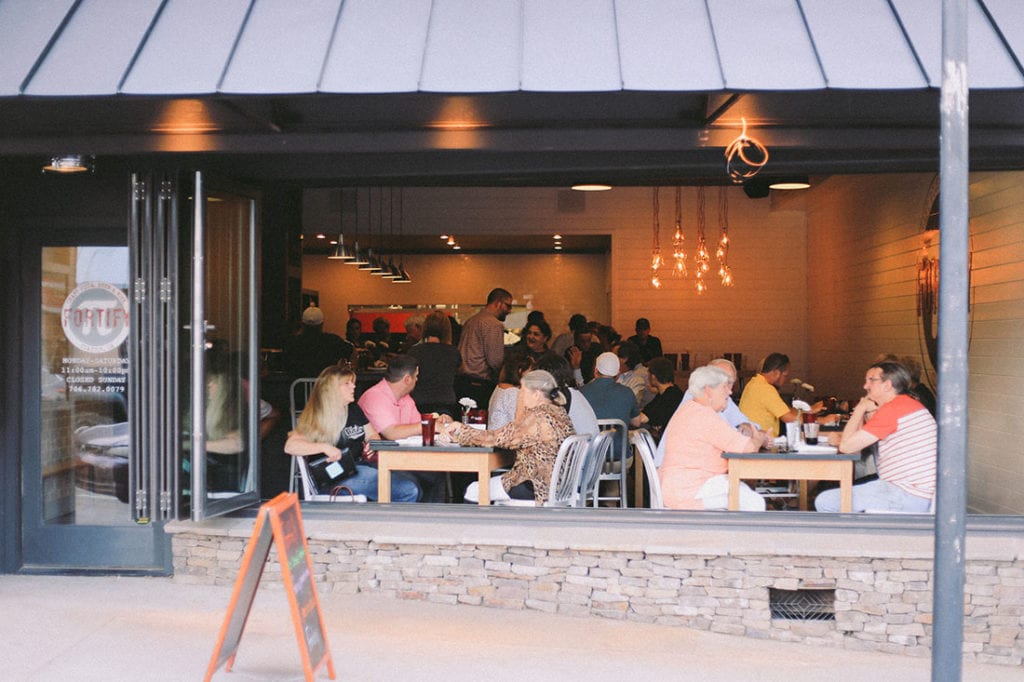 White Birch Provisions is one of our favorites. Part coffee shop. Part fresh bakery. Part artisan grocery store. Part wine cellar. It is cute, small, and delicious. Make sure you get a cinnamon roll if they have them and try the fresh made bread on the weekends. This is our spot for daily coffee runs from the shop, so you can often catch us here in the mornings. 
If you're coming north to Clayton through Tallulah Falls, we definitely recommend stopping in at Tallulah 1882. This eclectic little shop has some great coffee and tea, right in the heart of Tallulah Falls. They also do sandwiches and some light lunch options that make for a quick bite if you're out hiking the gorge.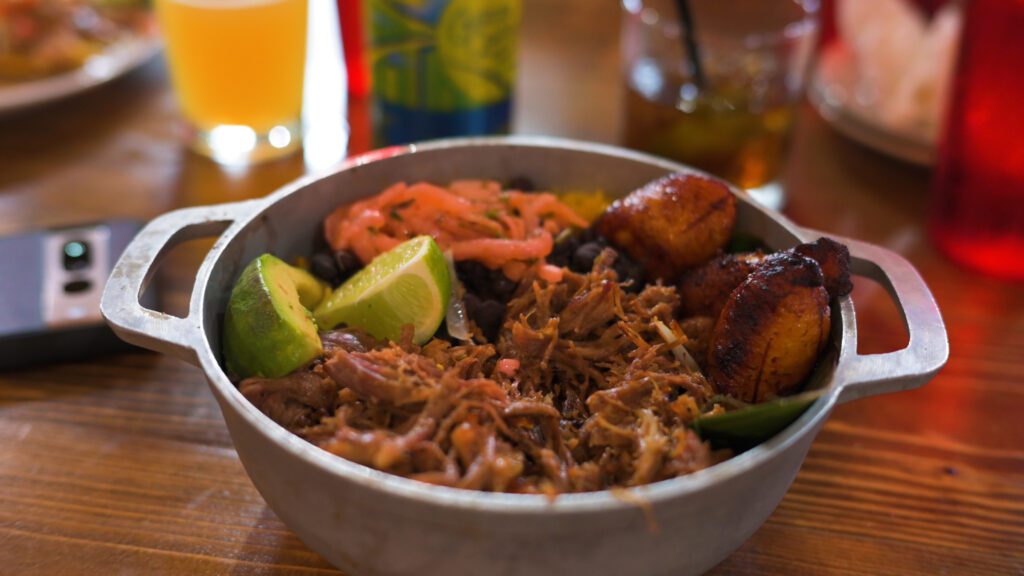 The Hush is a great spot if you're in the mood for something different than the usual burgers or pizza. With some fantastic traditional Latin and Cuban dishes to choose from, in addition to the best Cuban sandwich around, this is one of our favorite lunch spots around town. 
For breakfast, our favorite is Sunday Diner. Owners Michael and Chris are the epitome of a local small family business with their kids helping out when and where they can and everybody in the restaurant seemingly knowing everyone else. They make a great biscuit and probably the biggest pancakes we've ever seen. It really doesn't get any better than this for a classic homestyle breakfast. The Rusty Bike is also another great breakfast option!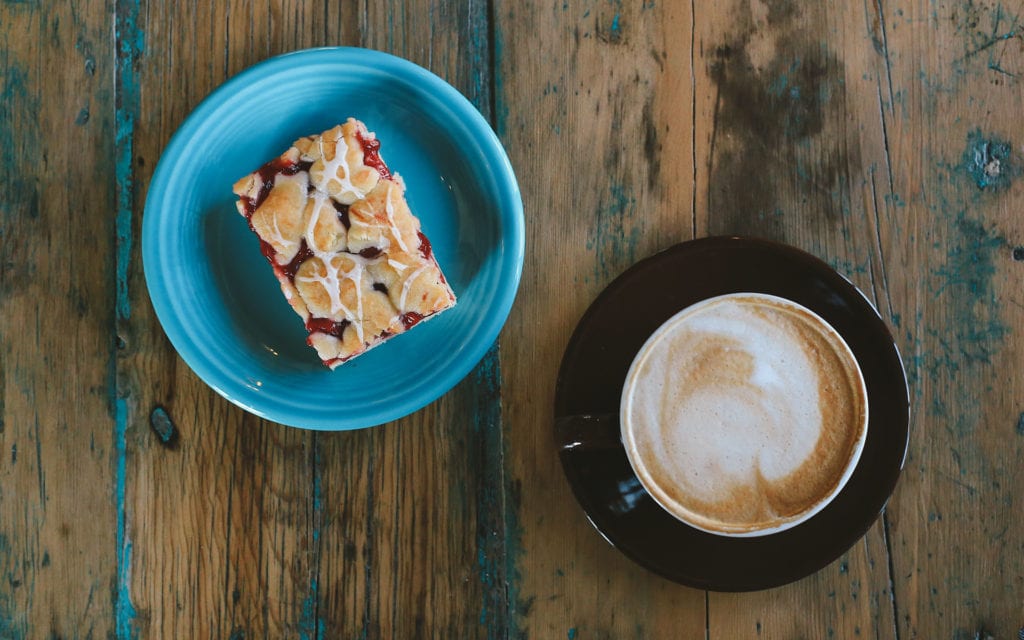 Ghost Apothecary, Blue Ridge Toys, Blue Ridge Honey Company, Cage Free, Billingsley Gardens, Holistic Mountain Market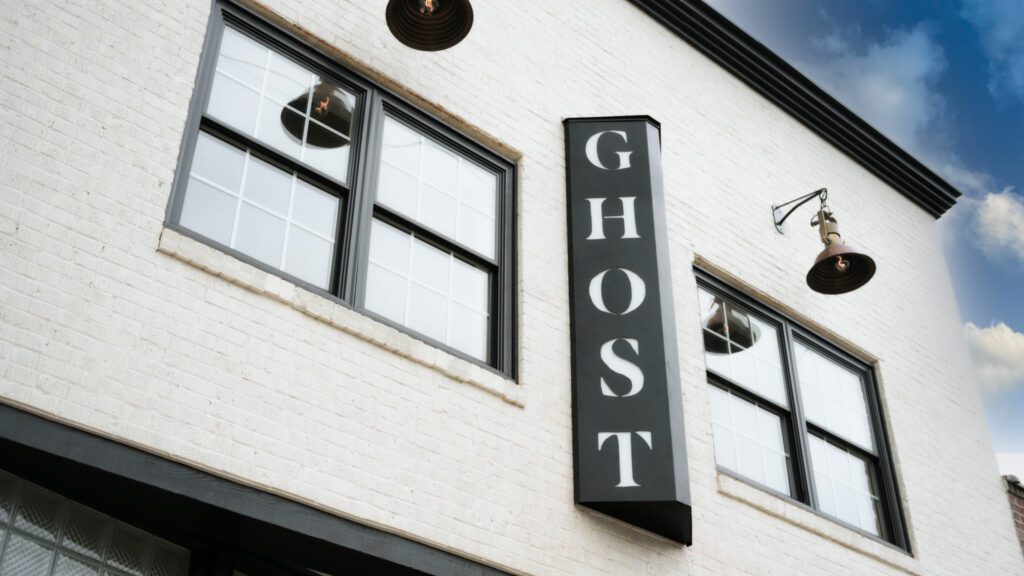 Cage Free Boutique and Blue Ridge Toys are two of our favorite Main Street shops. Blue Ridge Toys is crawling with amazing toys that your kids will love and Cage Free is a charming boutique run by our friend Kimberly offering all kinds of fashionable wares.
Our friend Dave just recently opened his new shop, Ghost Apothecary here in town and we're really excited for him! Ghost is about restorative rituals to inspire your senses. You'll find tons of great items from candles and incense to beautiful pieces for your home, and some great teas. Everything in the store has one purpose, to make you feel good.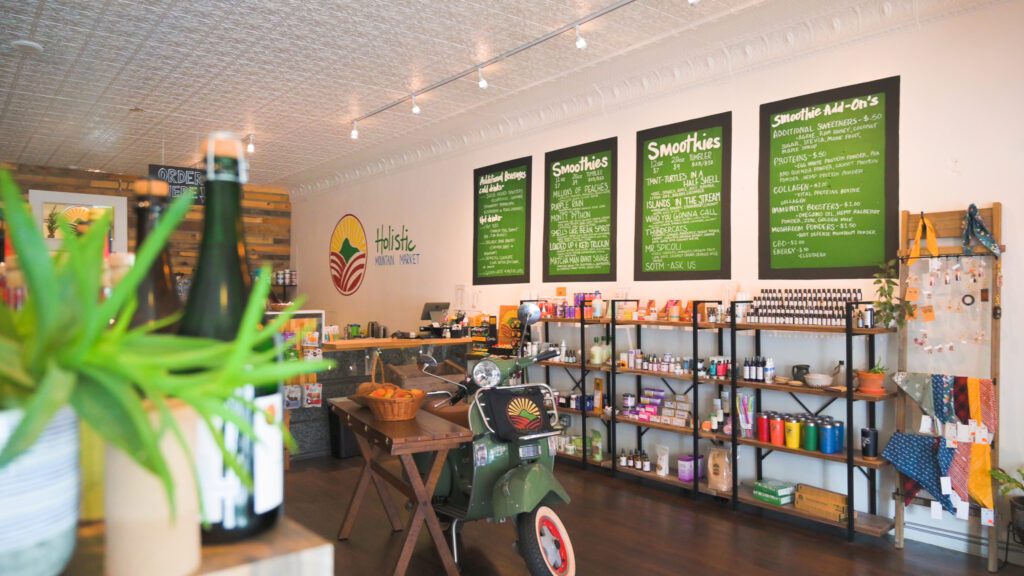 Blue Ridge Honey Company is on the way into town and has an impressive selection of regional and local honey. They also do taste tests so you can try the dozens of varieties that they offer. Holistic Mountain Market is another fantastic "wellness" shop here in town. Think a whole food market, with herbs and supplements to make sure you're feeling your best. They also make some fantastic smoothies! 
Billingsley Garden Center is our favorite place for flowers, plants and other accessories to spiff up the outside, or inside, of your home. Treehouse on Main is another great spot for home decor and other goods. We're truly spoiled for choice of great shops here in town and we couldn't begin to cover them all. A few more quick mentions are Shady Creek Expeditions, Claws and Paws, and Lulu and Tully's. 
PLACES TO SIP WINE (or Spirits)
Terra Incognita, Stonewall Creek, Tiger Mountain, 12 Spies, Moonrise Distillery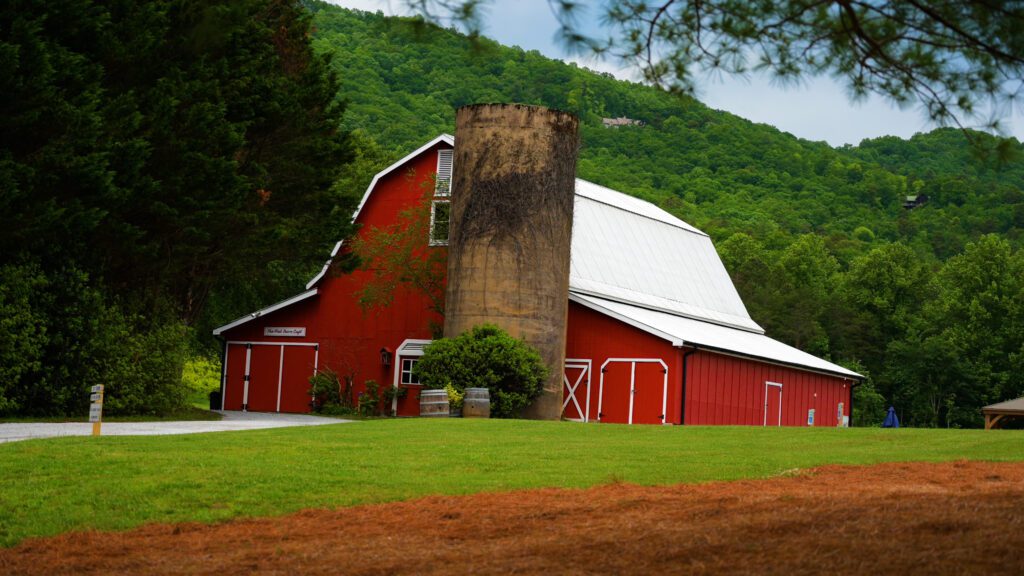 Terra Incognita is relatively new to the wine scene here in Rabun county, but it has quickly become one of our favorites. Nestled on a hilltop between Clayton and Clarkesville, Terra has some incredible views of the North Georgia mountains, and it pairs perfectly with their selection of local wines. 
Tiger Mountain Vineyards is a national award winning winery a few miles south of Clayton in Tiger, Georgia. They have a beautiful tasting room and an exceptional staff that is patient and knowledgeable if wine is your thing. The best in the region. They also have the Red Barn Cafe out back serving delicious food May-November.
You can also visit Stonewall Creek Vineyards in Tiger, which has a great tasting room and patio that overlook their picturesque vineyards. We highly recommend trying one of their flights as there are just so many fantastic choices. 12 Spies Vineyards is just north of Clayton and is another fantastic winery. You really could make your own wine tour out of a visit to Clayton.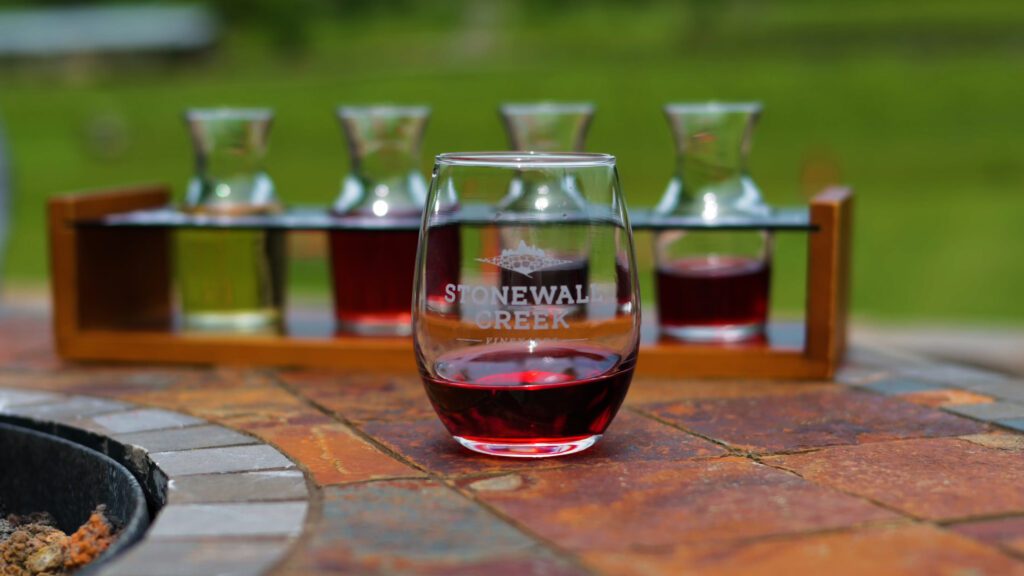 Tiger Drive-In, Habicat Cafe, Goats On The Roof, Osage Farms, Foxfire Museum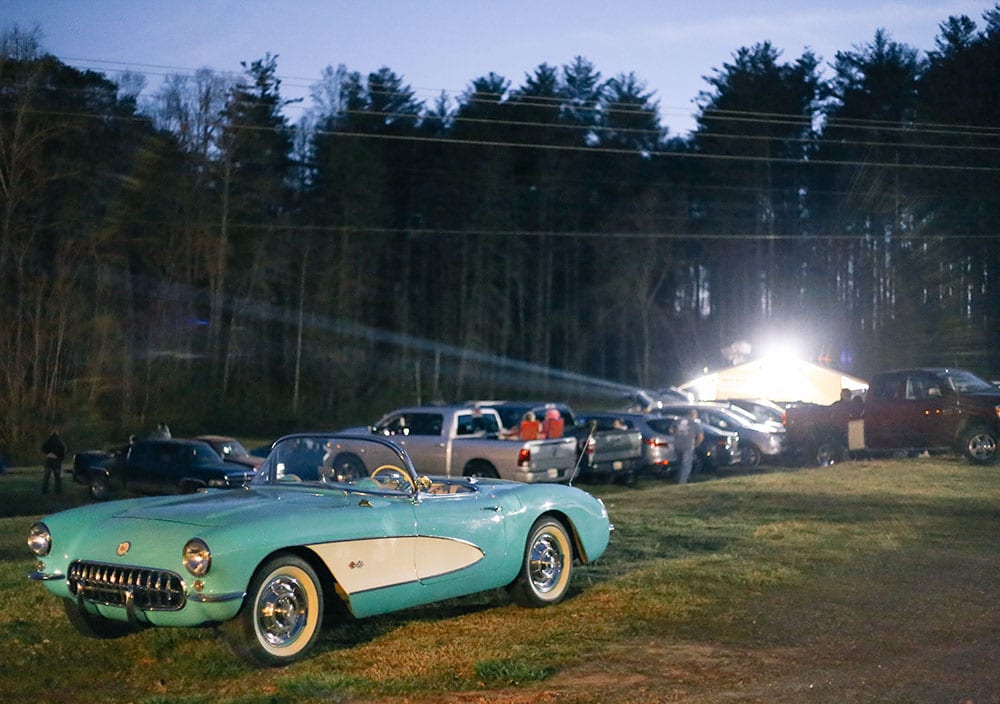 If you want something outside the norm, The Tiger Drive-In has been around for 60+ years and is still cranking out nostalgia alongside current films. They have a grill on site serving food and you are welcome to bring a picnic. They also offer tent and small RV camping so that you can stay put after the movie as those double features can often run late.
For all the cat lovers out there, one of mainstreet Clayton's newest additions is the Habicat Cafe. This unique concept if half cafe, half cat lounge. They offer a lounge where you can visit with adoptable cats who love visitors! They do a great job of keeping it clean and fresh feeling, so you just get to enjoy cuddling with the cats. Separated by a large window is the cafe, where you can grab some light refreshments while watching the cats play. 
Goats On The Roof is . . . different. This is a great place for kids but if you are not a kid, you might be confused. It is basically a normal road side tourist shop with the one difference being that they have a bunch of goats who ramble about on the roof. You can feed them. You can stare at them. And that about covers the entertainment options at Goats On The Roof.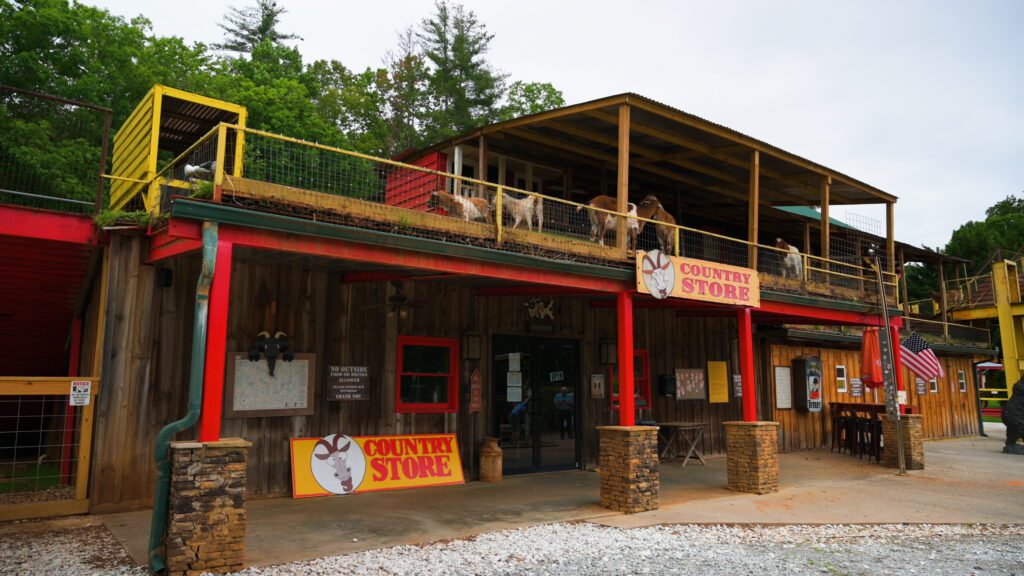 The 3 State Parks, Private Campgrounds, White Birch Inn, Lake Rabun Hotel, coming soon . . . Bridge Creek Inn
If you want to sleep inside in a nice and comfortable bed, we have you covered. If you want to sleep out under the stars with a campfire crackling nearby, we have you covered. First the comfortable options. Check out the White Birch Inn in the middle of downtown. They are the folks behind White Birch Provisions and have six unique rooms in the 100+ year old building. Joining them soon downtown will be the newly renovated and historic Bridge Creek Inn. Stay tuned to their site for more details!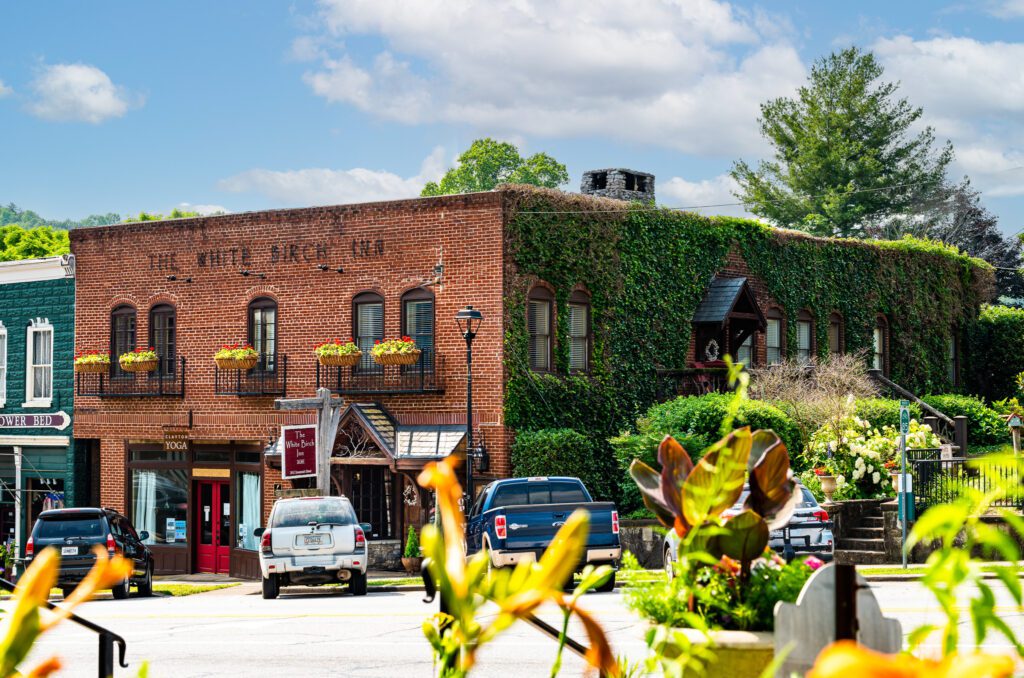 For camping, you can head north five miles past Clayton to Black Rock Mountain State Park (which we mentioned previously for the hiking trails and scenic views). They have a few primitive campsites but most are the park and pad kind. You also have Moccasin Creek and Tallulah Gorge State Parks along with a half dozen privately owned RV and tent campgrounds. If you are ok with a 20-minute drive, the Lake Rabun Hotel is a great place to stay and there are campgrounds on the back side of Lake Rabun and Lake Seed. 
As with any of our online lists and weekend guides, please take this with a grain of salt as there's no way we can cover all of the places that make this town special. This guide is composed of people and places where we have had repeated great experiences, but it is far from all-inclusive. Just because a hike or business isn't listed here, doesn't mean that we don't approve of them, these are just some of our favorites. If you come to visit our town, please use this as a starting place and feel free to branch out from there. There are still many great spots not listed here, just waiting for someone to find them.