If you've spent much time on North Georgia's lakes and rivers, there's a good chance you've seen someone paddling by, standing up on what appears to be a giant surfboard. These stand-up paddleboards (SUPs) have become really popular over the last few years, and if you haven't tried one, we really suggest giving it a go.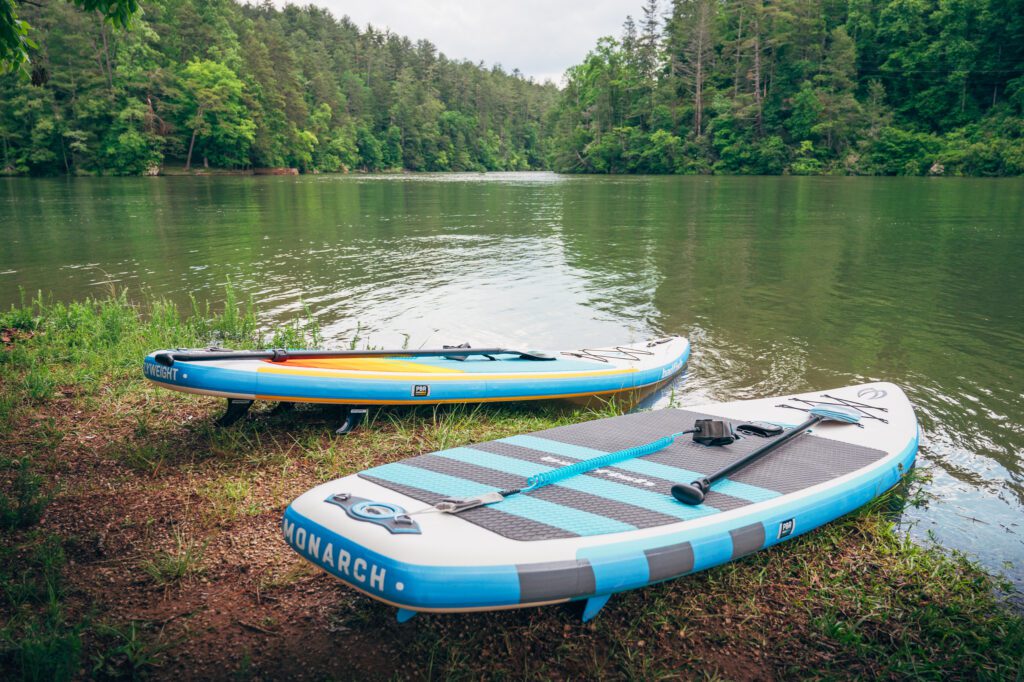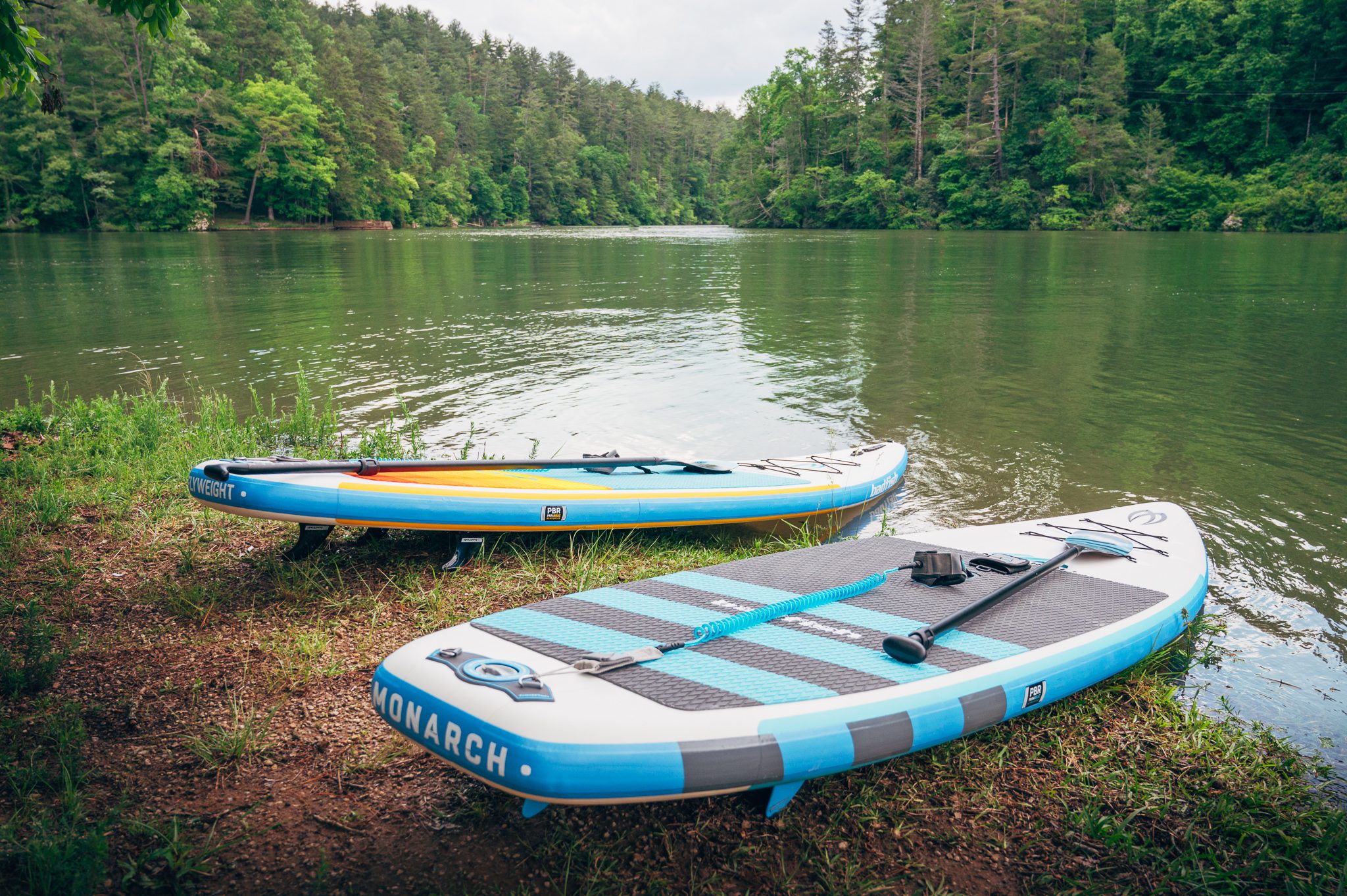 It took us a long time before we gave this sport a shot. I mean, standing up, on a floating object, while paddling sounds like it takes a lot of coordination. We're happy to say though that it's much easier than you would think, and with a little time, we think practically anyone can get the hang of it! Once the sport picked up momentum, we tried a few of the massive fiberglass boards that were offered and it was a ton of fun! You get a really unique perspective over the water, and it can even get you to some incredible places that you can't reach in a boat. As much fun as we were having, these fiberglass boards had two huge drawbacks: The weight and the portability. They're heavy, like really heavy. You don't want to carry it more than a few yards to the water. But first, you would have to transport it to the location that you wanted to paddle, and a heavy 11-foot board is an awkward thing to get on the roof of your car. 
With a little bit of remorse, we pushed the sport to the side for a while. Recently though, we were introduced to a brand based in Salida, Colorado called Badfish. These awesome folks came out and just threw those issues straight into the water.
Enter the inflatable SUP.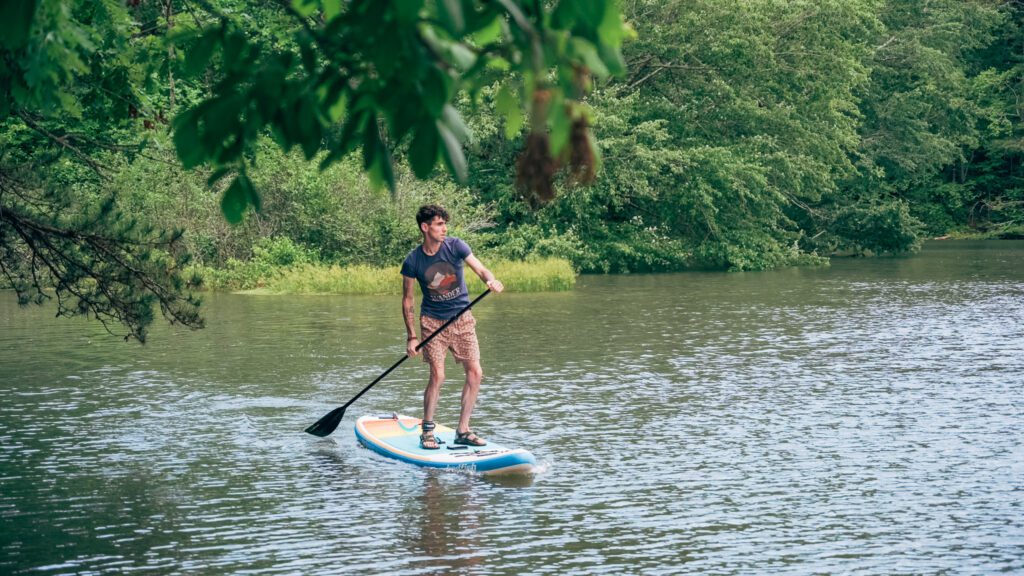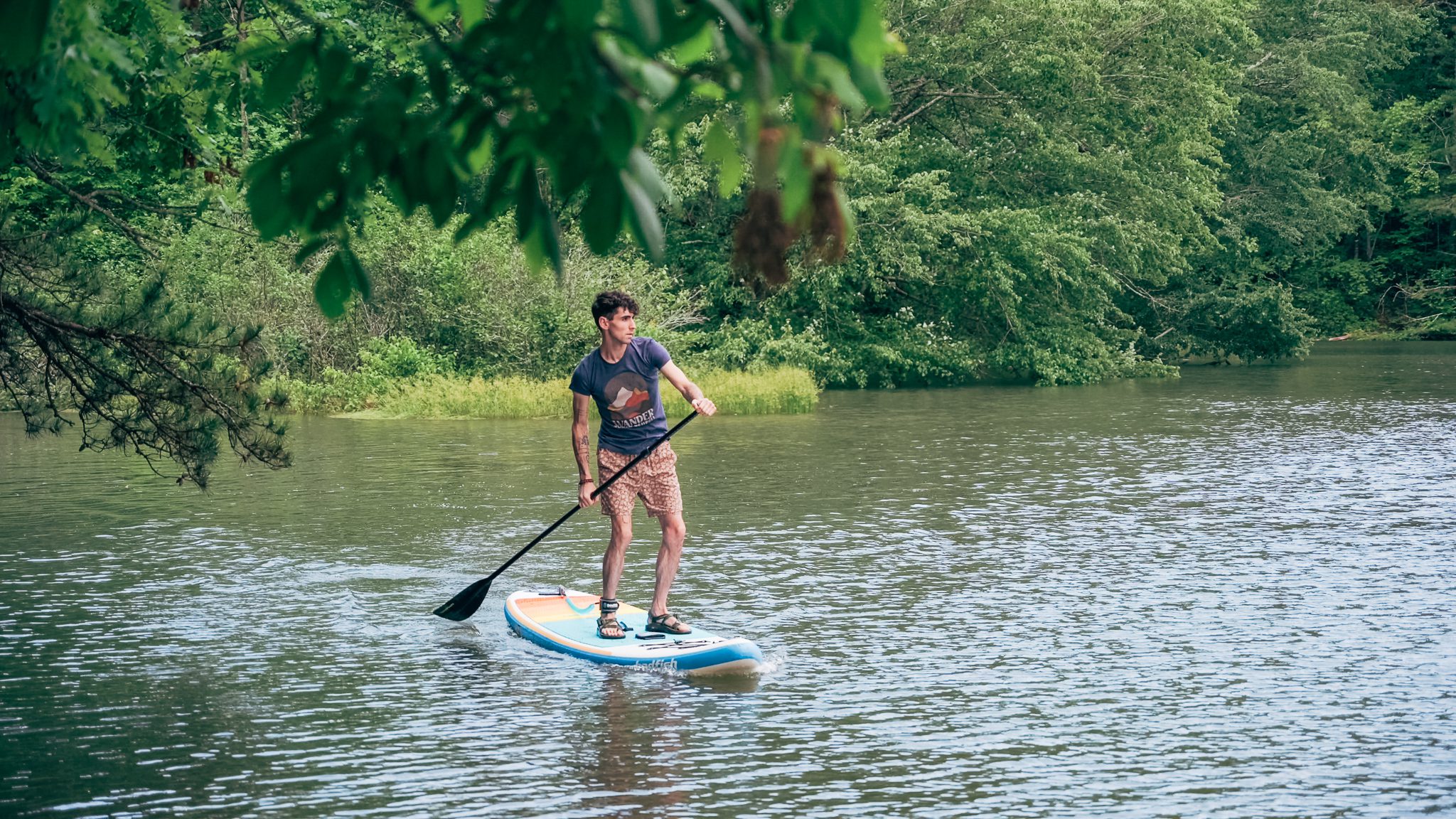 Badfish was born out of the desire to surf Colorado rivers on a SUP, and now that they have honed their craft, they offer tons of different boards for various applications. Here at our shop, we love the Monarch and Surf Traveler boards. We feel that these two fit the terrain and spirit of North Georgia perfectly. The Monarch is the jack of all trades board, it's stable and versatile in just about anything you can throw at it. The Surf Traveler is another incredible board, being geared a little more towards those rougher waters, this board is right at home surfing those rapids on the river or riding waves in on a beach trip. Badfish recently announced their new Flyweight board as well, which comes in at only 18 pounds! That's less than half the weight of some of the SUPs we've tried before! So we knew we had to get our hands on one and take it out for a spin. We loaded up the car with a Monarch and Flyweight, and headed for the lake.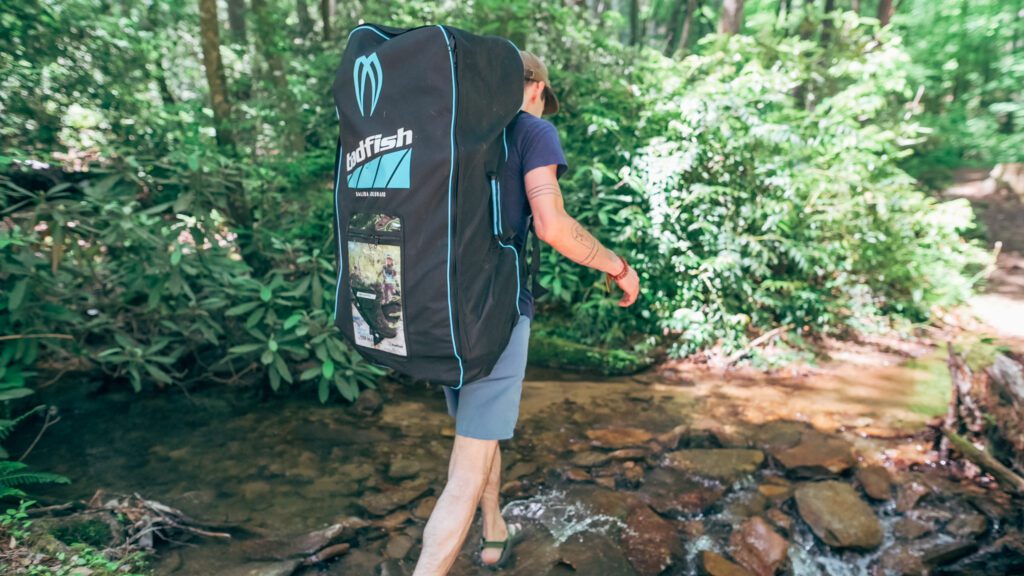 We already mentioned how these SUPs shed the weight of older boards, but their size packed up is the biggest advantage if you ask us. Being able to roll the 11-foot board up into a duffle bag and throw it in the car instantly makes it more appealing to take on every adventure. Once on-site, we slung the boards on our backs and walked down to the shore. Then it's just a matter of unrolling and adding some air. One area that which Badfish really blows the competition away (literally) is the pump to get these things inflated. They include an awesome two-stage pump with every board. This pump has a high-volume/low-pressure setting to get you started, adding a ton of air quickly. Just as things start to get difficult, flip the switch to the low-volume/high-pressure setting and get it topped off easily.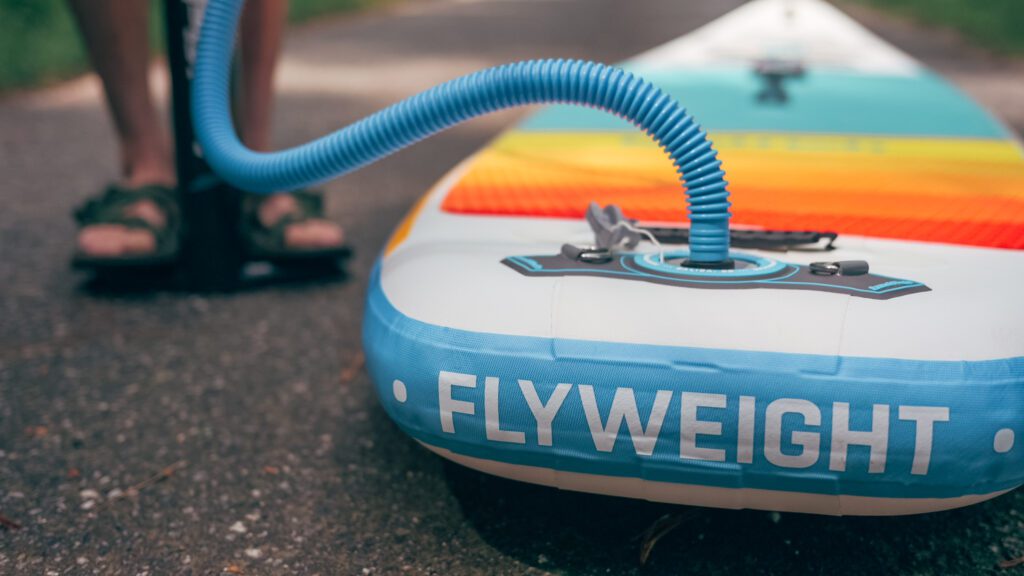 Once the board hits 17 psi and you slide the paddle together, you're ready to hit the water. We love living in North Georgia for countless reasons, but if you have spent a day out on one of our mountain lakes, you know exactly why they're in the top 5. Seeing the Appalachian mountains roll down the valley until they meet those beautiful blue-green waters, it doesn't get much better. We have spent years on the shores of these lakes and out on boats in the summer. Paddling them is a completely different experience though. Getting out on the water in the early morning, the lake is quiet and calm. Shoving our boards off from the shore, the only things to be heard are the quiet drips as our paddles break through the water underneath. This morning the lake is smooth and glassy, perfect for us to get out and float around. With no real goal or destination in mind, we really felt like we had peaked. This has to be one of our favorite ways to experience this area now. Experiencing this area in a new way after all of these yards was truly something special. As the sun draws higher in the sky, the temperatures rise and we decide to head back in. Packing up is a breeze. Push the release valve and the air quickly rushes out of the SUP, allowing you to roll it up and cinch it tight with the included strap. Drop it in the bag with the paddle and pump, and you're on to the next destination.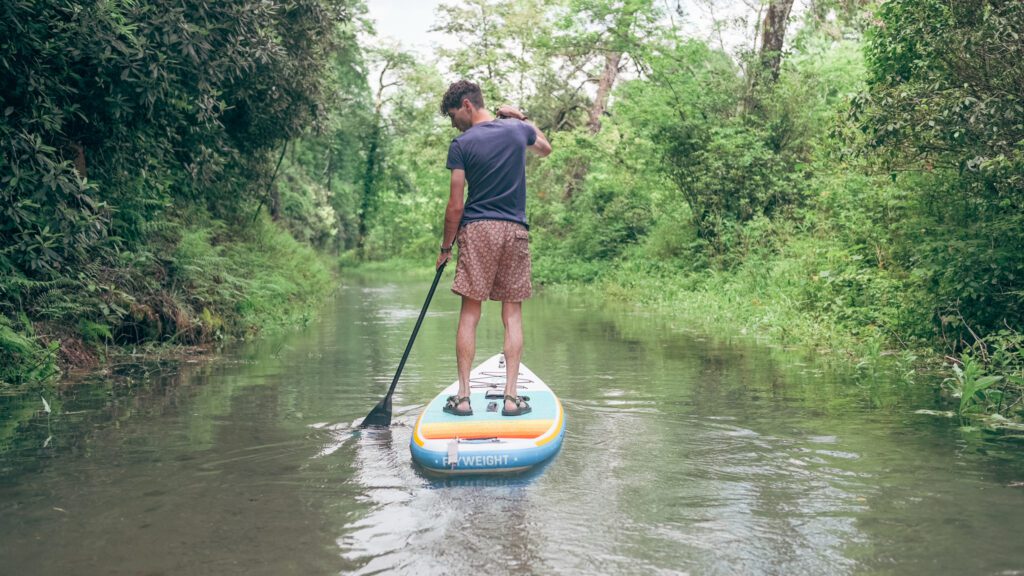 Following our day on the lake, I was packing the car for a quick weekend getaway to the beach with some friends and made a last-minute decision to throw the Monarch in the car. I mean, why not? It's packed up neatly in a bag and couldn't be easier to bring just in case I get brave and decide to give the waves a shot. 
This might end up being the best decision I made all weekend. Even out on the sand, the Monarch is a breeze to set up. After a couple of minutes, I was ready to go and carried the board out into the surf. Hoping on as the waves broke around me, I was surprised to feel how stable the board was as I stood up. The ocean is definitely a different experience than Lake Seed, and my balance was definitely tested, but the board didn't skip a beat. Once I was feeling comfortable, and maybe a little too confident, I wanted to try surfing this SUP on a few waves. I've never actually gotten up on a surfboard, so I'm far from qualified for this, and it was quickly apparent. It took several attempts paddling into a wave on my knees and transitioning to my feet before I could hold my balance. Slowly but surely I gained ground and was able to ride a few waves. It was an absolute blast and might just be some of the most fun I have had at the beach since I was a kid on my boogie board. It wasn't long before all of my friends wanted a turn and everyone had to give it a shot.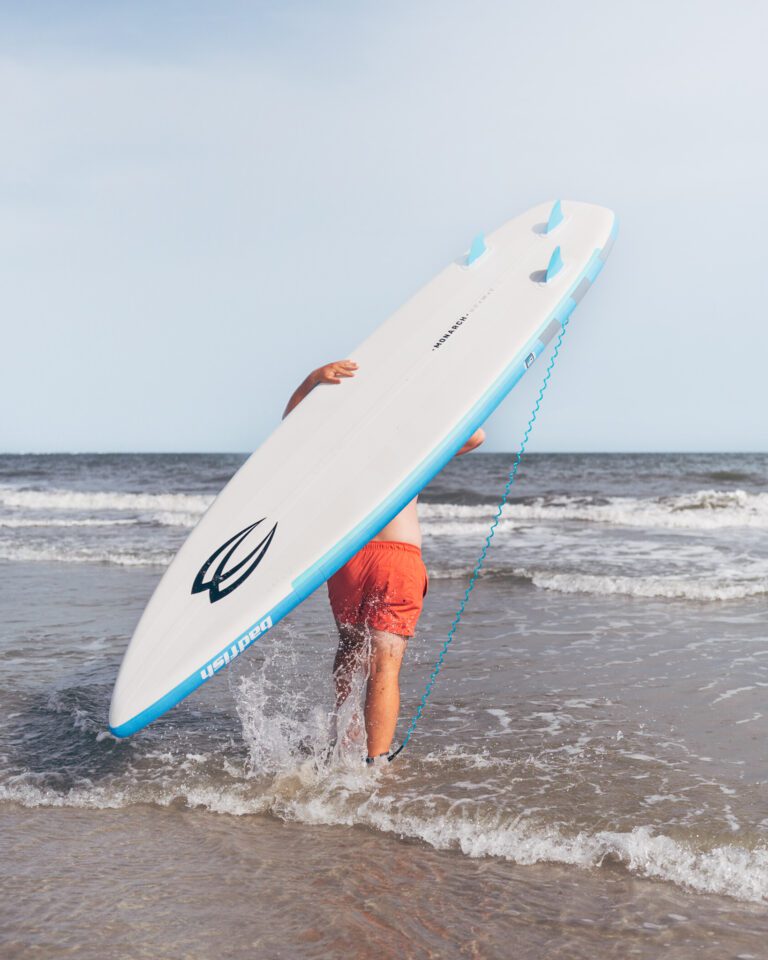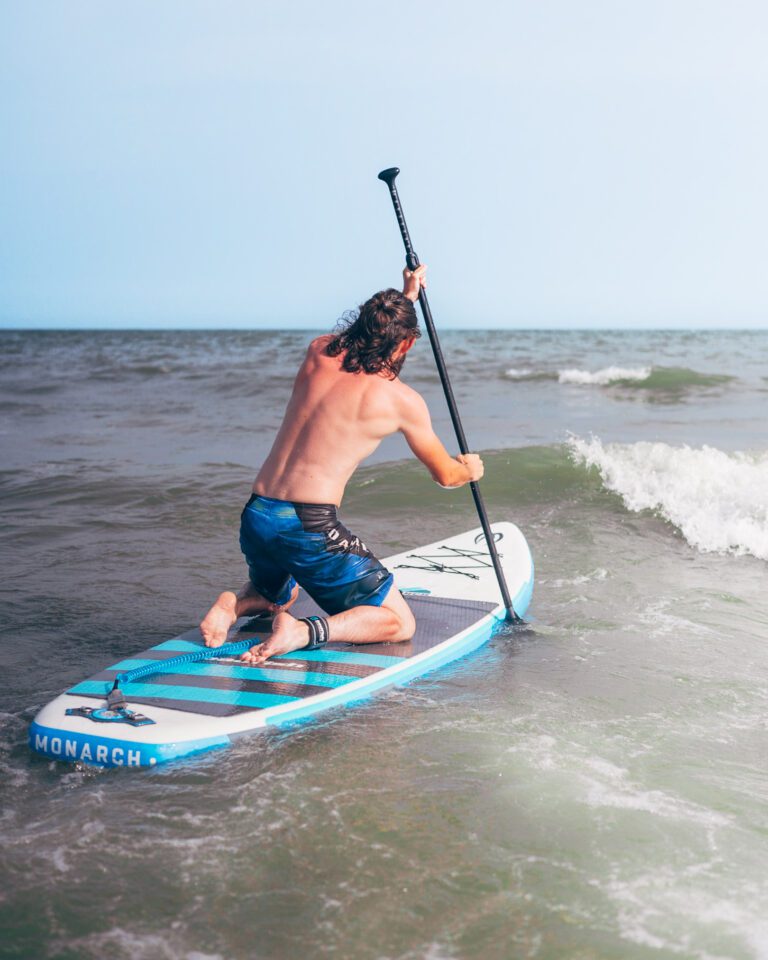 In my first two weeks with the Monarch in my arsenal, I have taken it out 5 separate times and have been thoroughly impressed. It's an absolute blast, and I haven't met anyone yet that wasn't able to hop on and paddle away with a few minutes of practice. At the beginning of the blog, I mentioned how the biggest issue with older SUPs is that they can be a true pain to take with you on any adventure. They typically make it to one spot and stay put unless you put in a lot of thought and effort. These Badfish boards blow that idea out of the water. It couldn't be easier to just grab your board on a whim and throw it in the car. I don't even give it a second thought anymore, if I am going somewhere that I could make use of the board, it's already packed. I know there are a ton of SUP adventures in my future. How will you shape your next adventure?