Woodstock might not be at the top of your list of weekend destinations since it's not your usual mountain getaway, but there's certainly no shortage of places to explore, shop and eat.  We weren't really sure how to approach this blog as Woodstock could make for a great weekend out for those escaping downtown Atlanta, but a large percentage of our audience also calls Woodstock home. So if you fall in the latter half of this equation, you'll likely be familiar with a lot of the places named in this blog, and maybe even more that we haven't yet discovered on our visits. On the other hand, for those that have yet to experience Downtown Woodstock, we're glad you're here. We think this town makes for a fantastic getaway for couples looking for something new, families looking for places to keep everyone happy, or for solo travelers looking for a getaway.
And please consider checking out our Wandering Pledge before your next trip. There are lots of good tips on how to recreate responsibly in the outdoors, minimize your impact, and to leave no trace. But one of the pledges is "to be respectful toward the people that call where I wander home." While we love traveling and visiting new places as much as the next person, it's important to remember most locals have been wise stewards of a place for generations and we're just passing through. So be respectful and considerate of the people and places you visit. Have fun, tip well, practice gratitude and you'll experience hospitality like no other.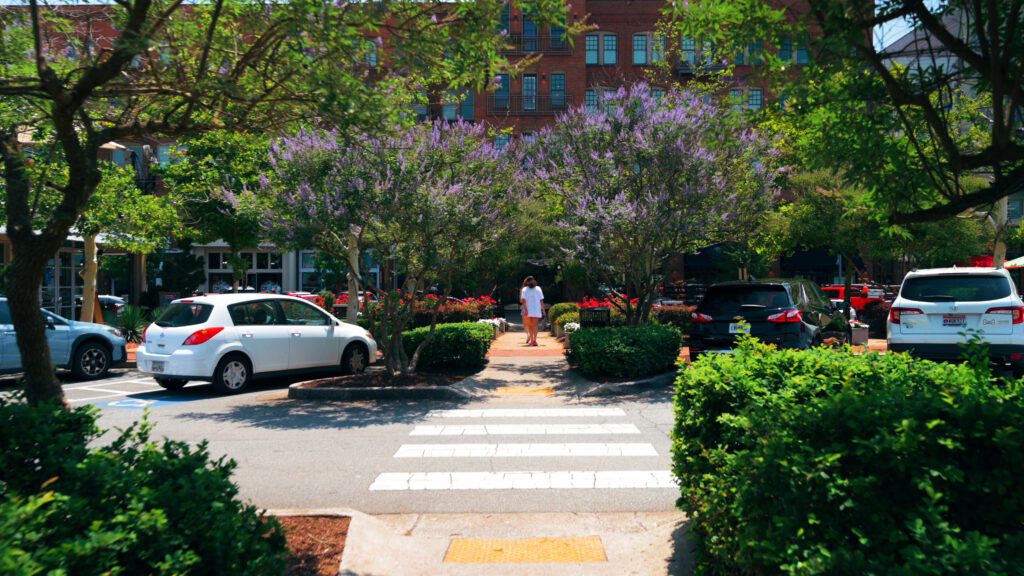 As with any of our online lists and weekend guides, please take this with a grain of salt as there's no way we can cover all of the places that make this town special. This guide is composed of people and places where we have had repeated great experiences, but it is far from all-inclusive. Just because a hike or business isn't listed here, doesn't mean that we don't approve of them, these are just some of our favorites. If you come to visit, please use this as a starting place, and feel free to branch out from there. There are still many great spots not listed here, just waiting for someone to find them. 
Kennesaw Mountain, Red Top Mountain State Park, Blankets Creek & Rope Mill, Concerts Downtown, Lake Allatoona
Downtown Woodstock is located in the heart of Cherokee County, which has a bit more hustle and bustle than what we're accustomed to here in Clayton. While there may not be a hiking trail around every corner, there is still an abundance of great activities within close proximity. 
If hiking is what you're after, Kennesaw Mountain will be one of your best options within a short drive. Kennesaw Mountain is recognized as a National Battlefield Park as it is the site of one of the most significant Civil War battles in Georgia's history. Today the National Forest Service runs the visitor center and museum while offering self-guided tour trails that detail the history of the mountain and the native nations (mound builders, Creek and eventually Cherokee) that resided here. This is sure to be a great stop for the whole family as the variety of trails and history is sure to provide for those looking to get out and enjoy the scenery while learning about the events that formed our nation's history. 
For a thorough walkthrough of the various trails, their difficulties, and what to expect on each trail, we highly recommend visiting Atlanta Trail's website as they have a great guide on visiting Kennesaw Mountain.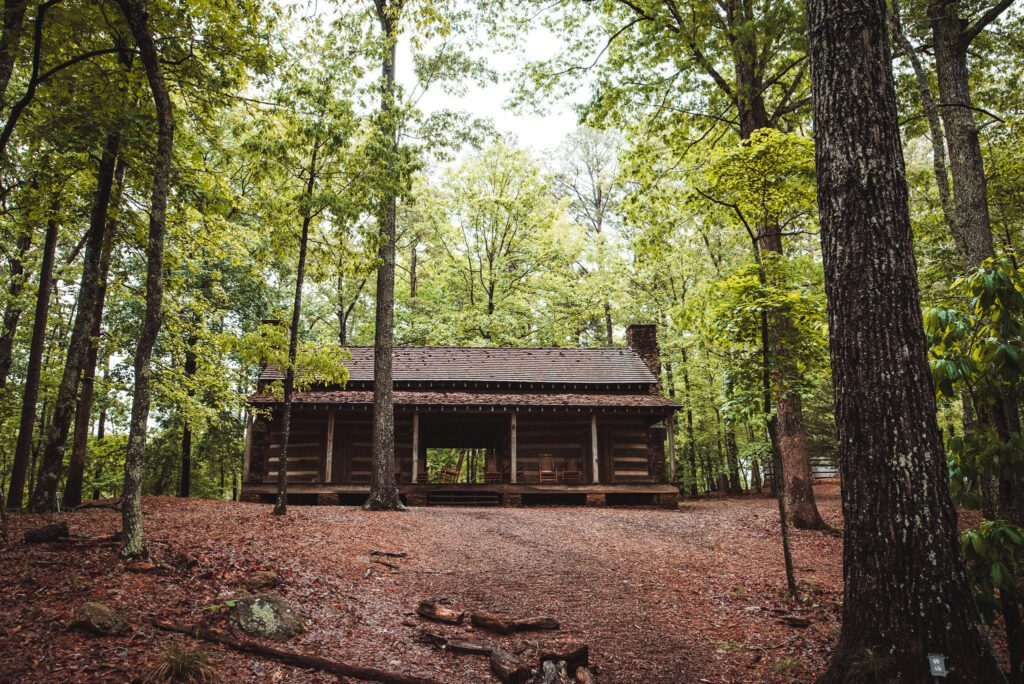 Another great option for experiencing what nature has to offer is Red Top Mountain State Park. This beautiful park is located on the shores of Lake Allatoona, about 15 miles Northwest of Woodstock. Allatoona is the main attraction at Red Top, with swimming areas, boat ramps, beaches, and water activities abound, it's a great place to cool off in the summer heat. It doesn't stop there though, as the park also has 15 miles of hiking trails that will navigate through densely wooded forest providing fantastic views across the lake. There is also a short paved trail that follows the shoreline behind the visitor's center and visits a historic homestead, making for a great option with strollers or wheelchairs. 
If you're an avid mountain biker, or if you've been curious about giving it a shot, nearby Blankets Creek and Olde Rope Mill are absolutely worth checking out while you're in the area. Both of these trail systems offer several miles of well-groomed and smooth flowy trails (Thanks to the SORBA Woodstock chapter) that will have you eating up the miles quickly. There are multiple loop trails at each area, with trails varying in length and difficulty, so you're sure to find a fun ride regardless of skill level.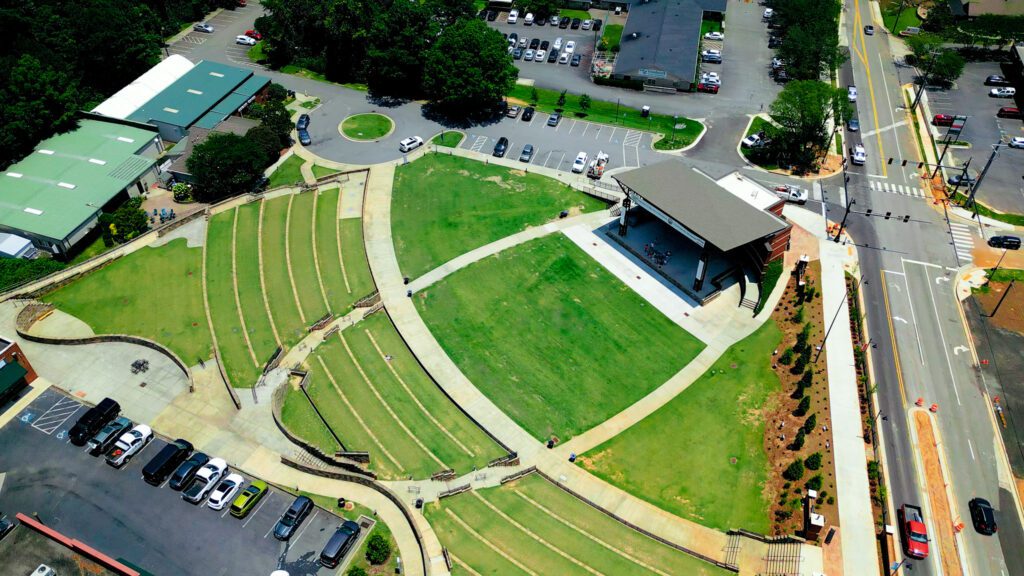 Back in downtown Woodstock, if you're looking to get out for a walk after lunch or take the dogs out in the morning, the Greenprints trail system is a nice option. With a network of trails connecting many of Woodstock's major attractions, you can get out for some exercise while getting where you need to go. With direct access to downtown, dog parks, outlet malls, and the Rope Mill trails, you could easily grab lunch and head out for your favorite activity. 
Another downtown option that you don't want to miss would be the summer concert series at the Northside Hospital-Cherokee Amphitheater, providing free concerts all summer long right in the center of town. With tons of great artists from varying genres, you can almost certainly find one that is a great fit for your family. In our experience, not much says summer like evening concerts in the park, and this is always a great follow up for a nice dinner downtown. 
Century House, J. Christopher's, Salt Factory Pub, Rootstock, Reformation Brewery, Jekyll Brewing, Reel, Pure Taqueria, Canyons, Rootstock, Pie Bar, Kilwins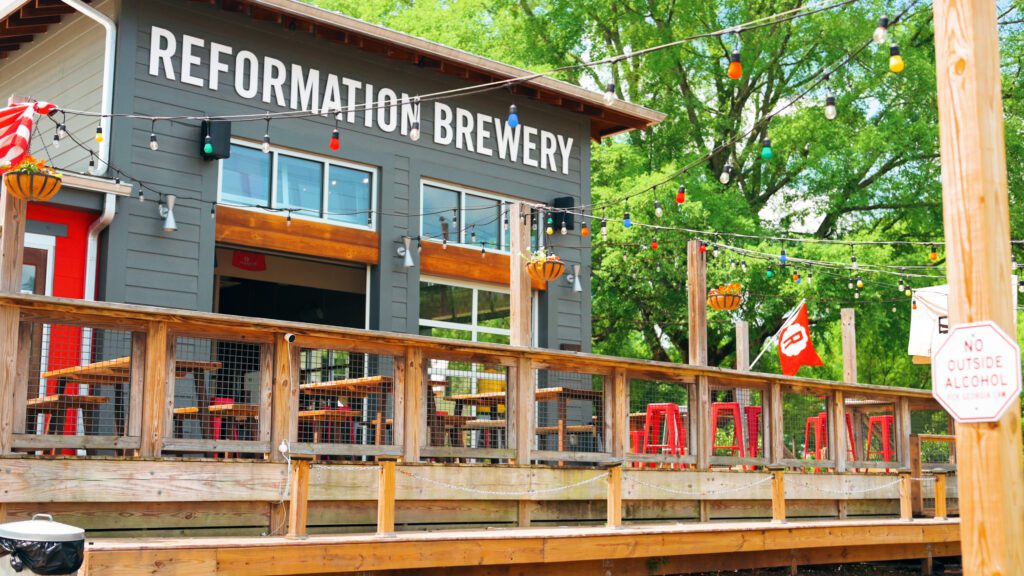 There aren't many places that can match the variety of restaurant options you'll find around Woodstock. If you've got a craving, there's a good chance you can find a great spot to satisfy it here. Considered the "jewel" of downtown Woodstock, Century House is situated in a house that pre-dates the downtown area itself. The house was constructed in 1894 and remained a family home until 2004. Now an upscale American-style restaurant, Century House specializes in re-envisioned American Classics, old-fashioned cocktails, and a warm environment. There really are no bad choices on the menu, but some fan favorites include the pork belly, chicken fried chicken, and the salmon. There are also several delicious cuts of steak, fantastic soups, and some great sandwiches. 
Salt Factory Pub is another great option with a few locations around Metro Atlanta, with this location right in Woodstock. Labeled as an "Upscale Gastropub," Salt offers a variety of globally inspired dishes, an extensive beer list, and a feel reminiscent of the classic English pub. This is one of those spots where you can take a large group without worrying about pleasing everyone. With dishes from every corner of the world, you're sure to find something to please your tastebuds. As seems to be a trend in Woodstock (or the entire south), you can't go wrong with the fried chicken, other great options include the egg rolls, shrimp and grits, and of course the shepherd's pie for a true pub experience. And don't forget to grab one of the great beers to pair with your meal.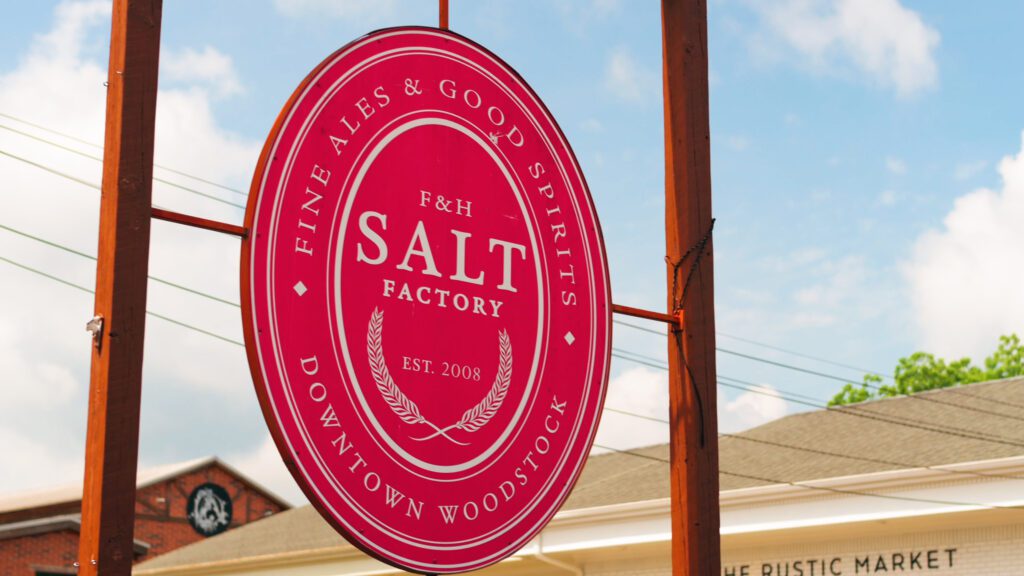 While we're on the topic of beer, you cannot visit Woodstock and miss out on the great breweries. Our favorites have to be Reformation Brewery and Jekyll Brewing Company. Reformation Brewery is a North Georgia-born and-raised brewery created by a great group of folks that just want to share good beer and good feelings. Many of you may remember when we partnered with Reformation several years back on a seasonal IPA called "Nolan." While you may not be able to grab this one anymore, they offer a vast selection of beers that cover just about everyone's taste. We always look forward to the seasonal and limited-release options as there's something special about a good beer that isn't always around. Perhaps the best thing about their Woodstock location is the expansive and shady courtyard out back. With a ton of space, for groups of any size to relax for a bit and enjoy each other's company, this is one of the best spots downtown. 
Jekyll Brewing Company is another great option downtown for a good beer and a bite to eat. With a few locations across the state, Woodstock is their newest spot in a beautiful building downtown. As with any good brewery, you can expect a long list of great beers on tap, with something to cover just about any beer lover's pallet. They also offer some great food to go with your beer of choice. Several great sandwiches, tacos, oysters and other entrees to choose from.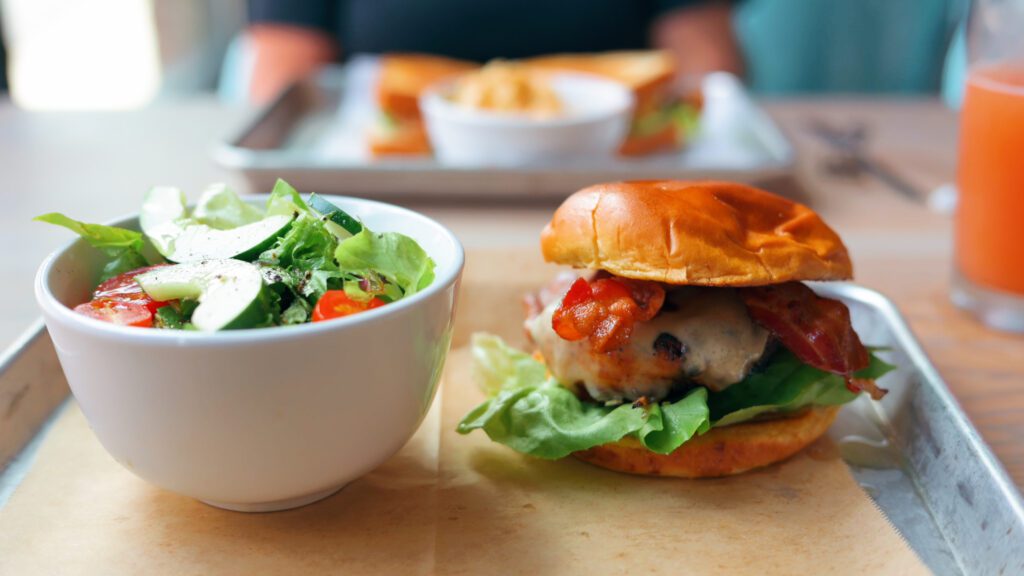 If you're looking for a great brunch spot on the weekends, we've had good luck with J. Christoper's. With several great dishes to choose from it can be hard to pick a favorite, but we love a good omelet and that's an easy request here. The French toast is also always a hit, as are the eggs benedict and skillet dishes. We could go on but it really is all great and typically our go-to brunch spot when we're in town. 
We would also be doing a disservice if we didn't mention Rootstock in this blog. With an upscale feel great for date nights, they are known for their live music, tasty food, and great wine pairings. Whether you make this your primary destination for the evening, or just a spot to grab a glass of wine and dessert to wrap up the evening, you won't find much of a better spot for a nice ambiance. 
Two great options for a relaxed lunch right in the center of downtown are Canyons Fresh Grill and Pure Taqueria. Canyons is an American-style grill, with lots of great burger picks alongside sandwiches, fried chicken, and salads. Pure Taqueria is a creative take on authentic Mexican cuisine. With lots of mouth-watering choices derived from your favorite Mexican dishes, but everything feels a little more fresh and not so greasy. We're always suckers for good tacos so those paired with a nice margarita are our go-to but there are so many fantastic options. Perhaps the best part though is the atmosphere, with a really nice rooftop bar that overlooks the heart of downtown, you're right in the center of it all. 
We can't wrap up this portion of the blog without mentioning dessert. And the best dessert in Woodstock comes straight from Pie Bar and it's really no contest for us. The owners, Lauren and Cody Bolden (Who is also a phenomenal musical artist) started out serving pie at a local farmer's market before making the move to open Pie Bar in 2015. They now offer a rotating assortment of different pies, both sweet and savory. The "Take and Bake" savory pies include some incredible choices from quiche to pot pies and more, but let's be honest, we're here for the sweet stuff. And my goodness if these aren't some of the best pies we've ever tried. From the classic Key Lime to some beautiful creations like the smores pie or the toasted coconut cream pie, every single one is delicious. Or the apple streusel, or the peach crumble, or the peanut butter pie, or the chocolate chip cookie dough, You get the point, just try them all. That's the best part, grab a whole pie or slices of each. 
Guilt By Association, Dare to be Different, Dress Up, Blue Frog, Brooklynns, Madison Ave Boutique, Branches Boutique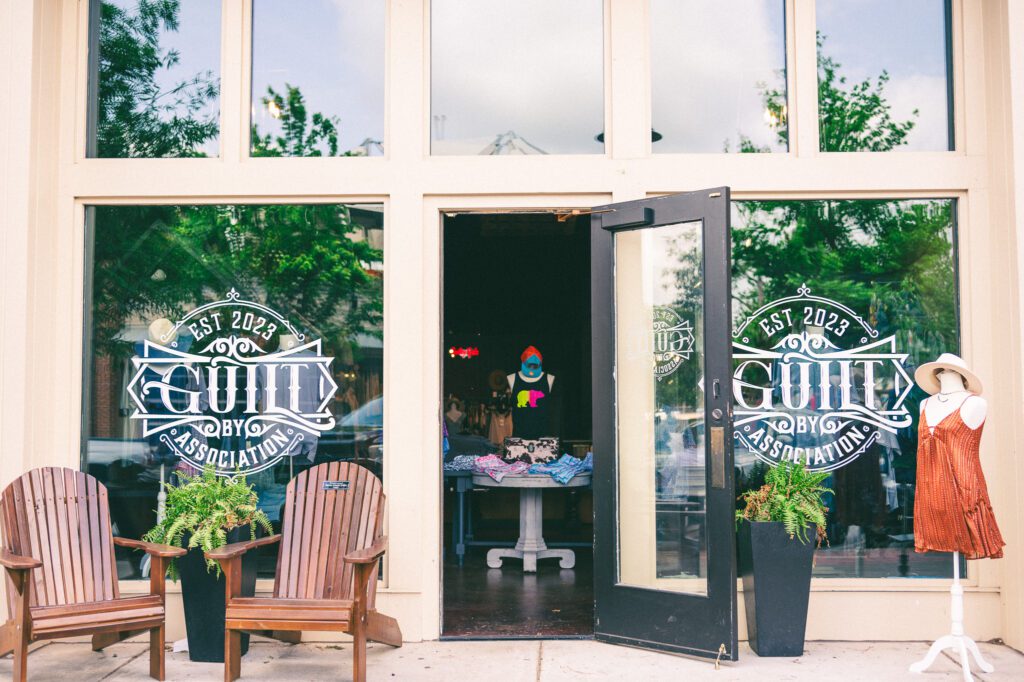 When it comes to shopping, you won't be disappointed in Woodstock if you love unique boutiques and browsing for clothing. One of the newest additions to downtown is Guilt By Association. This great little shop aims to fill a void in the Woodstock boutiques where there is traditionally a lack of options for men's clothing. With a large selection of fashionable choices for guys and an environment designed to create a relaxing and welcoming atmosphere, you feel good just walking through the doors. It's not all for guys though as they do have a selection of women's clothing and want everyone to feel included. They hope to host some events in the future and present themselves as more than just another clothing store. 
One of the many great options downtown for a women's and children's boutique is Dare to Be Different On Main. This shop aims to carry unique and innovative designs that you're unlikely to find elsewhere. They have a huge selection of women's clothing across many different styles and the staff is there to help find items that fit your personal needs and ensure you get a tailored experience.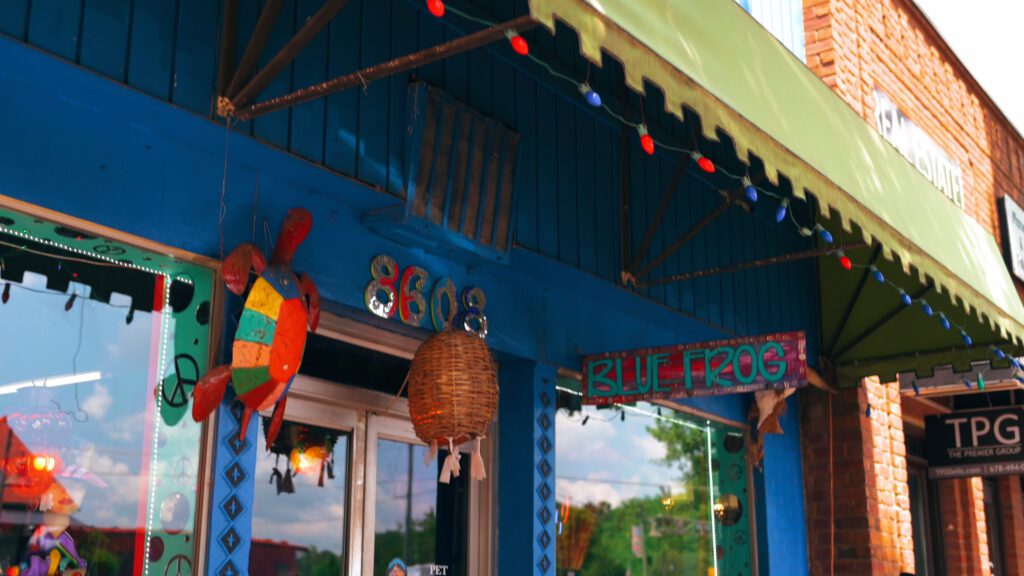 One shop that truly stood out from the rest downtown was Blue Frog Imports. This quirky shop is here for all of your "hippie needs" with tons of bright colors and stand-out items. They say they "specialize in the importation of hand-crafted furniture, pottery, folk art, yard art, and architectural funk. This is where you will find out-of-the-ordinary gifts for your home and garden" They really did have some great items that we don't think you'll find anywhere else. 
This barely scratches the surface of the shopping experience in Woodstock as there are also outlet malls and many other great shops outside of the downtown corridor that would be worth a visit, sadly we were limited on time with our most recent visit and this was as far as we made it!
And again, please take this as a jumping-off point for your adventures and branch out to find new places of your own. And if you find a place that you really love and think should be included in this guide, shoot us a message! We would love to have your recommendations as we can only visit so many spots on our brief visits. There are so many amazing businesses in this area and we wish we had time to list them all, but we hope that you find this guide helpful to start planning your next trip!