Stand-Up Paddleboarding, or SUP for short, is a sport that seems to have popped up out of nowhere over the past few years. We've seen paddleboards around for over a decade, but they were few and far between, until a few years ago when costs came down and we started to see a larger selection of boards. Now it seems that on any given weekend, you can head to one of Georgia's fantastic lakes or rivers and almost certainly see a handful of SUPs out on the water. It took us a while to jump on board (pun fully intended) as we had tried out a few friends' boards and found it enjoyable, but couldn't justify the cost or the thought of transporting an 11-foot board on our car. We were introduced to Badfish SUP a few years ago and it felt like the right time to take the plunge. For those not familiar, Badfish make some of the best inflatable SUPs in the game. Infinitely portable, while being sturdy and stable on the water. It was the perfect way for us to give this sport a real shot. Be sure to check out our full Badfish review for more info on our specific boards. Once we had the equipment, we had to figure out where to go to put it to good use, and that's where this list comes in, sharing some of our favorite places we've found along the way.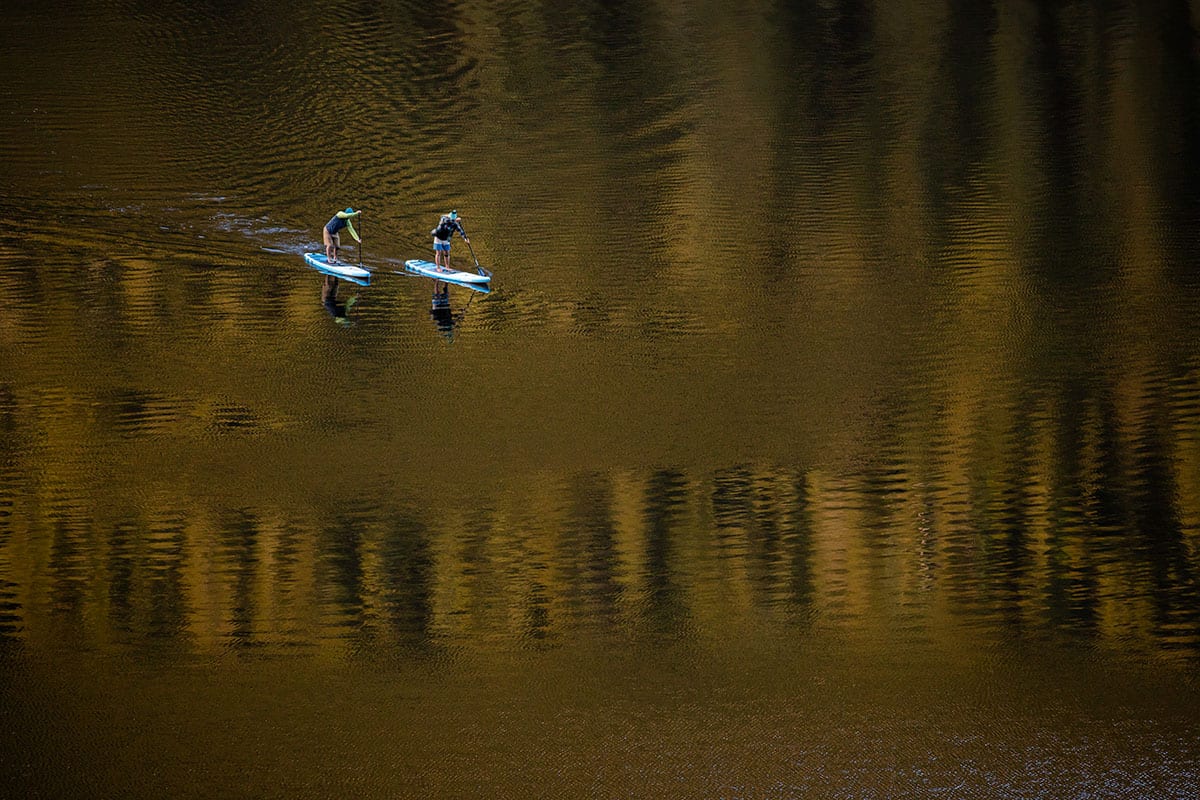 Here in Georgia, we are fortunate to have an incredible State Park network with some of the most beautiful and well-managed parks in the nation. So it was no surprise for us to find that some of our favorite spots to paddle were some of the State Parks we had already been visiting for years for hiking, camping, and recreation.
North Georgia State Parks
With so many of North Georgia's state parks being home to beautiful mountain lakes, paddleboarding just seems like a natural fit. Black Rock Mountain State Park and Tallulah Gorge State Park are close to home for us and both have very serene and picturesque lakes. Black Rock has a 17-acre lake that is limited to small boats and watercraft with less than 10 hp and must be carried to the water as there is no ramp. There is very little traffic on this lake and it makes for very calm water, perfect for a relaxing day out.
Tallulah Falls Lake is located within Tallulah Gorge State Park which is a true North Georgia Gem. The lake is about 63 acres and it is a truly unique place to paddle. With that classic turquoise-green water that shimmers in the sunlight and lots of rock outcroppings that line the shore, this is a fascinating lake to explore. One other unique feature you'll find while traversing the lake are the historic train trestles that remain from the old railroad. These massive piers jut out of the lake high above your head where the locomotive once crossed the lake. We've paddled around this lake countless times and it never fails to leave us in awe.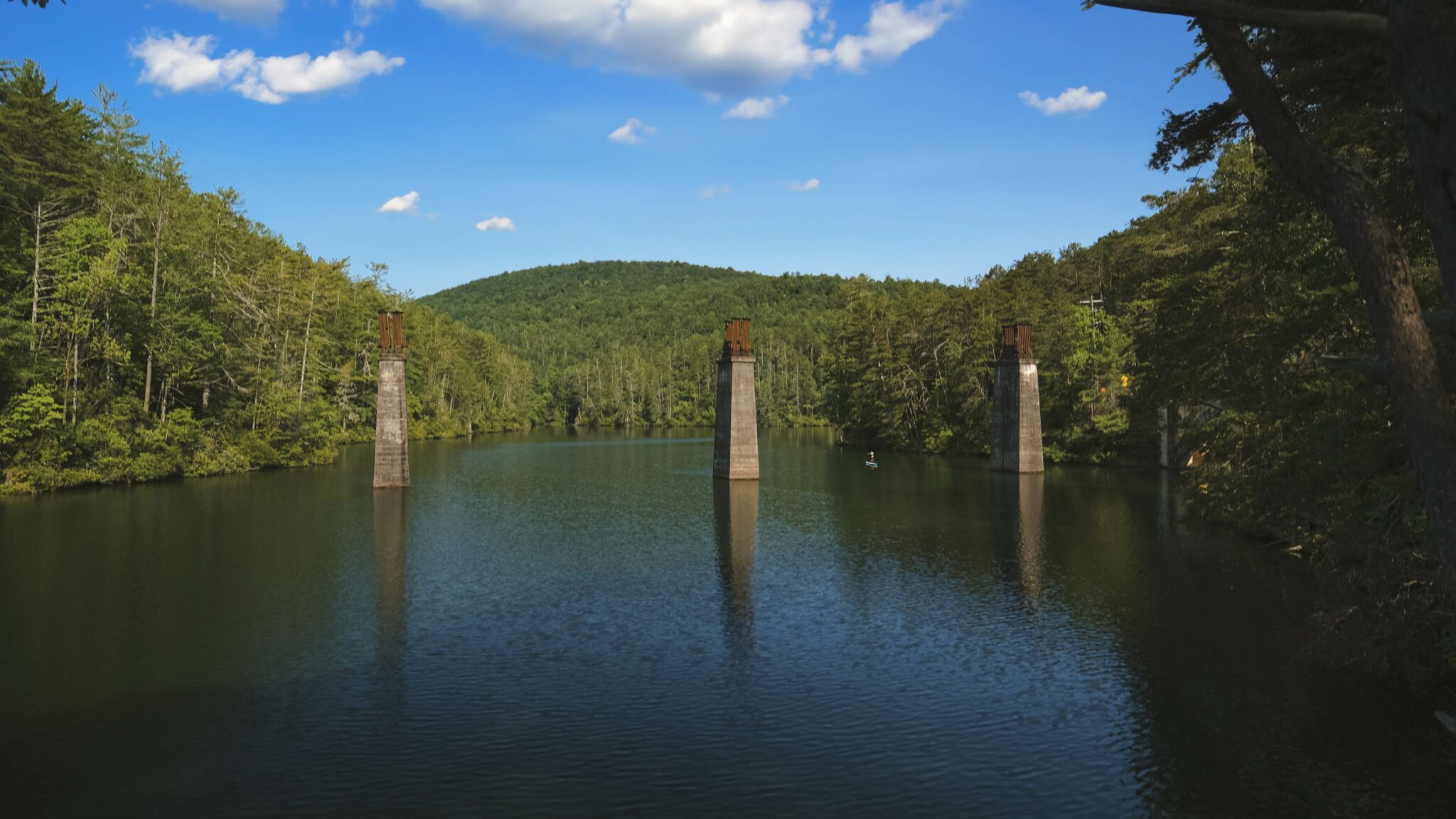 Two other fantastic parks to paddle in northeast Georgia are Vogel State Park and Unicoi state park. Vogel state park has actually won our annual "March Madness" tournament two years in a row, being voted as Georgia's favorite state park according to our audience. For good reason too! If you've never visited Vogel, you're missing out on a classic state park with everything to offer. Vogel is situated on the North side of Blood Mountain and has incredible views of the surrounding peaks towering above the lake. This really has to be one of the most picturesque places you can paddle in Georgia.  
Unicoi State Park is another great spot for family fun year-round, but especially in the summer when the lake is in use. With a gorgeous 53-acre lake, Unicoi is a fantastic spot to get on the water. This is also a great option for those looking to give this sport a try for the first time. Unicoi offers seasonal rentals including kayaks and paddleboards, and this beautiful lake provides calm waters, stunning views, and a very relaxing atmosphere. There is always a ton of great sights when we're out on the water here. From diverse wildlife and plants to the occasional guest buzzing past overhead on Unicoi's zip-line course.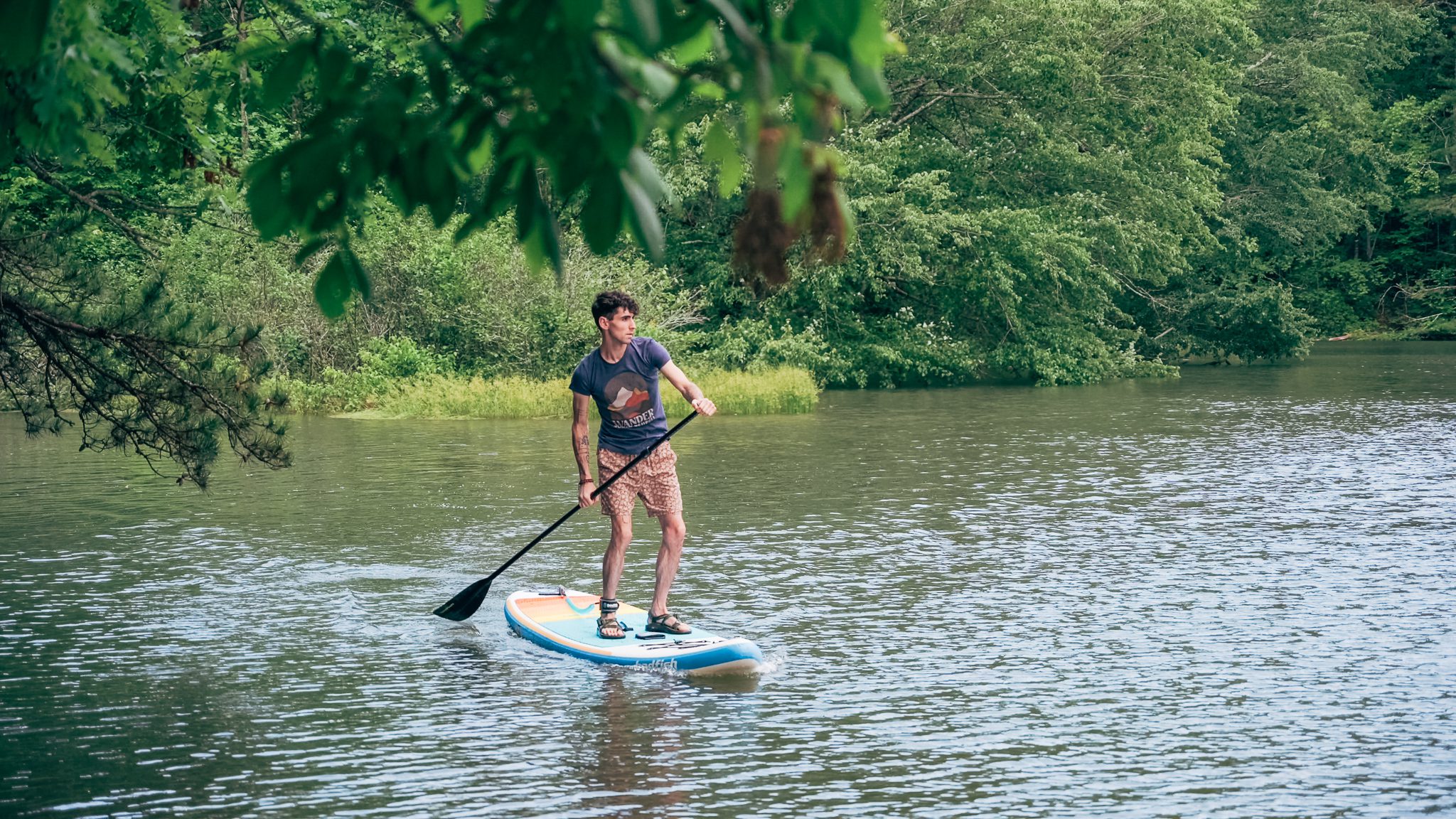 If you're based a bit further West than we are, one great park to look into is Fort Mountain State Park. We have been visiting Fort Mountain for years for hiking, but did you know they also have a 17-acre lake that is accessible to the public? With a beach and small dock area for putting in, it makes for a very nice relaxed paddle on calm water in the North Georgia mountains. 
There are of course so many other incredible Georgia state parks that have lakes just begging to be explored on the board, but there's no way we can cover them all here. These are just a few of our recent favorites close to home, but we highly recommend trying out any parks that may be close to your home as well, you never know what you might find! And please do remember to pay for your day pass when visiting state parks, or consider picking up an annual pass from Friends of Georgia State Parks. 
While state parks are undoubtedly our top recommendation for getting out to paddle this summer, sometimes you're looking for some larger, more "open" spaces. Fortunately, Georgia has some fantastic larger lakes to offer up as well. Being based out of Clayton, we can't skip over the trio of Burton, Seed, and Rabun. We would spend nearly every day on these lakes in the summer if we could. The largest of these lakes is Lake Burton at 2,775 acres, and with its size and endless mountain views, it is the most popular of the three as well. Burton is very popular with boaters, both for fishing and recreational use, so we recommend getting out early in the morning for the calmest water. You can of course catch some spectacular sunsets on the lake as well, but please be mindful of paddling close to dark. 
Lake Rabun is the second largest in this chain of lakes, and it doesn't skimp on the north Georgia beauty either. While Rabun is generally narrower than Burton, it is still a large lake with lots of area to cover. The north end of the lake is a popular spot for paddling where the water flows down from the dam through narrow channels before opening up into the main body of the lake. This area is also a no-wake zone for boats and is seldom traveled. So the water remains fairly calm, but you do have a strong current to contend with as you make your way upstream. 
Seed Lake sits between Burton and Rabun. It is by far the smallest of these three, at 240 acres, but don't discount it because of the size alone. We think that Seed makes for a great bridge for those used to paddling smaller spaces and looking to get out on open water. It is generally a very calm lake and you don't have to worry about much traffic. There is also a very quiet campground with a beach and small boat dock that are perfect for a weekend out camping and bringing along your boards.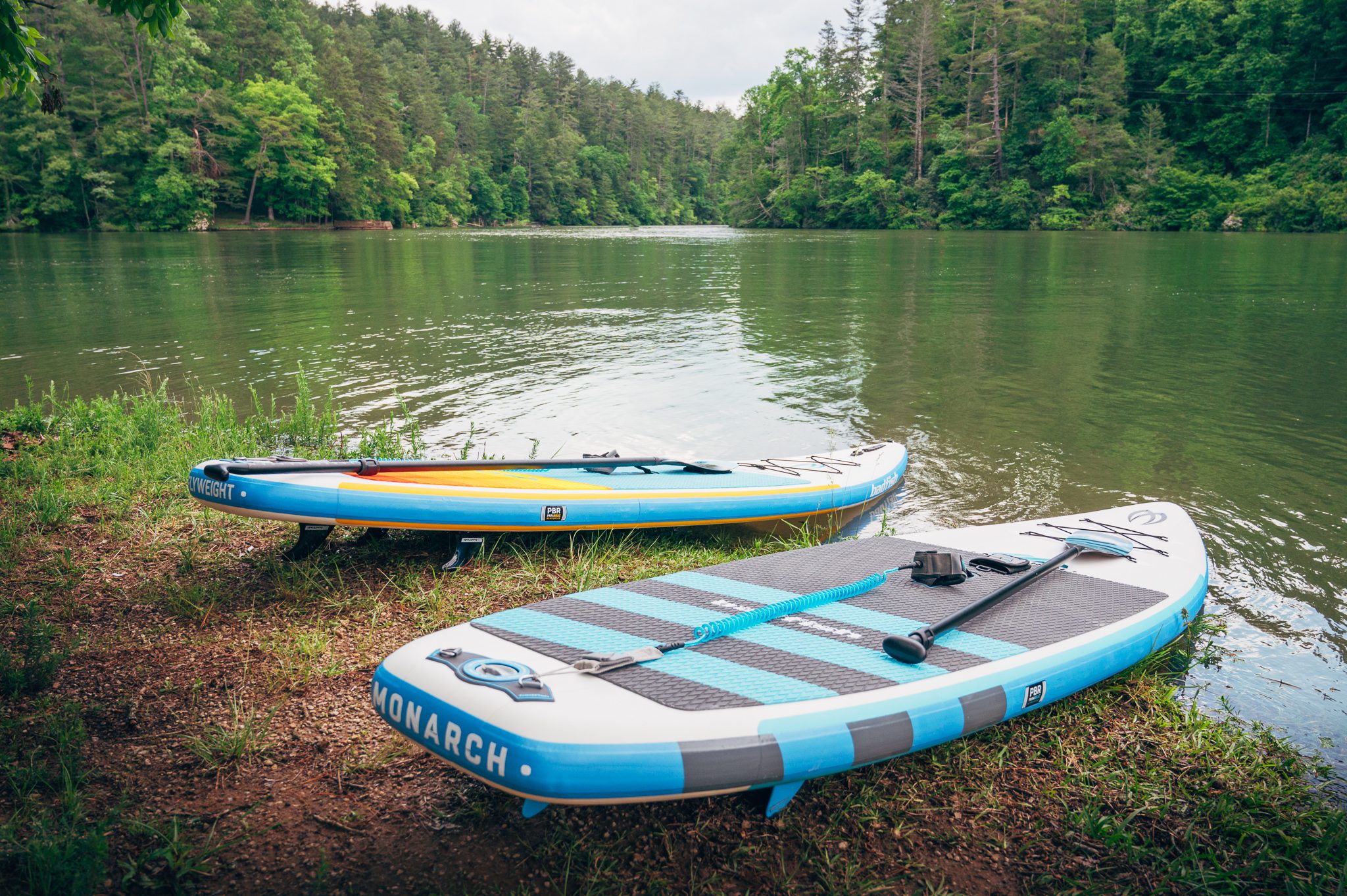 Moving a bit further West, two more of Georgia's large mountain lakes are Chatuge and Nottely. Chatuge Lake stretches across the Georgia and North Carolina Border next to Hiawassee, covering just over 7,000 acres. It is a massive lake with massive mountain views. With over 100 miles of shoreline, you'd be hard-pressed to paddle the entire lake in anything less than a week. Luckily it's easy to access the lake from multiple public boat ramps and parks. This is great for those wanting to get on the water and explore the many coves and inlets. You could truly make the day as long or as short as you need to fit any adventure. And with so many nearby amenities, it's easy to hop off the lake a grab a bite to eat. 
Nottely Lake is just North of Blairsville and adds to Georgia's chain of TVA lakes. Nottely and Chatuge are very similar lakes with several public access areas and thousands of acres to explore. Nottely also has several miles of natural shoreline where you won't find houses or other development, so you can truly experience the natural surroundings without interruption. There are even a few fun rope swings and jumping spots scattered across the lake if you know where to look.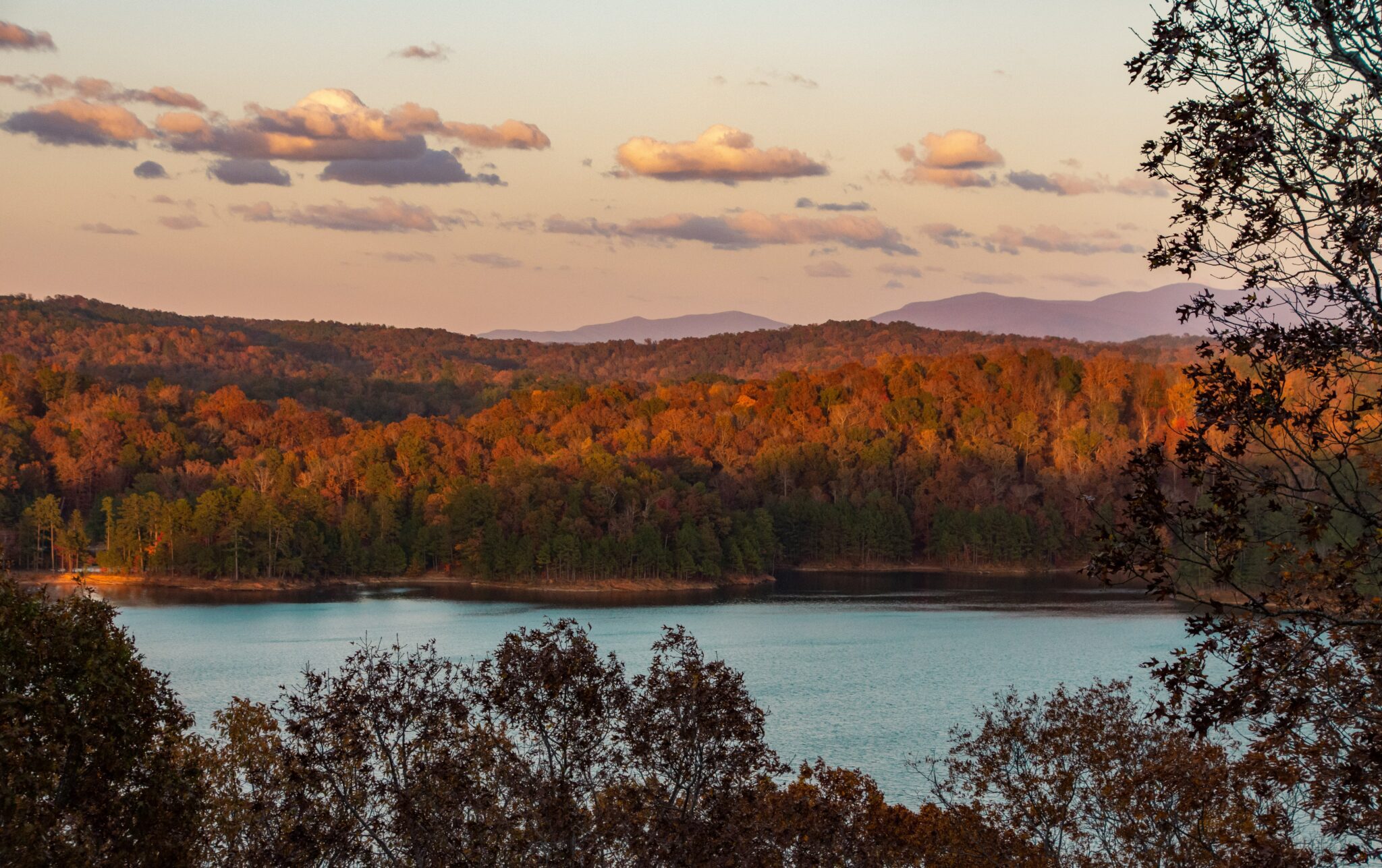 Two more notable lakes moving West are Lake Blue Ridge and Carters Lake. Believe it or not, Lake Blue Ridge is just outside of the city of Blue Ridge, Georgia. This is one of our favorite towns to visit for a day trip for many reasons, hikes, and experiences abound, tons of great restaurants, and a great small-town feel. If you're interested in some of our favorite things to do in Blue Ridge, be sure to check out our "Weekend Guide" but for now, let's talk about the lake! Blue Ridge Lake encompasses about 3,300 acres across 65 miles of shoreline, most of which is undeveloped national forest. Blue Ridge Lake has exceptionally clear water that allows paddlers to see below the surface and observe several species of fish that always seem to take interest in your board. The Chattahoochee National Forest surrounding this lake is some of the most beautiful undisturbed land in the state and provides plenty of opportunities for wildlife viewing from the water. If you put in somewhere close to the marina, you should absolutely wrap up your day with a bite to eat at the Boat Dock Bar and Grill. 
Carters Lake is unique in that there is no private development at all. No docks, no houses, just miles and miles of unspoiled beauty. The only significant development you will find is one marina, and a few boat ramps scattered across the lake to provide access. Carters Lake also has several campsite locations spread across the lake's boundaries if you'd like to make a weekend trip out of your visit. There are even some sites only accessible from the water, maybe a bit ambitious on a SUP, but I'm sure some of y'all are down for the challenge. One other popular spot to paddle on the lake is the Ridgeway Recreation Area. You can put in at the boat ramp here and paddle back through the cove to reach Tumbling Waters waterfall which is a great spot to hang out for a bit and take in the scenes. 
If you've gotten comfortable on the flat water and are looking for something a little more lively, we would recommend getting out to try one of North Georgia's rivers. With hundreds of miles of river to choose from, you're sure to find something that fits the bill for your ambitions. If you're looking for calm water with some current, or hoping to surf some rapids, we think you'll find a spot to your liking along these corridors. 
We can't mention paddling Georgia's rivers without talking about the Chattahoochee. Quite possibly the most iconic river in Georgia, the Chattahoochee offers miles of calm and scenic paddling for those looking for a relaxed ride. Or you can kick it up a notch and ride some whitewater if you're feeling confident. One of the best places to start your river paddling journey is Morgan Falls Overlook Park in Sandy Springs. This is a riverside park on a small dammed section of the Chattahoochee. This dam slows down and broadens the river, making for a great open area to get out and paddle around, working on your stability with moving water. If you're looking for a little bit more of a challenge in the same area, head a little further south towards Powers Island. Just be sure to do your research for this, as you will be traversing several shoals and will need to plan an exit point and ride back. The Chattahoochee also has countless access points across Northeast Georgia, but please do plenty of research if you're considering one of these sections as they are unpredictable and not for those inexperienced with whitewater. This river has been kayaked for years and can be a great paddle, but navigating whitewater on a SUP is a different ballgame.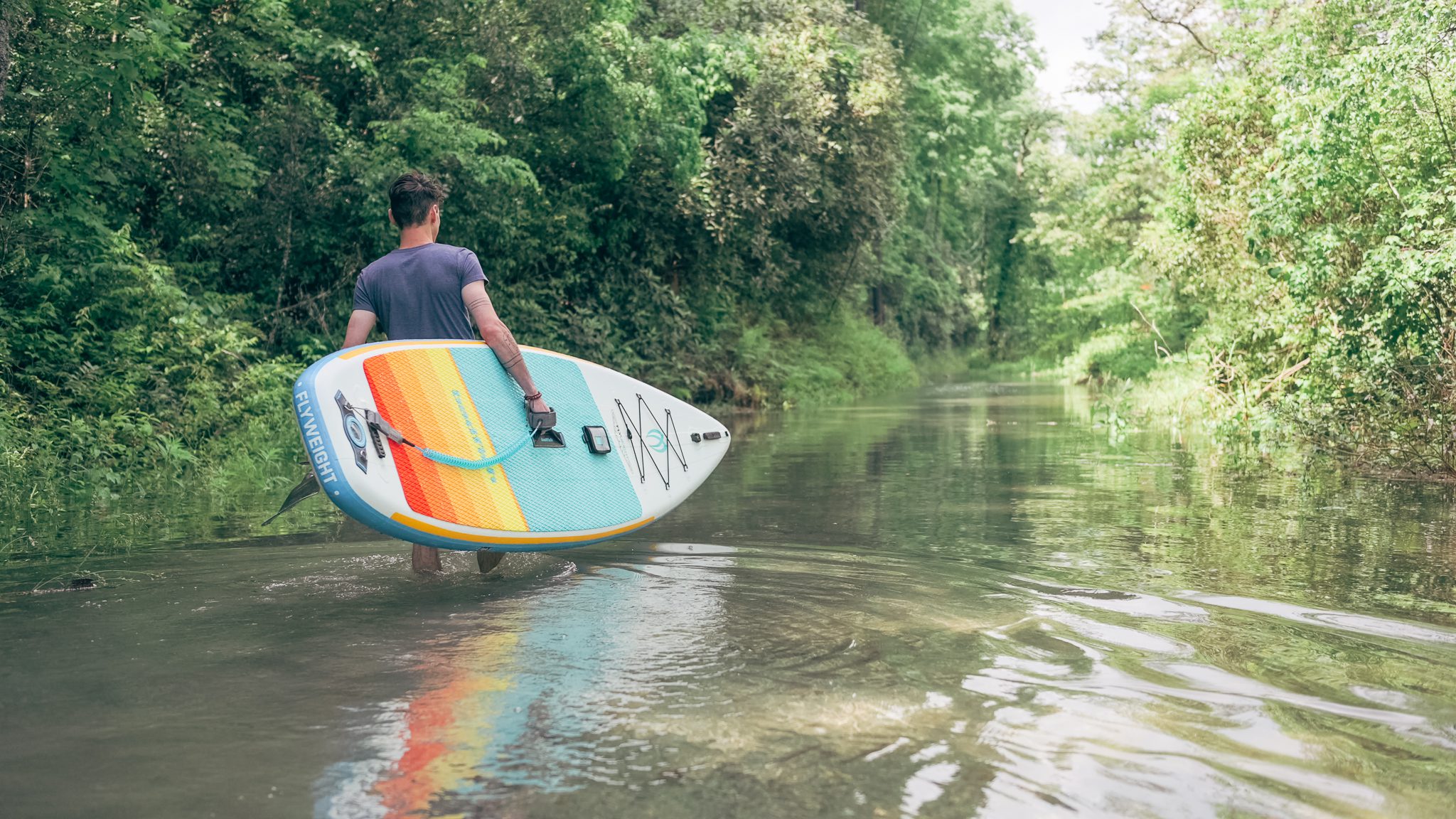 If you caught our recent "Weekend Guide to Woodstock," you know that this area offers a wide variety of activities, including paddling! Olde Rope Mill Park is a few minutes from downtown and situated right on the Little River. This is a popular spot for paddling kayaks and SUPs as it is a gentle river with little current and no rapids to contend with. If you put in at Olde Rope Mill, you can paddle Northwest toward Lake Allatoona to find Allatoona (Toonigh Creek) Falls. This beautiful falls is easy to paddle right up to and makes for a great place to take a break before your journey back toward the park. 
On the other side of Lake Allatoona, just outside of Cartersville, is the Etowah River. The popular Etowah River Trail is a 163-mile paddling route across North Georgia. We can't even begin to cover all of the access points and sections of this river as we'd be here all day. Around the Cartersville area, you can find four different launch sites here. The Etowah reaches further East from Lake Allatoona towards Dawsonville and Dahlonega. One stretch through Dawson Forest is a popular paddling section with scenic views, lots of history, and a riverside waterfall. We did this a few years ago on kayaks from River Park on Highway 9 down to Kelly Bridge. It was a fantastic ride and we think would be manageable for experienced SUPs. There are endless options on the Etowah, just keep in mind that you will be doing section paddles and likely need a ride back to your start point.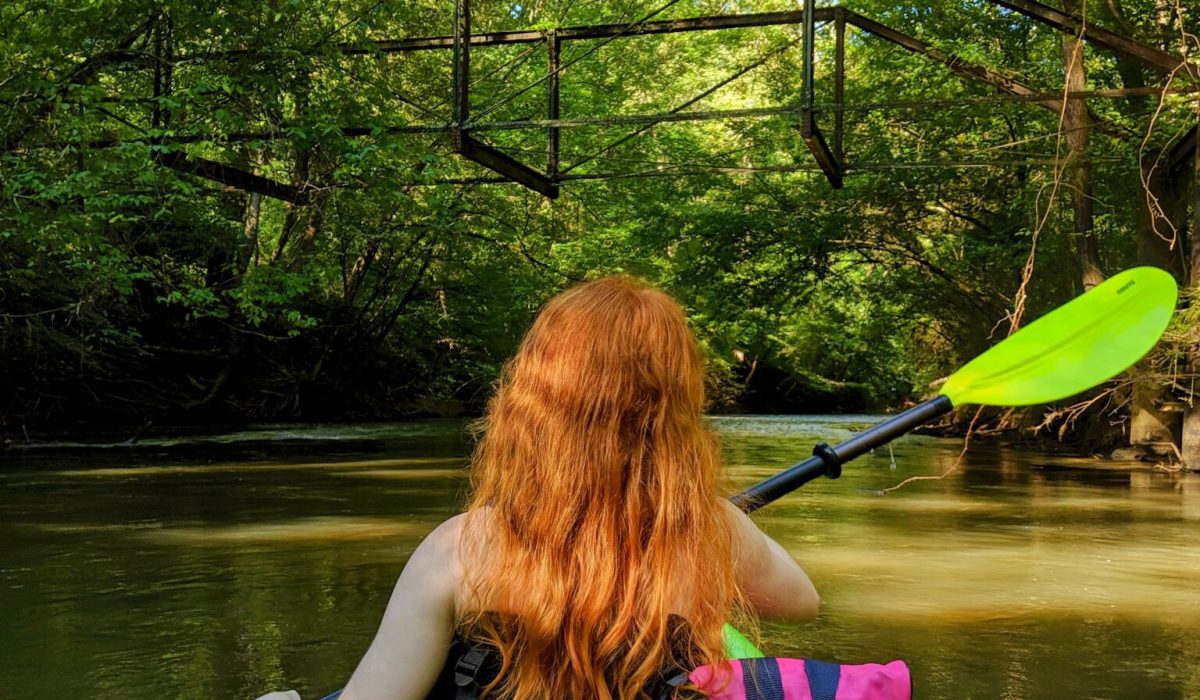 This list could truly go on and on, but we just wanted to cover some of our favorites and some of the more easily accessible spots we've visited. And we almost certainly forgot a few as well, so if there's a spot we didn't mention that you want other paddlers to be aware of, let us know! We'd love to include it. As you gear up for these adventures, please do your research and use this blog as a guide to point you in the right direction. Watersports are inherently dangerous, especially when it comes to river paddling and it's very important that you know what you're getting into. Each of these areas have guides and dedicated information that goes into much further detail to help you prepare for your journey. Also, keep in mind that SUPs and Kayaks are vessels under Georgia law and you must have a PFD with you at all times. Enough rambling, y'all get out there and have fun! Be sure to tag us #wandernorthga on your adventures so we can share them with others!