If you are anything like us, you love beer. And more specifically, you love good beer. Luckily, Georgia has no shortage of local breweries that are churning out some of the best beer in the country. But while you may be familiar with the breweries in and around Atlanta, we thought we'd focus on the North Georgia ones. While North Georgia is often hard to define . . . where does it start . . . what are the boundaries . . . does it begin in the mountains or in the foothills . . . we're going to keep it simple for this list, any brewery north of the perimeter in Atlanta is a North Georgia brewery to us.
Fannin Brewing started in 2012 and is now starting to trickle its way across North Georgia and into Atlanta. What makes them stand out is that each of their beers is named after people or places across North Georgia. Their year round beers are the Hiawassee Golden Ale, the Toccoa Brown and the Chief Whitepath White IPA and can be found at most Ingles in North Georgia.
Bulldog Hard Cider just opened a few weeks ago but is already growing strong. The owner is the original founder of Woodchuck Cider, Joe Cerniglia, and is widely considered the man behind the explosive growth of ciders over the past few years. At the ripe young age of 76, Joe decided to start Bulldog Cider in White County two years ago with the tasting room opening at the beginning of May this year for year round tours.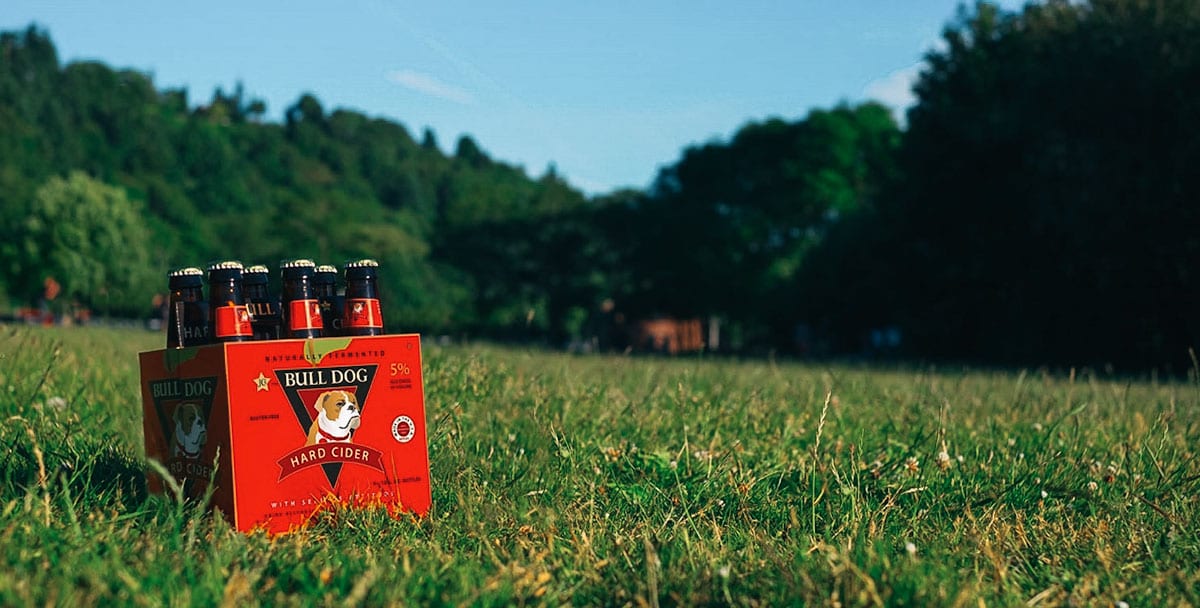 Photo from the Bulldog Hard Cider website
One of our absolute favorites. You won't find a better IPA than the Hop Diggity Dang. They have six year round beers but they are becoming known for their experimentations on limited and special releases with brews like pineapple habanero and a smoked porter. Being so close to Atlanta, it's pretty easy to find their beer almost anywhere which is a very good thing.
We are biased. We are from Athens and spent a lot of time with Creature Comforts. They are the complete package. Winner of multiple national awards only two years after launching, they are quickly establishing themselves as a major player on the national scene and gaining respect from some of the biggest and best brewers in the world. Their beers are exceptional (we're partial to the Tropicalia) and so popular that most stores impose a limit on how much you can buy! The artwork for their cans is even better. Partnering with local and national artists like David Hale and Michelle Fontaine, their cans are works of art and beauty.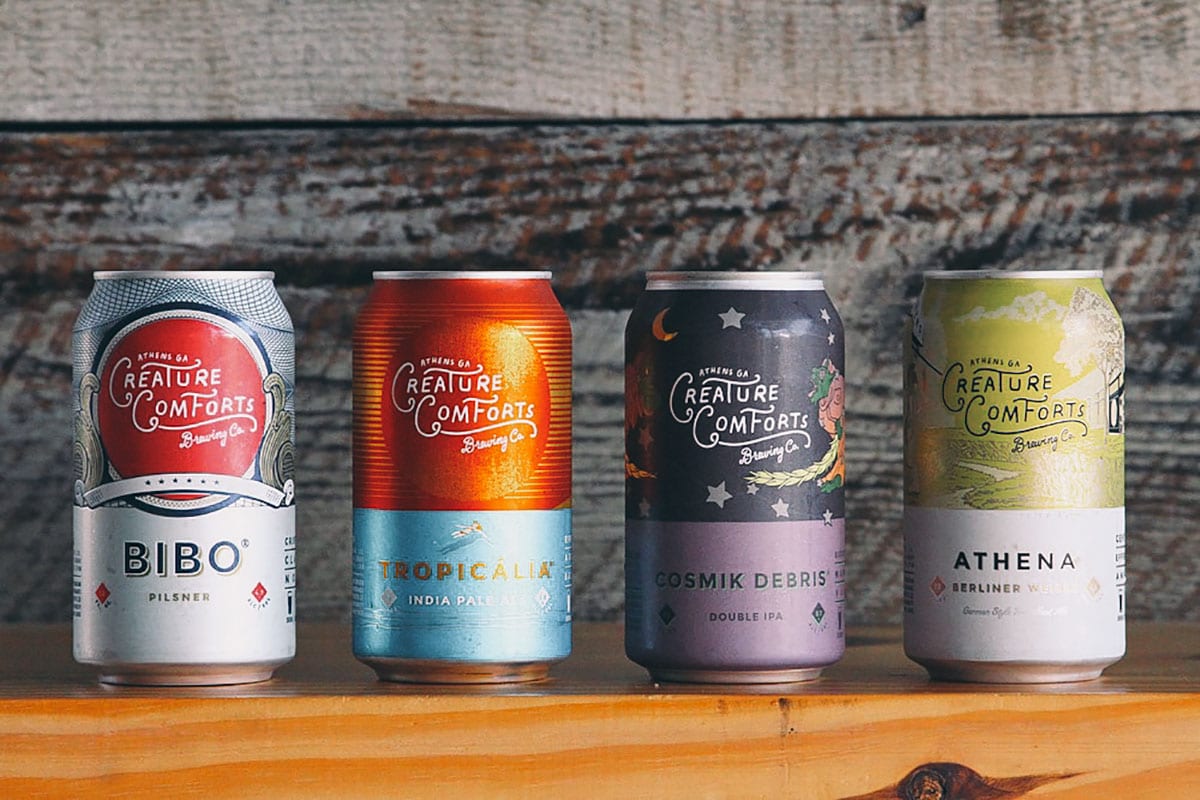 Photo from the Creature Comforts website
One of the seasoned veterans of the Georgia craft beer industry, Red Hare started in 2011 and were the first craft brewery in the state to begin canning their own beers. Their Long Day Lager and Gangway IPA are the strongest offerings although they offer almost 20 beers between the year round mainstays, seasonals, Rabbit Reserves, and collaborations. Their brewery in Marietta is open for tours Wednesday through Saturday and they usually have some solid live music to enjoy while you drink.
Reformation Brewery is nothing if they aren't great story tellers. Like any good craft brewer, they care about all the things that they should care about . . . ingredients, how it's made, the experience. But part of their culture is talking about the gift of beer and how to enjoy it as a gift. It just so happens that they happen to make amazing  beer. As you can probably tell we are partial to IPAs so without a doubt we are fans of their Atlas but they also offer year rounds in a Belgian style ale, a Belgian white, and a porter. Watch this video to get a better sense of what they are all about.
Southern Sky in Kennesaw is a family owned operation that Jon Near runs with his wife, his sisters, and a few friends. They don't have any outside investors or other owners (i.e. an influx of cash) so they are not as widely known or as easily found as some of the others on this list but you can still find them at over 20 spots around North Georgia and Atlanta.
If you live in Georgia, love beer, and don't know about Terrapin then something is desperately wrong. A mainstay of the Georgia beer scene for almost 15 years, you can find Terrapin almost anywhere. With a huge brewery in Athens Georgia and a distribution chain that covers the entire Southeast, you can drink Terrapin anywhere in the state. Their Recreation Session Ale is our go-to beer of choice, particularly when camping as it comes in cans and is easy to pack in and pack out. But you won't find any bad beers in their offerings as their experience and skill shines through in all areas.
Georgia brewers are dealing with all kinds of silly and outdated laws when it comes to beer sales and how they can most efficiently get their beer in the hands of both their loyal and new customers. If this resonates with you, you should read more about the good work that the Georgia Craft Brewers Guild is undertaking to bring Georgia beer laws into alignment with today's values as well as read about how they are creating jobs good and meaningful jobs in our state. And if you believe in what they are doing, you can sign their petition to help them make their case to the Georgia legislature.