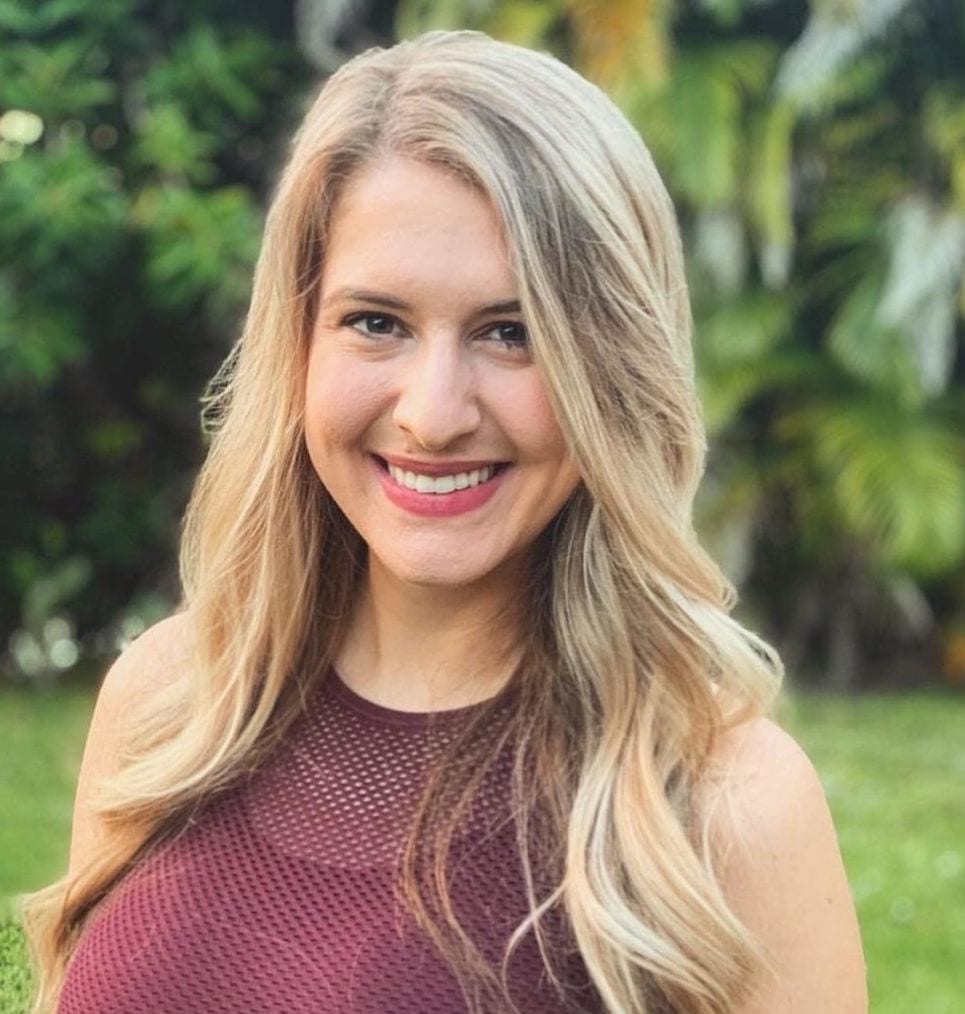 Katie moved to the state a few years ago after spending some time in Connecticut. She has spent her first few years in Georgia wandering all across the state to see as many waterfalls and beautiful sights as she can.
Nestled in the foothills of the Blue Ridge mountains you'll find Dahlonega, Georgia. In the early 1800s it became one of the first major sites of the Gold Rush in the United States and ever since then it's been home to a vibrant local community that has evolved through the years as the University of North Georgia has grown alongside it and become a popular location for retirees. It sits a short hour drive from metro Atlanta, making it a popular weekend destination, especially if coming from the 400 corridor.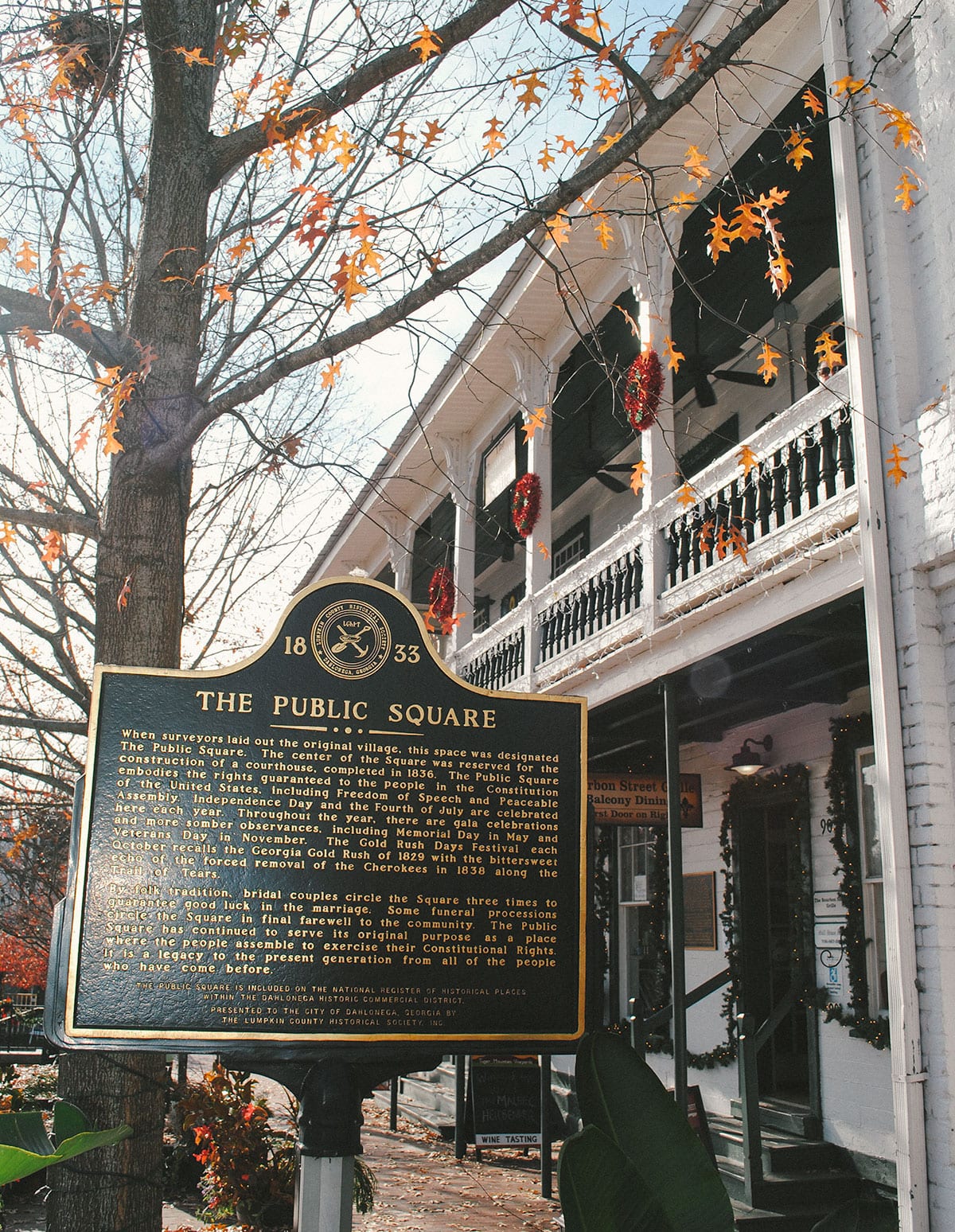 Dahlonega is known for having lots of local vineyards and picturesque views that make it a popular location for regional movies and top 10 lists across the South.. With its rich history in the Gold Rush, and diverse offerings, it is easy to see why it is the perfect weekend destination. From the best spots to hike, shop, sleep and eat we've put together this guide to help visitors get the most out of your weekend experience.
Amicalola Falls/Appalachian Trail, Cane Creek Falls, DeSoto Falls, Dicks Creek Falls
Did you really go to North Georgia if you didn't hike? Even if it's only a short hike or a quick roadside vista, Dahlonega is the perfect town to experience a variety of mountain trails, waterfalls, scenic drives and views.
The closest hike, and just miles from downtown Dahlonega, is Cane Creek Falls. There is the option of hiking around the creek which has no real elevation or strenuous steps. There is also a parking lot where you can basically pull up right next to the falls. This is perfect for those needing wheelchair access or who need more level terrain for an access point.
For those willing to make a little more of a drive we recommend Amicaoloa Falls – the largest cascading waterfall in the Southeast. These falls have a lot of steps and can leave you a little breathless once you reach the top but the views are amazing. The stairs cut across the falls which gives a great vantage point from the lower falls to the upper falls cascading around you. This is also an access point to the Appalachian Trail for those looking for a longer hike.
The other two waterfalls on our list – DeSoto Falls and Dicks Creek Falls are both about a 30 minute drive from Dahlonega and are worth checking out as well.
A great "Sunday drive" is from Dahlonega north towards Blood Mountain for an awesome there and back again drive through the mountains. Perfect for leaf watching in the fall or on an overcast and rainy day for fog filled valleys.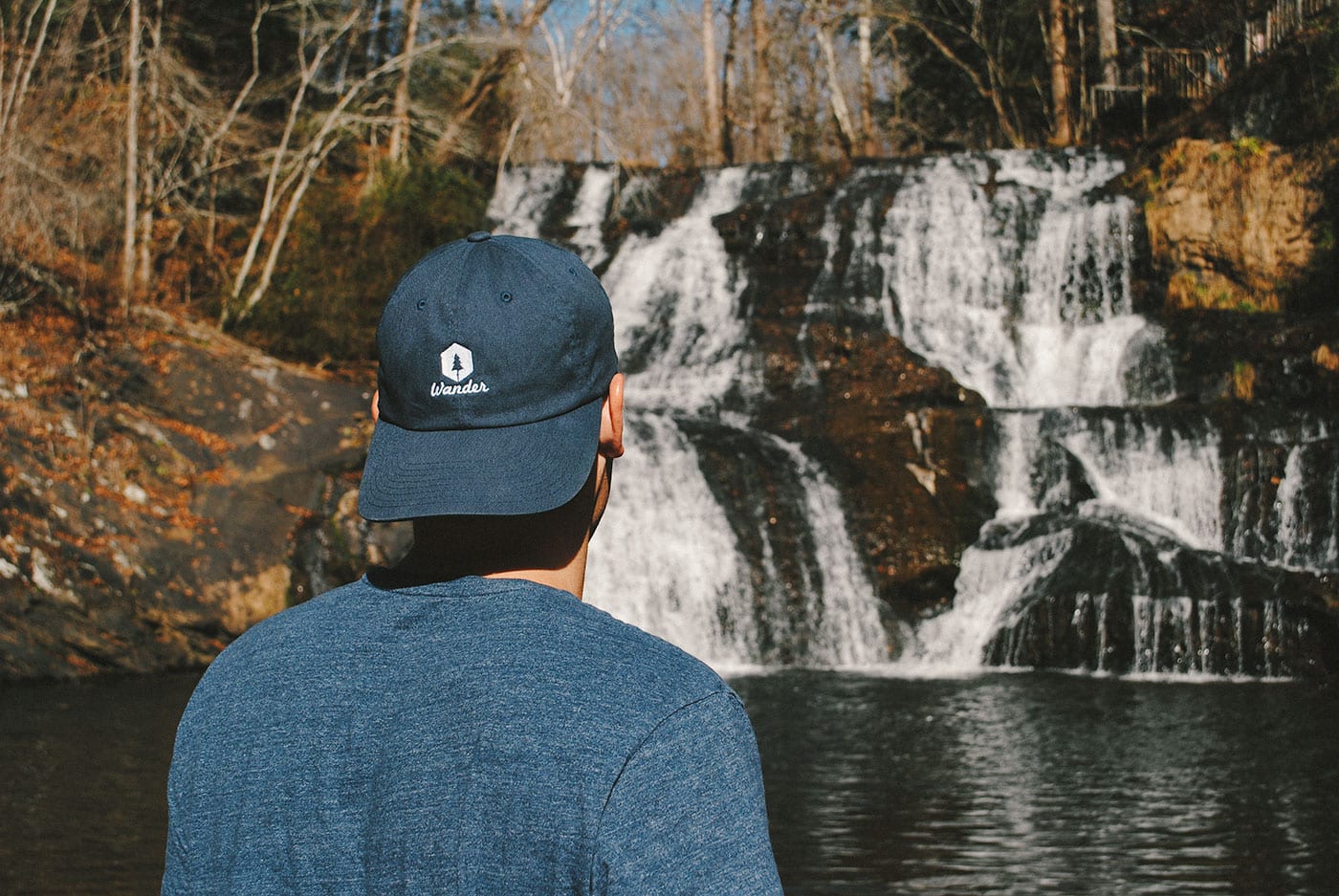 Picnic Cafe and Dessertery, The Crimson Moon, Bourbon Street Gill, and Bratzeit
There are a plenty of great local places to grab a bite while in Dahlonega. A must on our list is the Picnic Cafe and Dessertery. We highly recommend ordering the tomato soup, BBQ, and cornbread muffins. There are also plenty of great seasonal beverages as well as a mouthwatering case of desserts. You won't go wrong with whatever dessert you choose. Trust us.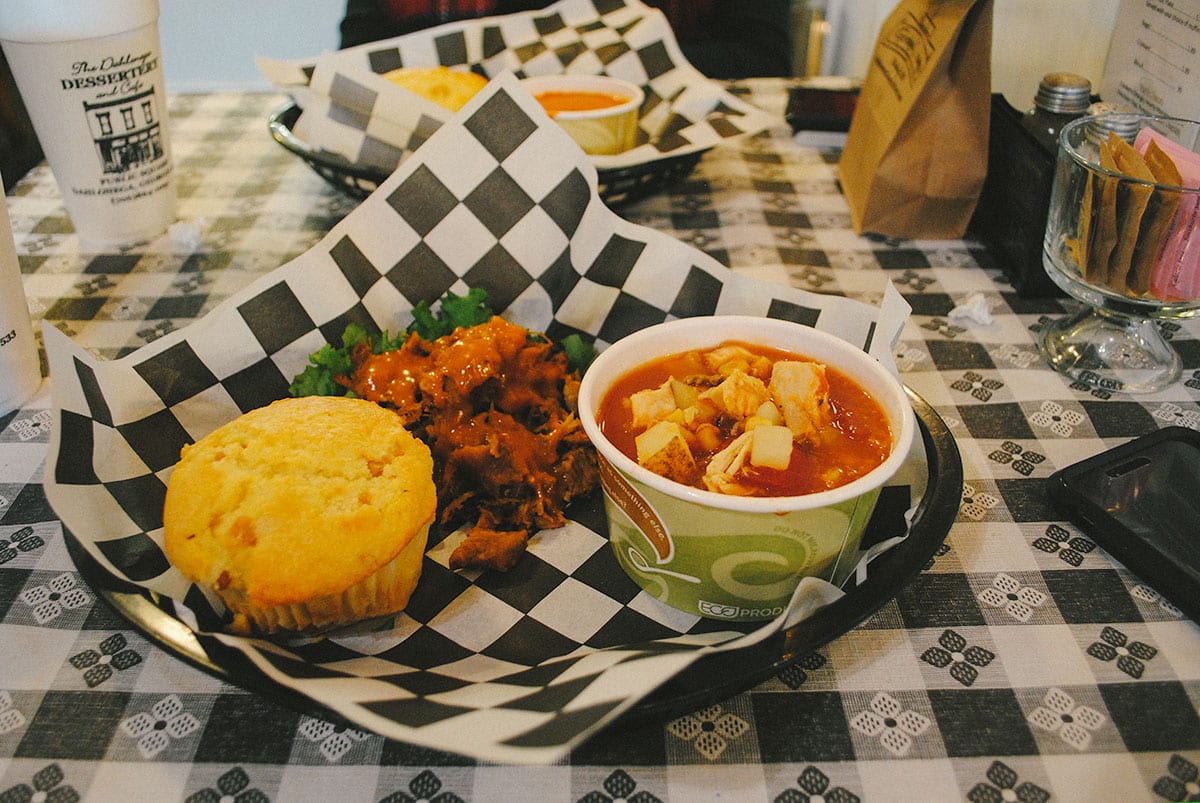 Another option located on the downtown square is the Crimson Moon. They have live music and a variety of delicious southern dishes like fried chicken and meatloaf. Also in Dahlonega Square you'll find the Bourbon Street Grill. They offer a variety of Cajun-Creole dishes and have a Mardi Gras-style New Orleans theme. If there is space, ask for a spot on the porch overlooking the square. Off the square is Bratzeit – where you can sample German and Swiss food like Schnitzel and brats. Other great places are The Fudge Factory and Paul Thomas Chocolates for dessert and Back Porch Oyster Bar and Shenanigans for a couple of different price point options.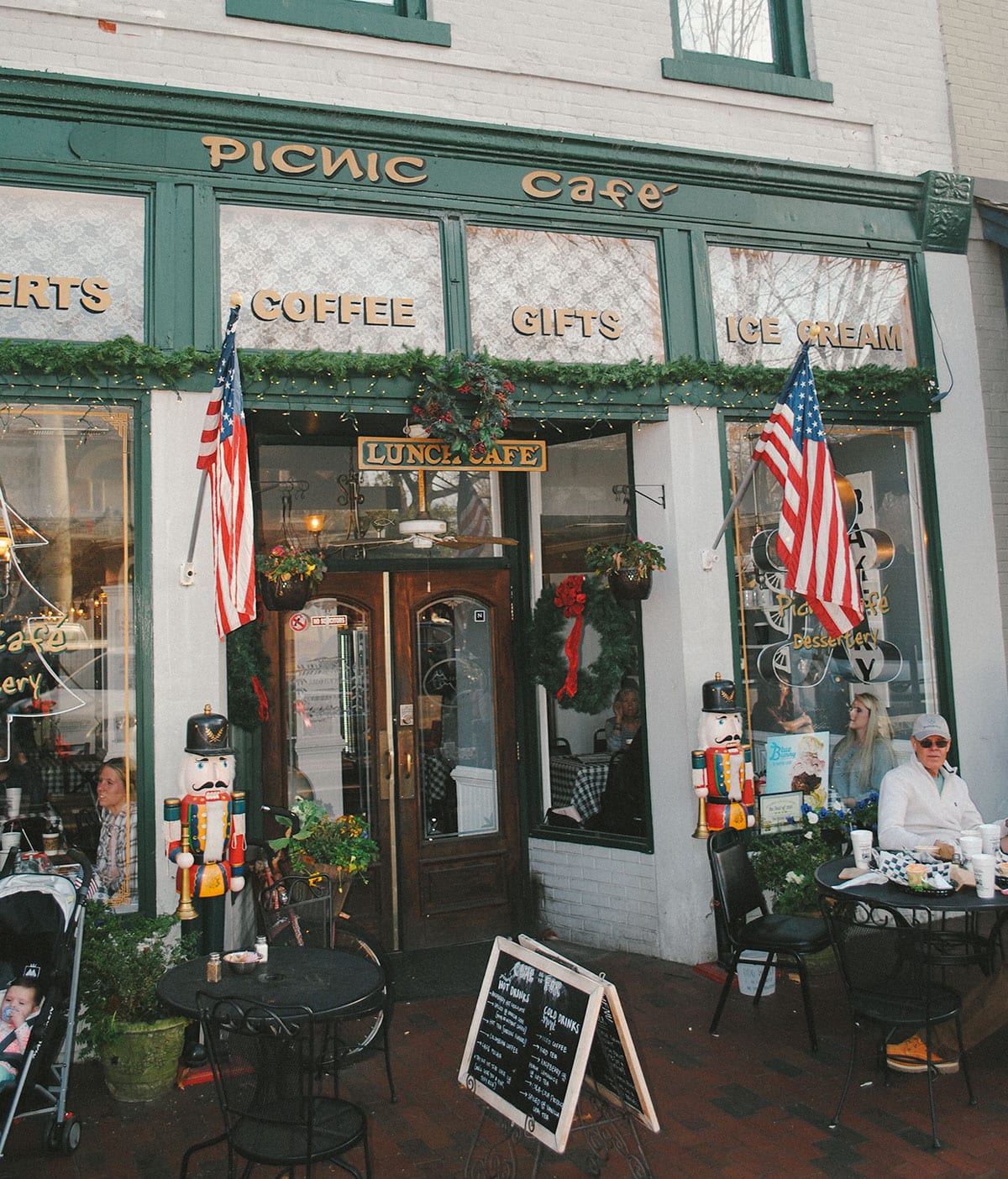 DeSoto Falls, Barefoot Hills, Airbnb
If you want to camp, check out the aforementioned DeSoto Falls. It's a perfect location for tent camping or even smaller pop-ups that don't need hookups. They have camp pads, primitive restrooms, and it is never at capacity outside of peak holiday weekends. We also love Barefoot Hills. While we haven't stayed here (yet) we have received a private tour and they have a versatile collection of rooms and private lodging including converted container homes.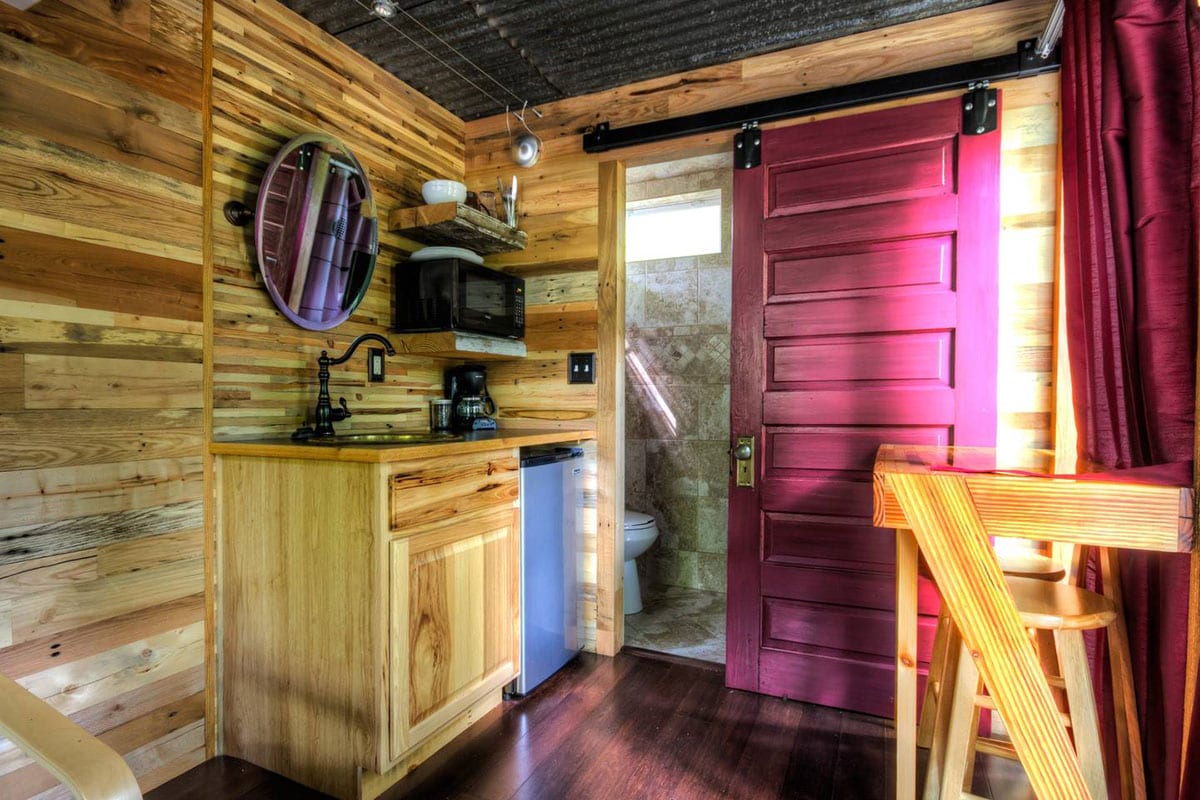 We're also huge fans of Airbnb and some of the favorites on our "saved list" include the Wine Country Escape (sleeps 2), The Lodge at Mile 18 (sleeps 10), Modern Cottage on the Chestatee River (sleeps 4), Old Bear Lodge (sleeps 2), Barn Carriage House (sleeps 2), Frog Call Retreat (sleeps 6) and if you want something more non-traditional, these B&B Yurts here and here are great options.
If you decide to book one of these amazing homes, please be sure to use THIS LINK for up to a $25 instant credit on your booking.
Dahlonega Tasting Room with Habersham Wines, Gateway Antique Mall, Dahlonega General Store, Dahlonega Fudge Factory,  tCranberry Corners
Dahlonega Square is the perfect spot to shop around. The town square is laid out around the Gold Museum in a traditional town center square block. Slightly off "the square" is an antique mall with everything from Christmas ornaments to china from the 1800s. The Tasting Room from Habersham Winery offers affordable wine tastings and wine-themed gifts.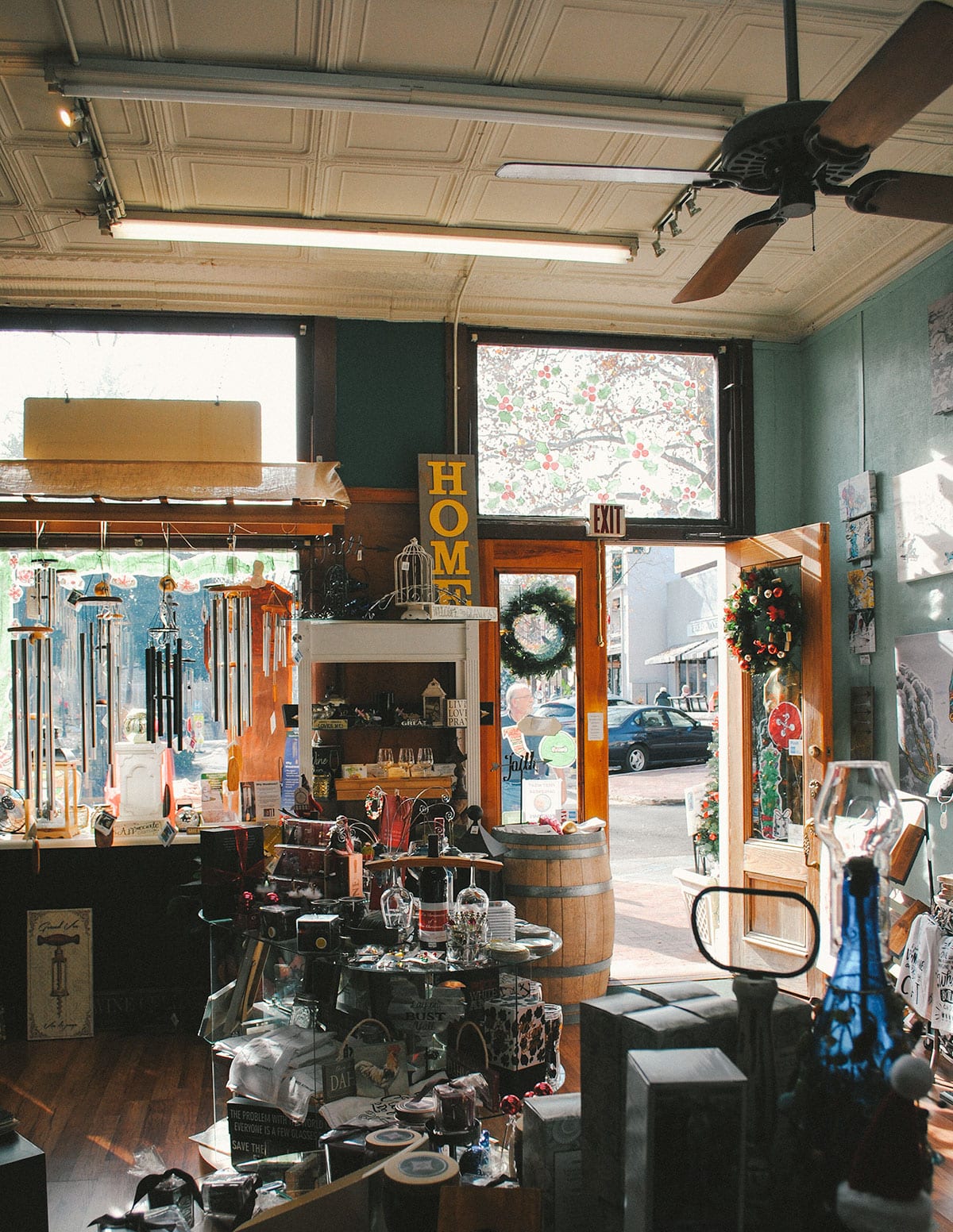 The Dahlonega Fudge factory is worth walking into even if it's only for the yummy smells of fudge and caramel apples. Lastly, Cranberry Corners sells a bunch of unique hand crafted gifts. Dahlonega Mountain Sports offers a great selection of outdoor goods for runners and cyclists while Woodland's Edge carries items for hikers and more lifestyle clothing from brands like Patagonia and Chaco's.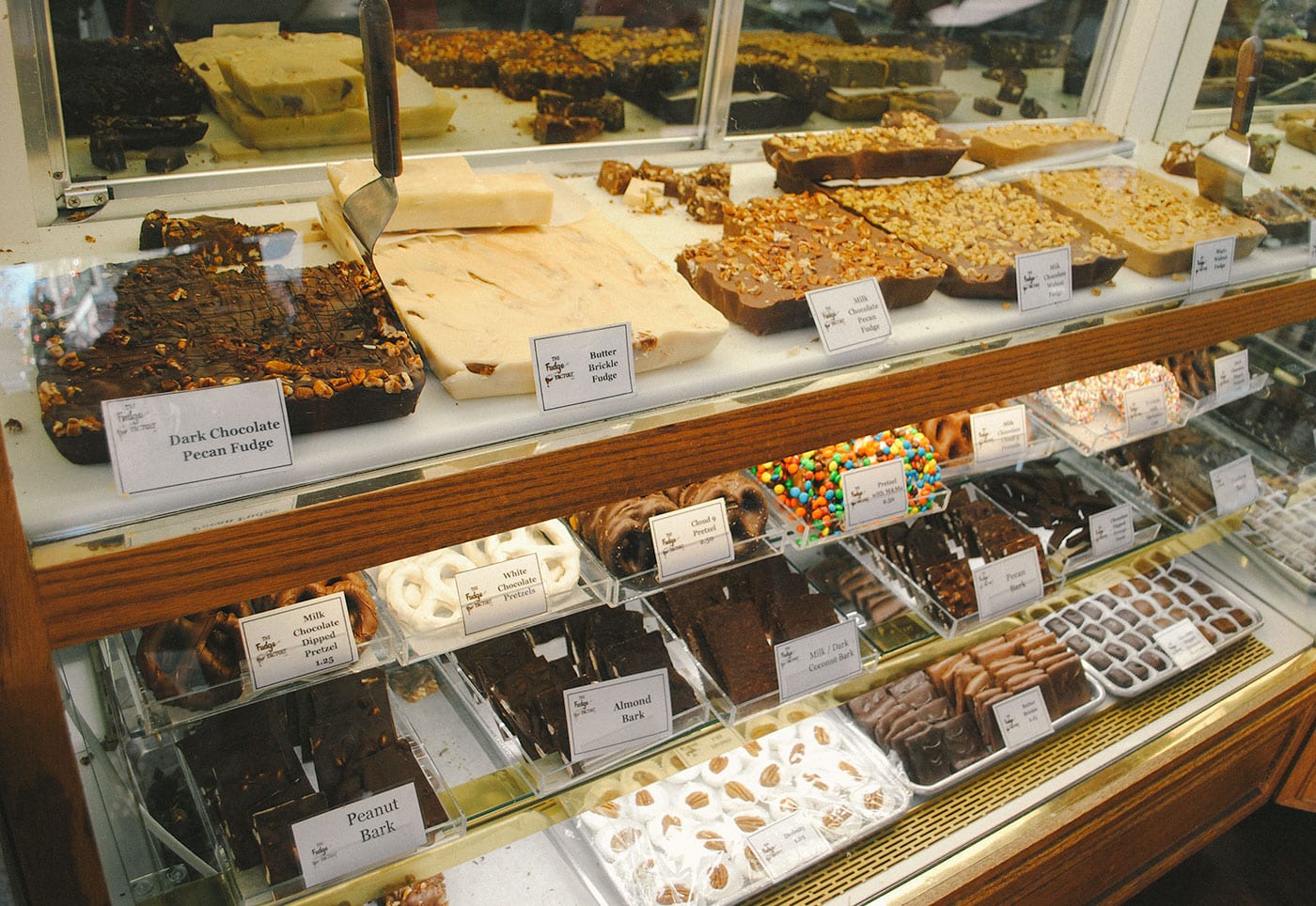 Holly Theater, North Georgia Astronomical Observatory, Dahlonega Gold Museum State Historic Site
The Holly Theater opened its doors in the 1940s. It began because Dahlonega was lacking a place to enjoy cinema despite having motion pictures being filmed there like "The Plunder" and "Big Jim Garrity" in the early 1900s. The theater is now a non-profit that offers theatrical performances from the past and present.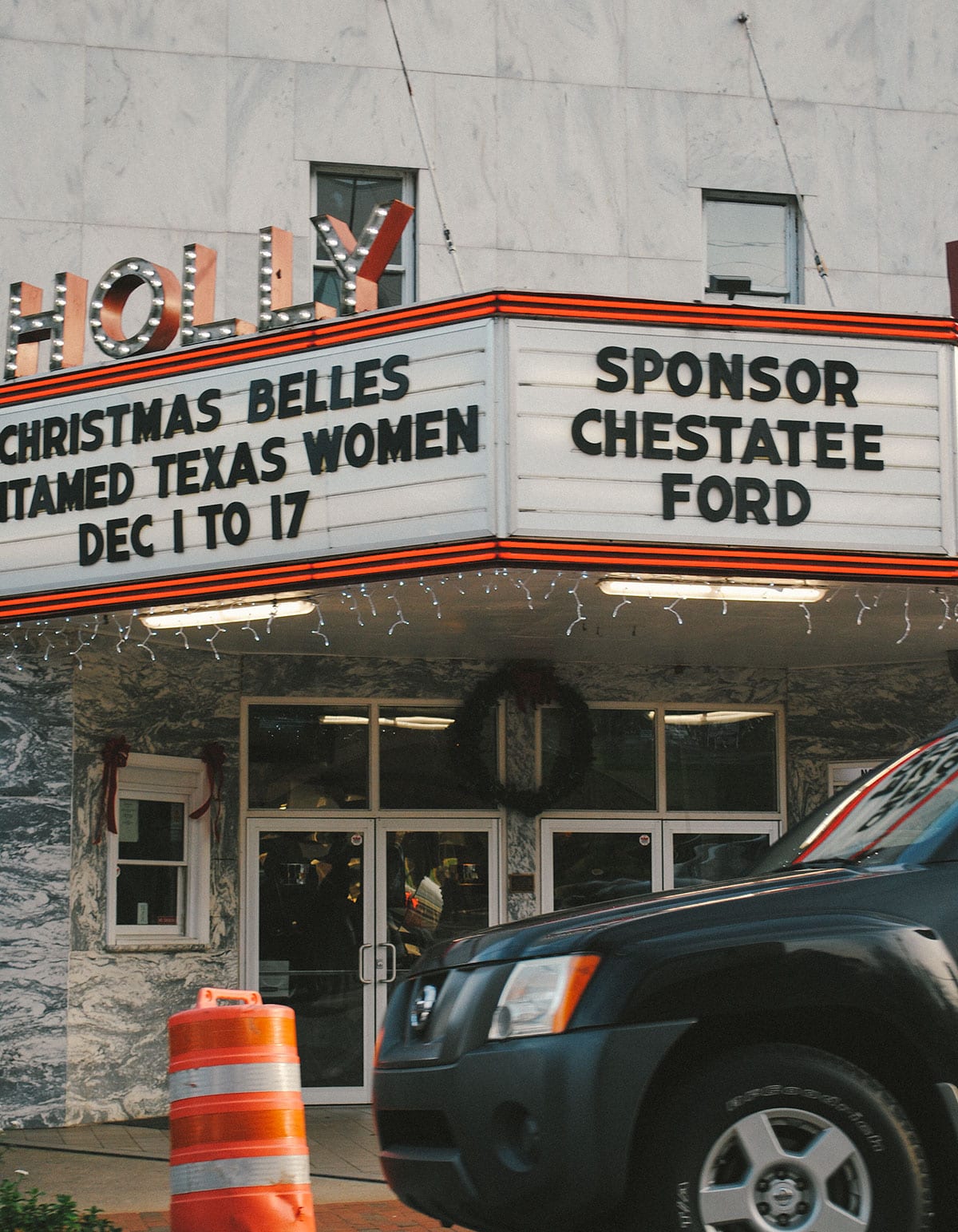 Another place to soak up some history is the Dahlonega Gold Museum State historic site. There are a variety of gold-related activities to do in Dahlonega but to get an overall feel for what it was like during the gold Rush we recommend going to the museum. Another unique activity to experience in Dahlonega is the North Georgia Astronimocal Observatory. This is a great place for astronomers and star-gazers alike. Make sure to check their website for hours when they are open to the public.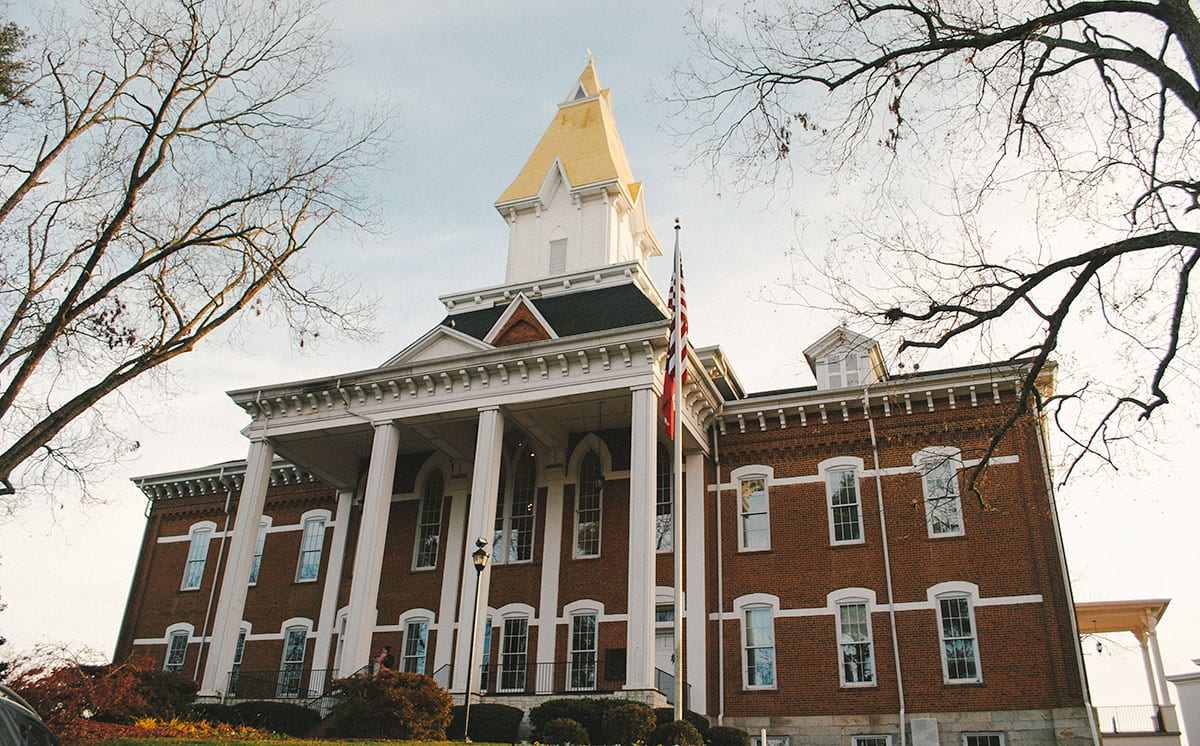 Frogtown Cellas, Kaya Vineyard and Winery, Montaluce Winery and
Estates, Three Sisters Vineyards and Winert, Wolf Mountain Vineyards and Winery, Cavendar Creek Vineyards and Winery
Now for one of the fun parts. At least for wine lovers like us. Dahlonega is known across the Southeast and the state for it's vineyards and wineries so this guide wouldn't be complete without including all of them. We kept this list to Dahlonega but for surrounding vineyards please check out our full North Georgia Wine Guide. For beautiful views we recommend Kaya Vineyards, Wolf Mountain Vineyards and Montaluce. All the spots are great on this list and offer a variety of wines ranging from traditional reds and whites to muscadine wine made from muscadine grapes native to this region.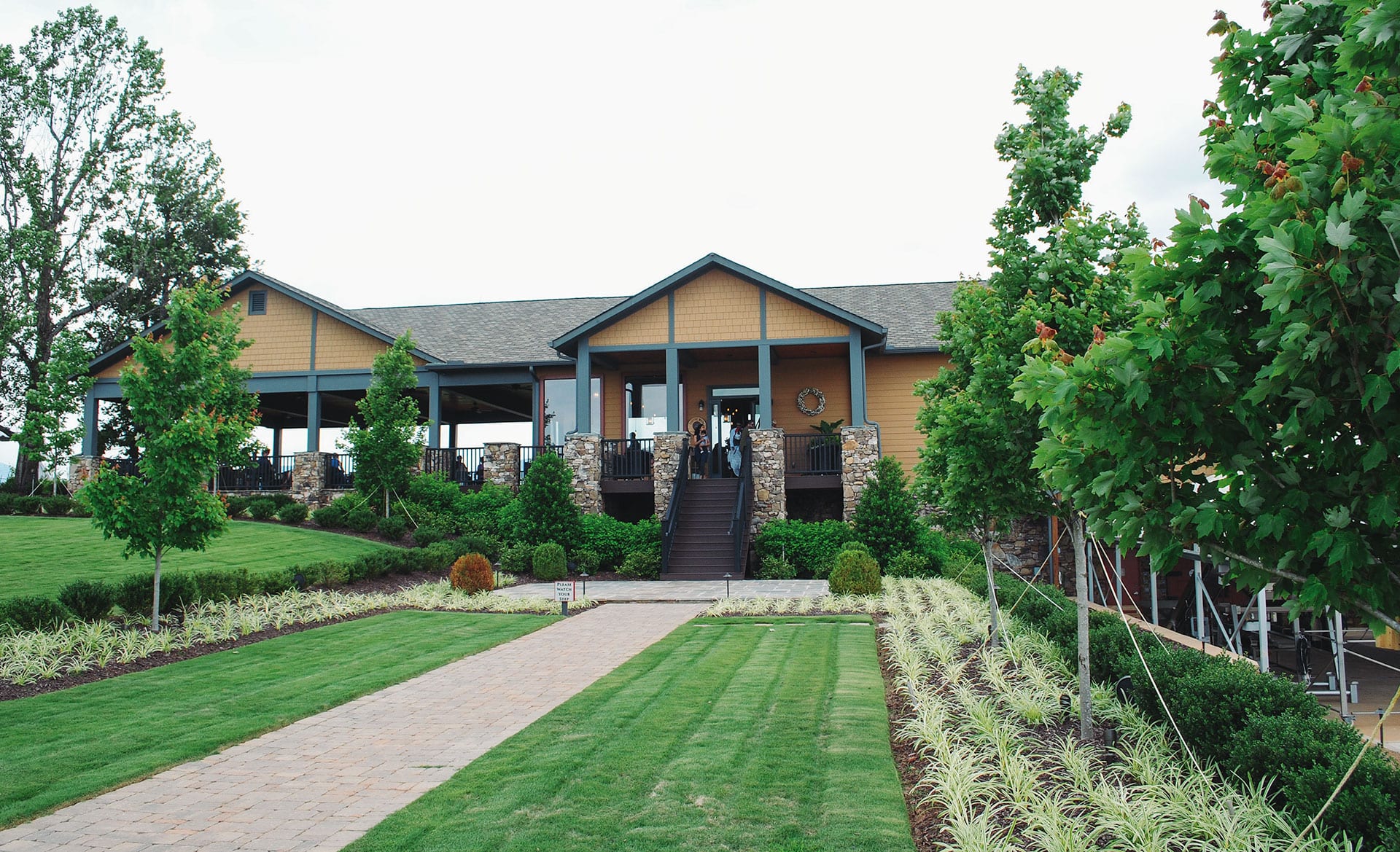 With so many things to do and places to see, Dahlonega is the perfect North Georgia adventure destination. Whether you're looking for a relaxing afternoon in the city square, a hike through the mountains, or just a fun place to get drinks and watch a show . . . Dahlonega has it all. While this guide will help get you started there is always plenty more to discover in this great city. When in doubt, be sure to ask any locals you meet while out shopping or eating!