It is summer. You probably did not need me telling you that. The overbearing humidity probably told you. But the good news about summer is that you can get fresh peaches. And you can drink a little more liberally on your back porch without feeling as guilty about it. And you can eat ice cream without worrying about the calories. The good news is that I have found a way to combine summer, peaches, bourbon and ice cream with this Bourbon Peach Pie. So even if the heat can be overbearing, you can at least combine four good things into one delicious bite.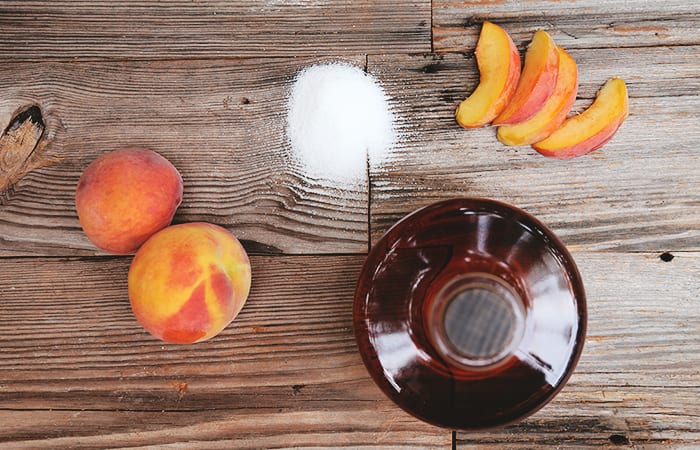 Ingredients:
6 or 7 medium, sliced and peeled peaches
1/4 cup bourbon
 (don't be shy)
1/2 cup white sugar
1/2 cup brown sugar
1/2 cup flour
1 tea spoon ground cinnamon
1/4 teaspoon salt
2 teaspoon lemon juice
1 tablespoon butter
1 chilled double pie crust
Directions:
In a large bowl, mix peeled, sliced peaches with the bourbon. Cover
and sit in refrigerator overnight (or at least several hours, if not
overnight.)

Preheat oven to  400° F. Whisk together flour, white sugar, brown
sugar, cinnamon, and salt in a large bowl. Add the peaches and lemon
juice and mix until evenly coated.
Roll out bottom half of the pie dough into a 9″ pie pan. Pour the
peach filling into the pie crust and smooth to fill. Slice butter into
several small pieces and place on top of filling. Roll out the second
half of the dough on top of pie filling and cinch the edges together
and cut excess dough from the edge. Using a knife, cut small slits in
the middle of the top crust for ventilation while baking.

Bake at 400° F for 35 minutes. Then reduce the oven to 350° for
additional 25-30 minutes of baking time, or until crust is golden.
Cover pie with a single sheet of aluminum foil if browning too
quickly. Let cool and serve with vanilla ice cream.
Oh. And this is really the most important part when you start to think about it. Make sure you pour yourself a glass of bourbon while you prepare the pie. And maybe another while the pie is in the oven. And maybe one more for good measure when you have eaten that last crumb and licked your spoon clean. And if you want one more after that, well . . . we think there are worse things than getting a good night's sleep.