We recently took a little road trip to northwest Georgia after realizing how poorly we have done at representing this section of our state. Part of it is because we all have day jobs and writing about things in our own backyard is way easier on our schedule than driving across the state. But that's just a lame excuse. So since our North Georgia map is starting to look a little biased, we set out on a trip to find some of the best spots in northwest Georgia and that led us to Live A Little Chatt.
We had two days off from work so we were looking for a place we could call home for a few days that was centrally located and would allow us to explore in multiple directions. After searching Airbnb. we found a place that was perfect and close to so many of the places that we wanted to check out in Wildwood, Georgia.
When using Airbnb (be sure to read our other Airbnb recommendations here and here), our family typically prioritizes affordability and uniqueness and we definitely got both with the Old Blue Chair Tiny House. Turns out the tiny house we were renting wasn't just one house in the woods, but a small cluster of four tiny homes set back in a picturesque valley. The valley looks out at Lookout Mountain and in the morning was filled with fog and clouds and which is a pretty great view in the morning from the hot tub.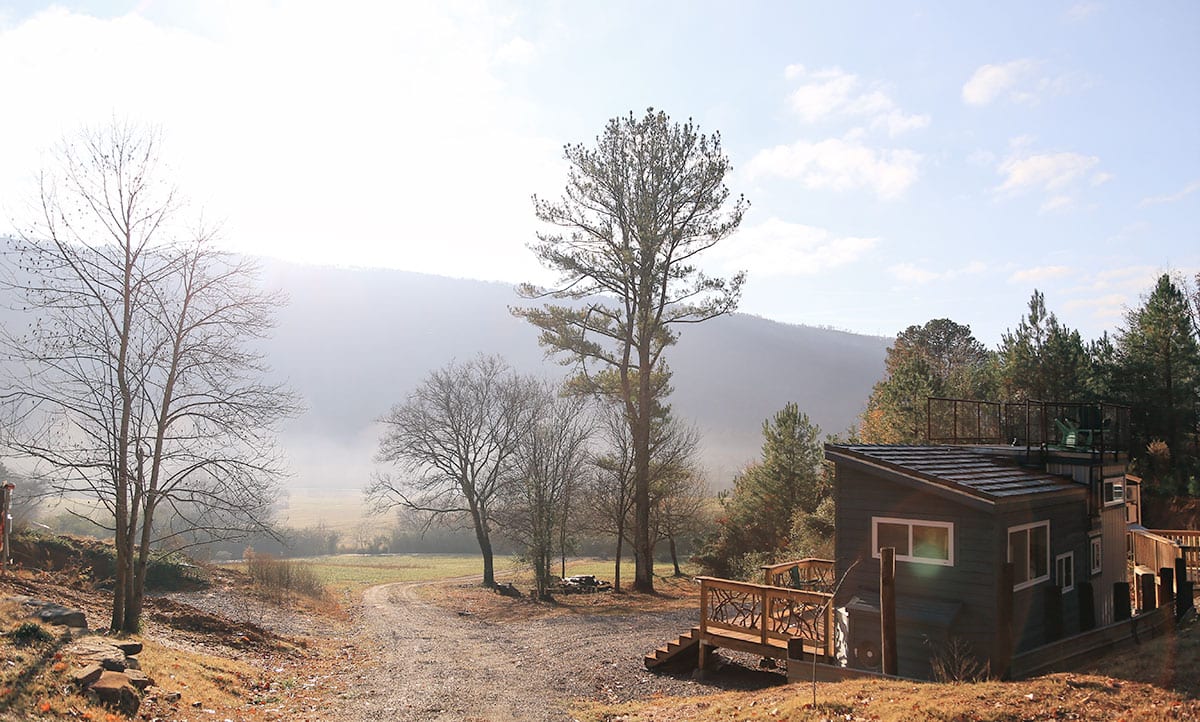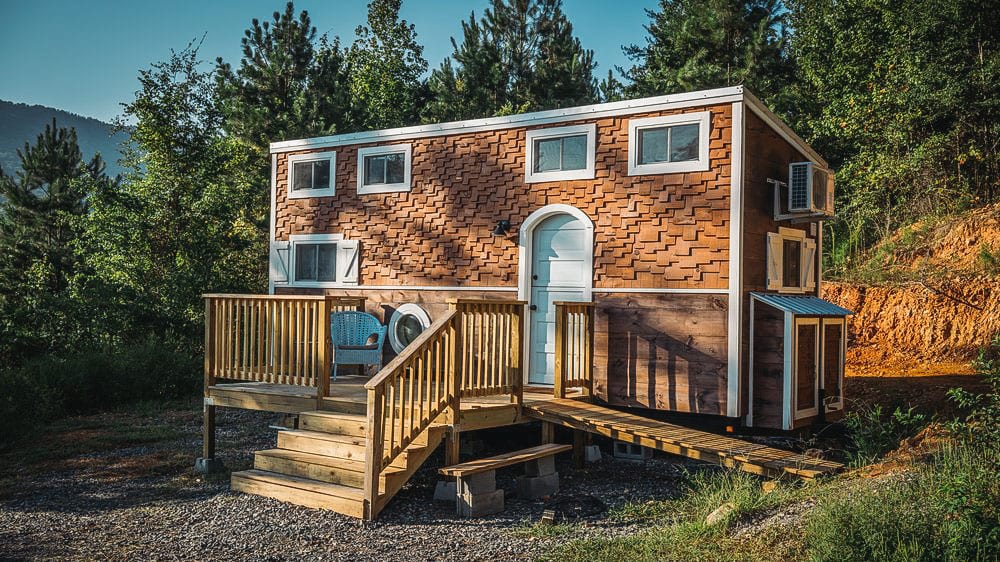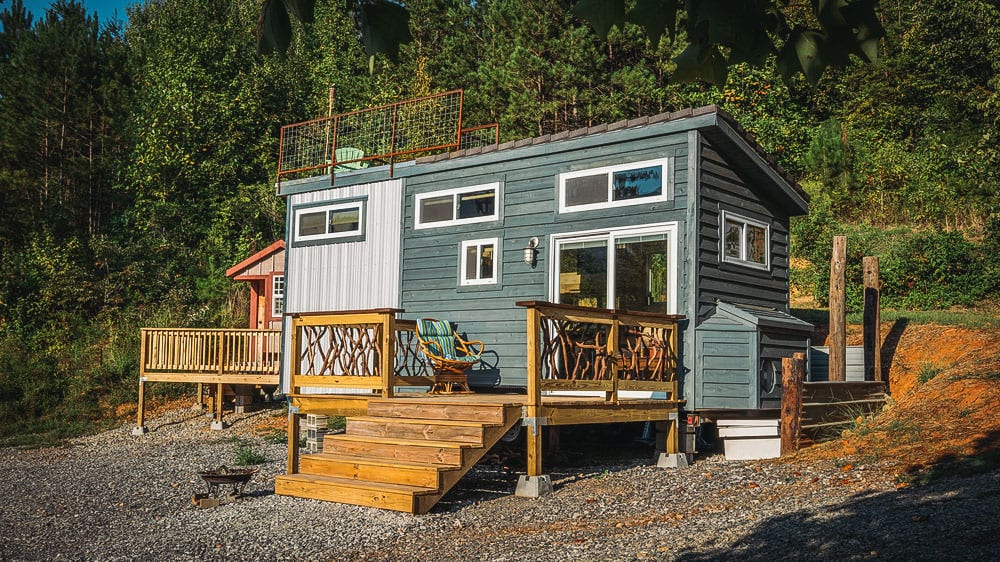 When we planned our trip, the main spot we wanted to hit up was Cloudland Canyon State Park. It turns out that our Airbnb find was less than 15 minutes from the park gates. We ended up spending 2 nights there and were able to visit Cloudland Canyon, Fort Mountain State Park, Sloppy Floyd State Park, Chattanooga and DeSoto Falls in Alabama, all of which were within an hour drive of here. So a huge positive right out of the gate was that it was centrally located to so many great spots.
We stayed in the Old Blue Chair but the cluster of homes is made up of the Shangri-Little, the Wandering Gypsy, and the Bedrock Cave.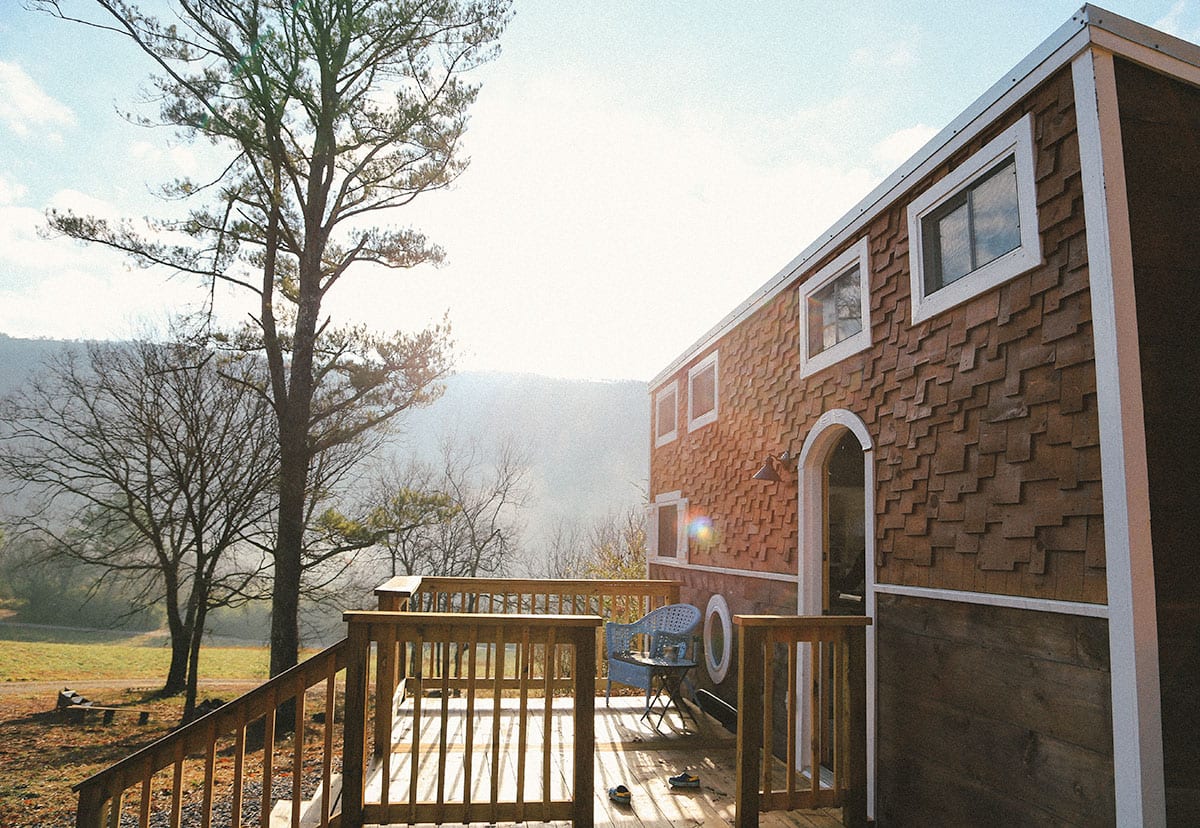 I'll talk about the Old Blue Chair first since that's the one we stayed in. I don't know the exact square footage but it was exactly what we were expecting. Long and skinny with every nook and cranny serving a purpose and being useful. Even in that small amount of space, it felt roomy and perfect for a small group. It says it would sleep 5-6, which would probably be doable if not inconvenient with a group that size beyond sleeping in the loft. However, we had 2 adults and a 3 year old who is notorious for being a ping pong ball in small spaces yet everything felt comfortable the entire time. This would be ideal for a romantic getaway or a small group of friends or family who don't mind being close.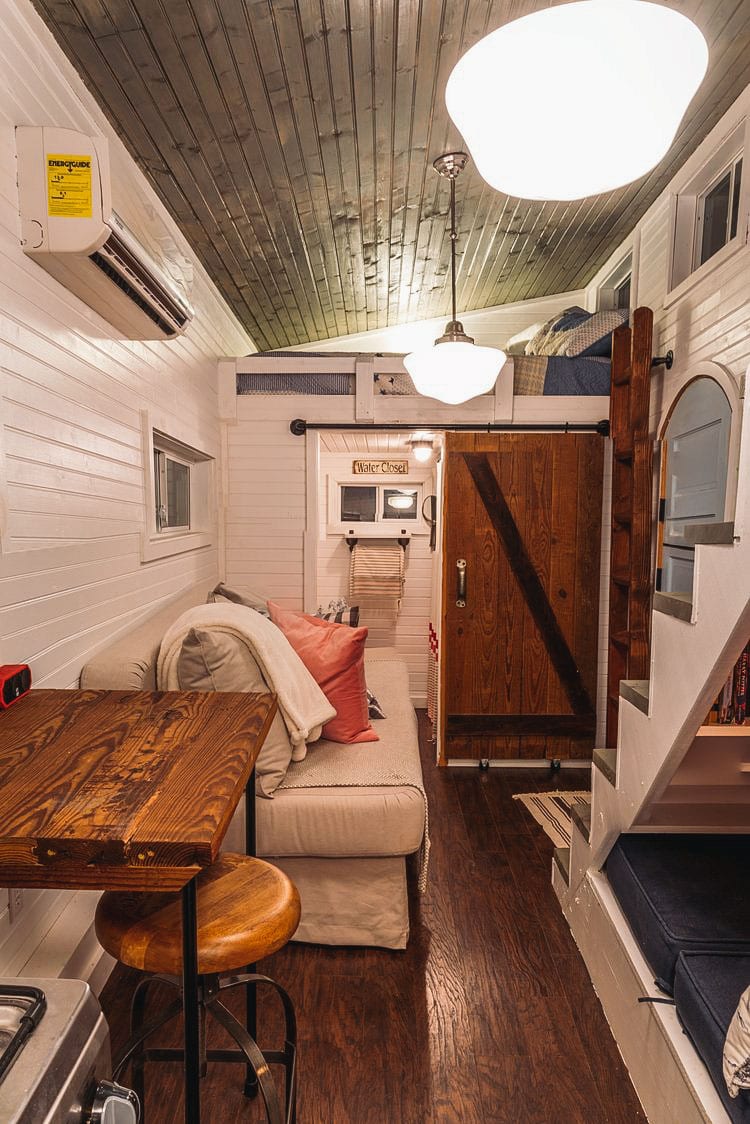 There is also the Shangri-Little (sleeps 3) which has a secret hobbit door leading to a rooftop deck, the Wandering Gypsy (sleeps 4) which is made with all recyclable or reclaimed materials, and the Bedrock Cave (sleeps 4) which was placed inside of and partially underneath a grass hill. After meeting the owners Joe and Brian, they gave us a tour of all the tiny homes and they were each interesting and unique in their own right. We really want to go back now and try the other ones although I think it's going to be hard to beat the Old Blue Chair for our family.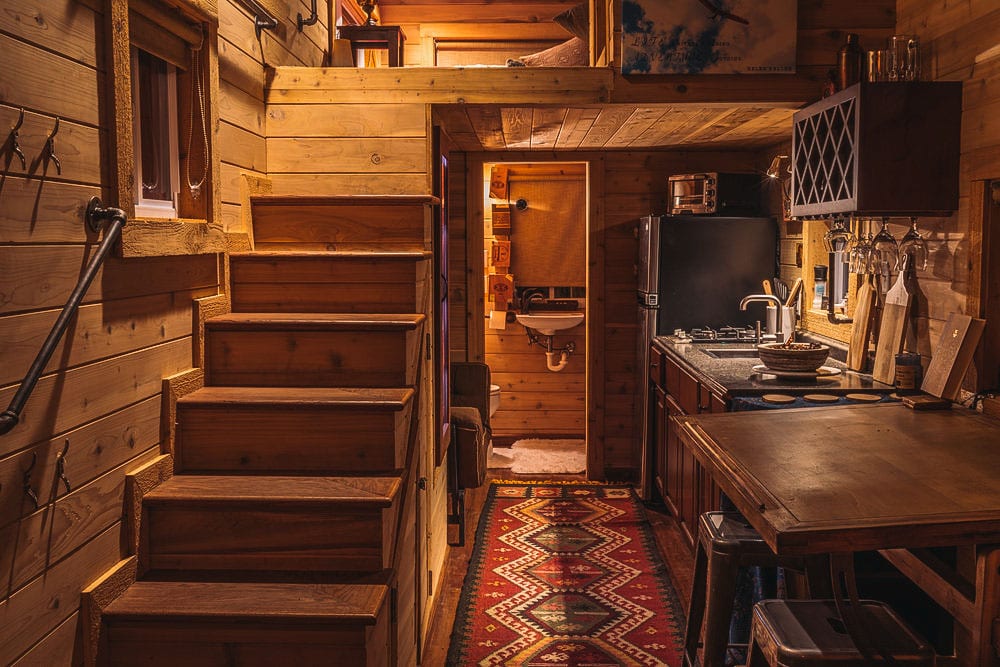 The houses all have WiFi, are on septic tanks (so no stinky tiny home composting), have small kitchens, work spaces, and a community hot tub. If anything, the only drawback for some might be how close the homes are clustered together but even that didn't bother us. We like crossing paths with new people so it would have been fun to meet and talk to other folks and judging by the dozens of positive reviews on their Airbnb, other guests have felt the same way. But we came on a Monday and a Tuesday so we had the whole place to ourselves. We just made Brian, one of the owners, our new best friend and talked his ear off about northwest Georgia and where we should go.
Brian is a professional hang glider and works at the nearby Lookout Mountain Flight Park so if you're looking for something fun and different to tack onto your trip, I'm sure Brian can get you the info you need to make a hang gliding reservation. There are even rumors that he sometimes glides down to meet guests as they are checking in.
We will have a full northwest road trip guide up soon that shows you all the additional places we went and our rough itinerary but if you're looking for a place to eat, try Thatchers BBQ. It was so good the first night that we went back the second night. And like I said, it's so close to Lookout Mountain, Cloudland Canyon, and Chattanooga, that you won't have to drive far to find opportunities to explore.
This is definitely now at the top of our list for our favorite Airbnb rentals in Georgia and we are already plotting our return trip for the spring. We highly recommend Live a Little Chatt and think you'll love it as much as we did.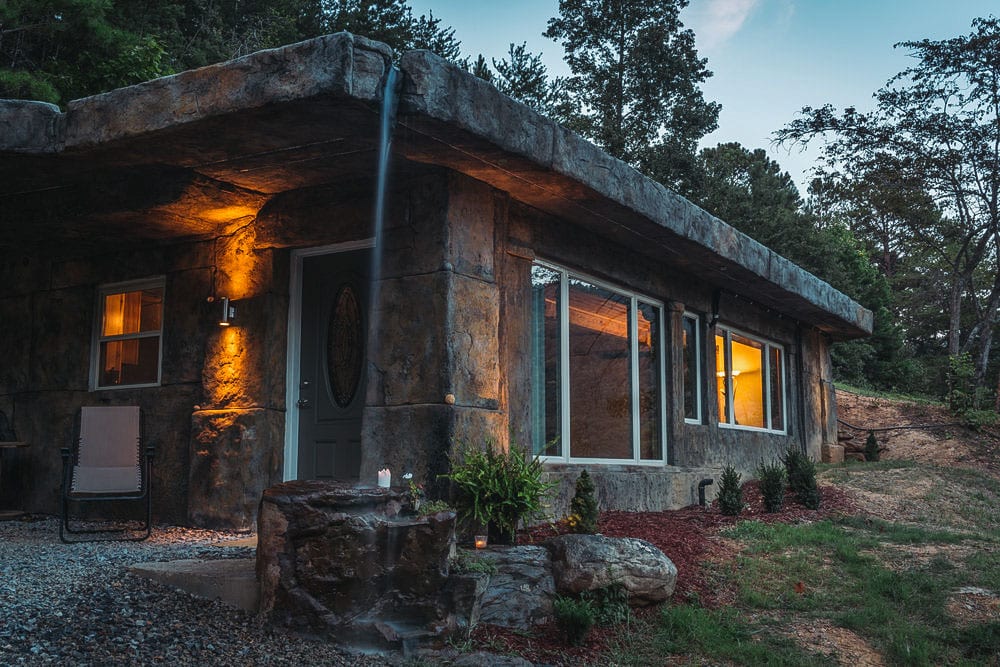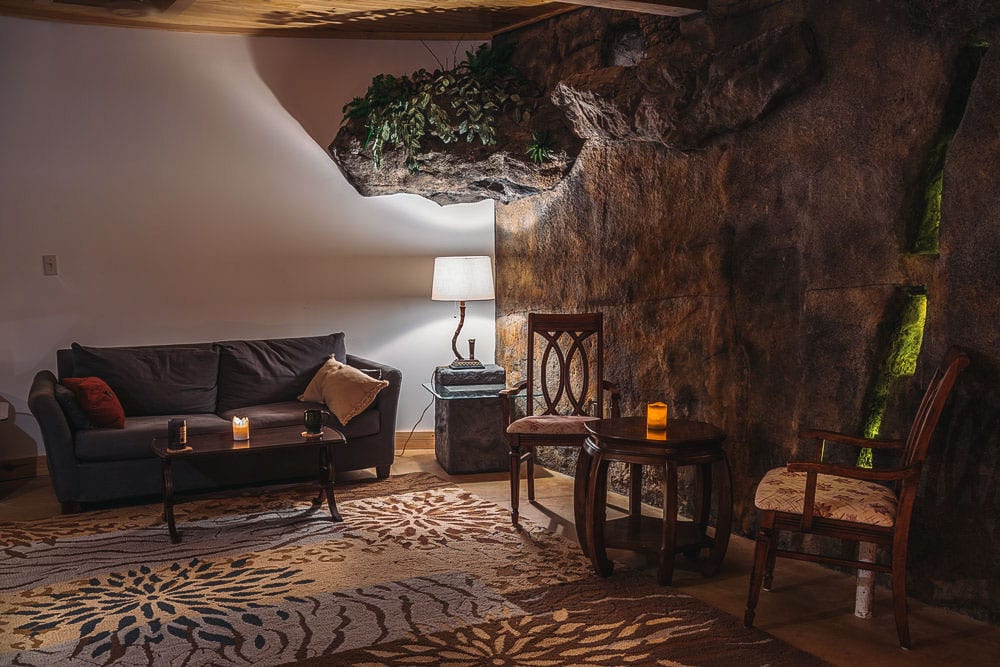 As a friendly reminder, we didn't get paid to write this review. We try to keep it as organic and as honest as possible when traveling and as such found this place the good old fashioned way . . . with Google. However, we have set up a referral link on our Airbnb account so if you decide to book one of these amazing homes, please be sure to use THIS LINK for up to a $25 instant credit on your booking.