We're constantly getting asked what our favorite gift items and books are so we thought we'd put together a little list of some of our favorites!
You know that book that has been gathering dust on your coffee table, untouched for the better part of a decade? Have you considered replacing it with something that inspires you to get out and chase your dreams?
Sometimes we just need a little push in the right direction to find our next adventure. Other times we just want to sit on the couch, a glass of whiskey in hand, and flip through some impressive images. Regardless of your current aspirations, this list has a little bit of everything from the great outdoors, and they are all put together beautifully. This selection focuses on stories about getting out into the woods and finding something interesting, from local exploration to worldwide expedition.
So whether you're looking for something for your personal collection or something that makes your friends go "ooooooo" when they're sitting on your couch, we have you covered.
This list covers just a few of our favorite coffee table books that we carry in our store in Clayton. While we absolutely love every book on this list, it doesn't even scratch the surface of what is out there. Please come visit us to see these and many other great suggestions!
From the mountains to the coast, city streets to expansive farmland, modern skyscrapers to charming antebellum homes, author and photographer Chris Greer has explored the vibrant state of Georgia to bring you the very best locations. The book includes a tremendous variety of destinations and activities for even the most discerning traveler, including craft breweries, lush vineyards, secluded hiking trails, and historical icons. No matter what you're interested in, visitors and residents alike will find plenty to love in this book. Greer's decades of experience as a photographer are on display from the beginning, with fine art photography featured throughout. You may never look at another travel book the same way.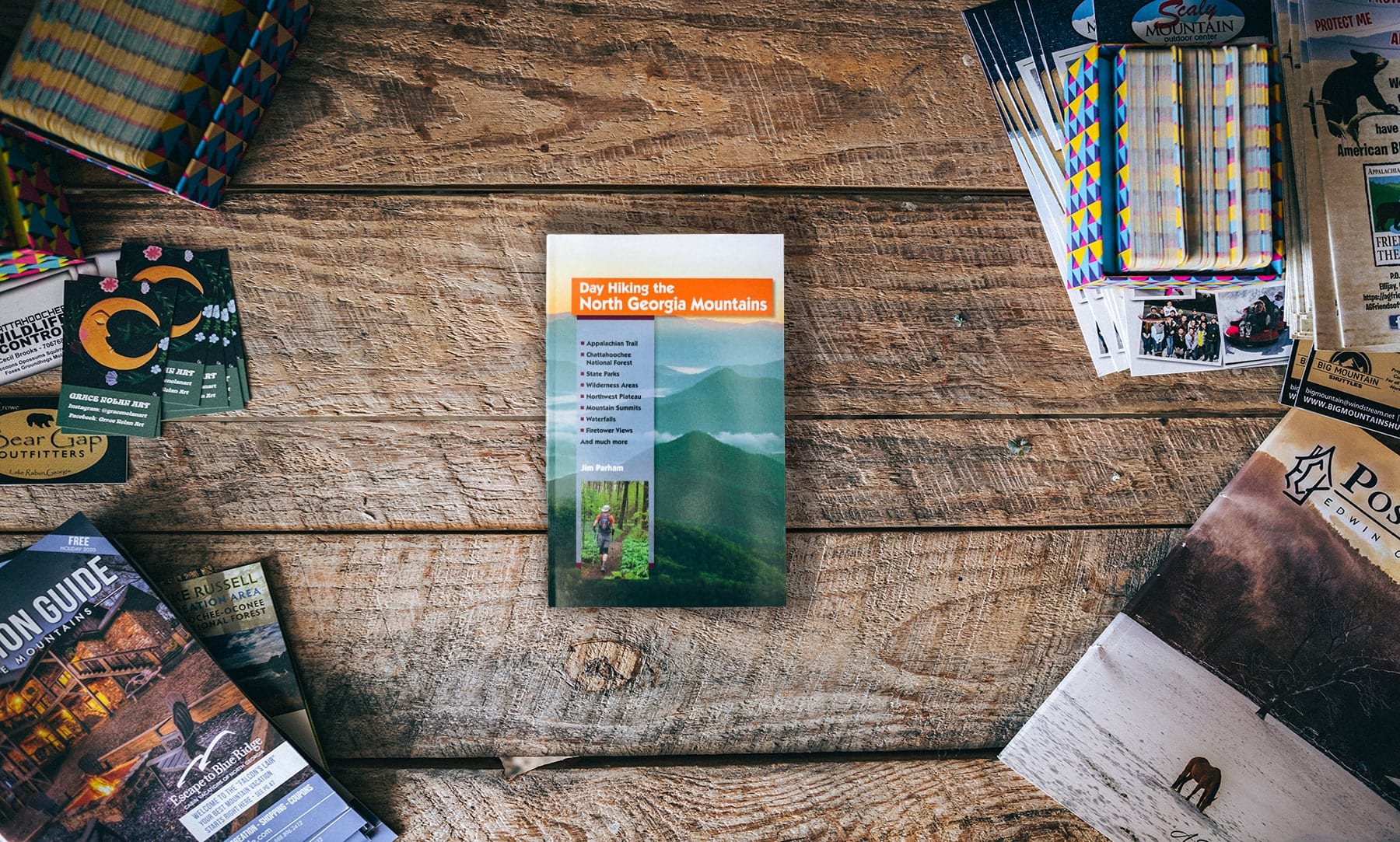 Day Hiking the North Georgia Mountains
In north Georgia, hiking opportunities are virtually unlimited. With public lands in abundance, these mountains have hundreds of miles of designated hiking trails leading to clifftop views, through deep gorges, and over high summits—all within a few hours of metro Atlanta. This guide includes 65 of the best day hikes in the region, ranging from 1 to 14 miles, with destinations including Blood Mountain on the Appalachian Trail; the rugged cliffs of Mount Yonah; and the expansive views from Brasstown Bald, Georgia's highest peak. Hike to Martha Berry's historic House of Dreams on the Berry College campus, or the remote waterfalls of Three Forks in Chattahoochee National Forest. Each entry covers everything you need to know to get out on the trail: maps, detailed driving and hiking directions, trailhead GPS coordinates, mileage, elevation gain, and more.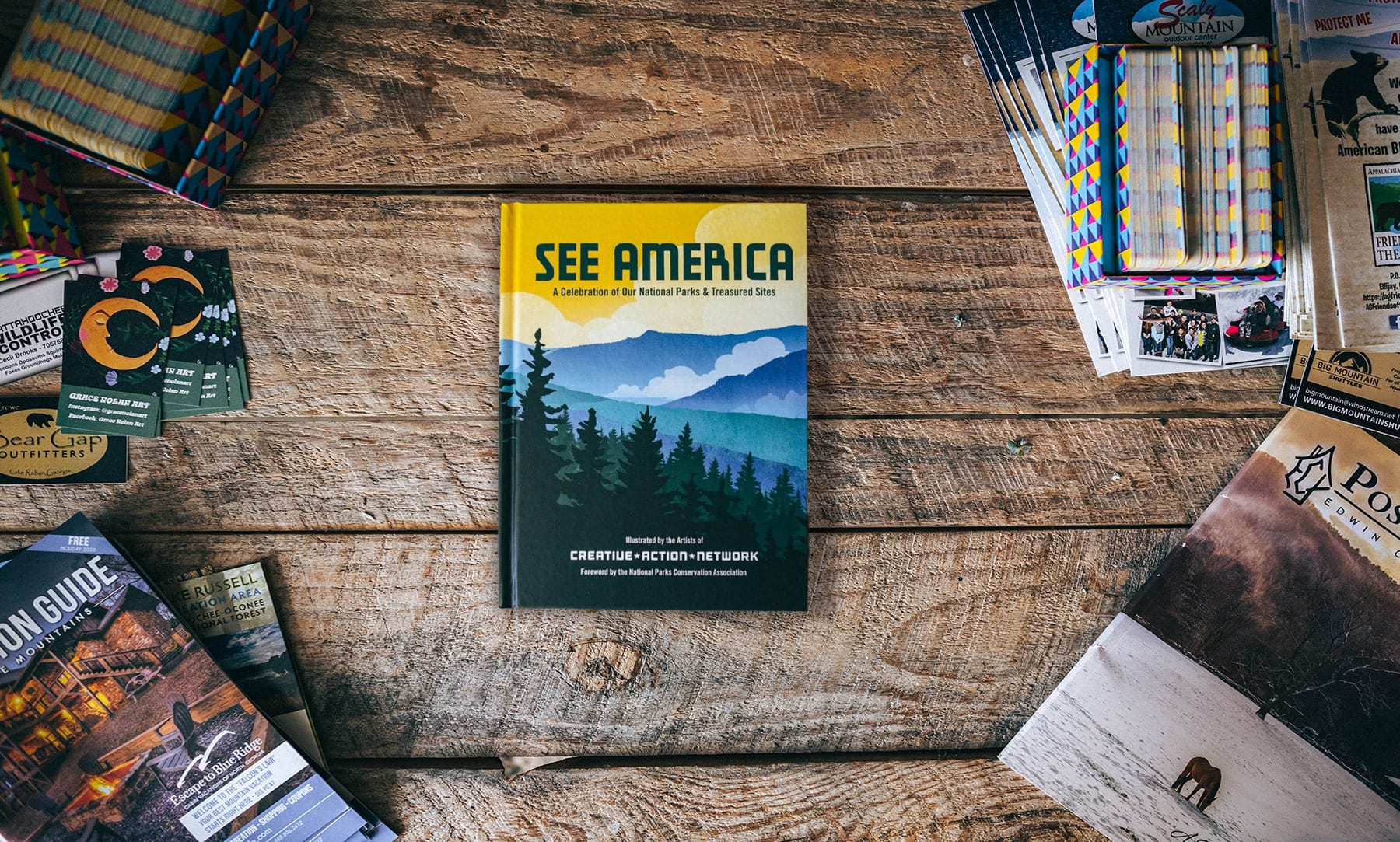 To coincide with the 2016 centennial anniversary of the National Parks Service, the Creative Action Network has partnered with the National Parks Conservation Association to revive and reimagine the legacy of WPA travel posters. Artists from all over the world have participated in the creation of this new, crowdsourced collection of See America posters for a modern era. Featuring artwork for 75 national parks and monuments across all 50 states, this engaging keepsake volume celebrates the full range of our nation's landmarks and treasured wilderness.
National Parks of the U.S.A.
Packed with maps and fascinating facts about the flora and fauna unique to each of the 21 parks portrayed, this lushly illustrated coast-to-coast journey documents in large format the nation's most magnificent and sacred places—and shows why they should be preserved for future generations to enjoy.
50 Adventures in the 50 States
From the award-winning author of National Parks of the USA, Kate Siber, this stunning book showcases an amazing adventure activity to try in every single state. 50 Adventures in the 50 States features gripping outdoors activities, vividly illustrated and described alongside fascinating facts about the nature and geography of each activity location – the very best the U.S.A. has to offer budding young adventurers! Each adventure is illustrated with a beautiful, poster-worthy image, with pull-out facts about how the adventure activity is accomplished and key information about the area's natural and cultural highlights.
For every woman who has ever been called outdoorsy comes a collection of stories that inspires unforgettable adventure. Beautiful, empowering, and exhilarating, She Explores is a spirited celebration of female bravery and courage, and an inspirational companion for any woman who wants to travel the world on her own terms.
With stories of 50 incredible hiking routes in 30 countries, from New Zealand to Peru, plus a further 150 suggestions, Lonely Planet's Epic Hikes of the World will inspire a lifetime of adventure on foot. From one-day jaunts and urban trails to month-long thru-hikes, cultural rambles and mountain expeditions, each journey shares one defining feature: being truly epic.
Epic Bike Rides of the World
Discover 200 of the best places to ride a bicycle in this beautifully illustrated hardback. From easy-going, family-friendly rides and urban sightseeing routes to epic adventures off the beaten track, you don't have to wear Lycra to see the world on two wheels.
Buckle up for the next installment in our Epic series and the follow-up to Epic Bike Rides of the World. This beautiful hardback showcases 50 of the greatest road trips on Earth, from classic routes in America, Australia and Europe, to incredible adventures in Asia and Africa.
Created by a group of friends who preserve 55 acres of hidden forest in Upstate New York, Cabin Porn began as a scrapbook to collect inspiration for their building projects. As the collection grew, the site attracted a following, which is now a huge and obsessive audience. With their idyllic settings, unique architecture and cozy interiors, the Cabin Porn photographs are an invitation to slow down, take a deep breath, and feel the beauty and serenity that nature and simple construction can create.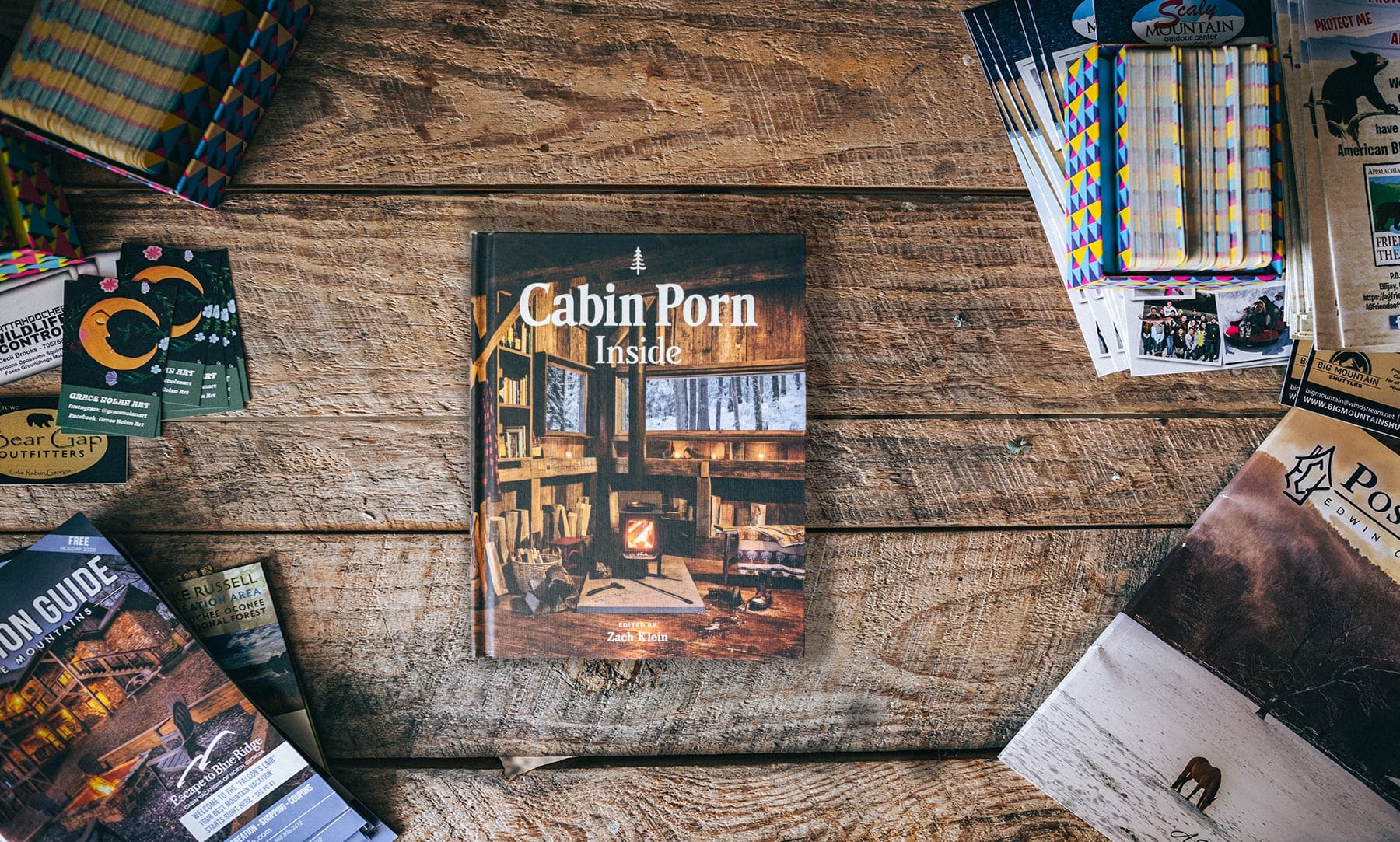 Cabin Porn: Inside invites readers into these handmade homes to discover rooms of warmth and simplicity, connected by the universal desire to bring a simple building to life in harmony with the land around it. Each of these tranquil getaways is a lesson in living simply and joyfully.
Here you will find hundreds of examples of what makes a cabin: the small details that enable their dwellers to live pleasantly and sustainably, as well as the mistakes and adaptations that reveal what builders must learn while creating their own homes. Perhaps most touching is the evidence that these homes have hosted charming and memorable evenings for the people who worked together to build them.
The A-Frame home surged in popularity in the 1950s, and has captured the public's imagination with its playfully modern, steep-sloping roofline ever since. The Modern A-Frame celebrates seventeen diverse accounts of these minimalists cabins reinvented for the twenty-first century. Nostalgic escapes, heritage homes, full-time simplicity, and artists at work categorize the A-frames whose engaging stories are shared. Whether fabricated from a 1960s kit or as a new build via retro inspiration, the variety of styles and homeowners in this photo-driven collection beautifully captures the romance of a classic structure, which beckons to travelers and homebuyers today, just as it did sixty years ago.