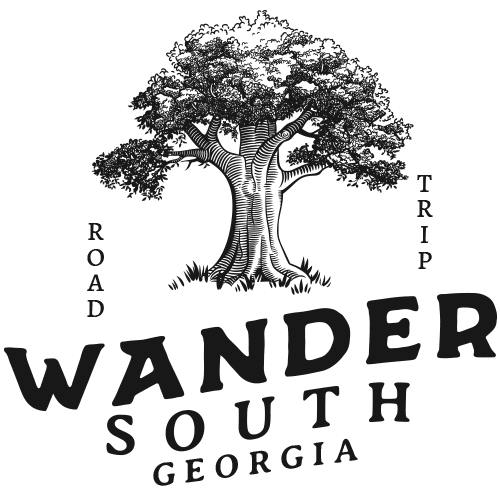 This is part of our Wander South Georgia Week. Be sure to see our full list of our favorite recommendations, places, and trip itineraries from our recent Wander South Georgia road trip. While we spend most of our time wandering mountain peaks and chasing waterfalls, we have been itching to take our wandering spirit on a tour of South Georgia for a hot minute. Recently we got the chance to head south and explore the southern part of our great state. So we hopped in our car and headed south towards Thomasville with the goal of making it to Savannah in a week. We made stops in the Okefenokee Swamp, Saint Simons, Jekyll Island, Cumberland Island, and finally . . . Savannah. So buckle up and follow along. Be sure to check out our full Wander South Georgia Road Trip over on the Explore Georgia blog.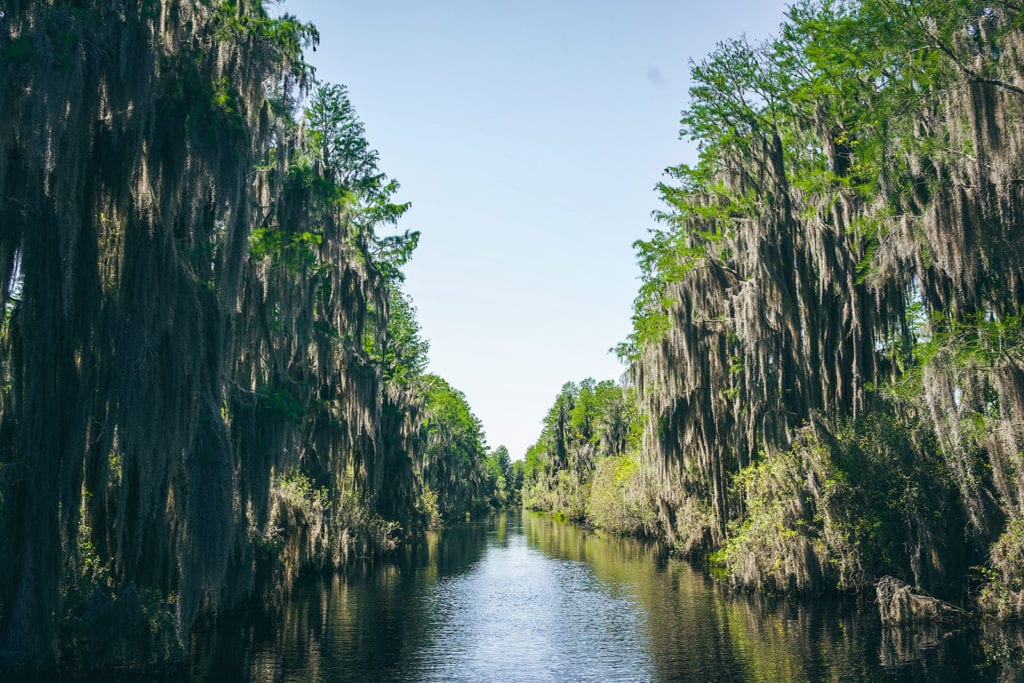 This was the road trip for checking some places off our bucket list and at the top of that list was the Okefenokee Swamp. There are no words or even pictures that can describe just how surreal this place was. The Swamp is considered one of the Seven Natural Wonders of Georgia but honestly, it could be one of the great wonders of the entire country. It's massive, it's interesting and it's uniquely the Okefenokee. There isn't another place like it in the world.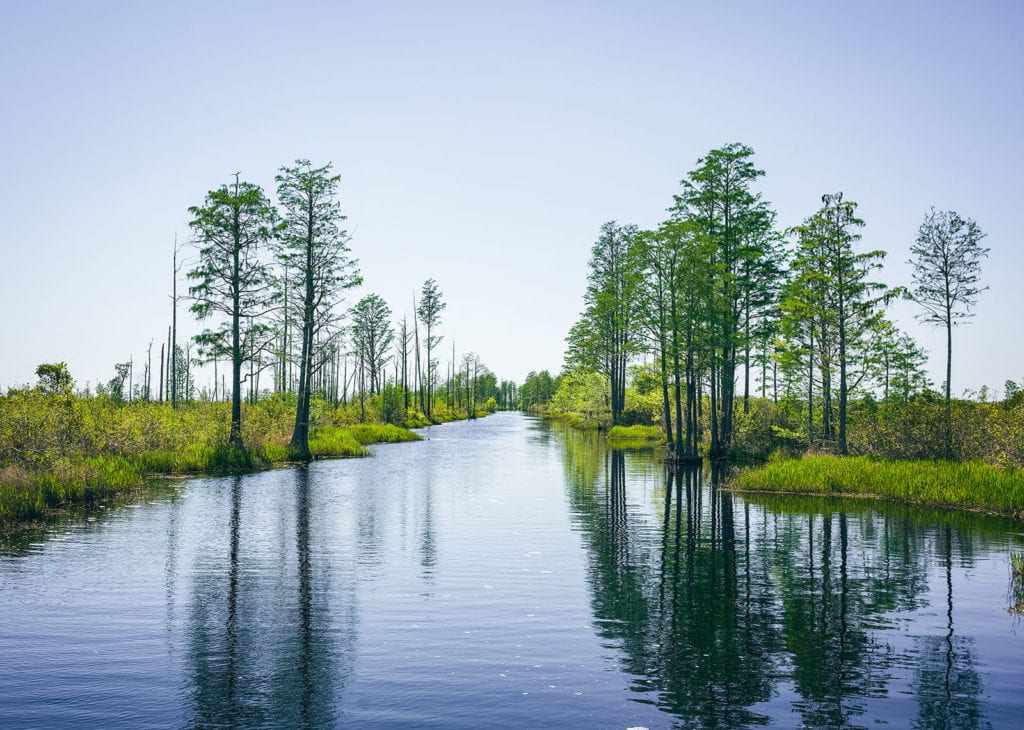 The Okefenokee Swamp is a 438,000 acre blackwater swamp, the majority of which is in South Georgia with a little bit that straddles and overflows into Florida. Many people translate the name to mean something like "land of the trembling earth" although it is more likely the Hitchiti (a native nation indigenous to southern Georgia) word for "bubbling water". Most of what looks like solid land in the swamp is in fact floating vegetation or peat masses that when touched begin to shake and wiggle so the idea of it being "trembling earth" is what comes to most people's mind. It is one of the largest National Wildlife Refuges in the country and the largest in the eastern United States.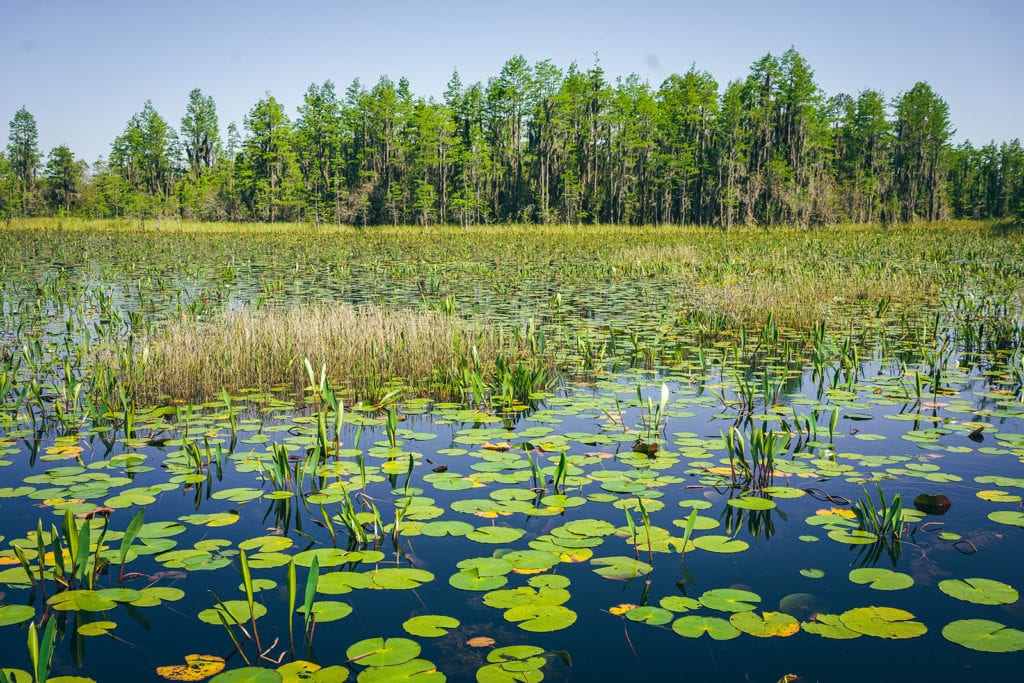 The swamp itself was formed about 7,000 years ago. As the Atlantic Ocean retreated over those years, it left behind the swamp in its current location. There are no rivers flowing into the swamp and no major springs of note so the majority of the water, over 95%, comes from rainwater. There are however two rivers that exit the swamp, the Suwannee River and the St. Marys River. There are also at least 60 named lakes! 
Despite the water looking dark and . . . well swampy . . . the water is actually crystal clear. It gets its dark color from the peat-lined bottom where thousands of years worth of decaying plant life has fallen to the bottom of the swamp floor, making it harder for light to reflect back up to the surface. So what looks dark is in reality crystal clear water that is only four to five feet deep on average! The peat on the bottom has an average depth of 5-10 feet!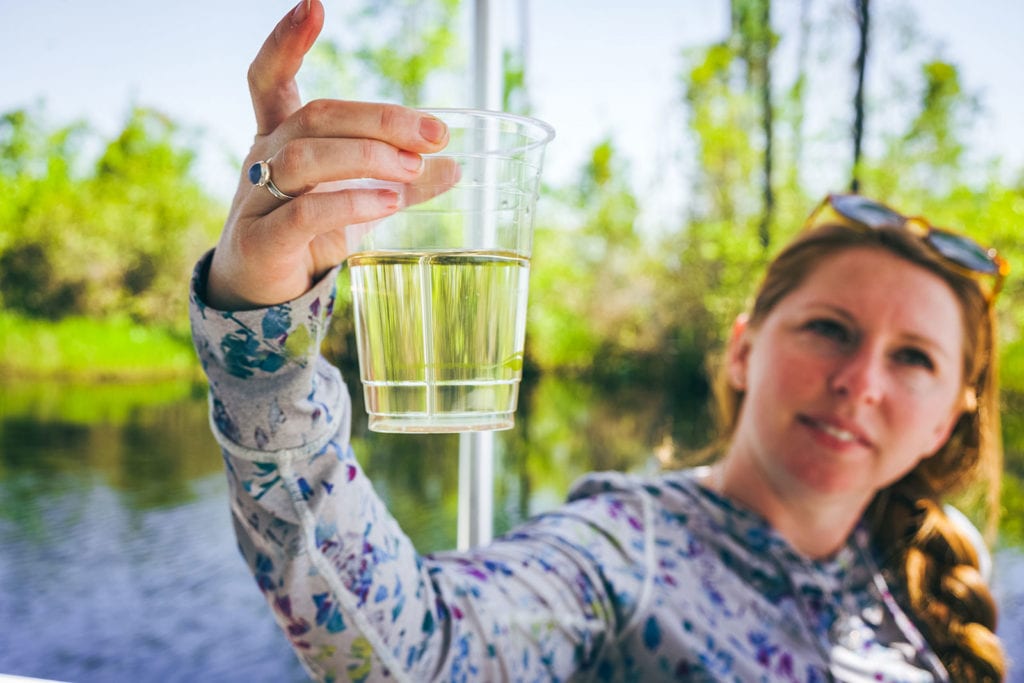 When it comes to wildlife, you can expect to find 233 species of birds, 49 species of mammals, 64 species of reptiles, 37 species of amphibians, and 39 species of fish. Bring the binoculars and camera if viewing wildlife is your thing! There are also 621 species of plants found in the Okefenokee Swamp.
There are four entrances to the Wildlife Refuge. We primarily used two during our visit, the Main Entrance (on the east side near Folkston and home of Okefenokee Adventures) and the West Entrance (at Stephen C. Foster State Park). If you want to see both sides (differences detailed below) our recommendation is to split it across two days. There aren't many places to stay around there so we decided to camp at the State Park and visit each side on separate days. The reason this is important is that the two entrances are about an hour and a half apart from each other and beyond a few roadside cafes, there are little to no restaurants, hotels, or gas stations. The direction you are traveling in from or planning on leaving towards will probably determine on which side you start. We did not do this and so it added about 3 hours to our road trip (1.5 hours each day as we had to backtrack to and from). We wish someone would have given us a heads up on that.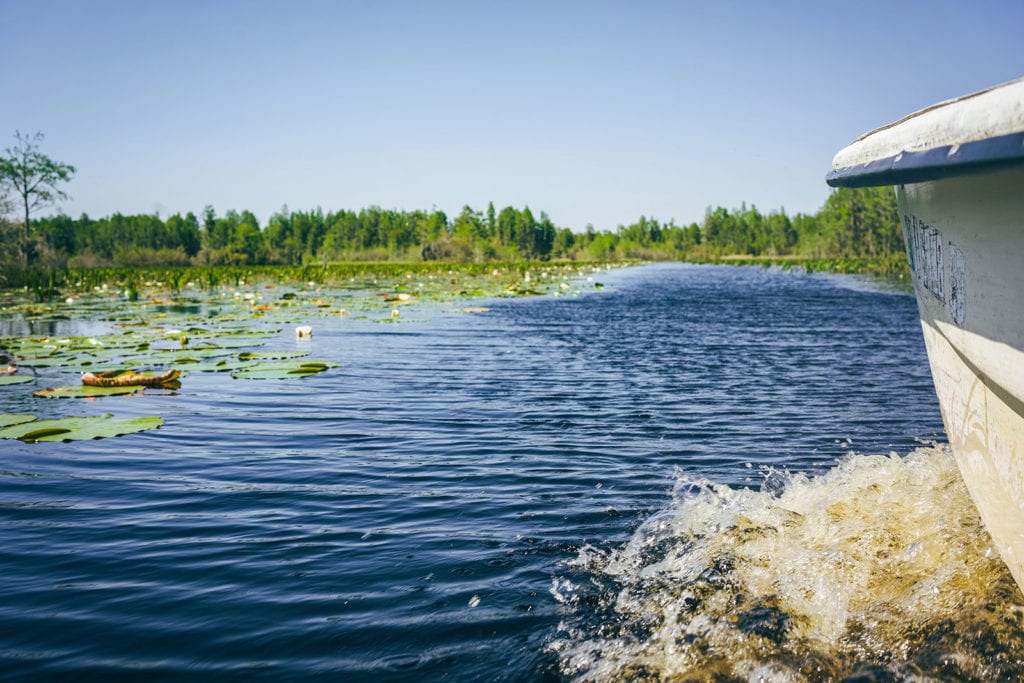 We started on the east side, arrived in the early afternoon, and jumped straight on a boat tour with Okefenokee Adventures at the main entrance of the swamp. We booked a private 90-minute boat tour and it was the best money we spent on our entire road trip. The private trip was about $50 more, which isn't cheap, but we personally thought it was worth it, as we had the whole boat and guide to ourselves and asked questions to our heart's content. We also love photography and video and this gave us the chance to spread out and get all the angles we wanted without having to compete or shoot over other guests.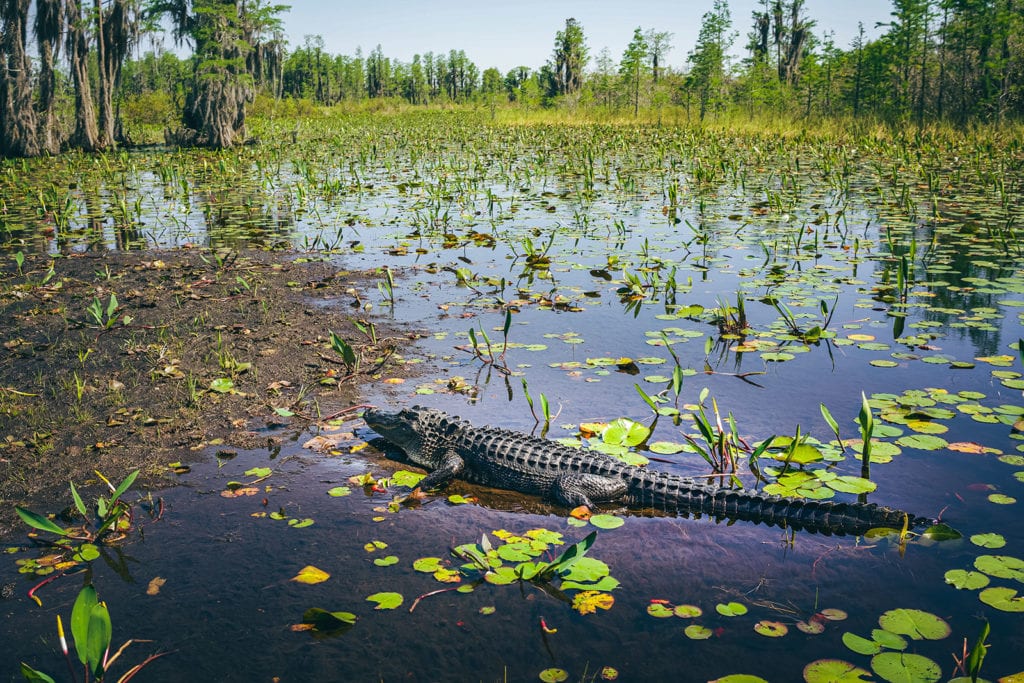 Our guide was amazing and taught us so much that we didn't know. Half the notes from above are from the information he shared as we furiously wrote down everything so we could remember it later. He was great about pointing out upcoming wildlife before we got to it so we had plenty of time to get our cameras out and ready. On our short 1.5-2 hour trip, we saw well over fifty alligators, turtles, all kinds of wildlife, and learned a ton about the history and geological makeup of the swamp. He took the time to answer our questions, show us where the alligators were lounging in the sun on the bank, and showed us the hundreds of different kinds of flowers, plants and birds.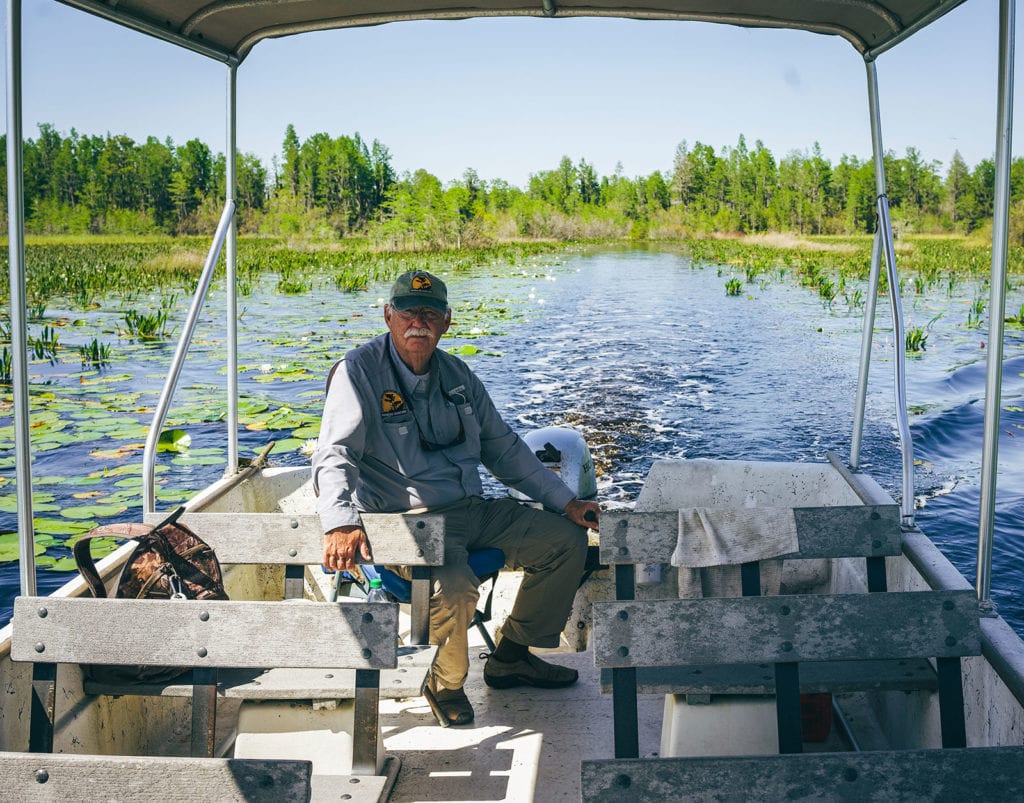 If you do end up on the eastern entrance of the Swamp, there is a 7.5-mile loop road that you can drive to the old Chesser Homestead. At the back end of the road, you can find a one mile long boardwalk that will take you to a lookout tower for a bird's eye view of the Okefenokee. It was the perfect way to end that day on that side of the swamp. 
After our boat tour, we headed to Stephen C. Foster State Park at the western entrance. Again, there aren't a lot of places to stay or get food, so plan ahead. We brought an ice chest and groceries for cooking out at the campsite. We tent camped while we were there but they also have RV and trailer sites along with 9 cottages for those wanting something less primitive. We visited during alligator mating season so if you decide to go the tent route, just know that you're going to hear all kinds of disconcerting noises throughout the night less than 50 feet away from where you're sleeping on the ground! We honestly slept fine and weren't worried at all but if you're not used to camping, this might be a bit much. 
The State Park is officially recognized as a certified dark sky park making this a stargazers dream. There is a boardwalk near the visitor's center that we headed out on at dusk to shoot some night photography. We came in the Spring but even then the bugs were already out of control. I can't imagine what it would be like in the hot summer months. And not for nothing . . . but the bathroom and shower facilities at Stephen C. Foster are the best state park bathrooms we've ever seen. We go to a lot of state parks in North Georgia and whoever takes care of this park needs a raise. It was spotless and impeccably clean.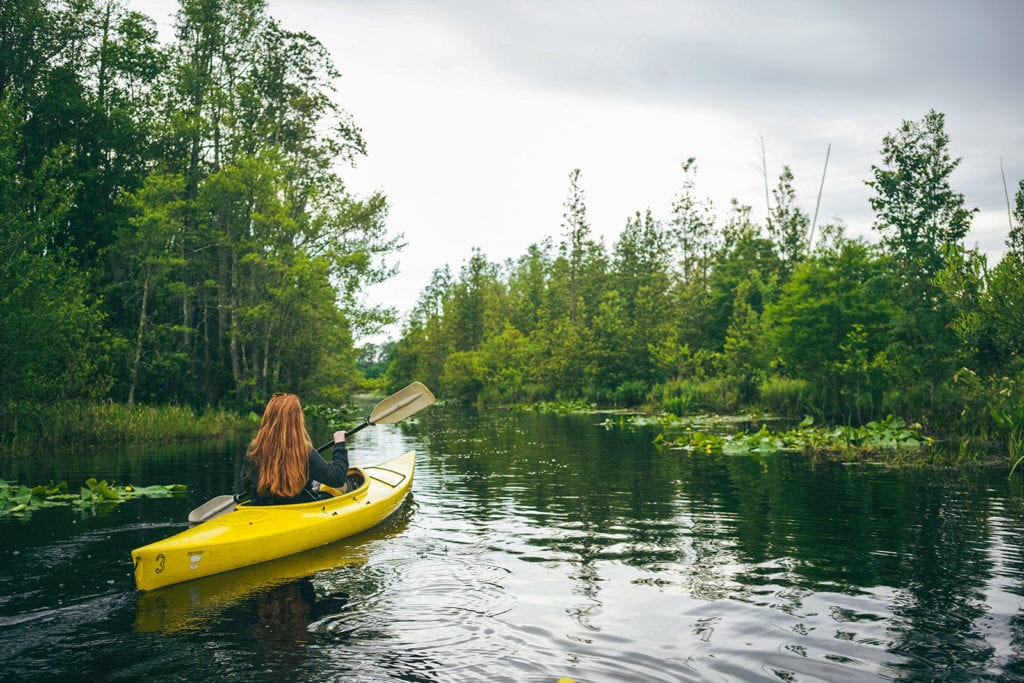 In the morning we rented two kayaks and headed out into the Okefenokee again, this time on the western side of the swamp. You can also book a boat tour on this side but we decided on the kayaks this time around. You leave from the visitor center through a small canal maybe 5-6 feet wide before it opens up into a river wide section. We got caught in a pop-up rain shower so it wouldn't hurt to bring a rain jacket. Once we got going though we paddled for a few hours. Keep in mind that over 12,000 alligators live within the refuge so you'll see plenty of alligators here – all within about 25-50 feet of you. They didn't bother us and we certainly didn't bother them but was a nice coffee replacement with all the adrenaline!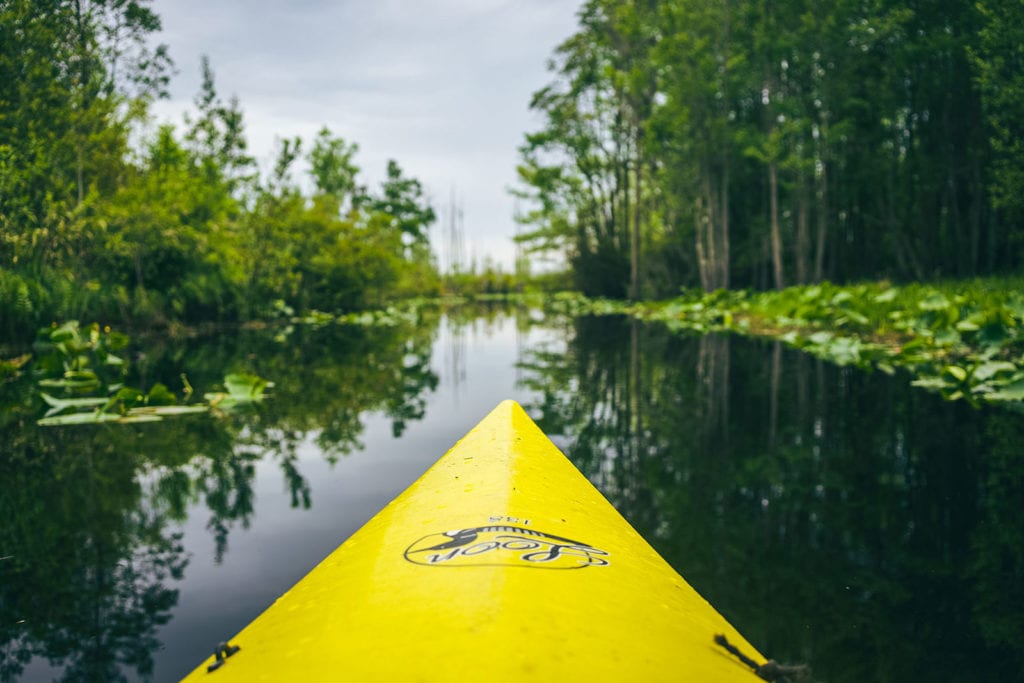 Between the two entrances spread over two days we saw and experienced a ton. You could feasibly stay longer but honestly an afternoon, an overnight and a morning allowed us to see everything we wanted to see before heading off to the next stop on our road trip, Jekyll Island.