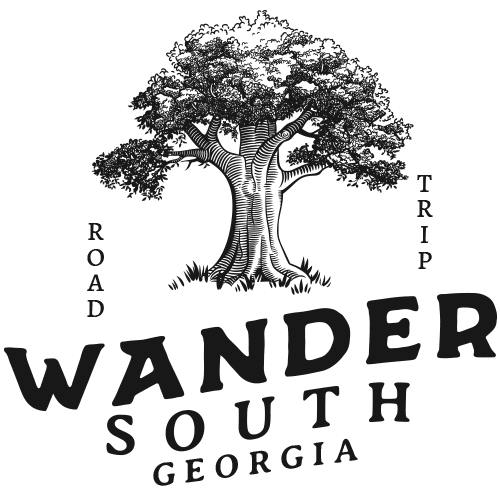 This is part of our Wander South Georgia Week. Be sure to see our full list of our favorite recommendations, places, and trip itineraries from our recent Wander South Georgia road trip. While we spend most of our time wandering mountain peaks and chasing waterfalls, we have been itching to take our wandering spirit on a tour of South Georgia for a hot minute. Recently we got the chance to head south and explore the southern part of our great state. So we hopped in our car and headed south towards Thomasville with the goal of making it to Savannah in a week. We made stops in the Okefenokee Swamp, Saint Simons, Jekyll Island, Cumberland Island, and finally . . . Savannah. So buckle up and follow along. Be sure to check out our full Wander South Georgia Road Trip over on the Explore Georgia blog.
Where do you even begin with Savannah? We could spend a week or more here so trying to sum up our favorite spots in a few paragraphs seems like an awfully big disservice to a pretty special (and big) place. There are a ton of great guides on Savannah around so if you want a deeper dive be sure to check them out. Some of our favorites are here, here, and here. 
For this guide, we are sharing our favorite places we ate, shopped, and wandered in our weekend there along with some spots we've visited on previous trips.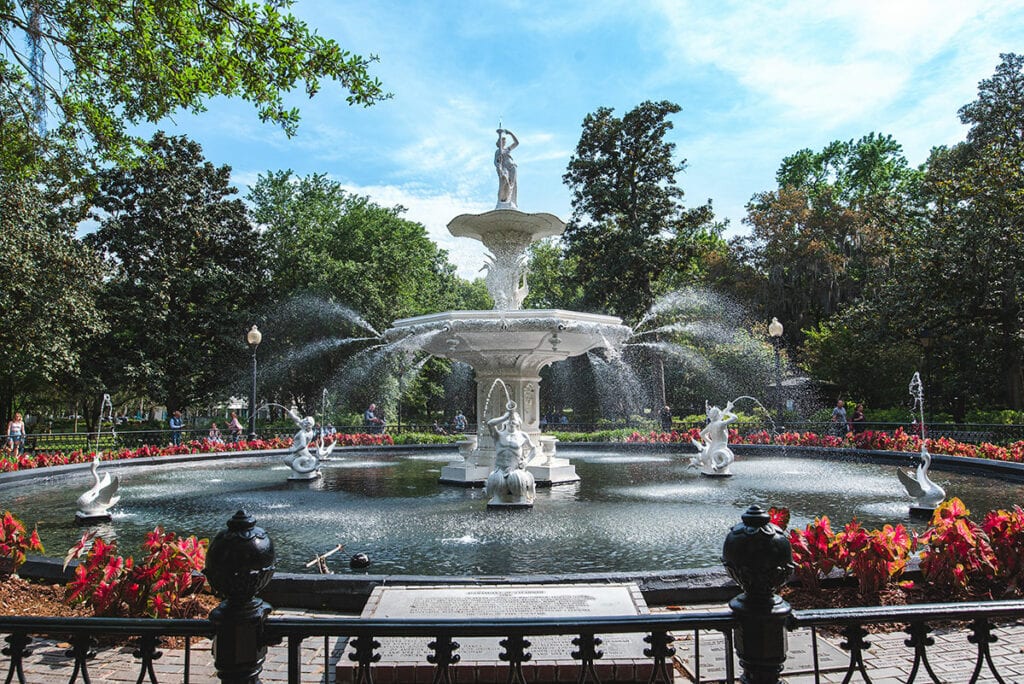 We stayed downtown close to the river which made it super accessible for a ton of stuff in the River District. If you have never been to Savannah, this section downtown should be on your list. It is the most "touristy" section of the city but most "touristy" spots get that way for a reason. It's historic, it's classic, and infinitely walkable. Most of the oldest bars and restaurants are in this little corridor that exists from the river to 4 or 5 blocks inland. This is where you'll find some of the classic Savannah staples like The Olde Pink House, The Pirate's House, and Leopold's.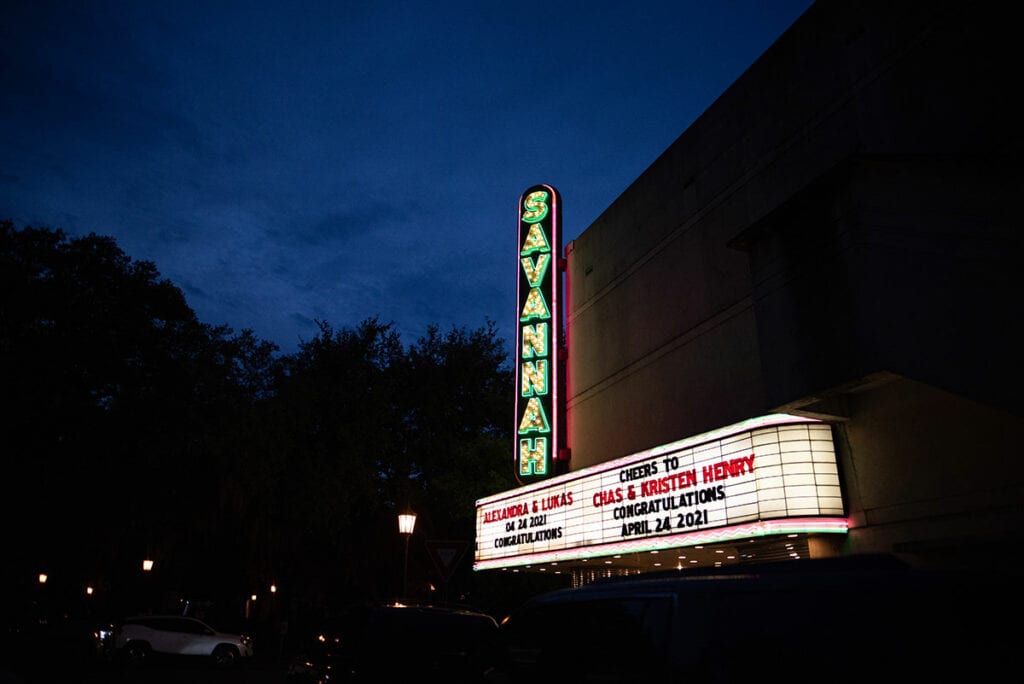 There is also a new development right on the river in this district called Plant River Side. Here you'll find fountains, public art, and a huge path next to the river for a waterside stroll. There is even a rooftop garden and bar called Myrtle & Rose that is amazing at dusk and the nearby Electric Moon Skytop Lounge which has a slide on their rooftop you can go down after a few cocktails!
But we're getting ahead of ourselves. Let's talk about some of our favorite places to wander while we're in Savannah and then we'll end with our list of the best food and drink!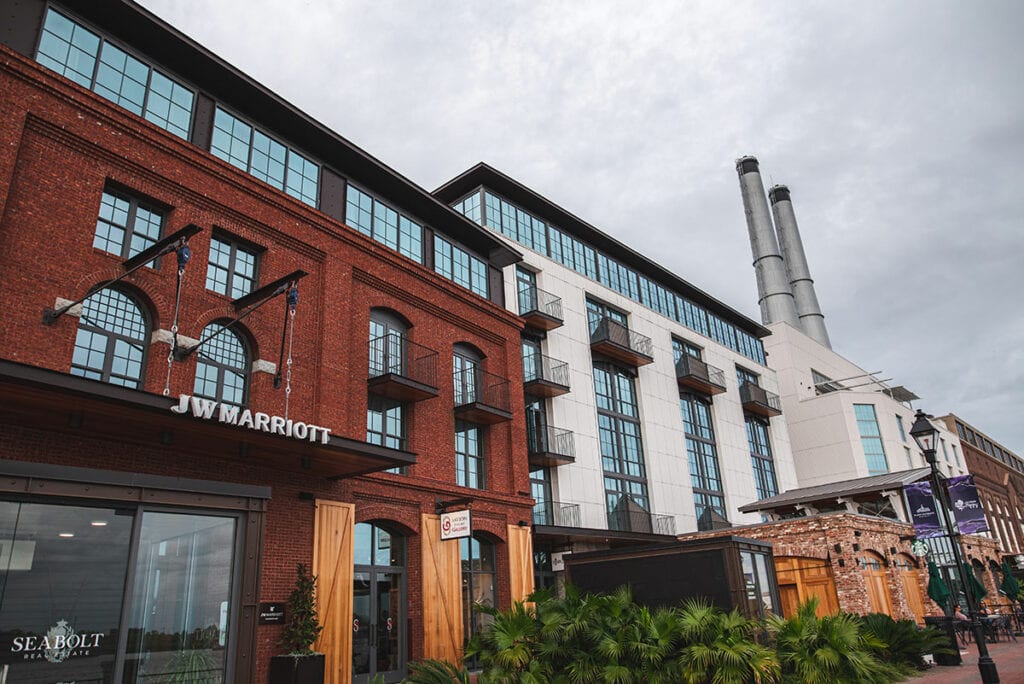 Blown Studios, Forsyth Park, Owens-Thomas House & Slave Quarters, Prohibition Museum, Plant Riverside District
Savannah has a ton of places to wander and experience. Again, it'd be really hard to do half these things in a weekend so make sure you have a bit of a game plan going in to know what you want to see, do and experience. The alternative is just to wander around downtown which isn't a bad way to do it considering how many public parks are around every corner.
On this trip, we booked a glass blowing workshop with Blown Studios. It's something we had always wanted to do so when we got an invite from a friend, we put it at the top of our list. The shop owner Brandon was great and he taught us all about the art of glass blowing. We even got to make our own items . . . a long-stemmed glass flower and a custom wine glass with colored glass we picked out and made ourselves! His studio is near the Starland District which is hands down our favorite area of Savannah. So if you end up visiting Brandon, be sure to pair it with an afternoon with some of the Starland restaurants and bars listed below.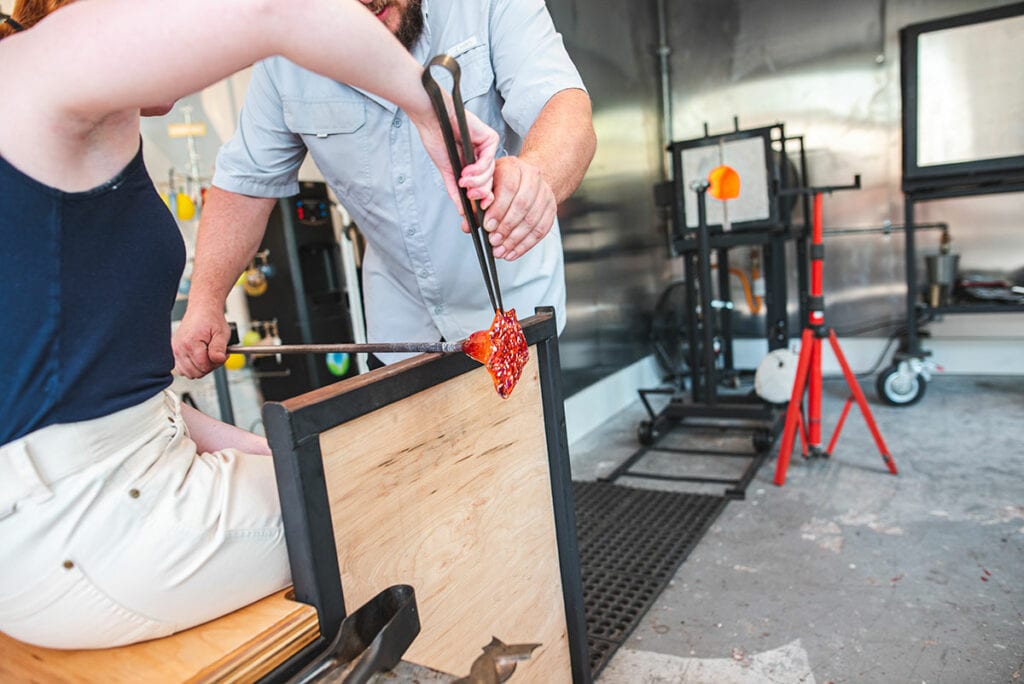 If you want to enjoy a nice walk or lounge a bit, Forsyth Park is always a great place for an afternoon stroll or picnic. It's the biggest park in Savannah and runs almost ten blocks long. This is where you'll find the classic fountain and live oaks that everyone loves taking those iconic Savannah photos. Again, don't be shy about taking your time and checking out some of the other smaller parks all over Savannah. Forsyth Park gets all the love (and rightly so) but there are some amazing ones that you will walk right past if you don't take the time to notice.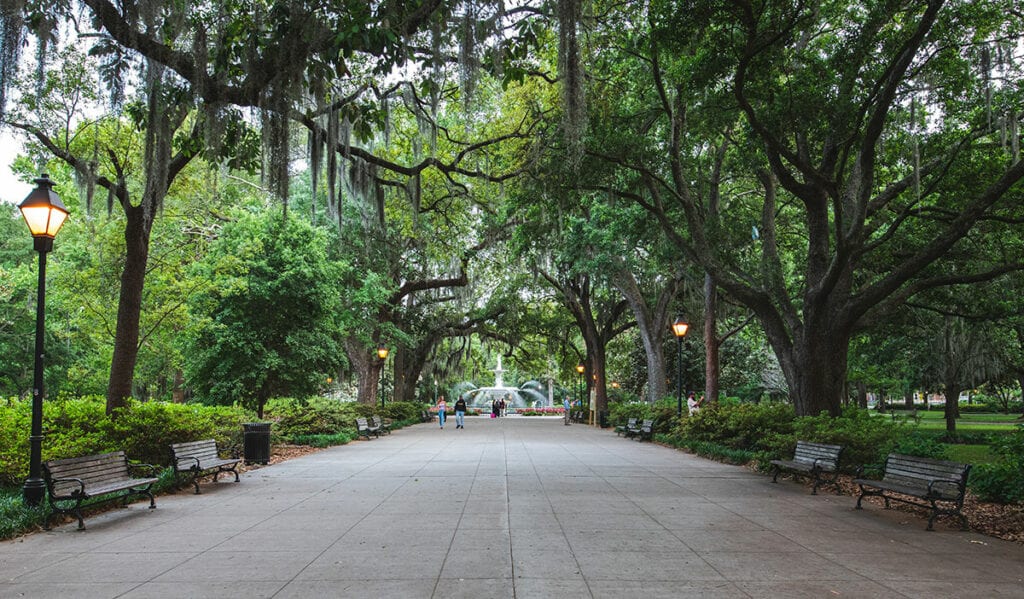 For something more historical and educational on the list, the Owens-Thomas House & Slave Quarters properly explores the complicated history of how Savannah was built and organized in its infancy. As the website says the museum's goal is "to explore the complicated relationship between the most and least powerful people in Savannah". They offer guided tours, interactive exhibits, and historic spaces that allow you to learn about the people who lived on the site.
Not too far away is the Prohibition Museum, America's only Prohibition Museum in fact. The museum explores the decades-long battle over alcohol in the United States. From the build-up to the 18th Amendment to its repeal with the 21st Amendment and everything before, after, and in between, the museum walks you through the rum runner period, moonshine making, flapper period, and everyone's favorite, the gangster and mafia involvement during the prohibition years.
Treylor Park, Starland Yard, The Wyld, Huey's, Leopold's, Foxy Loxy, Hitch, Collins Quarter, The Grey, The Public Kitchen, Husk, Service Brewery, Alley Cat, Lone Wolf Lounge, Rooftop bars along Plant Riverside District, Wiley's BBQ, Mrs. Wilkes Dining Room, Cotton & Rye, Crystal Beer Parlor, Olde Pink House, Goose Feathers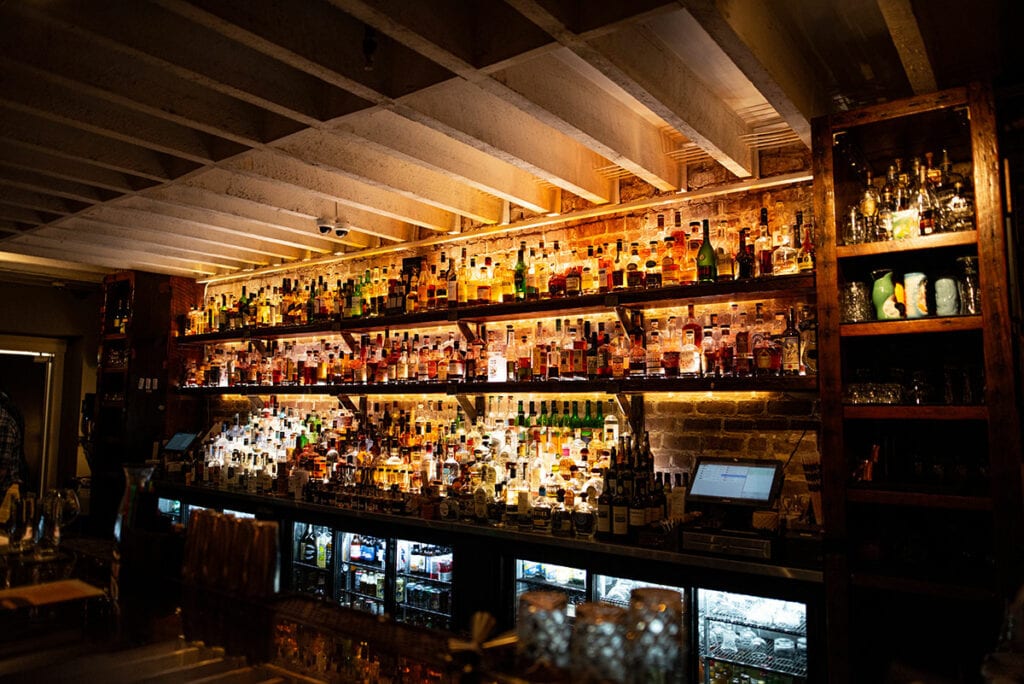 After a day of walking the streets of Savannah and taking in its history, you will probably be getting hungry and thirsty. In our opinion, this is the best part of Savannah. World-famous and award-winning restaurants, fancy craft cocktail spots, and hidden dives are literally everywhere. Depending on your mood and your budget you can taste and drink almost anything you want.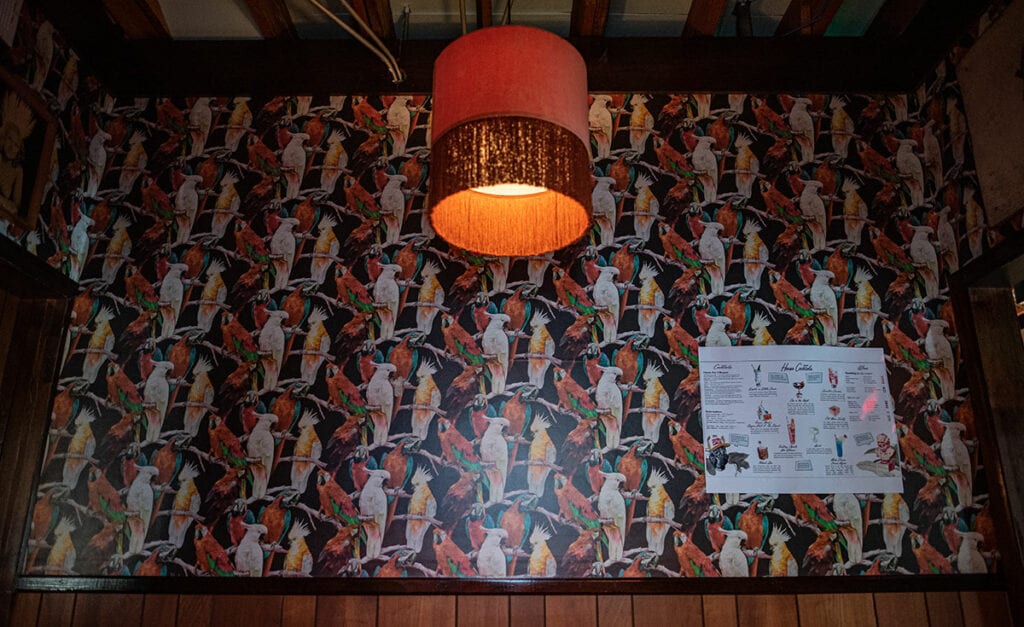 We arrived late in the evening on our first day so we hit the town in search of a drink. Alley Cat and Lone Wolf Lounge were two of our favorites. Alley Cat is the higher end of the two. Hidden down a back alley in a basement, you'll find 150+ classic cocktails on their 20 plus page menu. The best option here is to choose your favorite base and then go with something you haven't heard of or tried before. For us, it was a Paper Plane which is a bourbon-based drink. Lone Wolf is further away from the river in the Starland District making it more of a laid-back spot. Here you can expect to find old wood paneling walls and a retro tiki bar vibe. The Pegu Club was our favorite here. The Water Witch Tiki Bar, Peacock Lounge, Artillery Bar, or the iconic Pinkie Masters are also great stops. For craft beer, Service Brewing Co, a veteran-owned brewery, is based in Savannah and serves up some of the best beer in the Southeast.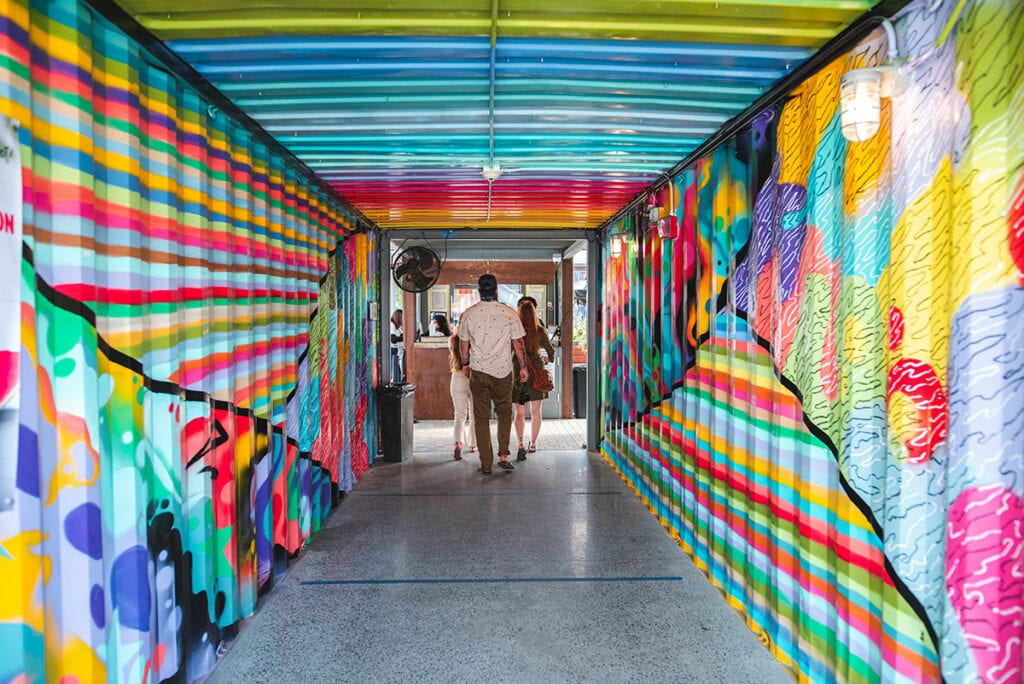 Now let's talk about food. Where to begin, where to begin? Honestly, just throw a dart at a map and you're probably good. From high-end places that need reservations months in advance to low-key spots you can walk in at almost any time, you won't struggle to find amazing food in Savannah. One of our favorites was Treylor Park. They have a few locations but we ate at the one downtown. They had an amazing Nachos Grande appetizer, Chicken & Pancake Tacos, and had a really great courtyard bar. The bar is really small but it was our favorite from the entire trip based on the friendliness of the staff and the cocktails. They also played Indiana Jones on the big screen inside while we waited, so they had us won over before the food even came.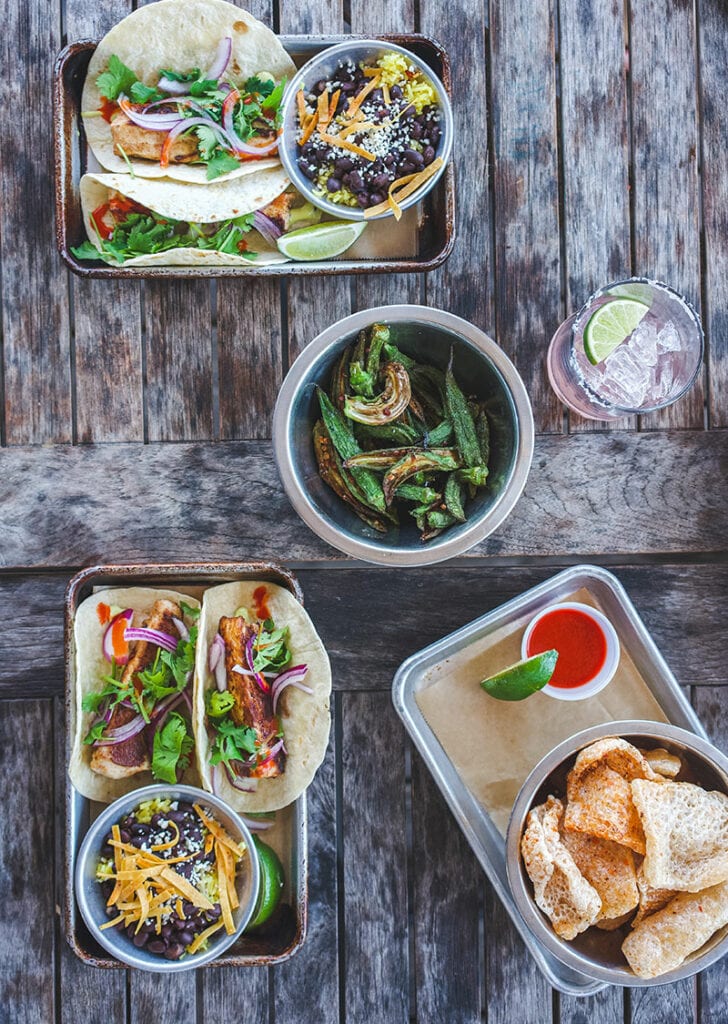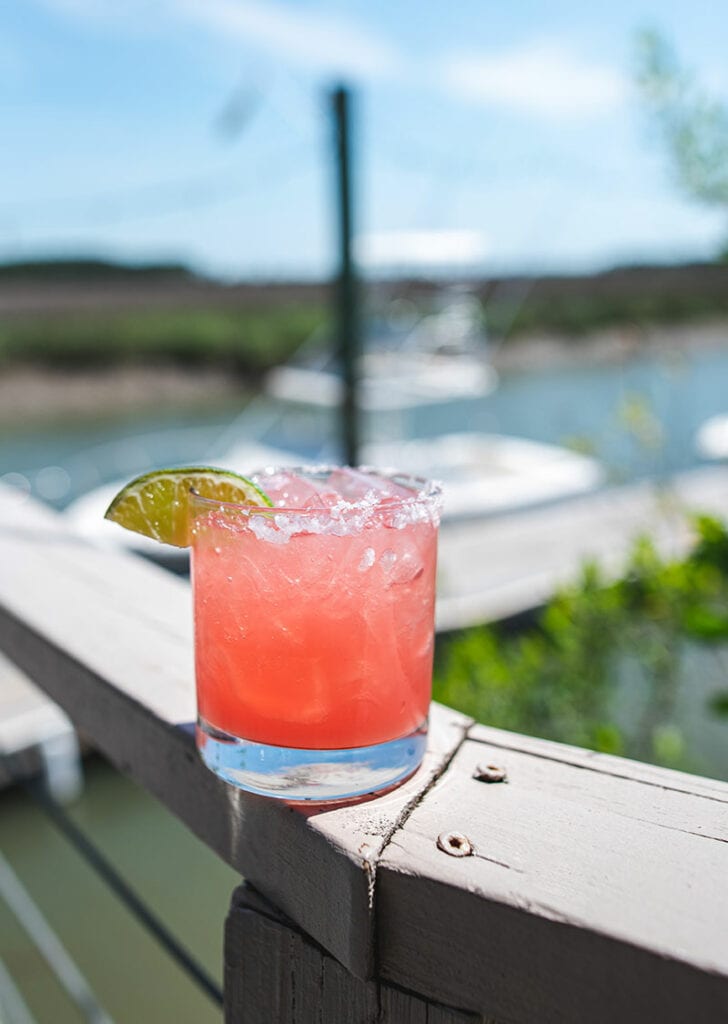 Starland Yard is in the Starland District and has rotating food trucks, a full time pizza spot and a bar that  serves a punch drink in a beach bucket. You're welcome in advance. Another favorite of ours is The Wyld which is a waterfront spot on a pier with amazing fish tacos, chicharrones, burger and drinks. We liked it so much we dedicated a whole post to them. We came at lunch but this place would have been pure magic at sunset or into the evening.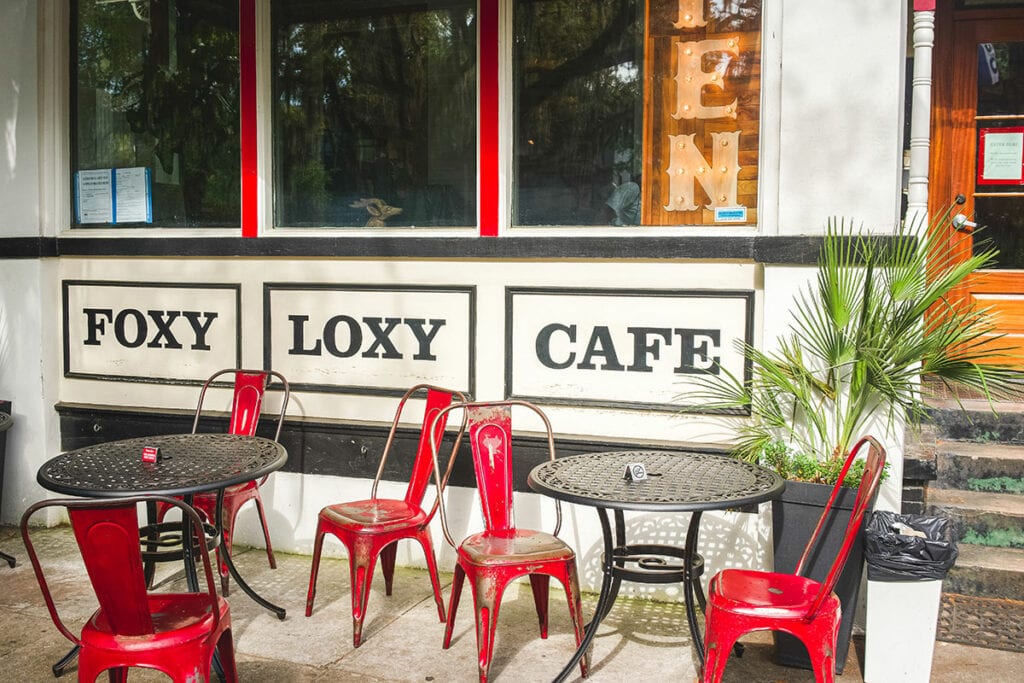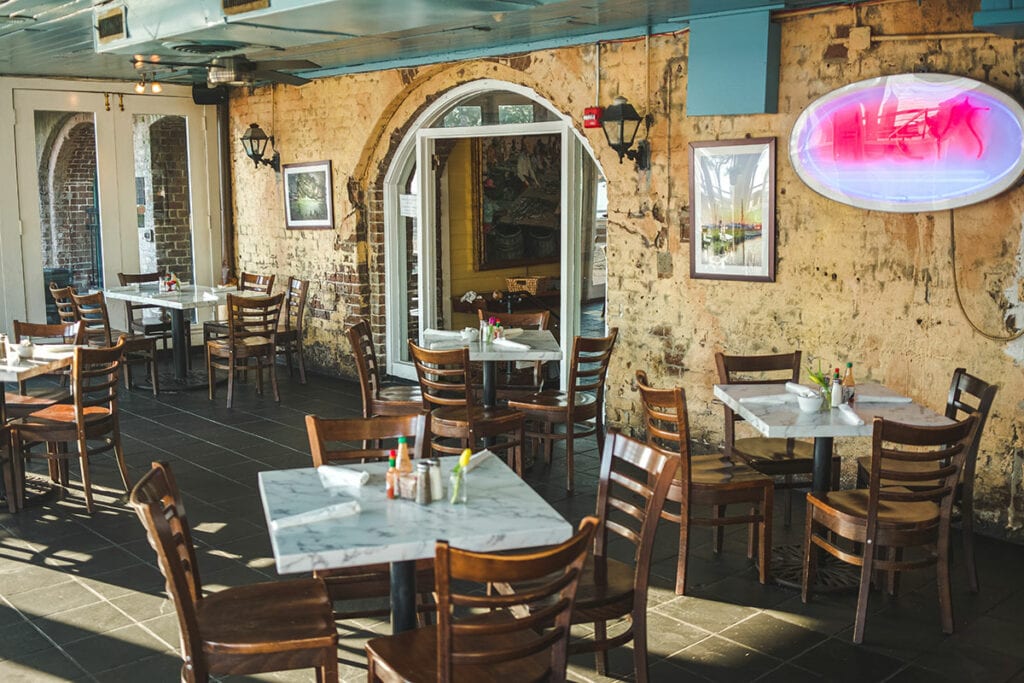 Some of our other food favorites were Foxy Loxy (gorgeous courtyard, Mexican Mocha), Huey's (brunch, Beignets, Creole Omelette), The Collins Quarter (great brunch spot, Hen of the Woods, Steak Frites), Mrs. Wilke's Dining Room (EVERYTHING), Crystal Beer Parlor (go for the beer and order a burger or sandwich to round it out), and The Grey (one of the fancier restaurants in town with prix fixe menus that rotate) to name a few. Of course, no trip to Savannah would be complete without the classic Leopold's Ice Cream Parlor. 
We are going to quit before this becomes a novel but this is a good start on a very long list deserving of its own post just dedicated to Savannah food and drink.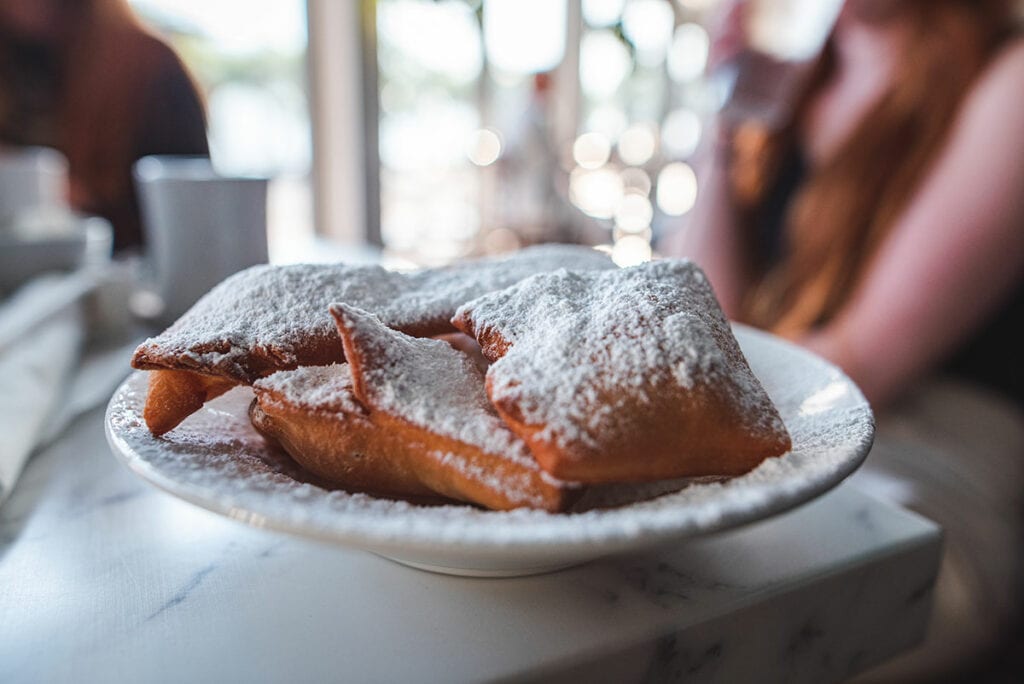 To begin to even scratch the surface of all that Savannah has to offer, you really need weeks or multiple trips. Just when you think you get it figured out, you will have fresh and new places to check out as the city is always evolving and growing with the local community that makes it up. The key to Savannah is to try and slide into the laid-back vibe that the city is known for, discover some new places, and come back when you're ready for more!