We haven't done much product or gear review around here so we thought we'd start with our latest love, the IceMule Cooler. We got it last month and have been putting it to good use seemingly everyday since. Part of that is because we like to carry drinks with us wherever we go. Camping. Kayaking. Even hiking.
We love our Nalgene and stainless steel bottles because they keep things cold on the inside, but the reality is on any type of day hike that takes more than an hour, whatever we are carrying in a 16 or 32oz bottle just isn't enough. And for a family of four, it definitely isn't enough.
We live in the mountains so we are outside doing something almost everyday so we started looking for some type of packable ice chest to carry with us. We wanted something that could easily carry a six back of beer for "daddy" fishing trips with his friend. We wanted something for our day hikes and picnics that could hold some drinks and food. And we wanted something we could throw in our kayaks without weighing down the boat.
After finding IceMule Coolers on Instagram we did some searching around and found that they got 5 star reviews at REI and 4.5 star reviews on Amazon. So we were hooked.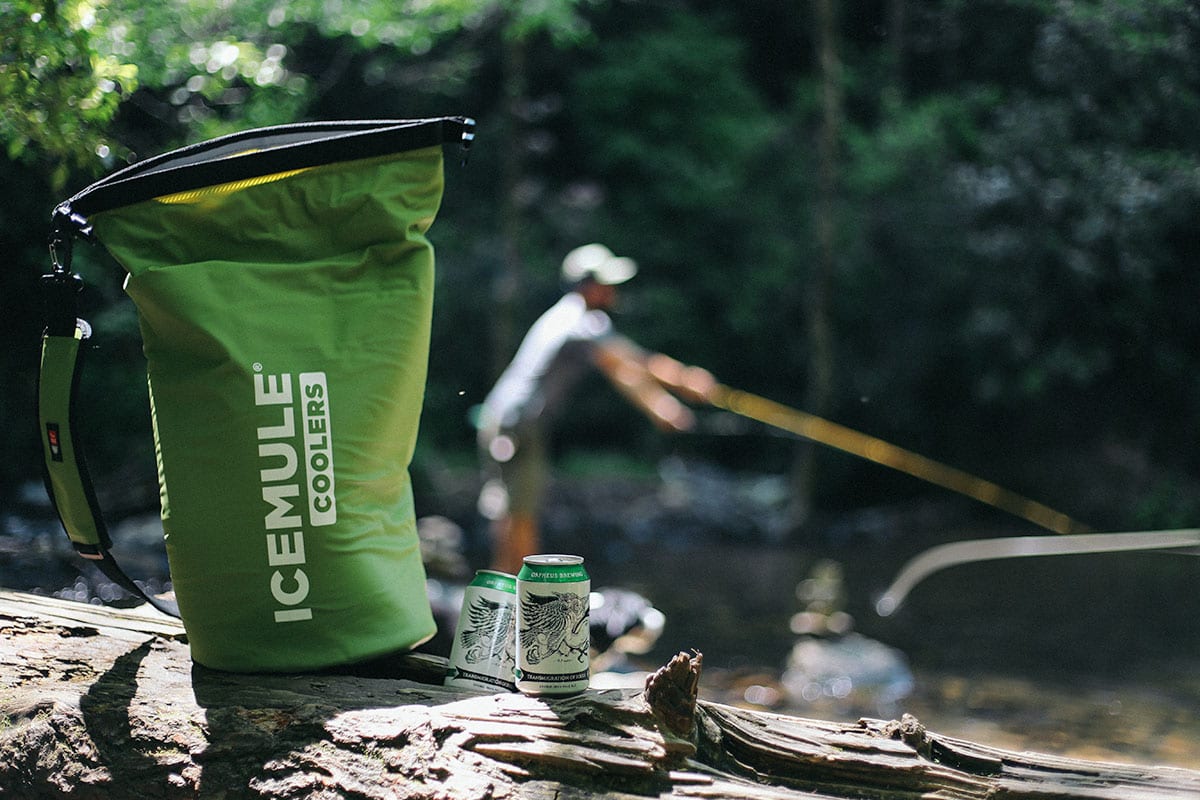 Most people would ease in to something like this, not knowing how comfortable it would be or how it would hold up. But we weren't thinking and for some reason decided to make the initial hike a 5 mile round trip at Raven Cliffs for our North Georgia Social Club series with 4 beers, 2 bottles of water, and an IceMule full of ice.
But the amazing thing is that it held up beautifully and didn't bother us at all.
We went with the medium (15L) size in the Classic model which holds 12 cans plus ice. They have 2 other sizes in the Classic, 10L and 20L. The Classic comes with just one shoulder strap which I thought would be a problem but was surprisingly comfortable for the entire hike – although the last 2.5 miles was easier as we drank the beers with friends at the falls. But for the distance and pace in which we were walking with our group, it was a really comfortable fit and hike considering it had just one strap.
They make a Pro version that comes with 2 straps like a traditional pack in three sizes with the largest holding over 36 cans! We didn't really get to test the ice retention ability as our hike to the falls was only about an hour and a half on a cool spring day but the website says it is rated to keep items cold for 24 hours.
They also make a Catch Cooler for fishing which jumps up a little in price to $159. But considering how heavy Yeti coolers or fishing coolers can be, IceMule seems like the only legitimate option for kayak fishing.
The Classic Coolers begin at $49 and even if you go with the biggest Pro version, you're still only at $139.
I imagine most light hikers and families would be more than fine with the Classic. The Raven Cliffs trail was the longest length we have done with it, but we have taken it out on some 2 mile hikes, a couple kayak trips, a picnic, dinner at a friend's house, and two fishing trips and don't see any need for our family to have anything bigger than the 15L Classic.
If you are going with a group or for longer hikes, we would definitely recommend the Pro for both the capacity and what we would imagine is the slightly more comfortable 2-strap version.
5 Star Review from us for it's durability, flexibility, comfort, lightness, and ability to get our cold beer into the woods and into our belly while remaining cold. Highly recommend.