You know how Thanksgiving and Christmas always stir up something nostalgic in you? Something that is part wishful and part memory? A small fire in the fireplace, the smell of something delicious in the oven, the low hum of conversation? It's being around people who are giving every single thing they do great care and attention. It's a warmth that has less to do with a temperature and more about something you feel down in your soul. That may be an odd way to start a profile about a bed and breakfast, but every time we visit the Beechwood Inn, walk through the doors and begin talking to David and Gayle, it's the first thing that comes to mind and the first thing we feel. It's a well-known feeling yet hard to put a finger on or describe. But it's a feeling of familiarity and a feeling of coming home.
The Beechwood Inn is situated on a small hill overlooking the North Georgia mountain city of Clayton Georgia.
The owners, David and Gayle Darugh, bought the Inn in 2000. While they are both originally from California's wine country, Gayle has a large and extended family right across the Chattooga River in South Carolina. Prior to moving, the couple had been visiting the area for years on weekends and spent plenty of time rafting, kayaking, wandering the mountains, and exploring all the area had to offer. Once they found the Inn, they spent a year renovating, cleaning it up, and getting it up to code. Buying the old property and turning it into a bed and breakfast was a pretty natural evolution for them as it allowed them to pair their love of food and wine with their vocation in a part of the country that they had fallen in love with.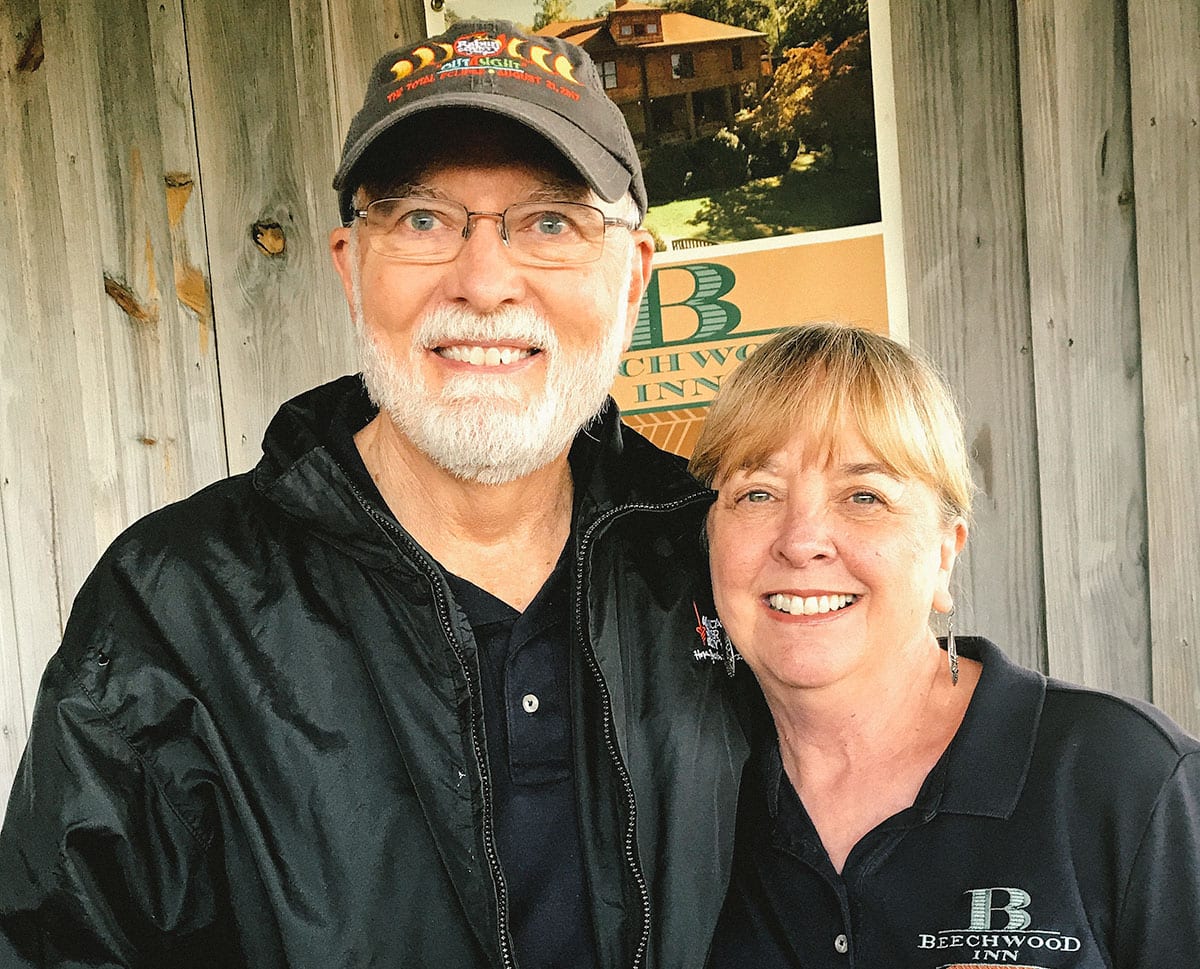 David's family owned a restaurant so he grew up around the food and wine of Northern California, while the couple's first dates were spent at wineries and tasting rooms across the region. As they started their life together, good food and great wine became a staple with a background that is as eclectic as their interests are. David went to law school before entering the Air Force. After his service, he went to work as a lawyer for the Department of Energy while Gayle joined the U.S. Park Service as an anthropologist, served as a botanist for the World's Fair, and a consultant to the National Park Service in the creation of interpretive programs. Additionally, Gayle has served as the President of the American Wine Society with David serving as their general counsel. Over the years they have studied food and wine in Dijon, France, Sonoma, California, and Santa Fe, New Mexico.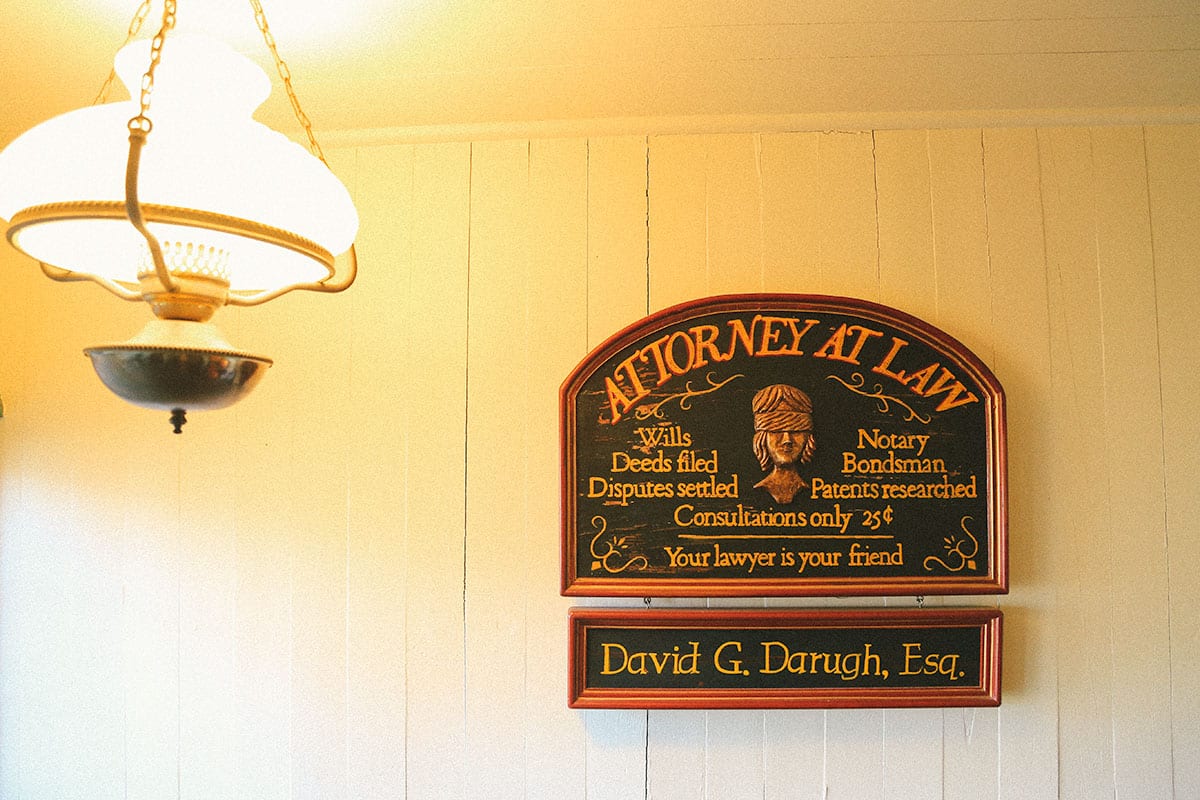 Because of their diverse background, food and wine has become a huge part of the early success and foundation of Beechwood Inn. To say that it is an award winner is an understatement. The Inn routinely shows up on Best Of lists from publications across the Southeast and has been recognized by Southern Living multiple times for their outstanding service, food, and charm.
Food and wine has become so instrumental to the Beechwood Inn that you're truly missing out on the experience if you don't dine with them at least once. They cook a daily breakfast for their bed and breakfast guests that features local and sustainable produce from area farmers and neighbors. There is a daily event called "wine-thirty" with wine tastings of their favorite wines. They do a weekly dinner on Saturday night that books up weeks in advance. They operate the Grow, Cook, Eat, Culinary Garden, an organic vegetable, herb and edible flower farm in Rabun County. They even have an option for booking a private dinner with them in their wine cellar where they'll cook a special and unique menu just for you and your guest featuring individual wine pairings.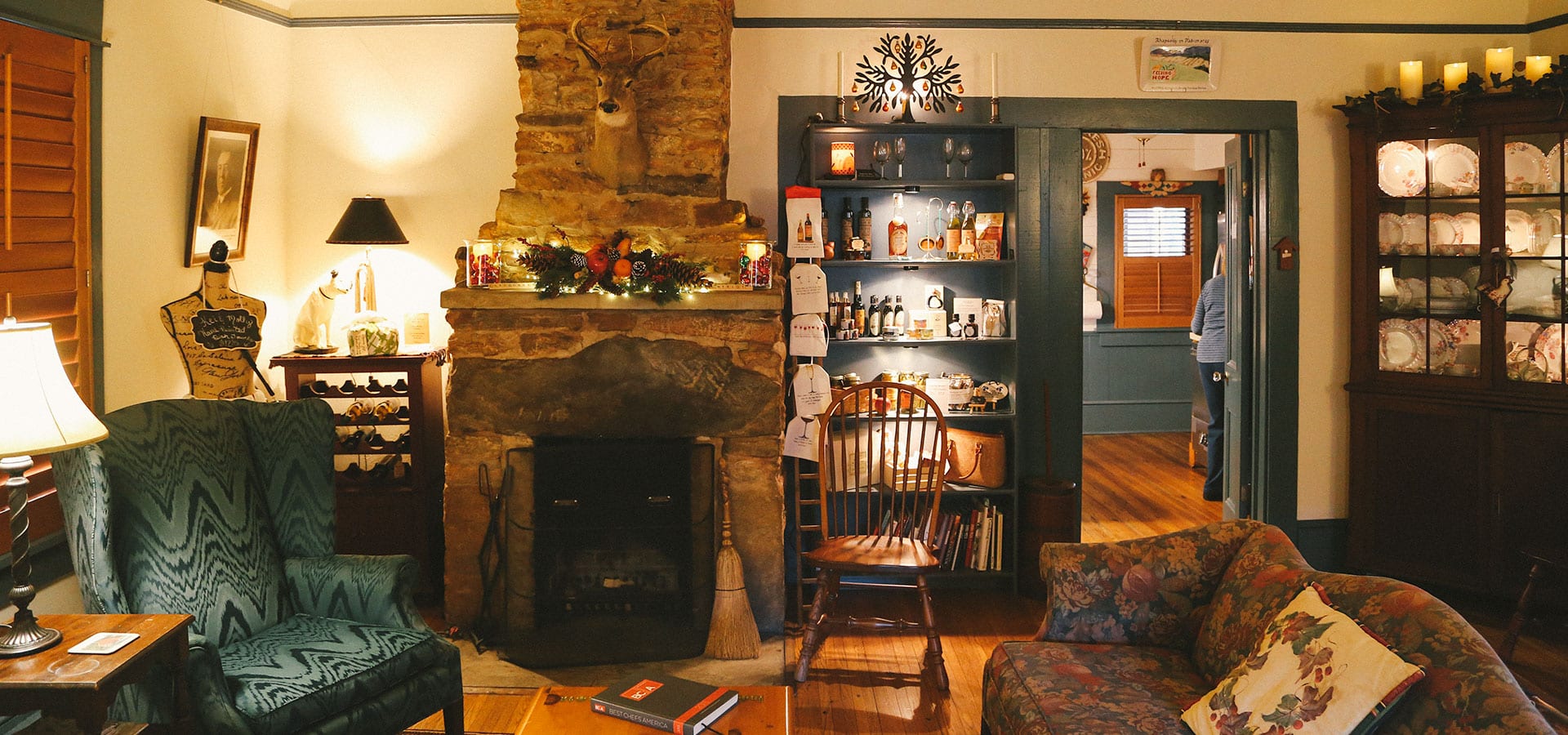 It's not everyday that you meet bed and breakfast owners that are part lawyer, part botanist, part wine lover, and 100% chef. But this makes the Beechwood Inn unique in it's own right. When you combine that with the talent and passion David and Gayle have for their small business and community, you get something special.
Moving beyond the food and wine, the Inn and the lodging they offer is everything you'd want in a bed and breakfast.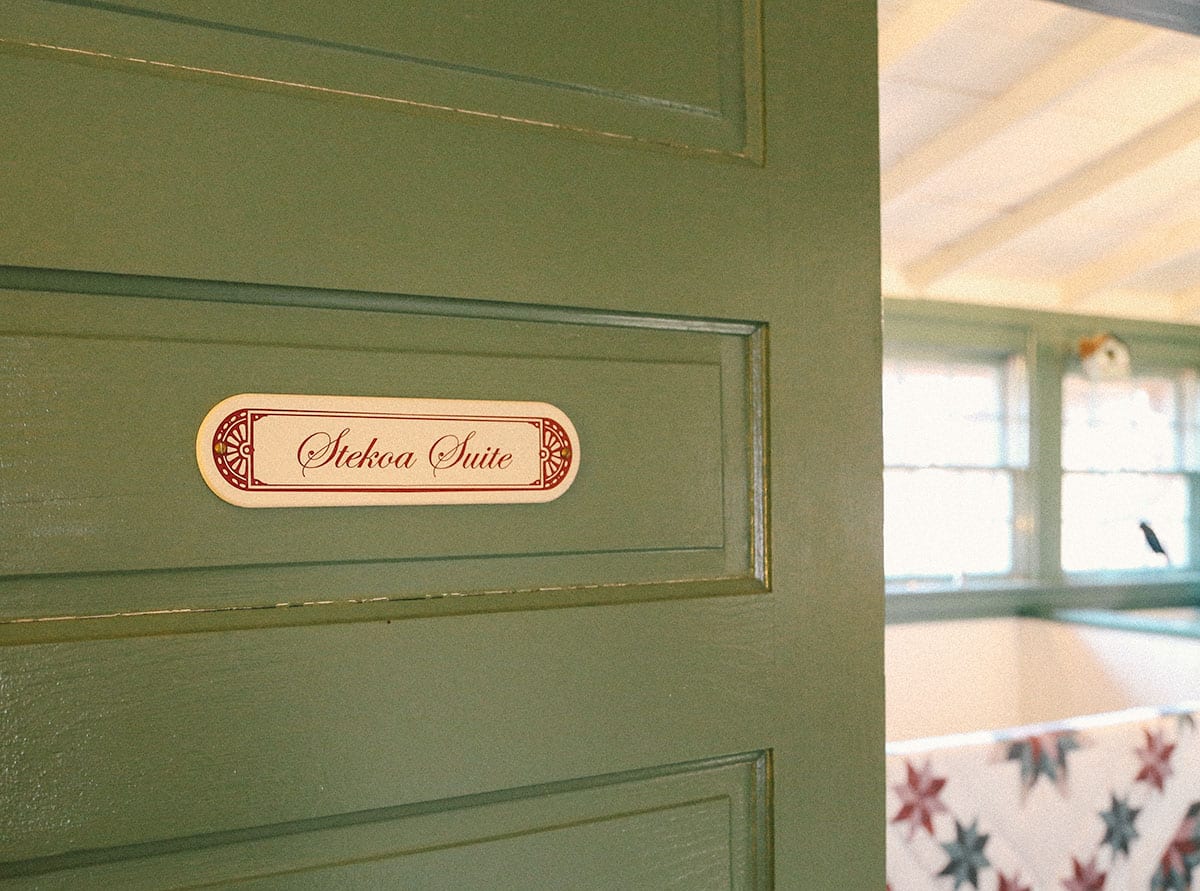 They have seven different rooms, all appropriately named for an area point of interest or region. Rooms like the Stekoa (the creek that flows through Clayton), the Rabun (the county), and the Vineyard (have I mentioned the wine) line the halls of the Inn. They even have 3 cabins on the property, from a rustic log cabin to a luxuriously restored cabin overlooking the Inn's blueberry patch.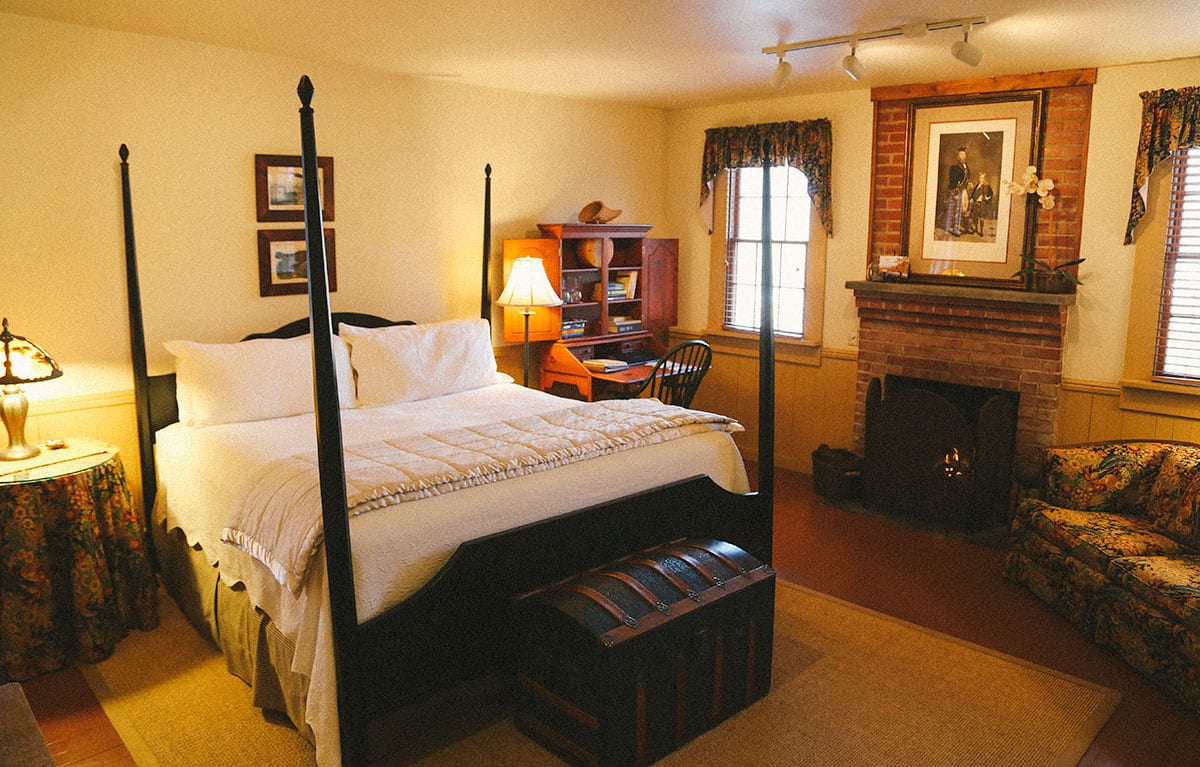 Most of the rooms come with fireplaces and are all comfortably decorated with gorgeous brick mural wallpaper.. Soft robes sit in the bathroom and organic linens and bamboo towels tie back into their commitment to being an environmentally friendly location. Each room comes individually decorated with handmade quilts, woven rugs, early American rustic antiques, and original artwork. They even bake fresh homemade cookies and have fresh fruit that can be enjoyed in your room or one of the Inn's many common areas. There is a game room with board games and a music room with dulcimers, a fiddle, and guitars. Gayle has even been known to jump on the dulcimer and share her appreciation and knowledge of the popular southern Appalachian instrument.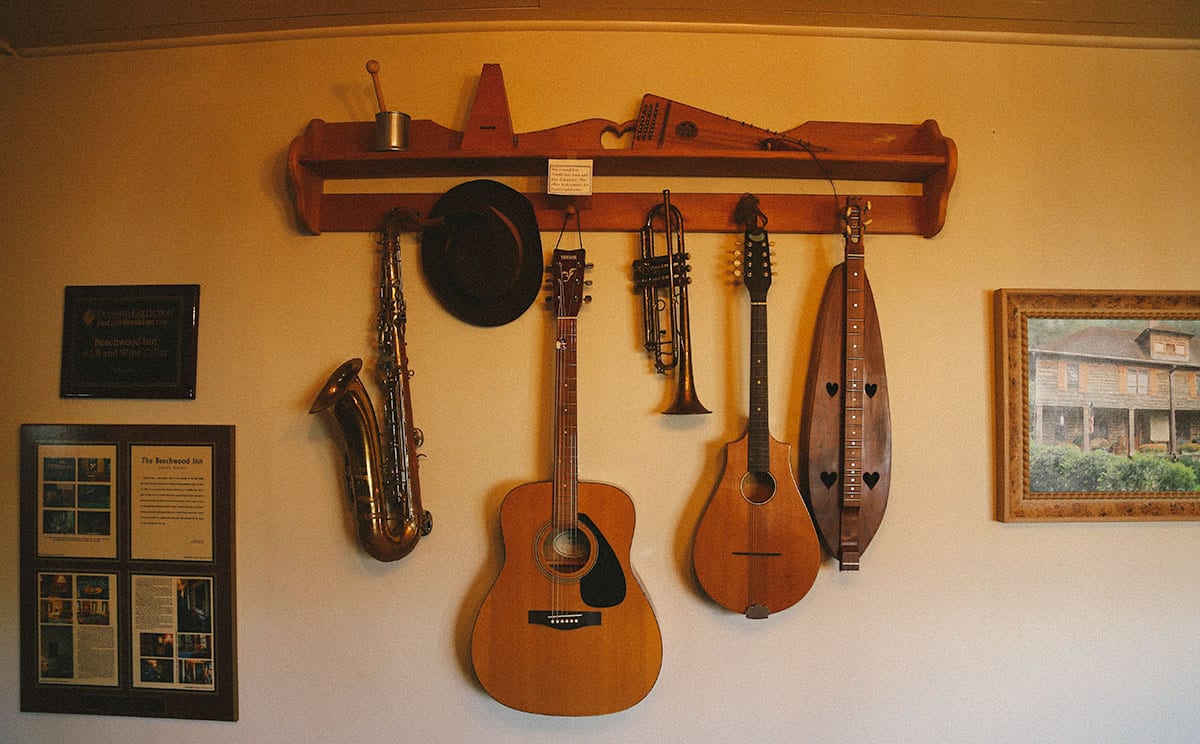 They have a huge front porch that runs the length of the Inn with views that look back into downtown Clayton and out at Black Rock Mountain State Park. The porch overlooks their property, which has been designated a certified wildlife habitat by the National Wildlife Federation and serves as a mini refuge for all the native birds, animals and insects. Their gardens and landscape are done with thoughtful consideration of the wildlife and their habitat. David and Gayle have even designated the entire 8 acres of the property as a bird sanctuary. So if you sit on the front porch, not only will you catch a beautiful North Georgia sunset, but you're going to be able to observe all sorts of birds and wildlife that call the property their home.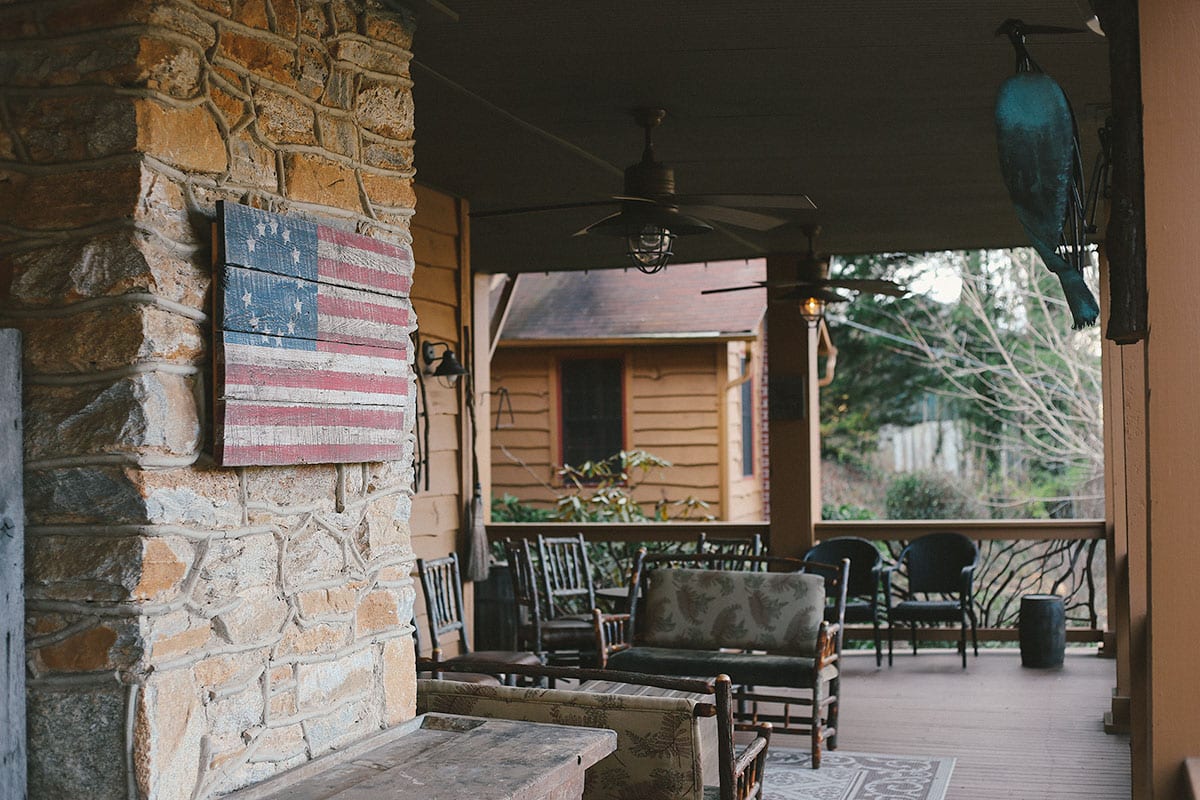 As I sat in the kitchen with David and Gayle, I asked them what their favorite part of running their small business was. True to their humble and warm nature, they didn't discuss their awards or the regional and national recognition they receive as being the best of the best in their business. Instead they chose to highlight something that reminded me of my initial feeling of nostalgia for holidays at home with my family . . . memories.
Our reward that we work for is the thanks and gratitude of our many fine guests that let us know that Beechwood Inn and its owners and staff created a memory. A wonderful memory.
From the guests who arrive on the weekend looking for a break from the hustle and bustle of the day to day stress, to those who travel near and far for their famous Saturday night dinners, to Gayle's 150 cousins and aunts and extended family who recently celebrated her father's 100th birthday at the Inn, David and Gayle have created a special place that combines their love of all things North Georgia, wine, food and hospitality. It's a place that makes you feel at home. It's a place that makes you want to stay a while.