Helen, Georgia is a short drive away from our home here in Clayton, so it makes for an easy day-trip and can double as a weekend getaway for those coming from further away. The town was founded in 1913 as a logging town, but as the logging industry in the area declined, the town needed a new vision. In the 1960s a group of business leaders got together to brainstorm ideas to kickstart the local economy. One of the men came up with an idea to model the city after the Bavarian style that the North Georgia mountains reminded him of during his military deployment in Germany. From there the current Helen that most of us know today with all it's German food, beer, Oktoberfest, and architecture was born. 
For many people, Helen is their gateway to the North Georgia mountains. Because of the novel and popularity of the city, I had visited Helen dozens of times before I had ever visited Clayton or Blue Ridge or Ellijay. With a population of only 531 but over 3 million yearly visitors, Helen often serves as somewhat of a lightning rod when it comes to public opinion. You either love it or you could do without it. As someone who first fell in love with the North Georgia mountains because of my visits to Helen and the nearby Chattahoochee-Oconee National Forest, I fall in the camp of the latter. 
For me it's where I took my boys on their first camping trips. It's where I took my wife to propose. It's where I experienced my first Georgia snow, where I saw my first black bear, where I hiked to my first waterfall, and not for nothing . . . where I ate some of the best pizza in my life. 
So we're putting together a guide of some of our favorite places to eat, shop, and wander on our visits, along with some spots we've visited on previous trips.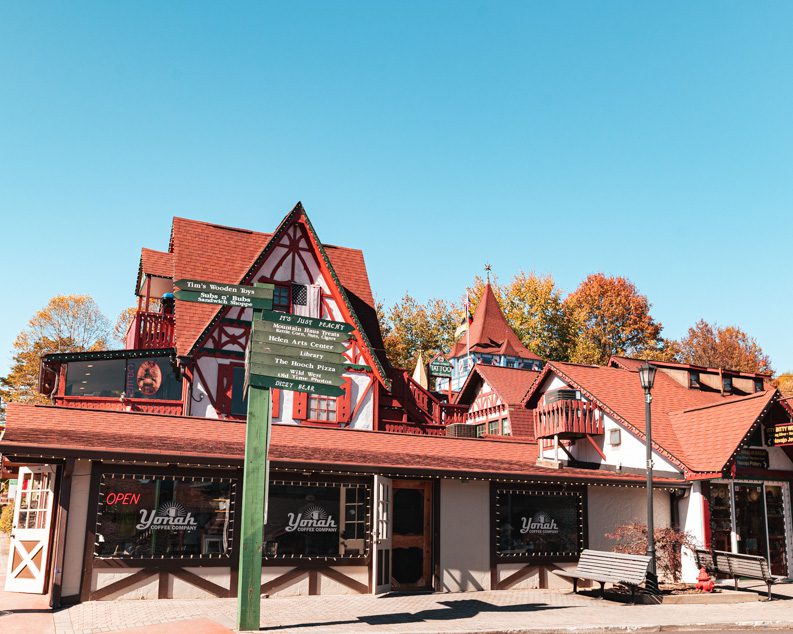 This Bavarian-themed town is nestled in the Appalachian foothills about an hour and a half north of Atlanta making it a prime day trip location and jumping off point for the North Georgia outdoors. Dozens of waterfalls, hiking trails, and world class fishing are all mere minutes from downtown Helen.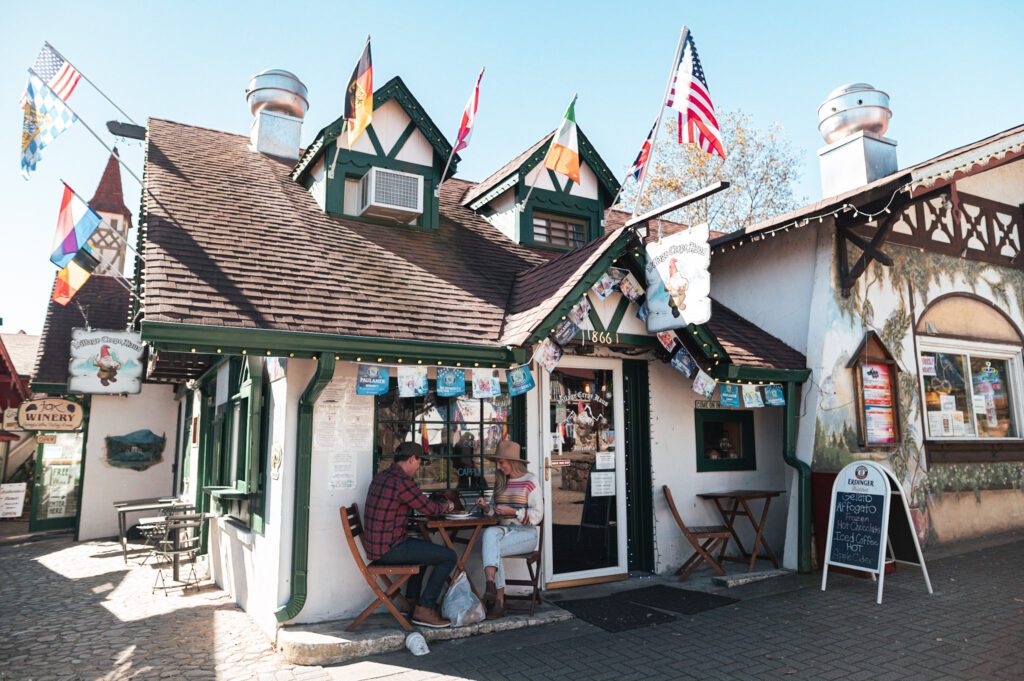 Anna Ruby Falls, Raven Cliff Falls, Dukes Creek Falls, The Appalachian Trail, Unicoi State Park
Helen is located right at the foothills of the Appalachian Mountains, making it prime for a hiking focused trip! Odds are if you've done any hiking in North Georgia, you've had to drive through Helen. Surrounded by national forest, there are dozens of waterfalls and mountain vistas to choose from.
On this trip, we stopped in at Anna Ruby Falls, which has to be one of the most unique and spectacular falls in the state. This recreation area is just a few minutes outside of town, and is located just next to Unicoi State Park which offers several activities of its own! The hike to Anna Ruby Falls is short, with a small incline that is paved the whole way making it one of North Georgia's best ADA friendly trails. The path meanders through the woods, following the creek the entire time. Needless to say, it is a beautiful trip up to the viewing platform of the main falls.
Another incredible opportunity at Anna Ruby Falls is the Lion's Eye Trail located next to the visitors center. This is a quiet paved trail designed for people with visual disabilities. Hand rails line the trail as you walk the banks of Smith Creek and offers several braille pedestals that describe the surrounding scenes, in addition to listening benches that allow you to sit among nature for a moment.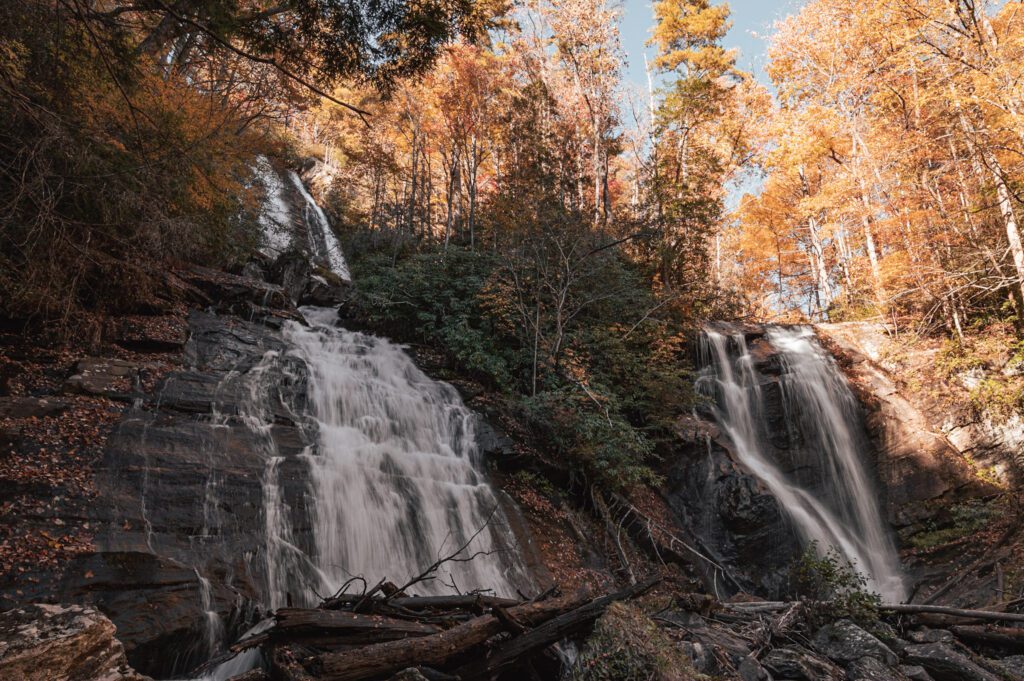 If you are feeling up to a longer hike, we recommend checking out Raven Cliff Falls also just a short drive outside of town. Raven Cliff is a longer and more rugged hike but still tame enough for a family outing. Be sure to check out the write up by our friends at Atlanta Trails for the most in-depth info!
The hikes don't stop there though. Directly North of Helen is the Tray Mountain wilderness which is traversed by the Appalachian Trail, making this a great area to hop on for a short section hike!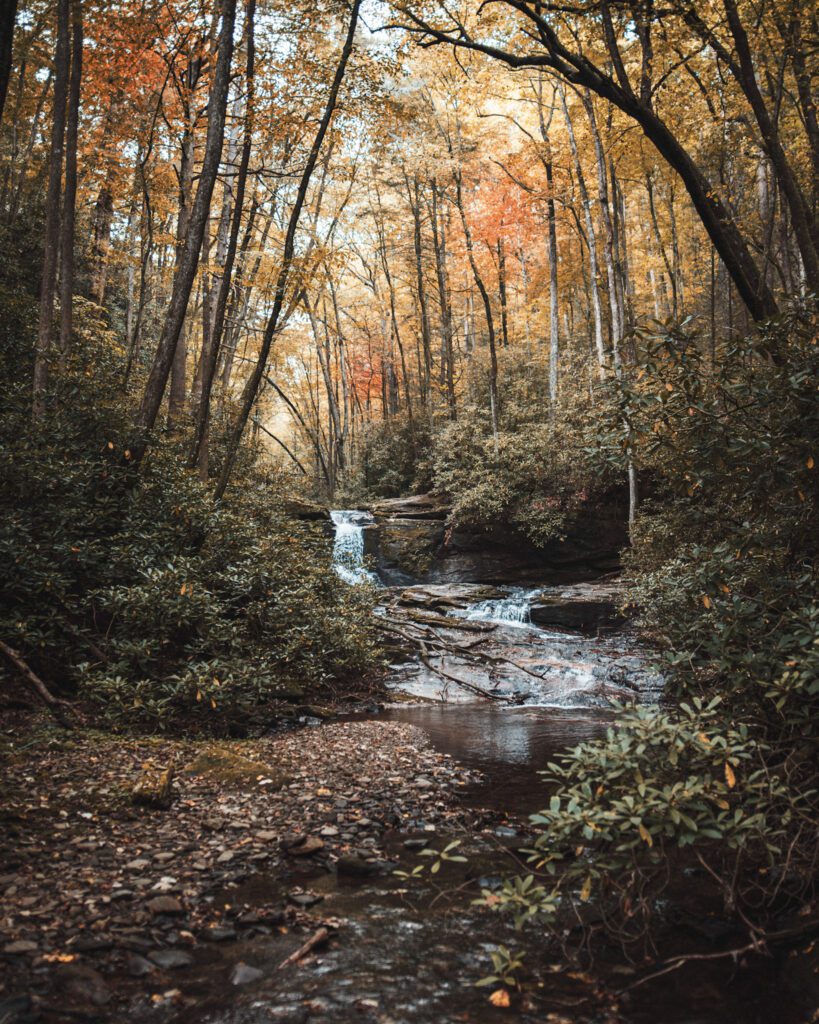 We mentioned Unicoi State Park & Lodge earlier, but we have to talk more about their facilities. Unicoi offers more activities than you could complete in a day, so it's great that they have a lodge, and several cabins on-site for visitors that may want to stay overnight! Unicoi is home to a beautiful lake tucked into a valley between the mountains. In the summer, you can rent kayaks and paddleboards to explore the lake or get out and catch some fish! There is also a zip-line tour that encompasses 19 zip-lines and 9 suspension bridges. This is one of the best ways to see the park as you zip through the trees and along the shores of the lake. If heights aren't your thing, there are also activities such as an archery range, mountain biking, hiking trails and so much more. 
Sweetwater Coffeehouse, Wildewood, Hansel and Gretel, Betty's Country Store, Bodensee, Nacoochee Tavern, Hofbrauhaus, Cowboys and Angels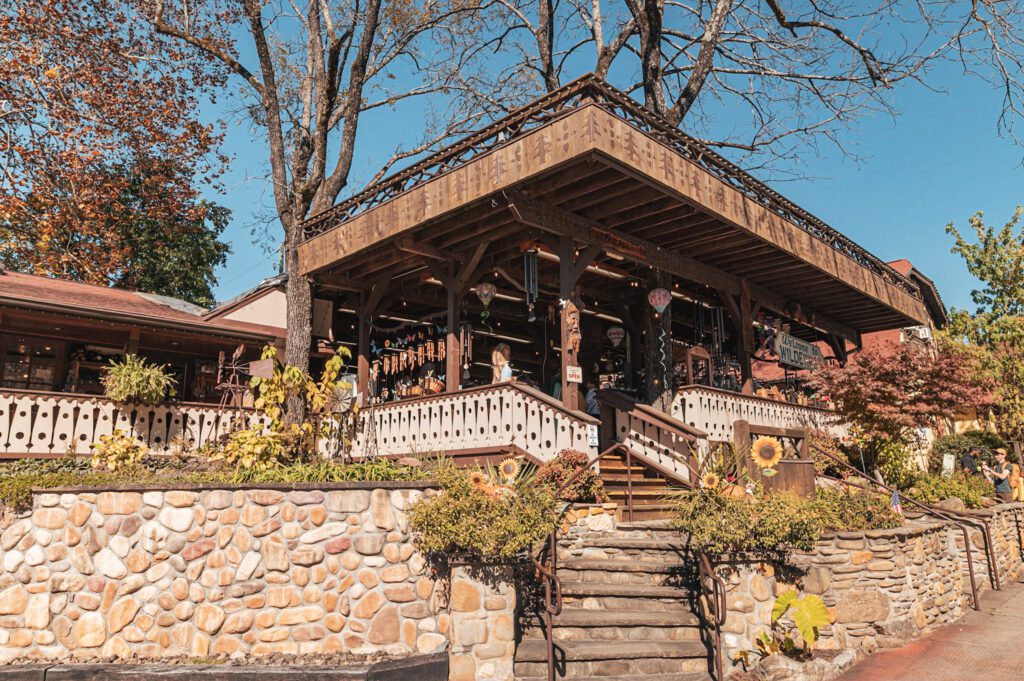 If there is one thing Helen isn't short on, it has to be interesting places to shop and eat! We have to recommend that you check out Wildewood if you're in town. This awesome little shop has a little bit of everything you're looking for, and even a few things you probably didn't know you needed! Tons of handcrafted goods and beautiful products to choose from. The shop also has an incredible atmosphere, with a large porch hosting most of the merchandise. It's really something to browse while the windchimes are pinging quietly in the background.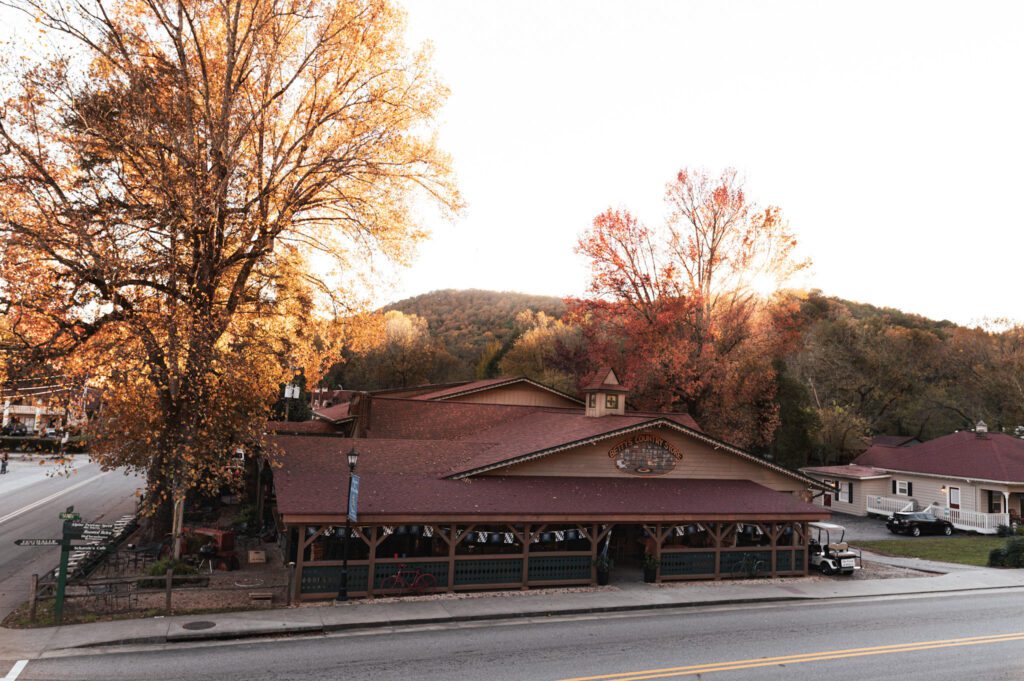 If you're really after that small hometown shopping feel, Betty's Country Store is for you! This place is truly a staple in Helen for me. I can't pass through without stopping in for one of their homemade peanut butter cookies. And we aren't talking about any normal cookies, these things are the size of a dinner plate! While the cookies alone are reason enough to go, this is where you'll want to do your shopping if you're staying in town. They have a great selection of local goods and plenty of beer and wine to choose from as well. They also recently added a porch so that you can sit and enjoy your drinks there!
Now Helen has several great places to eat and we could never cover them all, but some of our favorites have to be mentioned! The Nacoochee Tavern is the place to go for pizza in town and honestly a top 5 pizza of all time for me. A great atmosphere, great pizza, and gigantic sub sandwiches. They even bring you free fresh popcorn to the table to pair with your beer after a long day of hiking. Cowboys and Angels is a great place to grab a burger or a steak, and they have some great daily specials! If you're after some authentic German food, Bodensee is worth checking out! Be sure to try their Colaweizen if you're feeling adventurous. 
Now after you finish up dinner, be sure to save some room for a visit to Hansel & Gretel. They have an amazing assortment of chocolates and candies of all different varieties. The classic chocolate-covered strawberries are always a hit, but there's so much more to choose from as well.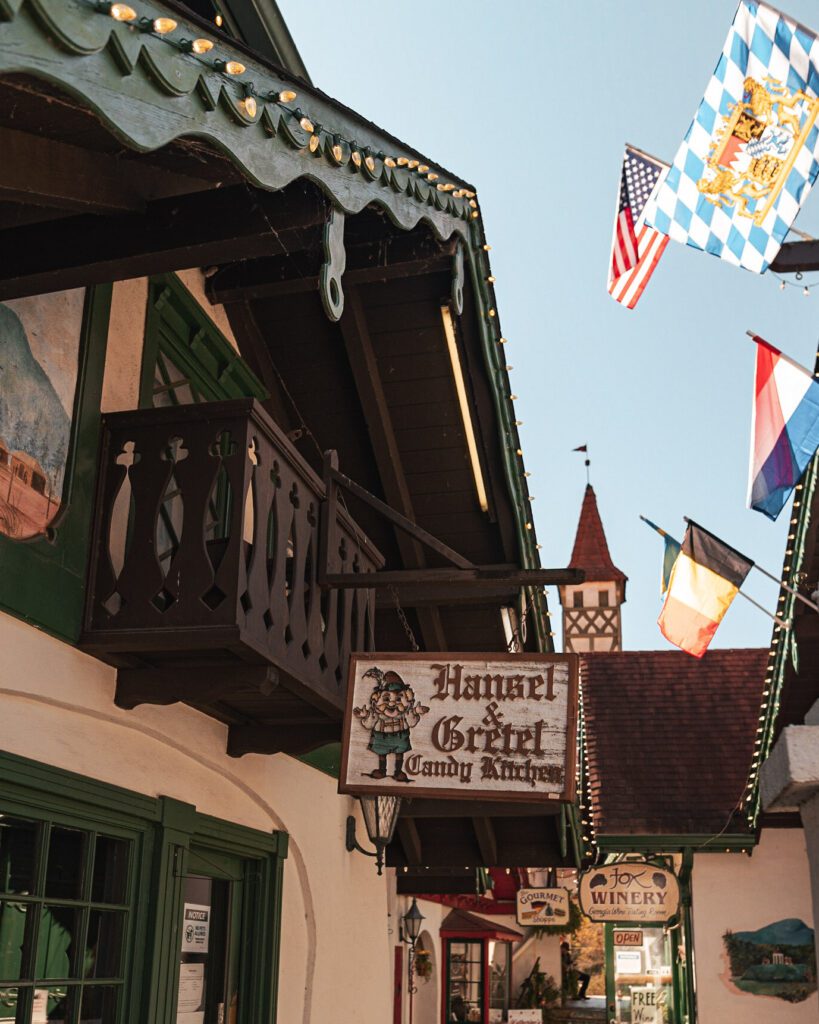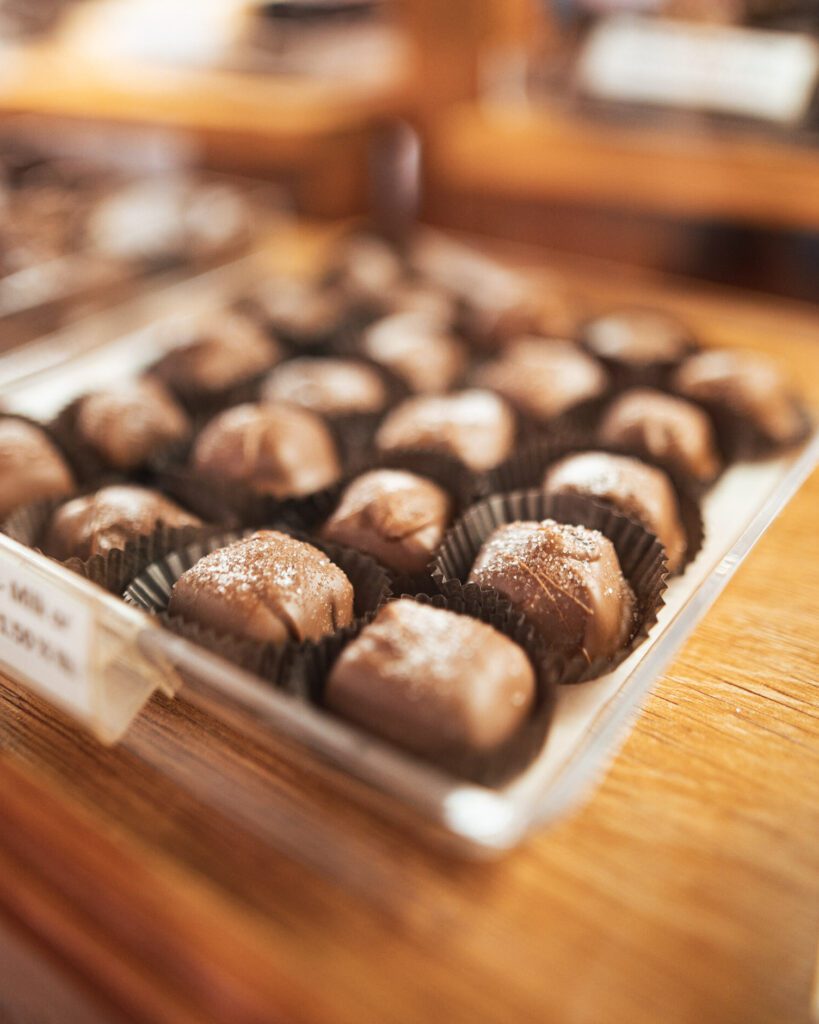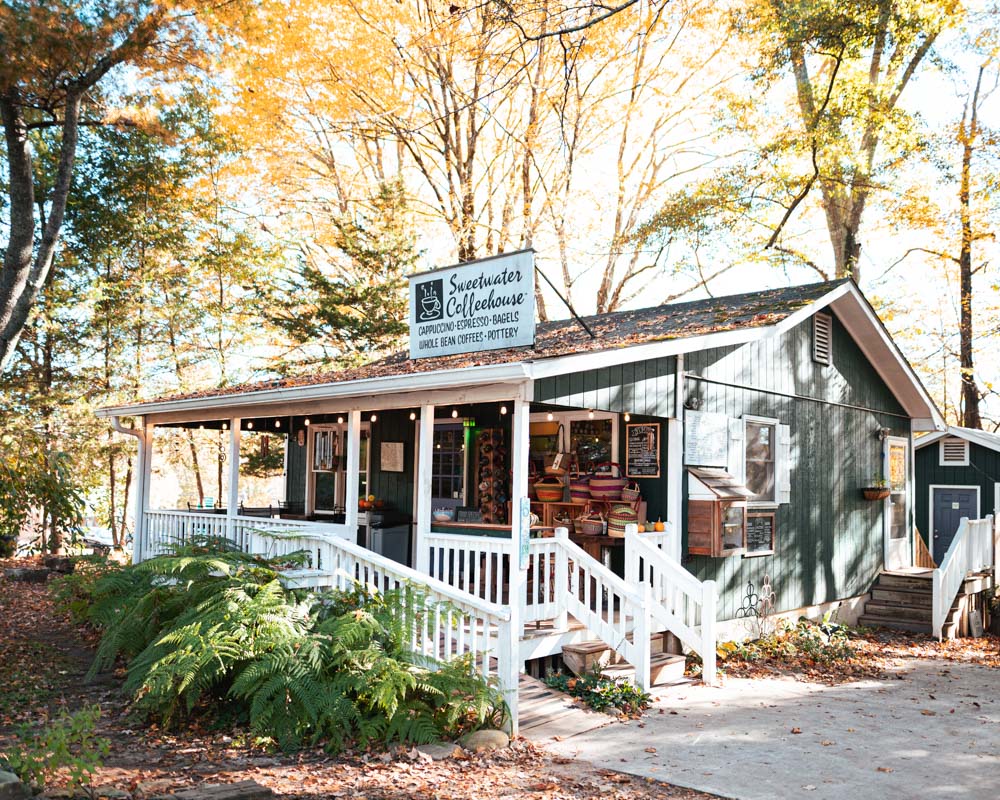 Now, in our opinion, no trip to Helen is complete without a visit to Sweetwater Coffeehouse. While this quaint little coffee shop is actually in Sautee, there is a good chance you pass it on your way into Helen. This is hands-down one of the best places around to grab a cup of coffee and unwind for a bit. They have so many great flavors and combinations to choose from, and many of them rotate seasonally. While you wait on your coffee to be prepared, there is a stunning selection of handmade pottery from The Willows. Ben and Betsy are incredibly talented and have a great thing going! We actually carry some of their work at our store here in Clayton as well!
Helen is a unique place that you truly have to visit on your own to experience. While we can make recommendations all day, there are so many things to see and do in this area, we could never fit it all into one blog! We hope that this blog will help you get your trip started and hopefully you can find some new favorite pots of your own!