Let me set the scene for you: you take a short drive up from Atlanta or Chattanooga after a stressful week of work, errands, and family responsibilities. You arrive at your cabin that is part of a private mountain forest community. Dropping your bags at the door, you walk out on the deck to what looks like a sea of rolling blue waves as you gaze out at the Blue Ridge Mountains for miles and miles in front of you. You look around and see a hot tub and a fireplace on the screen room, and a fireplace in the great room. The cabin is immaculately taken care of, clean, and ready for your getaway. It's cozy and warm and reminds you of everything that you think of when you dream of a cabin in the North Georgia mountains.
You slide into your chair, pour yourself a glass of wine (or crack a beer or soda) and let your shoulders and body relax as you realize you don't have to do anything else or be anywhere else. You settle in and realize this is exactly where you're supposed to be in this very moment.
Does that description send you scrambling to check your calendar for your next available weekend? Do you already feel relaxed? Are you seeing the possibilities? If so, let me tell you about our friends at Above The Rest Cabins and why this isn't just wishful thinking.
Above The Rest is an award winning community of private cabins just minutes outside of Blue Ridge, Georgia. Their thirty cabins are nestled into 1,500 acres of the beautiful North Georgia mountains. Some overlook panoramic vistas while some are tucked quietly back in the woods.
David and Jeanette are the proud owners of Above The Rest. They were former chemistry professors at Georgia Southern University and vacationed at Above The Rest in 1998. After returning every year, and often multiple times a year, they decided to buy the company in 2005 and moved to Blue Ridge full time to follow their dream of living in the place that they had fallen in love with.
After meeting David and Jeanette and hanging out with them a few times, their passion for North Georgia became pretty evident. Not only had we found another couple whose story was similar to ours, but we met a couple that was just as in love with their particular place in North Georgia as we were with ours.
They are outside seemingly every chance they get. They are always looking for new waterfalls and driving up to 6 or 8 hours away just to try out a new spot or hike, Jeanette always carrying her camera with her. This is literally is the same thing we do anytime we have a few hours.
Their office features Jeanette's waterfall and nature photography and other hand made items from local artists like soaps and honey. They live on-site so their customer service is through the roof. They try to think of every little small touch for you before you arrive, but if you get there and need some help, they are on-call for you and just minutes away to make sure your experience is so good that you will want to return, which is no small part of why they are rated #1 on TripAdvisor for lodging in Blue Ridge and so many people return for multiple trips.
Let's talk a little bit about the cabins. They have almost thirty to choose from that fit any type of budget, sleeping arrangements, and amenities that you want. Whether you are looking for a small cabin that is perfect for a romantic getaway for 2 or want to bring the whole family or a group of friends and need a dozen plus rooms, you have options. All of the cabins are what you think of with traditional cabins: interior wood walls, vaulted ceilings, big windows, comfortable furniture and fireplaces. They all have wireless Internet, hot tub, satellite TV, grills, fireplaces, and full laundry facilities. Many also have game rooms with pool tables, foosball and darts and indoor jetted tubs. And they all have decks for that perfect mountain view you've been dreaming of in the city.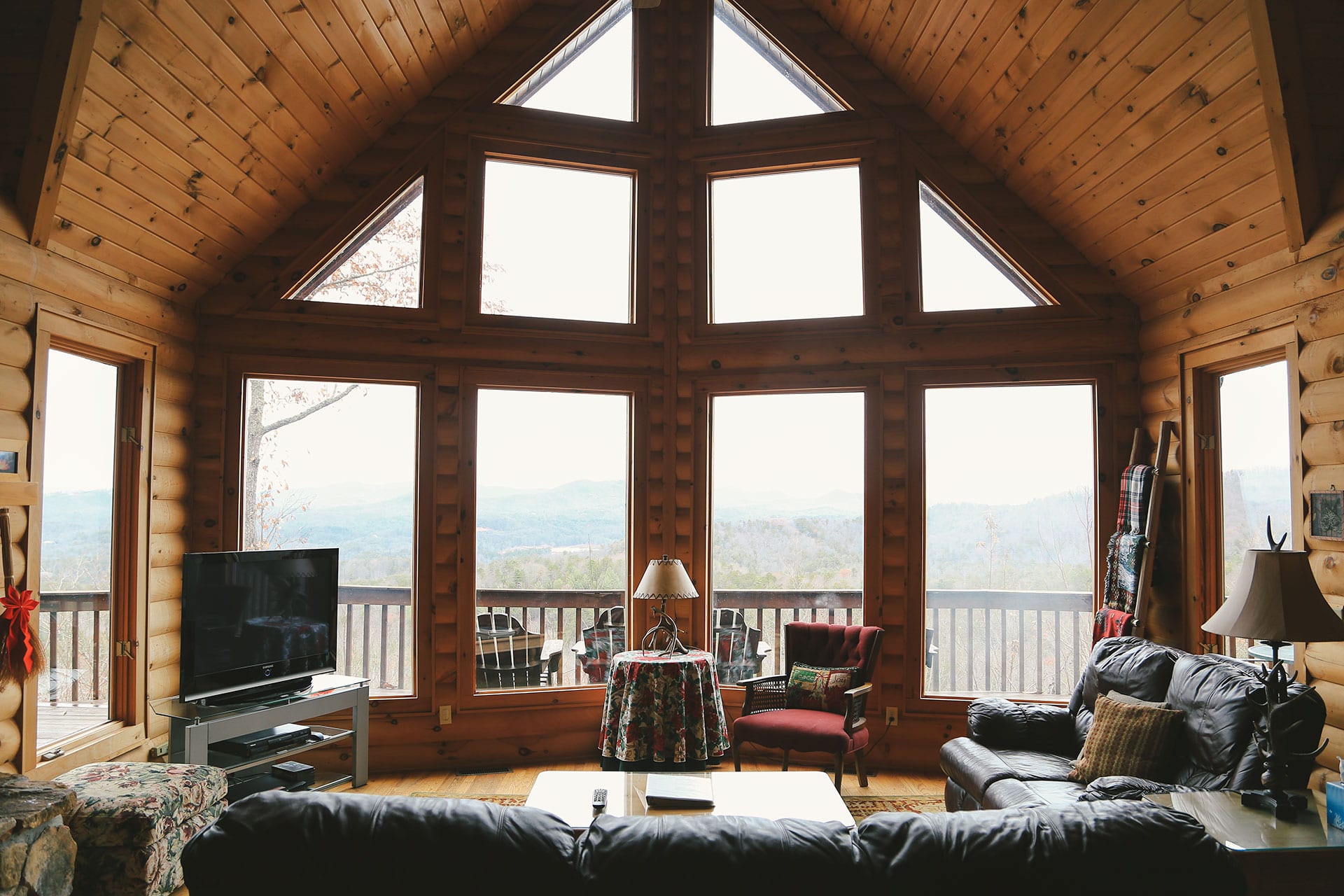 David and Jeanette take pride in their recommendations. In fact, they are overflowing with them. I asked them for a hiking recommendation for my drive home and within minutes I had a half dozen complete with detailed descriptions and maps. So if you need additional suggestions for waterfalls, hikes, restaurants, or shops in nearby Blue Ridge and Fannin County, don't hesitate to ask. You can whitewater raft, tube, fish, kayak, play golf, ride horses and so much more. Oh by the way, the food and shopping in downtown Blue Ridge is insanely good. Mountain outfitters, antique stores, fine dining, and a craft brewery are all just minutes away.
Above The Rest also offers full concierge services so if you want to step it up a notch with an in-cabin massage or want an in-house chef, they can arrange everything for you and have it waiting for you when you're ready. No request is too small.
If you're looking for a romantic getaway, Above The Rest is a great option. If you're looking for a home base for a girl's weekend, Above The Rest is the perfect spot. If you're looking for a cabin where the kids won't be bored and you can spread out as a family,Above The Rest is an awesome choice.
So close your eyes, visualize those views, hear that crackling fireplace, feel that warm hot tub and start planning your escape today.