We're a small, family run business and we could not be more proud of it.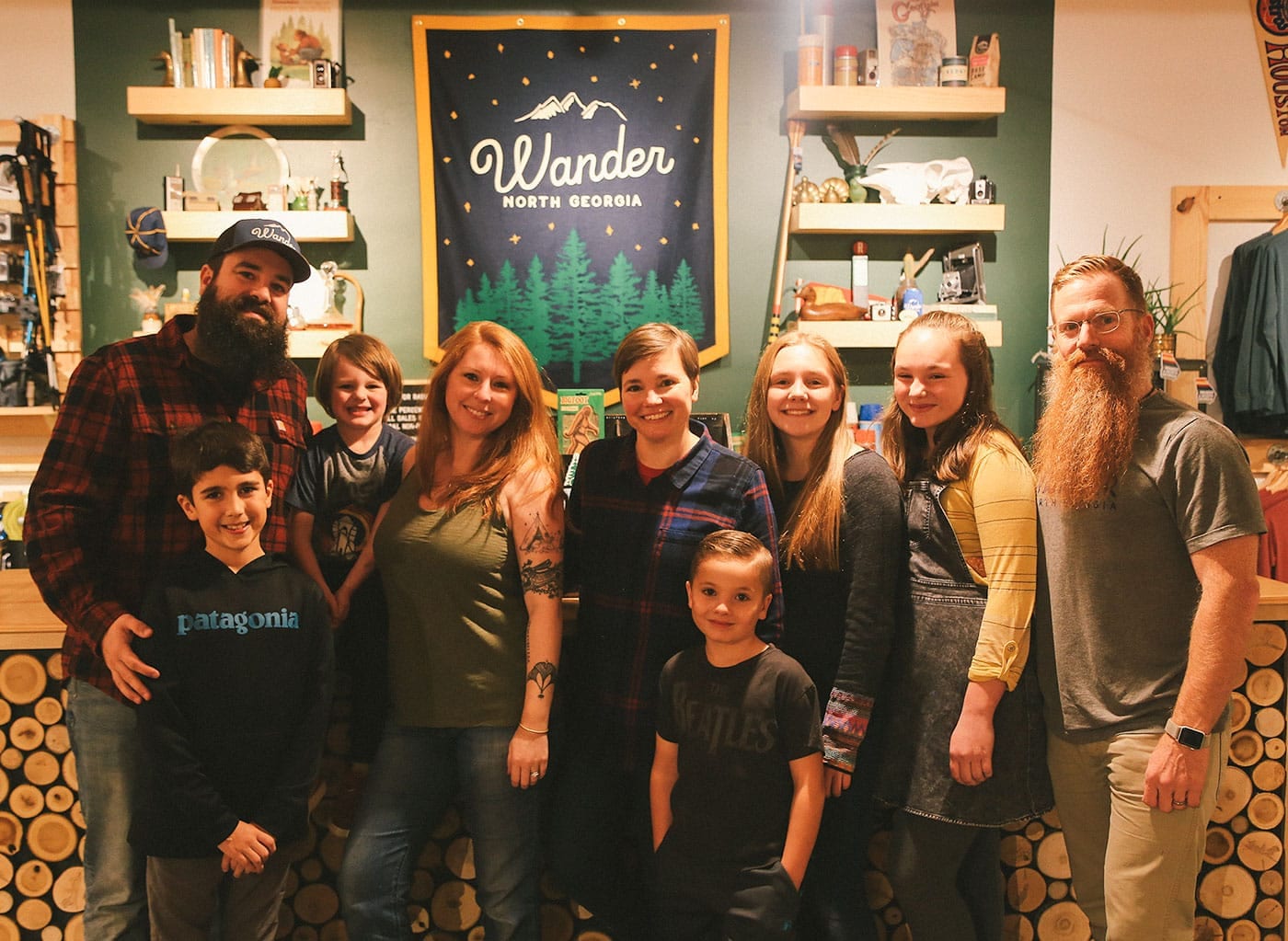 This picture . . . that's us. Courtney, Jake, Alex, Josh, Emma, Gracie, Elliot, Mason, and Dylan. Our families. Odds are you've probably seen us around the shop. We work in our store every day. We are committed to shaking every hand, hearing every story, and practicing the best southern hospitality you can find whether you walk in our shop or leave a comment online.
In a day of big box retailers and out of state chains, we believe strongly that there is still some life left on Main Street America. Not because of anything we're doing, but because of you.
But the reality is we don't know how to thank you. We are constantly searching for the right words – the right spirit – with which to show you our big overwhelmed, grateful, and humble hearts. Words often fail so we hope to show it to you by showing up every single day ready to earn the privilege of your support just like we have for the past 2 years.
Since we don't have stockholders, we thought it would be important to stop and share with you what we have been able to accomplish this year because of your generous support. In every way, you are our stockholders. We want to hear from you. We want your feedback. We want you to keep us accountable to doing what we say we're going to do and living up to your standard of what a small business should be responsible for.
You are the ones who have shopped locally with us when you could have gone elsewhere. You are the ones who shared our articles and helped spread our love for our North Georgia small business peers around to your family and friends. You are the ones who liked our social media posts, sent us DMs with kind words and left reviews online that humble us beyond words.
It would be easy to just say thank you and move on. But we want to be crystal clear . . . your support is making a real, tangible and measurable difference in our community. We are doing what we said we would do when we opened a shop. Our commitment to our community, our people, conservation, and marketing are stronger than ever. And we want to celebrate that with you.
So in 2018 . . .
We donated a total of $17,967.79 through a combination of our 1% for Rabun County Initiative, our Rabun Red band boosters donations, our Bring A Bag fundraiser, and in-kind donations for local and regional community events, fundraisers, silent auctions, non-profits and civic groups.
From our little slice of heaven in Rabun County, we shipped Wander North Georgia products to 46 of the 50 states.
We created 6 full time jobs and 4 part time jobs, with starting pay over double the minimum wage for our state.
Bought products directly from 23 different small businesses, artists, or makers within a 100 mile radius.
Bought products directly from 48 different small businesses across the country.
Hired, contracted, or purchased directly from an additional 13 local small businesses for supplies, contract work, and other business needs.
We now have 15+ retail partners across the state of Georgia who are selling Wander North Georgia products in their small businesses.
Launched a Wander North Georgia themed beer with our friends at Reformation Brewery.
We have also donated 110+ hours of our time this year. We believe helping our peers and other non-profits with free consultations and implementation of ideas pulled from marketing, design, branding, website design, social media, and reporting makes our community stronger.
As we head into our third year of business, we are excited about what 2019 holds. We have brand new ideas we can not wait to share. We have new stories we want to tell. We have new partnerships we are ready to announce. But most importantly, we are doubling down on our commitment to being a responsible small business. We look forward to connecting visitors, creating living wage jobs, leaving our world a little bit better than we found it, and honoring those who practiced wise stewardship of these mountains for generations.
We hope to see you around. From one wanderer to another . . . thank you for your generous support this year.