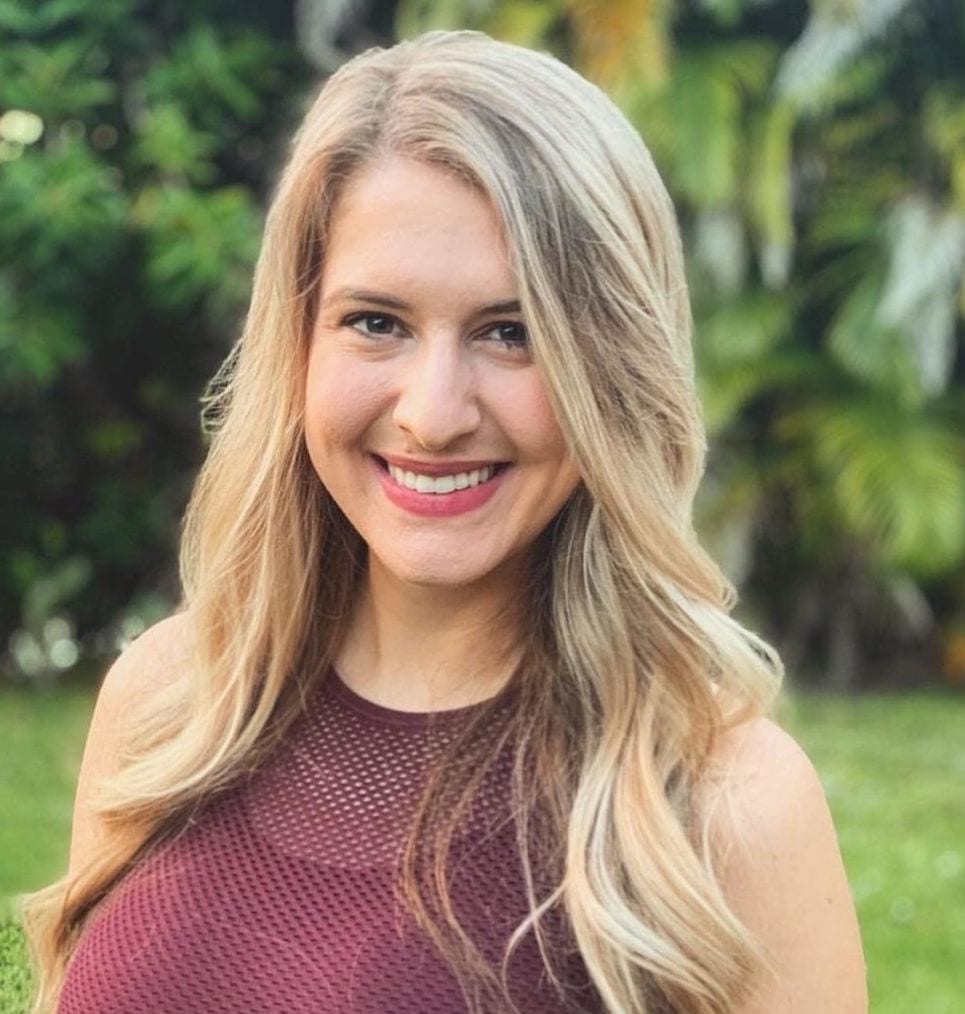 Katie moved to the state a few years ago after spending some time in Connecticut. She has spent her first few years in Georgia wandering all across the state to see as many waterfalls and beautiful sights as she can.
The city of Rome, Georgia holds a special place in our hearts because it's where many of our friends and family call home. Our Rome roots begin with my (Ross) grandparents Charlotte and Jim Owen. They grew up, fell in love, and raised a family in this charming city. The city was given its familiar name due to the geographical resemblance shared with it's iconic European older sibling in Italy. Rome, Georgia much like Italy's Rome is surrounded by 7 hills. Italy has recognized its sister city by gifting Rome, Georgia with The Capitoline Wolf with Romulus and Remus statue which stands in front of City Gall on Broad Street. The statue was actually an official gift by signed order of Dictator Benito Mussolini. It first found its home in Rome, Georgia in 1929 when Chatillon Corporation Silk Mills of Milan, Italy relocated to Rome, Georgia.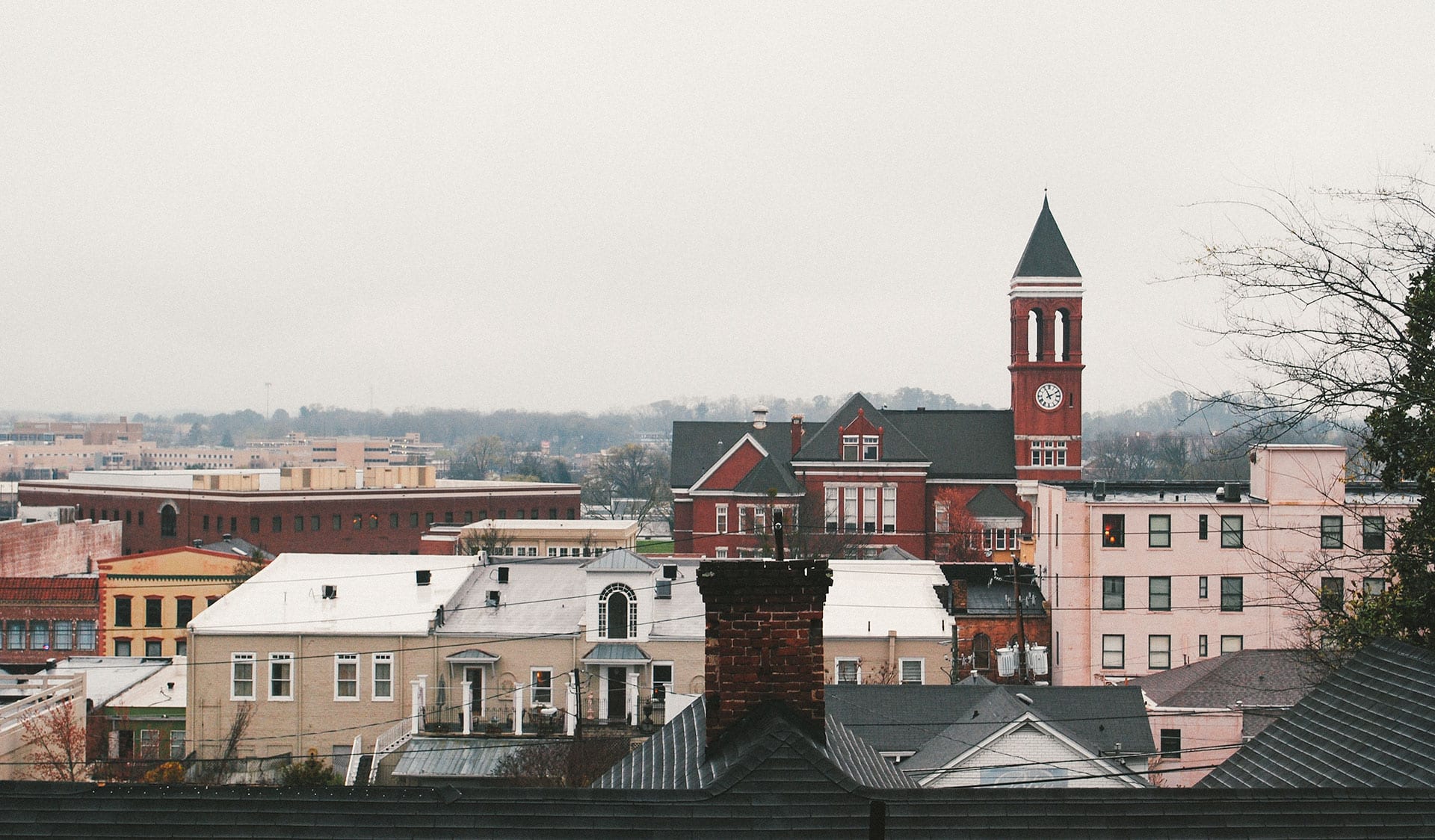 Like Italy's Rome, Georgia's Rome is defined by the rivers that run through it. Rome's signature hills overlook the meeting of the Etowah and Oostanaula rivers, forming the Coosa River, and the heart of downtown Rome. It's here on Broad street where we chose to begin our adventure but, before we dive in, one last shoutout to the amazing people who have shared their hometown with us. Gran, Pop, Mom (Ellen), Carol, Jim, Mike, the Pollitz family (Shannon gave us so many recommendations and guidance) and so many more – we thank you and hope to make you proud with our guide to the city of Rome.
Berry College Campus, Berry Reservoir, Berry House of Dreams, Viking Trail, Marble Mines Trail
Our favorite place to Hike is on the Berry College campus. You can hike the Berry Reservoir, Berry House of Dreams or the Viking Trail that connects the Mountain campus and the main campus. To get to the reservoir park near the Old Mill and walk through the yellow gateway to the left of the water wheel. We highly recommend making this hike during the Fall when you can see all the beautiful colored leaves on trees reflecting on the water.
The Berry College campus is beautiful and you will notice an abundance of wildlife on your hike. We saw numerous herds of deer walking along the campus. The school even claims that there are more deer on campus than students at Berry. There is also a nest of Bald Eagles on campus which is a must to check out while at Berry. Berry College is the world's largest college campus at 27,000 acres of campus, fields, forests, and mountains so there are plenty of places to go exploring in and around the college.
There are also multiple colleges in addition to Berry in Rome; schools like Shorter University, Northwestern Technical College and Georgia Highlands College which give the town a ton of personality in arts and culture.
Another great hiking option within driving distance of Rome is the Pinhoti trail which passes through Southern and Western Floyd County and can be accessed via The Marble Mines Trail a short drive away. You can also check out Cave Spring, Georgia to the south. While not necessarily a hiking trail, it's one of our favorite outdoor North Georgia spots and completely unique in it's own right.
Harvest Moon Cafe, Jamwich, Dou's Deli, Schroeder's, Crawdaddy's, Seasons, Homestead, Duffy's Deli, Yummy Thai, Sweet Bar, River Dog Outpost, Rome Brewing Company, The Foundry, Dark Side of the Moon, Swift & Finch
There are a ton of great places to eat on Broad Street in Downtown Rome. We recommend Harvest Moon Cafe. While there be sure to order the sweet potato chips with gorgonzola dipping sauce and if burgers are your thing, the Red-Headed Stranger (giant burger) is also a must just to say you gave it your best effort. Another great non-traditional spot is Jamwich – where all the sandwiches come with house made jams and jellies. If you can get outside your comfort zone just a little you'll be blown away by the combinations they come up with for their sandwiches. Doug's Deli is another good lunch spot that also doubles as a Supper Club where they'll make your dinner for you to carry home. Other local options include Schroeder's, Crawdaddy's and Seasons if you're looking for a more contemporary fine dining setup. And how can you go wrong with Swift & Finch Coffee . . . one of North Georgia's best coffee shops.
Once you get off Broad Street there are a ton of other great options are – Homestead, Dufy's Deli, and Yummy Thai. For dessert, we recommend Sweet Bar which is inside an old converted Waffle House. Definitely get some donuts while there. Go early if you can because they run out of flavors! The flavors vary from traditional glaze to frutti pebbles!
Some other great spots are on the river. We love River Dog Outpost. It is a chill outdoor bar where you can also rent out kayaks for one of Rome's three rivers. It is open late and as an added bonus, dog-friendly! When we went they also had a little truck called Speekcheesy serving up some of the best grilled cheeses we've ever had (BBQ-stuffed grilled cheese is the one to go for if you only have one choice). Head back to Broad Street for some other great spots to grab a drink like Rome Brewing Company, The Foundry for taps and growlers, and Dark Side of the Moon, the sister bar of the previously mentioned Harvest Moon Cafe.
Hotels, Airbnb
There aren't a lot of unique or local hotels in Rome and it's not for trying. Rome is definitely a more residential town for locals and college students. So you'll find some of the main hotel chains there which can be a solid option.
We're partial towards Airbnb just for the flexibility of what we want/need when we travel. There is a great loft downtown that would work for most visitors. You can also check out this gated yellow cottage on 4 acres. And if you don't mind being outside of the city limits, there is a Red Barn that is outside of the box, a restored cabin with its own private swimming hole, and a historic 1870s farmhouse.
If you decide to book one of these amazing homes, please be sure to use THIS LINK for up to a $25 instant credit on your booking.
Do Good, Whistle Britches, Living and Giving, Blue Sky Outdoors
There are plenty of cute shops up and down Broad Street. Check out Do Good. At Do Good they get their inventory from local artisans, or from fair trade, environmentally-friendly, made in US, or support national/global charities.
Some other cool shops to check out are – Whistle Britches (boutique), Living and Giving, and Blue Sky Outfitter (outdoors shop). Shops are spread throughout the city and not just in the downtown area, but if you want to experience a little throwback to Main Street America, then grab lunch downtown and stroll along the sidewalks when you're finished.
Berry College, Robert Redden Footbridge, Myrtle Hill Cemetery, Rome's Clock Tower
We head back to Berry College for places to experience. Walking around campus you can see the iconic Ford Buildings which were used in films like Remember the Titans. The college has also made its way into films like Sweet Home Alabama where Martha Berry's home was one of the film locations. The buildings give off more of a European feel and make it seem like you have stepped into another country.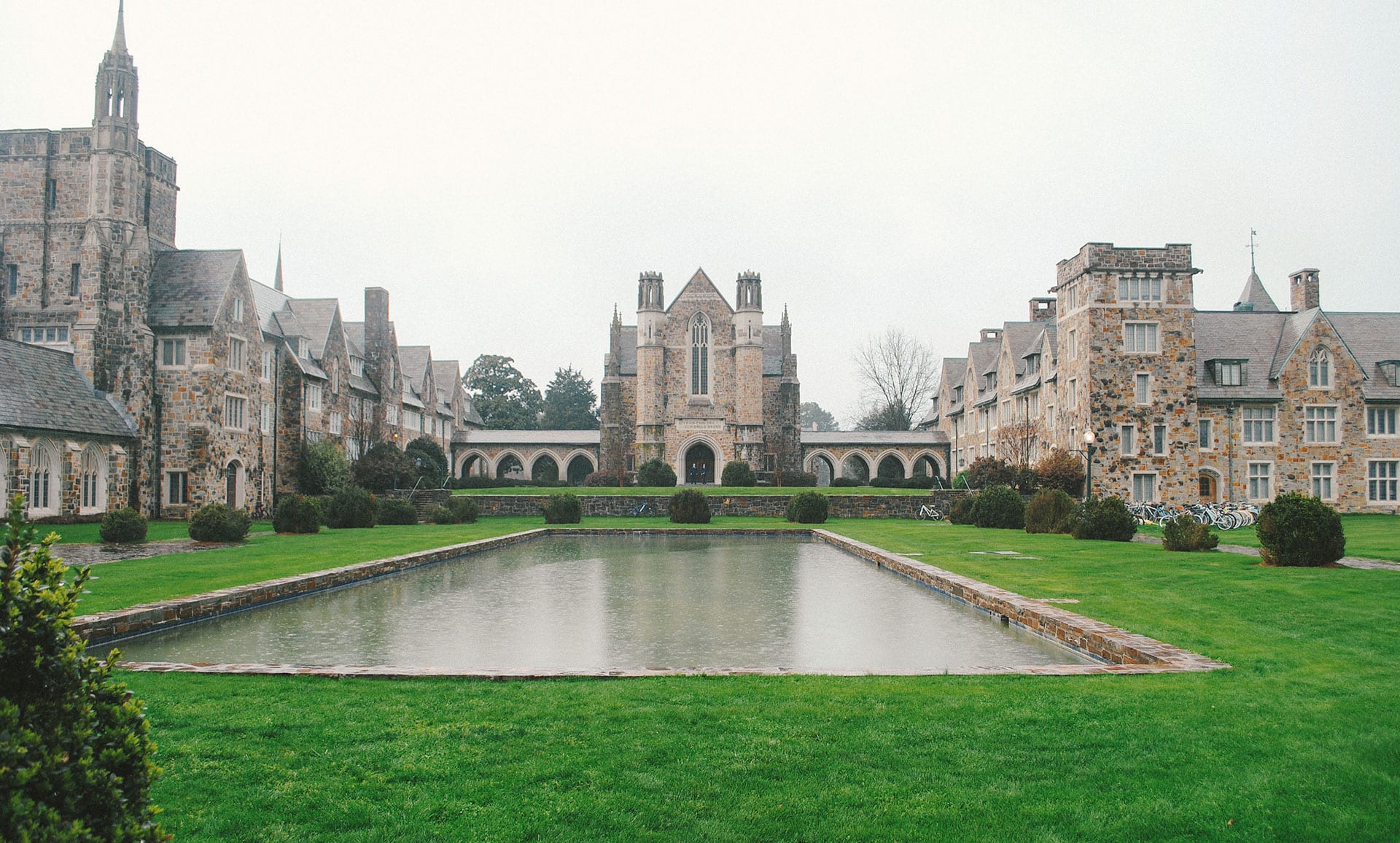 Again, the wildlife is out of control on the campus. A quick drive or walk through the college and you will quickly see more wild animals combined than you had in a long while. They're just doing their thing as they make their away out the college.
Other musts for us include the Robert Redden Footbridge – The Bridge was once a part of the Central Georgia Railway. It crosses the Oostanaula River in downtown Rome. It is also the point where the Oostanaula and the Etowah come together to form the Coosa River. Walking along the bridge you will find a ton of little locks. Similar to the Pont des Arts in Paris, couples leave locks on the bridge to symbolize their love.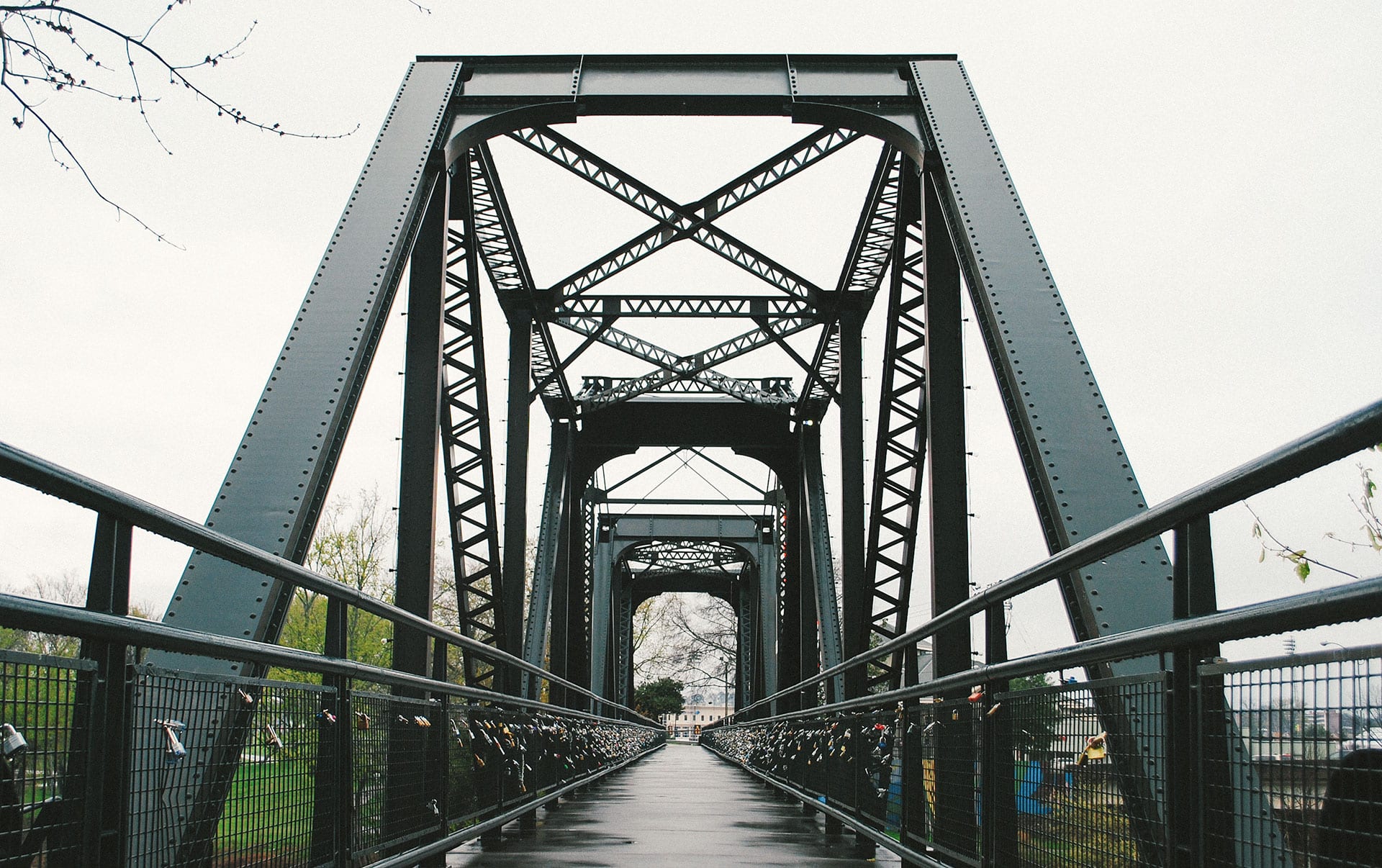 A weird one on our list but worth it to check out is Myrtle Hill cemetery – the peak of the cemetery overlooks downtown Rome. It offers a hauntingly beautiful look at the city. Another area to glimpse a good view of the city is from Rome's Clock Tower. The clock tower is an iconic piece of Rome– it's extra special to us because it reminds us of stories Pop told of eating lunch next to that clock tower every day. It takes 109 steps to make it to the top. There is a museum inside the clocktower and it is open to the public the first Saturday of every month from May through September (and admission is free!). The clock and bell in the tower date back to 1872.
Rome is a beautiful city that has both the feeling of a small town and the feeling of stepping into a major historical city. Broad Street is one of the best city main streets and reminiscent of the movies. We hope you enjoy our guide and fall in love with Rome like we have.