Here at Wander North Georgia, we hope your New Year's Eve resolutions are going great. We know it's hard to make them, let alone keep them. So as January winds down and the momentum from your resolutions wind down, we want to help you kickstart a plan of action that gets you outside into the best parts of North Georgia.
Despite what you may think, it's harder to keep a resolution that's vague or broad, such as, "This year I'm going to lose weight," or, "This year I'm going to travel more." It's been proven that individuals who make more specific resolutions, like, "This year I'm going to Alaska in June" or "This year I'm going to lose twenty-five pounds," are more likely to see their goals become reality.
So here is our challenge . . . we've coined it: a "New Year's Return." We've created a 12-month "game plan" that returns all of us to the call of the wilderness and to some of North Georgia's best kept secrets. And we're calling it "2017's TrailHead."
If you love the outdoors, but seem to never find the time or make plans to wander, then read on. If you're also someone who operates best on deadlines and specific goals, then this "game plan" is just for you. We've created a list of ONE thing to do each month that will have you #optoutside (mostly) and will take you to all of North Georgia's hidden gems. You can handle doing ONE thing each month in 2017, right? Of course you can, you're a wanderer.
JANUARY: Brasstown Bald
When the snow rolls in and the cold front moves through, the absolute best mountaintop views move in. Watch the weather radar and plan for a day or weekend trip to visit Brasstown Bald in Blairsville. Brasstown Bald, at 4,784 feet above sea level, easily rests as the highest point in Georgia and lives up to its description as "Georgia's picturesque mountain escape." Traveling to Brasstown Bald after a cold front makes for a clear day where you can see the states of South Carolina, Tennessee, North Carolina, and obviously our good ol' Peach State from a unique perspective. Pack your binoculars! Keep in mind that Brasstown closes the 3 mile road to the top during inclement weather so be sure to check their website in advance or check out one of their webcams at the summit. But if you can time it right, you're guaranteed to catch falling snow at Georgia's highest spot.
For one of my favorite local eats, try the Cinnamon Roll Mocha at Cabin Coffee Co. in downtown Blairsville.
FEBRUARY: Airbnb Getaway
It may be cliché (or even expected) of you to plan a weekend getaway with your sweetie for Valentine's Day, but what about adding a twist? Have you considered planning a getaway weekend in a treehouse? What about in a tiny house or cabin? Or on a vineyard? Check out our Airbnb articles, The 24 Best Airbnb Cabins in North Georgia, Tiny Home Airbnb or Habersham Mills for some ideas. Even if you don't have a Valentine, you can always Treat Yo Self or bring a group of your best friends with you. Wherever you decide to book your weekend, be sure to search the MAP on our site for the best shops, restaurant recommendations, and hiking trails.
MARCH: Explore the Big City
Wandering doesn't always have to involve driving to the mountains. Sometimes you can take advantage of the many trails right in the city, like the East Palisades Trail. Is there a better way to applaud winter's passing than to sit in a garden and listen to the birds singing? Celebrate the first day of Spring on March 20th by planning a day or weekend trip to Atlanta's Botanical Gardens! The largest orchid center in the United States will be on display in full blossom with plenty of other flora to enjoy. Then, head over to Atlanta Botanical Garden's Gainesville location for a special stickworks exhibit called "Woven Whimsy". If you make it to Gainesville, make sure to stop at Atlanta Highway Seafood. The best seafood you can get in the Atlanta area hands down.
APRIL: Rabun County
In April, Rabun County roars to life as spring rolls in. Tallulah Gorge does one of only 5 whitewater releases a year out of the dam allowing kayakers to play on whitewater in the Gorge. AND make sure you stick around for one of the Gorge's full-moon suspension bridge hikes in the Gorge! (Register in advance for just $5!) You don't want to miss a night out stargazing under the moon in one of Georgia's "most spectacular canyons." You can plan on catching a movie at the Tiger Drive-In as it is one of only five operating Georgia drive-ins, but the ONLY ONE with a view of the mountains and perfect nights for stargazing before the movie starts. Bring a blanket, because there's still a mountain breeze at night in April! And when you get done exploring outside, come see us at our store in downtown Clayton and check out all that our hometown has to offer.
MAY: Visit Georgia State Parks
Plan a one-night stay in Unicoi State Park and Lodge to experience something you can't find in your backyard: a firefly tour! We know it may sound a little silly to some of you, because you're thinking, "I can just go to my backyard during the summer to see fireflies, right?" Think again. Visit Anna Ruby Falls at night in Unicoi State Park beginning in May to experience the mountains covered in fireflies under a cascading waterfall. Is THAT in your backyard? We didn't think so. During the day, take a paddleboard lesson at Unicoi, sign-up for horseback riding and/or zip-lining at Sunburst Stables, or head to downtown Helen for shopping, mini-golf, and much more!
JUNE: Go Northwest My Friend
Northeast Georgia gets a lot of love due to it's proximity to Atlanta and the northern suburbs. But don't think we have forgotten about you northwest Georgia. Let Cloudland Canyon anchor your trip but use it is as a jumping off point for caving, Fort Mountain State Park, the Pinhoti Trail, Marble Mines Trail and so much more. Our friends at Atlanta Trails have a ton of great reviews and in-depth trail reviews on their site so be sure to use them to create a game plan for your trip!
JULY: Celebrate the 4th of July on Lake Rabun & Lake Burton
From blackberry picking to fireworks over a quiet mountain lake, nothing says summer quite like 4th of July weekend on Lake Rabun and Lake Burton. For blackberry picking, bring your friends or family and a picnic basket, and head over to the 100-acre Hillside Orchard Farms in Lakemont and fill up to your heart's content. In the afternoon, hike the kid-friendly cascading Minnehaha Falls at Lake Rabun. Then plan on finding a spot for the fireworks on Lake Rabun or Lake Burton as the views of the fireworks over the water with the mountains in the background are a can't miss.
AUGUST: The Hike Inn 
You haven't fully completed your summer until you've gone hiking and spent a night in the wild! If tent camping isn't exactly your thing, then check out the cozy, eco-friendly Hike Inn in Dawsonville near Amicalola Falls! Not only are you minutes from the tallest cascading waterfall in the Southeast, but you also get to fully experience hiking into the wilderness to sleep in a community with other trekkers. It's not uncommon to pass avid hikers that are living full-time on the trail, nor is it uncommon to pass a 7-foot timber rattle snake on the trail to the Hike Inn, so watch out! You will be totally immersed in the wild on this 5-mile trail to your accommodations. There really is nothing like the Hike Inn. From their friendly staff, to their educational on-site lectures, to composting toilets and the Star Base, it really is the perfect weekend in the wilderness that everyone needs to experience! We recommend that you go in August, since their rates are lower in the off-season, and there is an additional discount for planning your trip for a weeknight or Sunday night. Trek on!
SEPTEMBER: Get Lost in Toccoa
You can experience several waterfalls, trails, and landscapes in Toccoa that are unknown to most, even to locals. Aside from Toccoa's abundance of rich history, it is home to some of Georgia's most scenic attractions. Toccoa Falls, meaning "Beautiful Falls" in Cherokee, is just that – a beautiful cascading freefall of water – nestled in the foothills of Northeast Georgia, and adjacent to Currahee Mountain, where the original Band of Brothers (that the TV series is based on) did their basic training. While you're at the Falls, go into the college bookstore at the entrance and ask for directions to "Contentment Falls" trail or "Little Falls" trail. You won't be sorry. While you're near Currahee Mountain, you can see "Trestle Falls Bridge" from a public viewing area located off GA Hwy 365 in "The Trestle Falls" development. Drive out of Toccoa – towards the GA/SC border (headed towards Anderson, SC) – and you will find "Broken Bridges." These are the remains of the Old Tugaloo River Bridge that once connected Georgia to South Carolina on Lake Hartwell. While you're there, take your kayak, canoe, or river boat onto the peaceful, quiet Lake Hartwell.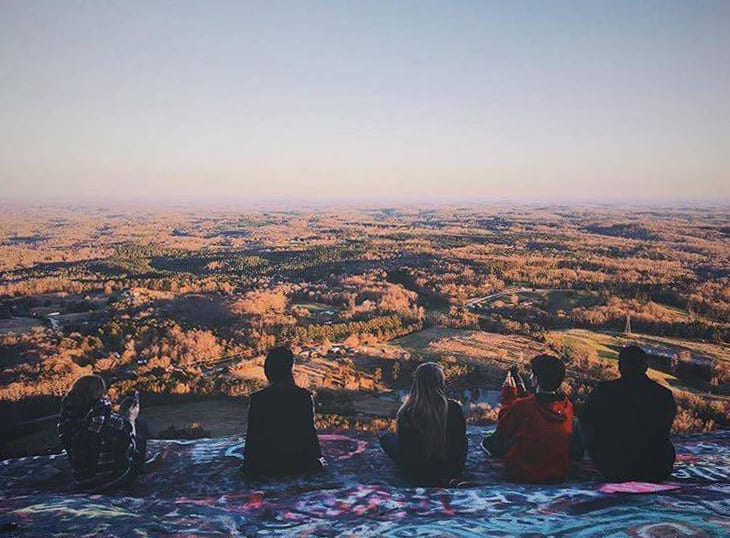 OCTOBER: Oktoberfest in Helen
Who wouldn't drive to Helen to celebrate Oktoberfest? Join us in 2017 for the longest running Oktoberfest in the United States – the 47th Annual Oktoberfest in Helen! From beer dip and pretzels, to live German music from around the world, to polka dancing – and the obvious drinking – it's a "hops-in'" good time. Then, come take care of your hangover at Helen's newest coffee shop – Yonah Coffee. These coffee connoisseurs grow their own coffee in Habersham County . . . In fact, they sell the only coffee that is grown in the continental United States! Go get yourself a pour-over you can't get anywhere else. They're also the only coffee shop along the eastern coast with their own Nitro Coffee machine. Of course, before you hit the pubs in Helen, you'll have to hike Yonah Mountain – which Yonah Coffee's home grown coffee is named after – meaning "Sleepy Bear Mountain" in Cherokee. It's a tougher hike than it looks, so make sure to bring your hiking boots, and watch out for sleepy bears! Check out Nacoochee Adventures for unique lodging (you can stay in a treehouse!), zip-lining, and more.
NOVEMBER: Dahlonega
If you didn't make it to Dahlonega for Gold Rush Days, don't worry. You can make up for lost time in November. Plan a weekend visit to the Peach State's original Gold Rush town, Dahlonega. Live music, wine tasting, great food and entertainment last year-round in this busy college town. Not only is there much to do during this time of the year, but the colors of the season are still clinging to the trees in beautiful auburns, browns, and reds. You can sign up for a Ghost Walk Tour of Historic Downtown Dahlonega or plan a hike in the nearby Chattahoochee National Forest! Take your kiddos to Yahoola Park, or for the young adult crowd, check out the Irish pub parties on Dahlonega's event calendar. Don't fret! You can tour the historic square without Casper (if you're easily spooked) or hit up the Holly Theater for current plays and local musicians. In November especially, hay rides, corn mazes and pumpkin patches are plentiful. Dahlonega's selection of activities is literally limitless!
DECEMBER: Christmas in Blue Ridge
Wrap up your 2017 in Blue Ridge, the "antique capital" of Georgia, and easily one of the most unspoiled, ethereal mountain cities in North Georgia. Plan to enjoy your NYE weekend in and around the historic, charming downtown Blue Ridge strip. From outfitter stores to quaint little coffee shops and live music, you won't mind walking in the chilly weather to enjoy this beautiful city. Enjoy live entertainment, adult beverages and food on the Blue Ridge New Year's Eve Train that travels along the scenic Blue Ridge Railway and over the beautiful Toccoa River! You can find any type of unique lodging, from a mountain-top nook to a Victorian house. A romantic New Year's Eve weekend in Blue Ridge will easily have you planning a return in 2018!
Thank you for reading "The Trailhead" plan for 2017. Please share your adventures with us! Comment below if you find any hidden places along your journey that we need to check out!