Our new Meet The Maker series is a deeper dive into some of our favorite artists, creatives, small business owners, and makers in and around North Georgia. So for this interview we wanted to learn more about the person behind the work.
We recently visited our friend and local potter, Ester Lipscomb at her home studio. She walked us through the creative process for her popular thumb-dent mugs while sharing laughs and thoughts on life. After wrapping up a few mugs, Alex sat down with Ester for a brief interview, the following is a transcript of that interview. The full interview can be found on our podcast, The Wander Folk. 
Alex: Can you tell our readers a little bit about yourself, background, what you do, all that good stuff?
Ester: So my name is Ester Lipscomb and I am a full-time potter. I live in Rabun County, Georgia. I've been full-time doing this for almost 10 years. But I learned to throw 24 years ago in college at the University of North Georgia in Dahlonega. I work out of this beautiful studio behind me, that me and my husband built. It's a great place to work in the summer. I just open up the doors and it's just glorious.
Alex: Did you always kind of picture yourself being a full-time artist or what did you go to school for?
Ester: My degree is in Art Education and I taught for a couple of years. And I knew that that wasn't going to work for a career. Then I traveled a bunch in my twenties and moved back to Georgia in 2008. I was sort of hoping that I could become a full-time artist but still not really believing it was possible but have kind of worked my way up to that happening.
Alex: So you were a studio potter at Mark of the Potter, one of my favorite shops in North Georgia, can you tell us a little bit about your time there.
Ester: So in 2012 I moved up to Rabun County. Right after I moved up I found out they were  looking for a potter. The head potter there had just retired, Matt Henderson. Matt was actually  my professor in college and he's the one who taught me to throw. So I went over there, had an interview, and was one of the resident potters for six years. It was such a great place. Just beautiful and the coolest setting. It's in an old mill that has a waterfall inside the building in the basement and a school of tame trout right outside. It really is the most beautiful shop and a really cool place.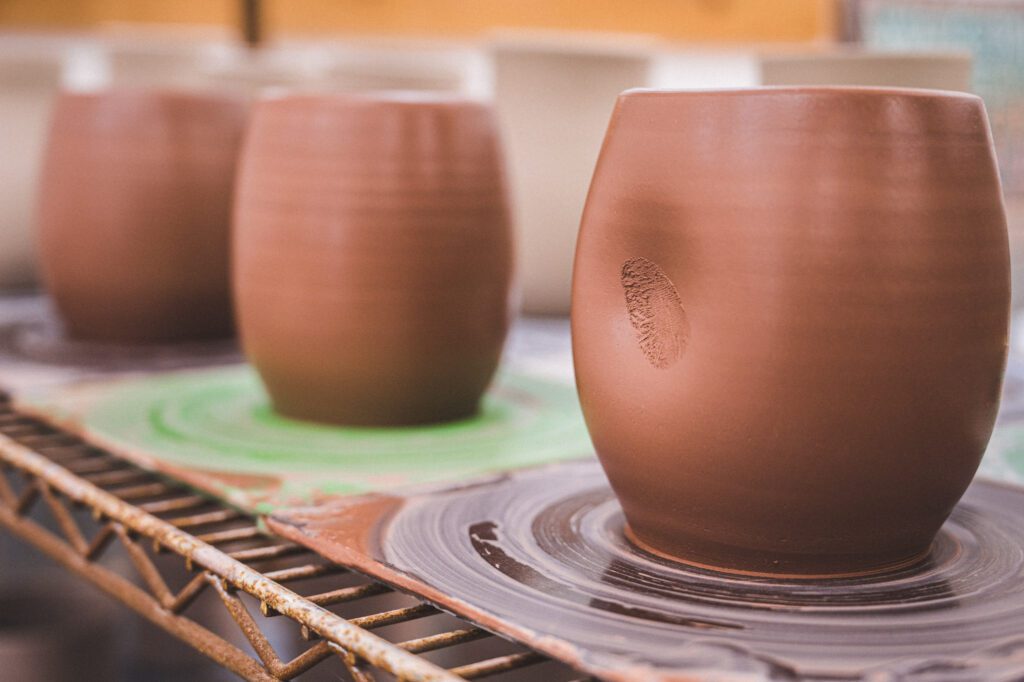 Alex: So when did you transition out of Mark of the Potter?
Ester: In 2018 I had my second kid and while it was a great position, every month there was a kiln to fill. I just knew with a kid that I didn't want to keep up that pace. At least in the beginning.
Alex: So how did you move from really working for somebody else to doing your own thing . . . or is that kind of how you looked at it?
Ester: Well, we were considered independent contractors. But yeah, I mean, the schedule was set by them. I was still going out and doing shows and stuff so I had the experience of having to hustle for my own gigs. But then it was moving into trying to find more wholesale, figuring out a balance of teaching and selling things online. I had never sold online before the end of 2019. I started putting things on Instagram.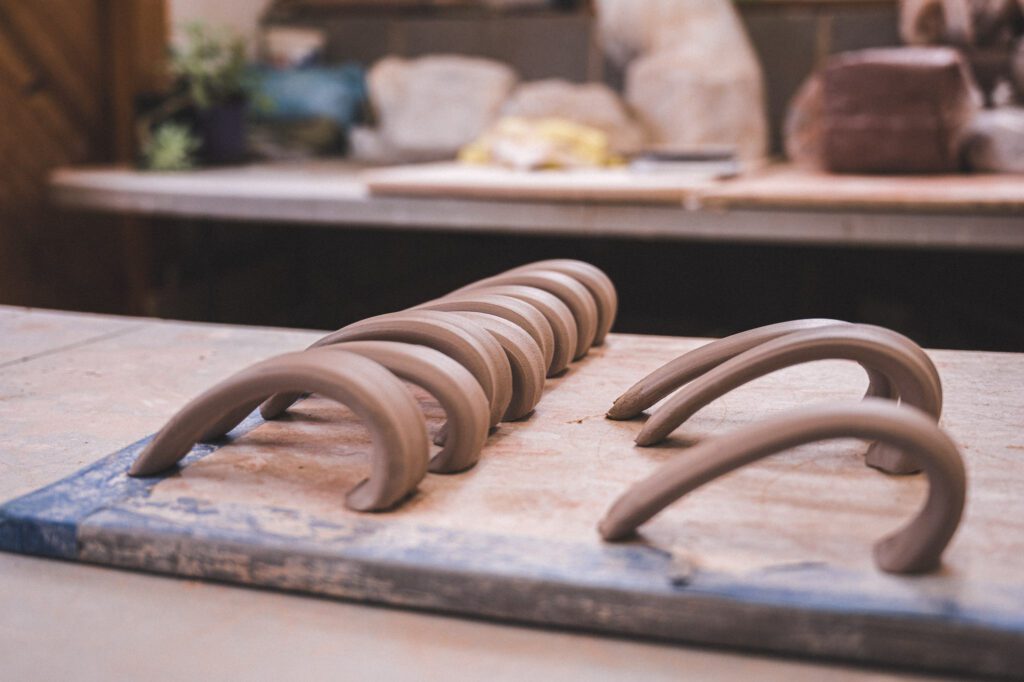 Alex: Your Instagram account has grown significantly since then.  
Ester: That was critical. I feel like I kind of lucked out. I feel like when people ask me how (I've  grown the account) I'm like, I don't know.  
Alex: Same for Wander I think we got in at the right time and it all grew very organically.  Because we've never done paid stuff. You've never done paid stuff. I think it all worked out in  some kind of serendipitous way that really helped our business grow. Do you think that is true  for your business?
Ester: Oh 100%. All of my online sales come from my Instagram. I say here's the day and time  I'm going to be putting some stuff on Etsy.
Alex: You sell out every second. 
Ester: Yeah it just goes and that's great.  
Alex: I think your flat lay photos are just perfect.  
Ester: Those were one of the keys when I started. I had been trying to do Instagram and was  thinking it was not working and what do I need to do. Then I started looking at potters who I  thought were doing a really beautiful job and seeing those pictures and it was just so fun. I  mean, it's great for artists. The internet for artists is an amazing marketplace. To be able to  connect with people directly to show them your process, it just works.  
Alex: I love your Instagram Lives. I just spam everything and it's like love, love, love.
Ester: When I was at Mark of the Potter, I would demonstrate every other weekend live in the  store. So I was like we should be putting this online because nobody had ever done that. This  was only a few years ago but that was still a very new thing for people to watch and engage like that.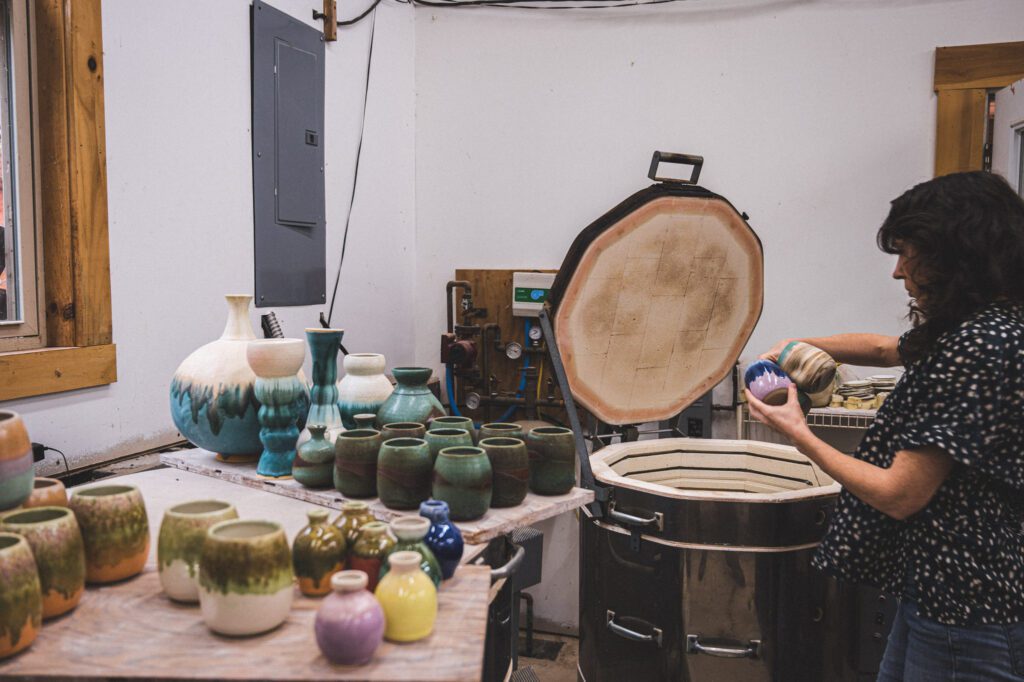 Alex: It's just so cool not knowing anything about the process and being so easily shown . . .  this is what you do. It's just such easy access and you get to see the process it. So  transitioning a bit . . . how has the pandemic affected your personal life with the kids and  affected being a small business owner? 
Ester: In March of 2020 my then one-year-old started daycare full time and on March 13 the  daycare shut down. Then I also have my son who is four. So I had a four-year-old and a one-year-old at home and I think for the first month I didn't even come down here to the studio. It's not a safe environment to bring kids into. I can't start throwing and then get up and down.  
Alex: And just . . . it is extremely hard or at least for me to be creative in any way, shape, or  form while trying to keep a living person alive.  
Ester: Totally. So yeah, it was hard. For a while there I would try to come down because my husband worked in person the whole time. So I would come down after he got home for a little while. I would come down after I got the kids to sleep at night.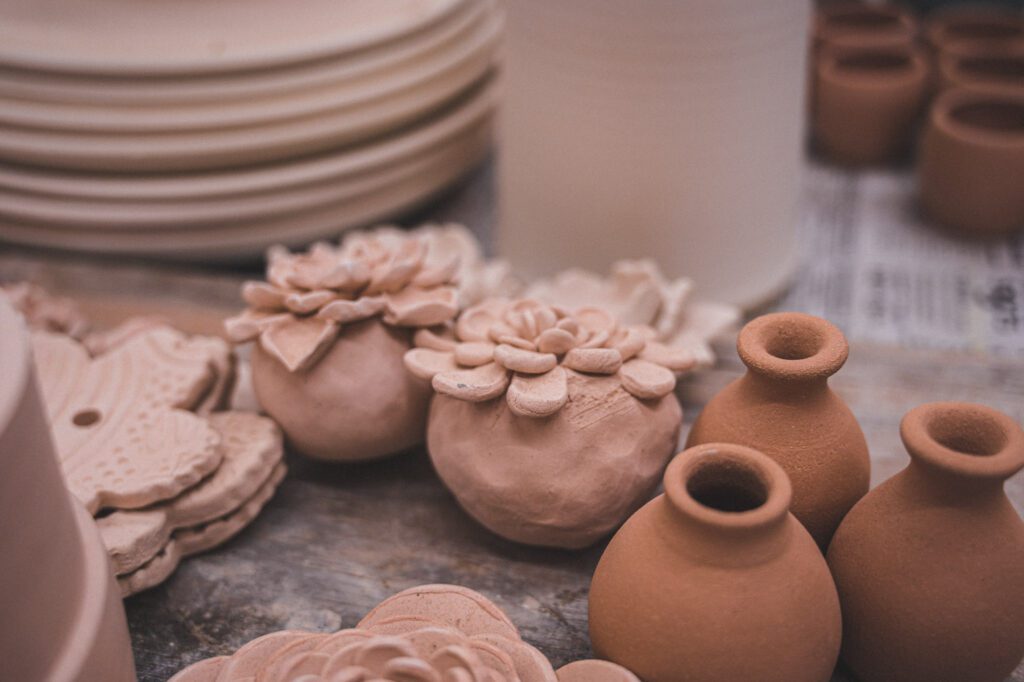 Alex: After you're already exhausted.
Ester: Exactly. After you're already exhausted from everything. I would come down on the weekends. When my husband had to quarantine several times because of exposure at work I would be like, "Yes! I get to work! Awesome. Y'all have fun." So having little kids during the pandemic just ground everything to a halt with making. And then should I talk about how I got audited during the pandemic and that's it's still ongoing?!? The IRS is overwhelmed. So it's been a stressful couple of years. I'm slowly coming back around. My daughter is now back in daycare. My son is in kindergarten. You know, most schools have stayed open up here. We've had our bumps and snow breaks. But yeah . . . the pandemic is still affecting my business because I'm still not back to having shows and just the security of knowing that I'm going to be able to meet deadlines because school can close at any minute. I still have not ramped back up to trying to do all the things I was doing before. I was teaching workshops at Wander so hopefully, we're close to being back to that point.
Alex: I know you were born in Alaska. And you've traveled a lot. What made you come to North  Georgia and what made you stay here in North Georgia?  
Ester: When I moved back . . . well I moved to Georgia when I was eight. My dad's from Georgia and then I moved away. I moved back to Georgia because it's where my family is and I love them. Then I met my husband, who lived in Rabun County, so that's how I ended up here.  But yeah, family and I love these mountains. This is such a beautiful place. It really is a special  place to live. My childhood with being in Alaska until I was eight, I have this connection to wilderness and in wanting to live somewhere more remote. I mean it's just so beautiful.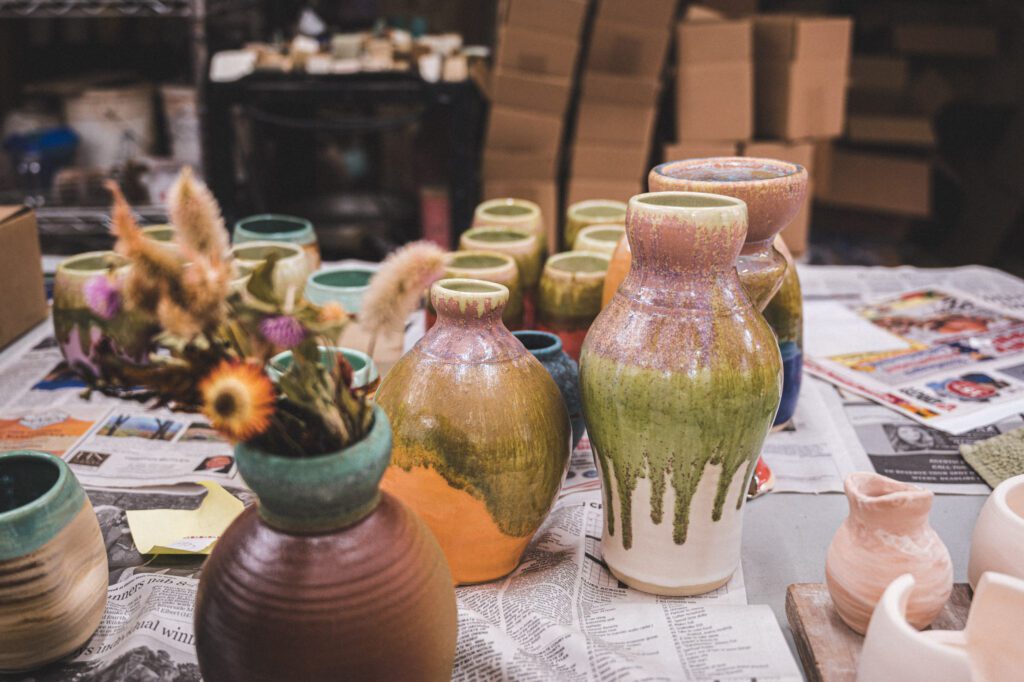 Alex: How do you think this place has or is impacting your art?  
Ester: In every way. Definitely the surfaces I love. The kind of very simple forms that I like that feel very organic to me. Even though I'm not trying to copy a natural form but just the ease of  natural forms where there is nothing forced about them. I don't know another word other than  organic. They just feel natural. And you know, very simple, easy to use. 
Alex: The glazes that you use with the greens and I see the mountain ridges . . . they're just so  beautiful.
Ester: I mean there are just so many beautiful things. When I started trying to do more social  media that's what I wanted people to see. What I'm inspired by is this beautiful place where we  live and the more sculptural stuff that I do that this is where it comes from.  
Alex: I get very like sentimentally attached to items. Do you have a mug or a cup or anything  that's your go-to favorite thing? And is it yours? Or does it belong to or was it created by  another artist?  
Ester: I have a vase. It's only yay tall. It's this pink mauve color and it was the piece that I  made in my first semester of pottery. I Raku fired. It was this thing that I made and the glaze  didn't come out how I expected. My professor couldn't explain why it looked that way and I  was like, this is fascinating. I still get chills thinking about that day and this feeling of wonder  and excitement. I still feel that way opening up the kiln. It is so cool to make things and it's  hard to put into words because that is why it's so cool to make them.  
Alex: It's like a strange level of like, scientific magic. Because at some basic level we  understand what is happening but there's a level of unpredictability that makes every . . .  
Ester: It's the magic. It's so special because every single one you never know exactly what's  going to come out. That's the amazement of where did that come from? And so that piece to  me is like that. Just that joy of discovery that comes with making things. I still have it and it is  very special to me.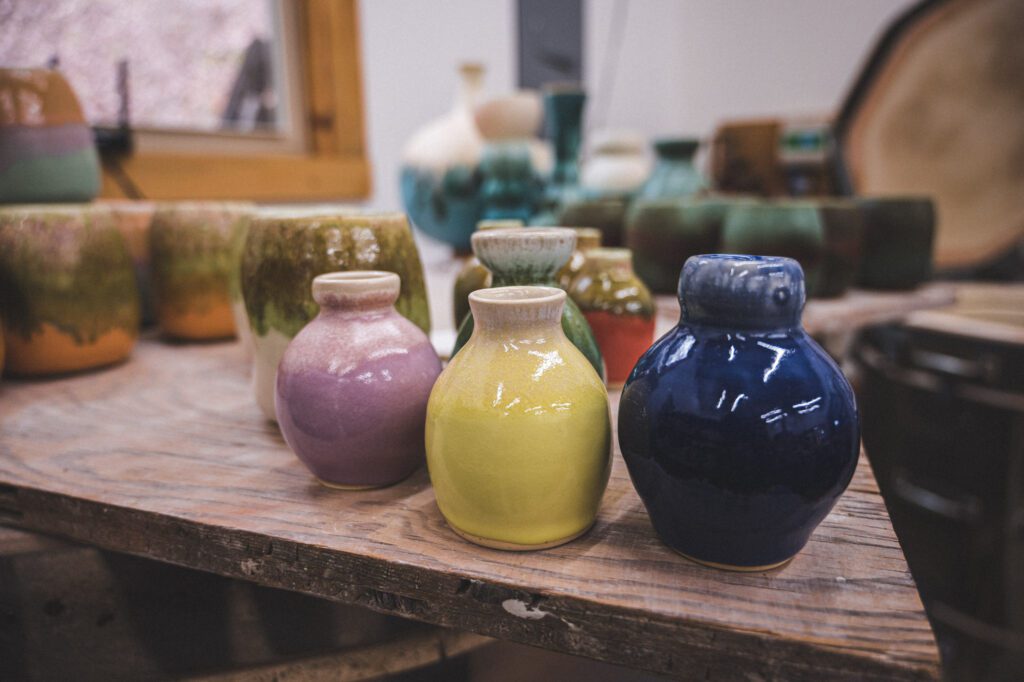 Alex: So that's how I feel about the cup that you made that I own.
I didn't know you yet when I  purchased it. I went to Mark of the Potter maybe 10 years ago. Josh and I had started dating and this was our getaway spot. We could go camping at Raven Cliff and then go to Mark of the  Potter. I got this cup there and it was the most beautiful cup I had seen. It had this grey grass with kind of little flecks of darker grey and blues in it and it became the only thing that I ever drank out of. Then you and I met after we moved up here and you said you had worked at Mark of the Potter. You came over to the house and we went through my whole cup collection and I showed you my favorite. You said you made that and I had a connection and it was just  so perfect.  
Ester: It is such a treat to go into somebody's house and see something that you made and  you're like, wow.  
Alex: Now the painted colored clay . . . is that what you're doing? 
Ester: So it's not painted yet. I mix in Mason stains to stain the clay and then wedge together –  which is just gently folding the clay together . . .  
Alex: Like folding the cheese? Fold it in. Fold it in David. Fold it fold it in. Yeah. That's so pretty. 
Ester: Those are amazing.  
Alex: I love those every time we get them at the shop. They go quick. So yeah . . . I love you.  This was so nice. Thanks for sitting down with us. I'll be here every morning now.  
Ester: Okay. Yes, please.