There is something about a small town general store that brings up all kinds of nostalgia for me. While I missed out on the true general store experience since I was born in 1980, I am old enough that I remember dime story candy and glass bottle RC Colas. While not quite the same as the old school general stores and 50 years late, it's still nostalgic for me. Walking back into Huck's General Store reminds me of all the mountain shops we used to stop into on family vacations and all the little stores littering the back roads of Alabama where I grew up. Except at Huck's, they traded corn cob pipes and moon pies for stuff you actually want to buy, eat and drink.
Located in downtown Blue Ridge, Huck's naturally sits on Main Street. It would be cliche if it wasn't also so great.
I had never been to Blue Ridge despite visiting North Georgia pretty religiously for the past 15 years. Blue Ridge needs a month's worth of profiles, reviews and posts describing how great and awesome it is and all the cool businesses that call it home (coming soon). Having never been there before, we had no idea what to expect except that they had a train that our two year old would really be into. So we went. And we enjoyed it. And we ARE going back.
But first . . . Huck's General Store.
Huck's has a little bit of everything. Candy, soap, jams & jellies, honey, books, toys, tin signs, and all kinds of gifts and North Georgia souvenirs. We went in for candy as it was screaming out to us from the open doors as we passed on the sidewalk, but the further we walked through the store, the more we found. We ended up leaving with a bucket of candy, a bar of soap that smelled like pine (needed something to complement my bearded man smell), and two amazing maps.
The candy is what you hit when you first walk in and they have a ton of it. They sell it by the pound which is how it should be because that's how I eat it. Good luck getting your kids anywhere in the store without filling up one of their metal buckets. 
They also have a ton of t-shirts, mostly with Blue Ridge Georgia designs, but they also have more generic North Georgia shirts or Huck's General Store shirts in a variety of colors and sizes. We got a chance to meet Terri who was running the store on that day. She came out to help us with a t-shirt size and before you knew it, we had a couple of maps from the store spread out on the counter pointing out some of our favorite trails and waterfalls to each other.
My wife and I were talking a few days before about how we wished we had a solid map that showed all the old ranger roads and dirt roads that most maps (and smart phones) miss. Turns out National Geographic makes a Trails Illustrated series. That's what Terri had randomly pulled off the shelf when we first started trying to pinpoint a nearby hike. After watching Terri navigate the map and point out all kinds of great and hidden spots that we had never seen or heard of by relying on our smart phone, we bought two of the main maps that cover all of North Georgia from west to east.
Side note, in the few short weeks we have had these maps, we have put them to work. Especially in North Georgia where cell phone service can be spotty depending on what ridge or valley you're in, we couldn't recommend these maps more highly.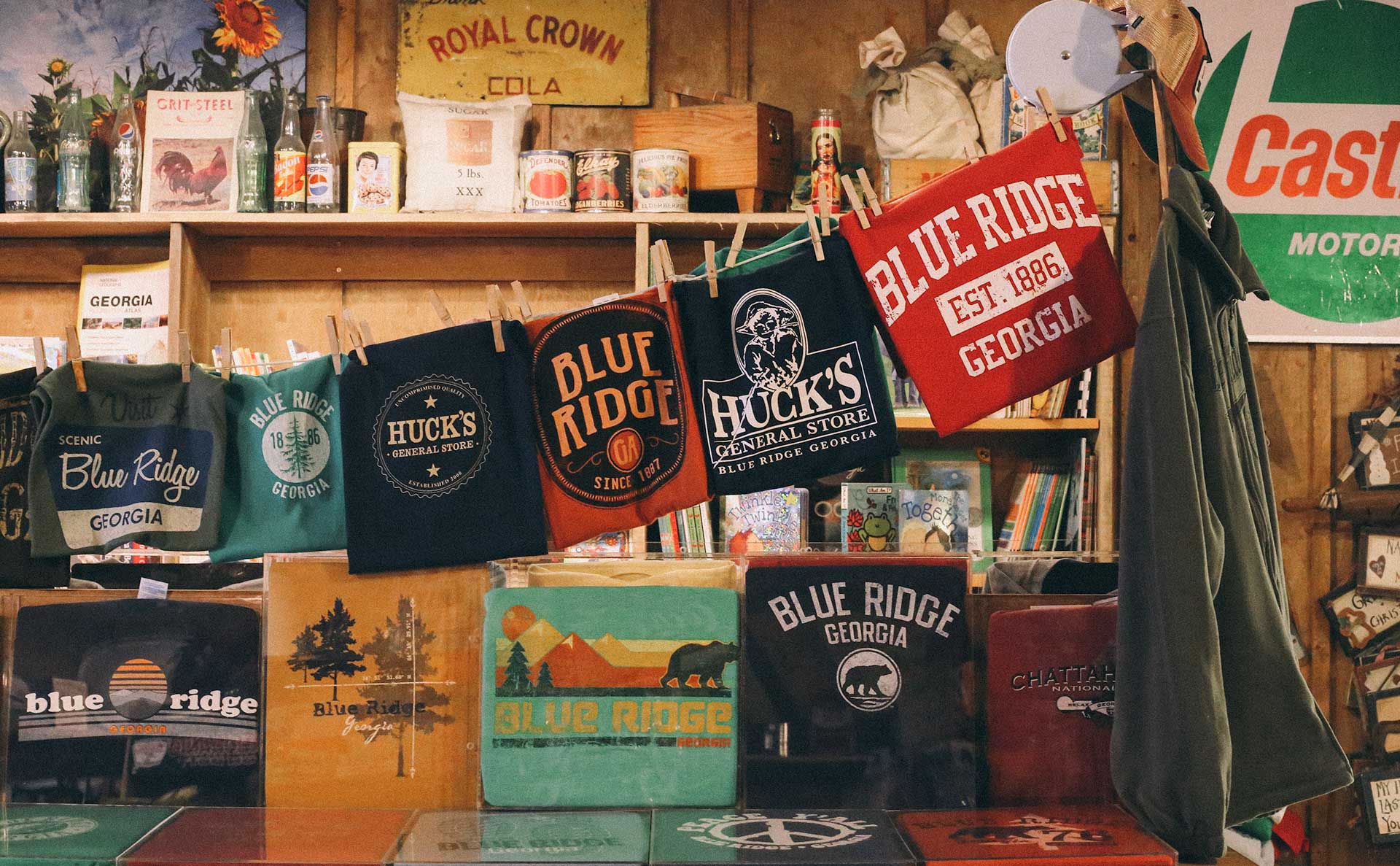 Because Huck's has such a huge variety of things to shop for, they really cover almost every age group and personality type. And when all else fails, you can snag a couple pounds of candy and a RC Cola and call it a huge success.
While they have a ton of stuff, Terri is what sold us on the Huck's. Sure we would have eaten some candy and bought some soap whether she was nice or not. But the fact that she was so awesome and genuinely helpful made us huge fans of Huck's. We will definitely be back – for the candy and probably for more maps. But we will also be back to get Terri's recommendations on places to go and visit in the area.