Editor's Note: As a reminder, we like to keep our reviews of waterfalls short and sweet. We hope you didn't come here looking for a huge dissertation on why we think one is better than the other or some scientific breakdown complete with water analysis. They are waterfalls. We have yet to find one we didn't like. Our goal here is to simply provide you with some photos and to give you our uneducated and subjective thoughts in 5 categories – Ease of Hike, Distance of Hike, Crowds, Options for Exploring, and The View – so that you can make a decision about which of North Georgia's amazing waterfalls you think might be the best hike for you. We hope these simple rankings and photos help you sort all that out and if not, check out our map for some other options. Enjoy.
Cloudland Canyon State Park is one of North Georgia's best and most popular spots and one of the crown jewels of the Georgia State Park system. It's hard to put into context just how awesome this park is unless you've been but it's got just about everything you're looking for in a day or weekend trip.
The park itself has over 60 campsites, 28 walk-in sites, 4 pioneer sites, 13 back country sites, 10 yurts, and 15 cottages so finding a place to lay your head won't be hard. They also have 30+ miles of trails for biking, caves for exploring, and of course, their famous twin waterfalls at the bottom of the canyon.
There are a few popular hikes throughout the park. The West Rim Trail is probably the most popular as Backpacker Magazine named it one of the top 10 hikes in the United States. This post will focus exclusively on the trails to the waterfalls but be sure to check out the Cloudland Canyon State Park website for full details on the other options available at the park or visit our friends at AtlantaTrails.com who have multiple profiles on the different trails at Cloudland.
The Waterfalls Trail is 2 miles roundtrip and is definitely strenuous. And when we say strenuous we mean stairs. And lots of them. 1200 of them in fact. This is twice as many as the popular Tallulah Gorge trail that has 600 steps both ways. So if you think Tallulah Gorge is hard, get ready for twice the fun at Cloudland Canyon. Both parks are part of the Canyon Climbers Club which also includes Amicalola Falls and Providence Canyon State Park so if you're going to put in the work, make sure you stop in and get a card punched so you can earn the reward.
Now I don't want to scare you. The stairs are hard but they are doable. I'm an out of shape 36 year old man and I made it to the bottom and back again without dying. Did I stop a few times, lay on the ground, and breathe to keep from losing it? Absolutely. Did a couple in their 50s who passed me stop and ask if I needed them to call the ranger for an emergency? Yes. Yes they did. But I survived it and I would absolutely hike it again.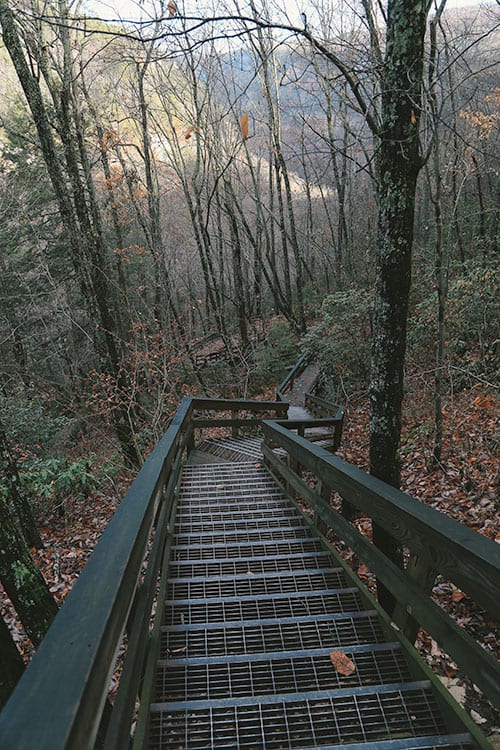 Remember, once you get down the stairs, you have to find a way back up. But it sure is pretty to look back up to the top of the gorge so make sure to take your time and enjoy the views.
For the most part, the trail hugs the side of the gorge the whole way so you'll have interesting rocks to your right most of the way. The trail itself is relatively even and once you get down a level or so, pretty much sticks to the stairs.
If you are familiar with the Tallulah Gorge trail, I find the Clouldland Canyon Waterfall Trail to be twice as pretty because of the rock faces beside you as you walk and the dense tree cover, even in winter. Both trails are roughly 1000 feet deep but Cloudland just feels deeper and because of the rocks and trees, feels substantially darker as you make your way down.
There are two waterfalls down in the canyon, Cherokee Falls and Hemlock Falls. About half way down the trail, it splits and you can go left to see Cherokee Falls and right to see Hemlock Falls. At the split, the trail pretty much evens out as you make your way toward Cherokee Falls but the hike to Hemlock Falls includes another 600 stairs. If you have made it this far, you should definitely go to both.
Cherokee Falls and Hemlock Falls look fairly similar. They both tumble over the edge of  limestone and shale rock into small pools. Cherokee Falls has a deeper pool at the bottom while Hemlock Falls spills out onto the top of rocks before carrying on down river.
Water out of each falls can vary drastically depending on the season and how much rain we've had lately. For example, they were mostly a trickle throughout the back half of 2016 due to the state wide drought in Georgia. Even in the photos below, this is still well below "normal" flow. Winter and spring have the largest flows while in summer it gets awfully dry.
They are both beautiful but Cherokee Falls is a little easier to photograph and has a much bigger area at the base to lounge around at. It's a great spot for hammocks or a picnic but this is a popular and sometimes crowded area so be sure to be courteous and use the space in such a way that allows others to enjoy it as well, i.e. don't string your hammock up in the middle of everything where others can't take photos.
Once you make it down the 600 steps from the trail split (about a half mile), you'll arrive at Hemlock Falls. You will find a viewing deck out in front of the waterfall and another viewing bridge area a little further downstream to look out at the river as it runs on down the gorge. In the spring and fall, the little bridge looking downstream might be the prettiest part of the whole hike as the river trickles through moss covered boulders, aka my kryptonite.
We went on a weekday in the winter and didn't see anyone else outside of the aforementioned older couple who wanted to make sure I was alive. Like any of the more popular waterfall spots in North Georgia, you can expect increased traffic on weekends and during peak seasonal months through the spring, summer, and fall.
At the bottom of the falls, you can pick up Sitton's Gulch Trail which takes you down and out of the canyon into a parking area in Trenton. Clouldland Canyon actually used to be named Sitton's Gulch before it was purchased by the state of Georgia in 1938 and turned into a State Park.
An interesting, but often not seen view of the canyon, is from this parking area in Trenton as you can see where the canyon opens up into a huge valley of homes, farmlands, and back roads. We actually stayed at a Tiny Home Airbnb in this valley and highly recommend you check it out as it's only about 15 minutes from the park gates and gives you a gorgeous view of the west slope of Lookout Mountain.