We're camping people. Always have been. And always will be. But one morning last Spring, with a car full of sleeping bags, tents, stoves and the rest of our camping gear, on a whim and as a way to kill time, we decided to Google North Georgia Airbnb. In the midst of multiple listings of cabins with "scenic" overlooks with jacuzzis and bear themed decor, we came across Habersham Mills. As long time visitors of the North Georgia Mountains – particularly around the Sautee and Clarkesville areas – we had never heard of Habersham Mills. Turns out it would quickly become one of our favorite spots.
On the fly, we shot the owners a quick message as we drove up and asked if they had any of their spaces available for us within the hour. Turns out they just had a cancelation for the second night of a 2 night rental on their only available room. They let us know if they could get it cleaned in time and turned around, the room was ours. So we decided to take the 15 minute detour on the way to our favorite camping spot and go and check out the property to make sure the photos matched up to what we saw on Airbnb.
Turns out the photos of the four individual units (while absolutely spectacular) on Airbnb don't tell the whole story. What looks like four ultra modern individual rooms turns out to be a sprawling thousand plus acre site that is almost 200 years old. An old mill that that used to make cannons during the Civil War, later became an iron ore manufacturing company which later gave way to a ton of different uses before Russell Athletics bought it in the 1970s and ran it up until 1999.
The mills are located along the Soque River and the four private Airbnb rooms are tucked in a little cluster on top of the hill.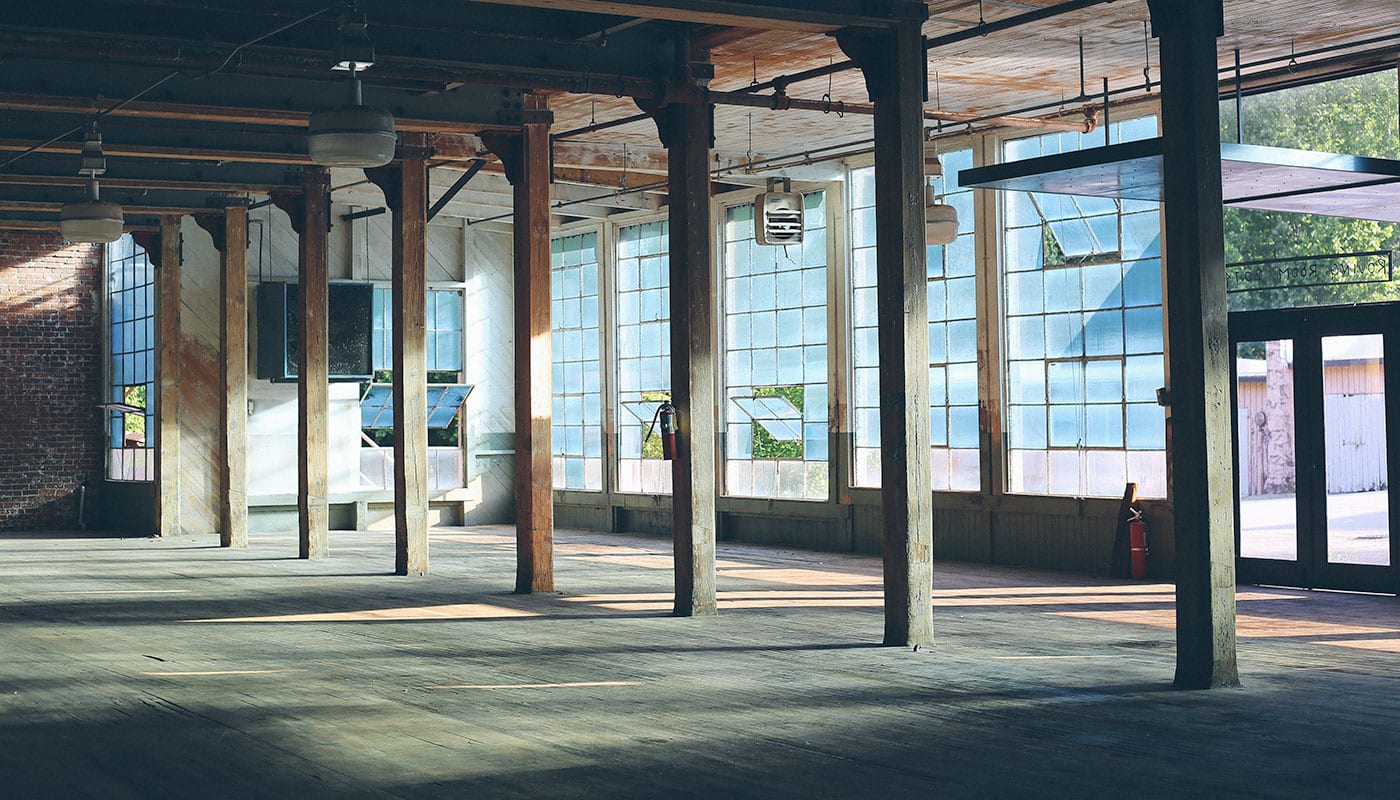 They are broken up into four separate units at this time: The Barber Shop, The Shed, The Post Office, and The Office, each reflecting the portion of the mills that they used to house. So true to their names, they are the old barber shop, shed, post office, and offices of The Habersham Iron Works and Manufacturing Company.
The first time we stayed there we were able to book The Shed. It is a small, few hundred square foot Zen-like retreat. Rustic, reclaimed wood pairs with minimalistic designs. From the concrete kitchenette countertop to the sleek shower and bathroom to simple iron and wood furniture, the space is everything you'd hope you would find in a mountain getaway. Comfort, solitude, and inspiration.
We have been back one other time and we booked The Shed because of our positive experience from our first visit. But on the second visit we brought some family who booked The Barber Shop and The Post Office, both of which were equally awesome. A few of the units are pet friendly and all the units feature 1 bed, a kitchenette, and shower. 
Because there are only four units there is a ton of privacy. Both times we have gone, we only ran into one other couple. And both times, they were friendly and people we enjoyed chatting with and getting to know.
Situated between the four units is a community fire pit. The groundskeeper who lives in a space adjoining The Office keeps the fire pit stocked with wood and kindling so when you're ready to wind down for the evening by the fire, you're set and ready to go.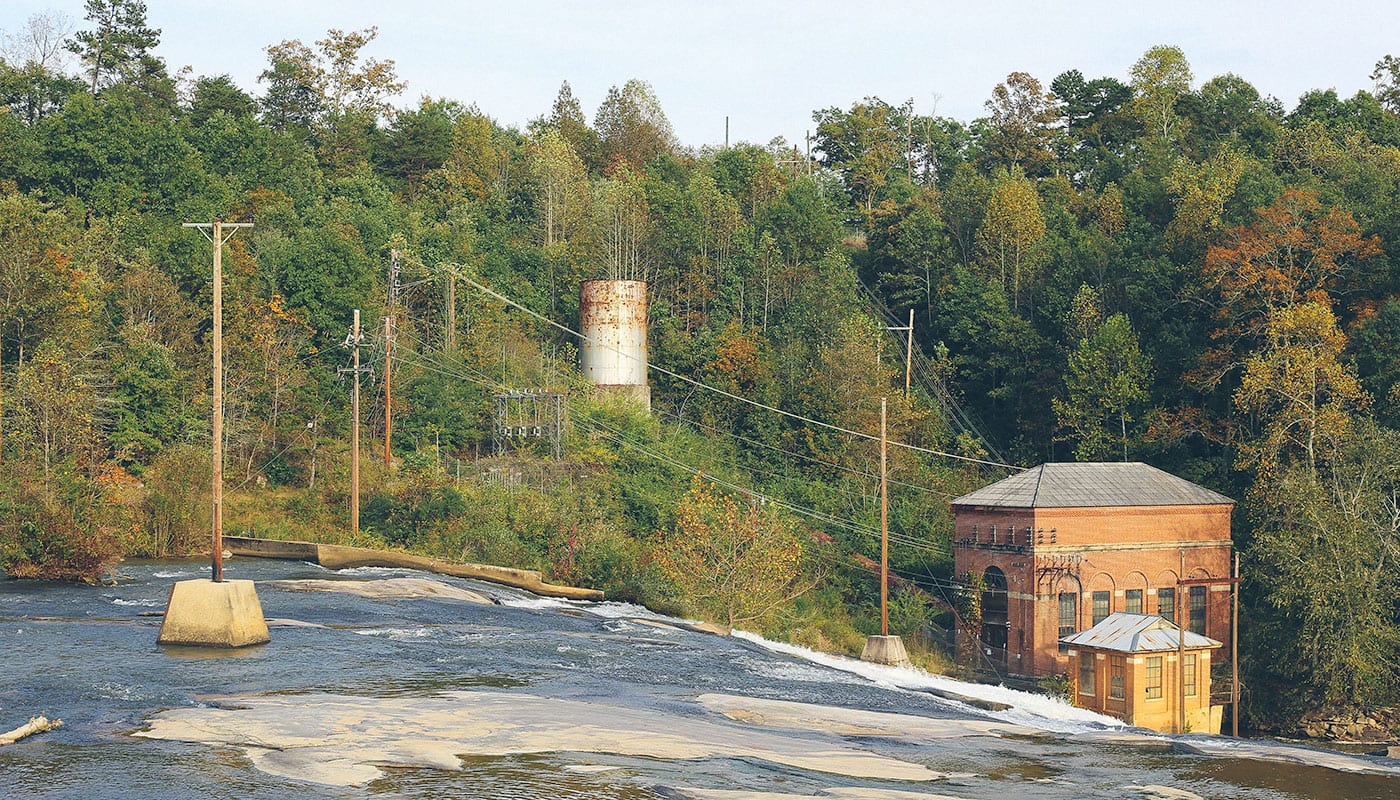 The rental units are set a few hundred yards away from the river and the historic warehouses that run along the Soque's banks. Along the river there are two large decks with chairs for lounging, a second community fire pit, a gas grill, and a huge screened in porch with candles, lights, picnic table and chairs. This was one of our favorite areas as it was perfect for our "romantic" first trip and warm and inviting for our second family trip.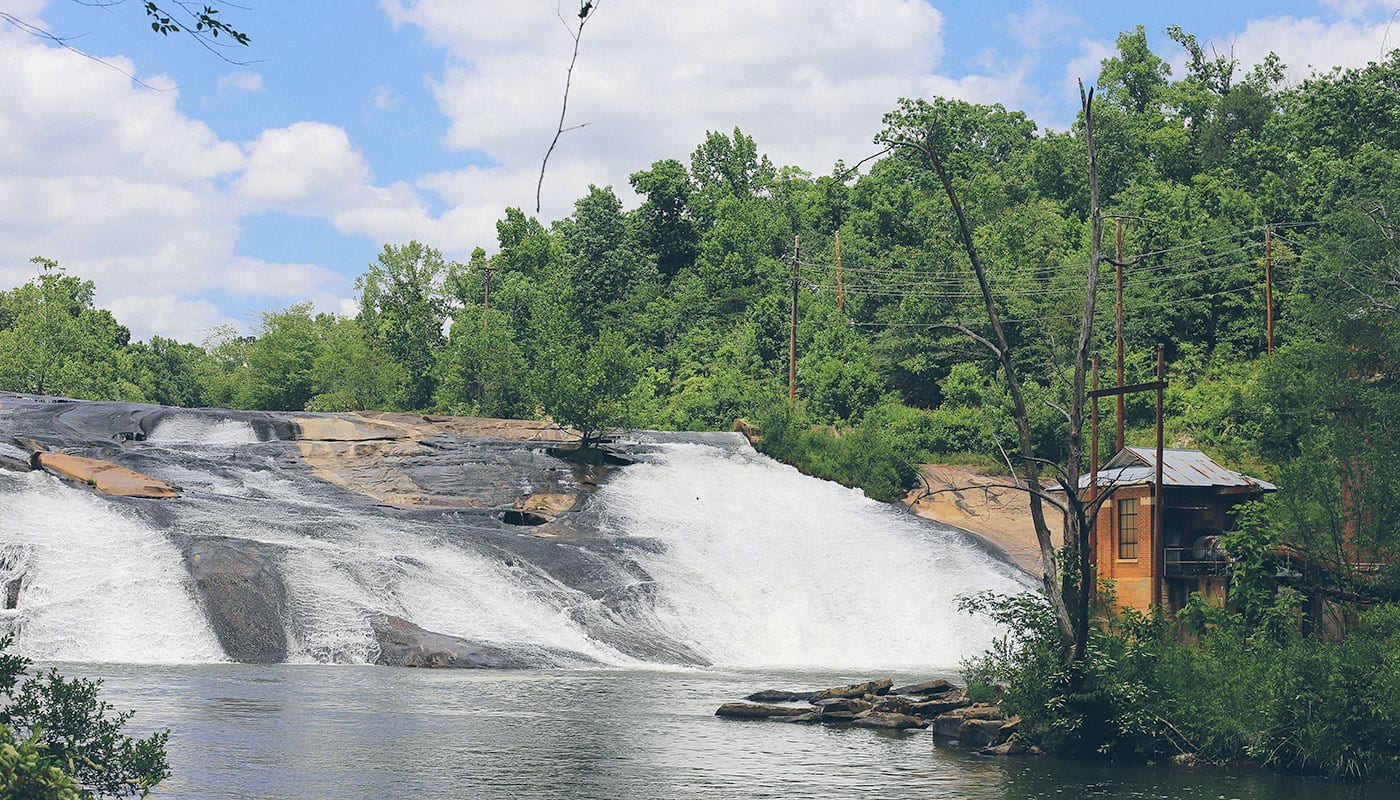 Overlooking the decks and screen porch, there is a small series of falls that run down into a pool. If you're looking for a little adventure (it's not that hard) you can go down to the bottom and climb up the rocks. Just stay away from the far side across the river as that is where the strongest falls are.
At the base of the falls is a swimming area. While the water is cold, it's manageable although I only imagine you'd want to jump in on a hot summer day. The groundskeeper can provide you with kayaks for a small rental fee which allow you to go from the base of the falls down the river about a mile to another little drop off. Or you can put in above the falls and go about a half mile up to another dam.
Habersham Mills is located in Demorest and about 5 miles outside of the small town of Clarksville. Clarksville is one of our favorite North Georgia towns. We could say the reason is the great antique shops in the downtown area but who are we kidding – it's the food and drink in town. We've eaten at just about every spot and hope to have some reviews of those places up soon. But for now, trust TripAdvisor or Yelp because all 5 or 6 spots are really good. There is an Ingles in Clarksville as well if you'd rather cook out on the grill or make breakfast in your room's kitchenette.
The rooms aren't cheap. But they aren't expensive either. This is the perfect getaway spot if you're coming from Atlanta or Athens. And an even better spot if you wanted to do a couples or family weekend and rent out multiple rooms.
The owners have some larger plans about developing the rest of the property in the coming years and the Airbnb units have only been around for about a year now. So our guess is that the secret is going to get out sooner or later about this place and the rates will go up or they will be constantly booked. So enjoy this place while you can.
Keep in mind this is private property and we strongly encourage you not to go exploring on it's premises unless you are booking a room through Airbnb and even then, we recommend asking the property manager before you go wandering around. You will be greeted when you arrive and they will give you the lay of the land and tell you where you can go. Our hosts were quiet gracious and answered all of our questions about the property and even gave us a mini-tour. Just be considerate of the property and understand that it's not public property.