Mountain Crossings . . . how do we begin to express our love for you . . . an oasis on the Appalachian Traill for hikers . . . an oasis for weekenders up from the city on their drive across the mountains . . . an oasis for those coming down Blood Mountain who got it handed to them when they realized how out of shape they were.
We'll admit it, we tend to be in the latter camp as we've only walked under it's roof on the trail on overnight hikes three times. We prefer the lazy Suches Loop Sunday drive and we're always glad to see Mountain Crossings at the top of our climb.
Mountain Crossings has a little bit of everything for almost everyone. It is primarily an outfitters for Appalachian Trail hikers. The trail literally goes directly through their building and each year thousands of hikers go through it's building on their way north to Maine. It is because of their selection, service, and hiker amenities like showers and a hostel, that they were named one of Outdoor Magazine's Top 100 Outfitters.
The Civilian Conservation Corps built it in the 1930s to serve as a dining hall and inn. In the early 1980s, after almost being torn down, it was reborn as Mountain Crossings – an outfitters, a gift store, a hostel, and a gathering place for visitors and locals alike.
It's primary objective is to equip hikers heading out on the Appalachian Trail. So it's a favorite of hikers who swing by Mountain Crossings to round out their final gear and supplies before heading down to Springer Mountain 30 miles away where the A.T. officially begins.
Neel Gap, where Mountain Crossings is located, is also the first major stop on the route up from Springer. After the first few days of hiking, it's the perfect spot to shed some weight, ditch anything extra that is not needed, and to mail supplies ahead of them up the trail.
This is where their knowledge and customer service comes into play as their staff is ready to help "recalibrate" the ambition of new hikers. They offer free consults where they will help get your gear situated, make recommendations on where you can get rid of extra weight, and give you tips to set your thru-hike up for success. While I have never sat down with their staff, I've watched them work with both beginners and pros alike and they put the same amount of time into their thoughtful suggestions for each.
Keep in mind, most of the staff use their trail names. It's tradition to use a nickname when out on the trail and since so many staff members are avid Appalachian Trail hikers themselves, they bring their names into the shop with them.
While their expertise and experience is on full display for hikers, the shop is equally welcoming of visitors up for the weekend from Atlanta. While half the store is dedicated to gear and supplies, the other half is an eclectic gift shop with books, t-shirts, jewelry, pottery, snacks and all the other stuff you'd expect to find at a North Georgia gift shop.
This is where Mountain Crossings becomes an oasis on a drive over the mountains. Whether you come by car, motorcycle, or bike, you can get out and stretch your legs and take in the view from their viewing deck.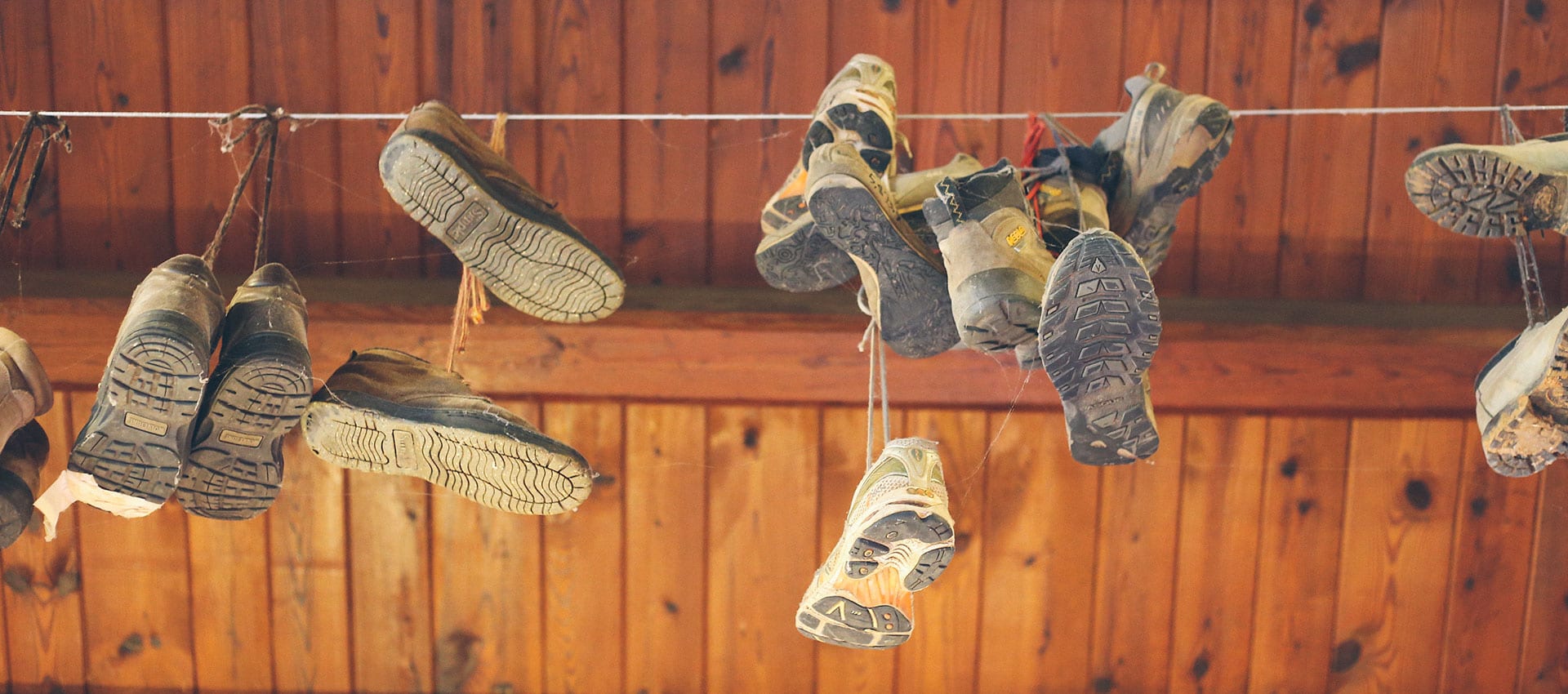 One of the things most people immediately notice when pulling into the parking lot – besides the motorcycles – is the boots that are hanging from the tree out front. It's tradition for those who finish the Appalachian Trail to hang their boots in the tree or to leave their pack hung inside on the wall. The shoes in the tree can be a little eery looking on foggy days or early mornings but it's such an interesting evolving thing that is part of their story at this point.
The guy who owned it for a while, Winton Porter, wrote a book that I highly recommend about his family's experience living and working there. It's called Just Passin' Thru and tells the story of some of the characters who have been a part of their hodge podge community over the years. There is a great article here about Winton and how the new ownership came about that is worth reading.
We highly recommend Mountain Crossings. Whether you are starting your A.T. hike, just going on a day hike, or out for a ride through the mountains, it's a nice spot for just about everyone.