I really hate it when people boast that they know where to find the best food.
"So and so has THE best BBQ!"
"They literally have THE best margarita I have ever had!"
"Their hamburger is THE best in Atlanta!"
Food is so subjective. And not always just the taste. Price, service, ambience, mood, group you go with, etcetera . . . they all play into our opinion of the overall experience before we even taste the food. So when someone tells me about the best thing they have ever had, I usually roll my eyes and figure the reason they think the margaritas were so good was because they had six of them.
Having said all of that, Nacoochee Village Tavern & Pizzeria is so damned good and is THE best pizza I have ever had (Sal's in Saint Simons is a close second if you're down South). If you are rolling your eyes right now I don't blame you. But let me tell you what I know.
I first stumbled into Village Tavern almost 8 years ago. I was overnight camping at Raven Cliff Falls and had eaten pretty poorly done camp food all weekend. So by the time I stumbled into Helen on Sunday, I was starving. I rolled into Village Tavern and ordered a whole pizza just for myself. I then proceeded to eat said pizza by myself in record time. Sure I was starving and a cheap frozen pizza would have tasted amazing to me in that moment. But since then, I have gone back to Village Tavern over 50 times. And guess what . . . the other 49 times were just as good as the first one. You also know how everyone has 2-3 friends who are pretentious food snobs? All my pretentious food snob friends think their pizza is the best they have had too.
What originally drew me to it was that the exterior wasn't done up in Helen's Alpine decor. While I love German-style decor on my pizza place as much as the next guy, Village Tavern stood out for not being more of the same so I was drawn in. It is located in the historic Nacoochee Village in the middle of some other really decent businesses so if you're killing time, make sure you check out the places right up the street for them as well as the Nora Mill General Store above them.
Inside it is nice and warm year round as the kitchen sits right on top of the bar. They have some of Atlanta's best craft brews represented on both tap and bottle, as well as domestics. They keep some sort of beer on special pretty much all the time and it's listed on the chalk board so make sure you look if beer is your thing. The wine list is pretty impressive featuring many wines within a 20-25 mile radius of the restaurant. They also have a popcorn maker inside and will keep a bowl of it in front of you as a complimentary snack whether you are eating or just drinking – which the kids will love.
Let's talk specials. They usually have three: a pizza, a pasta, and a hogie or panini. Again, take this with a grain of salt, but I highly recommend you try whatever their special is. The menu items are great but I rarely make it to them as I always end up doing one of the specials – typically the pizza but the pasta and hogies are great too. On this visit, I got a clam and cod pizza. Sound weird to you? It did to me too but I still got it and it was awesome! I am not even sure people in New England can do a clam and cod pizza right, so if you can do it well in the middle of North Georgia, I am pretty sure you can't screw up and are invincible when it comes to making pizza.
Some of the highlights on the non-pizza portion of the menu are the house made Garlic Bread with marinated peppers ($5), Caprese ($7), and The Mess ($7) – meatballs baked with ricotta and Bacio mozzarella. These meatballs are ridiculously good. Get them any time of the year, but make sure you try them in the winter after being outside in the cold for a while when they become little bowls of piping hot awesome.
The hoagies and paninis come in whole and half versions. Go with the half unless you are splitting it or want to take ton of food home with you. The Meatball, Cuban, and Roasted Chicken are solid and most of the breads are house made. My only complaint here is that the bread is so big that a couple of the menu item hoagies can end up being pretty bread heavy. The good news is the housemade bread is delicious and you can always pour some of their delicious house red sauce all over it.
Let's talk pizza. It's what I have been confidently boasting about. If you don't get the special, check out The Spicy Piglet, The Kicking Chicken, or The Tree Hugger. They are all just about perfect. You can also build your own by the slice or a whole pie with their exhaustive list of ingredients. What I love most about their pizza is the sauce and crust – which is the way good pizza should be. If you can't make a pizza taste good without a ton of toppings, then you're doing something wrong. The crust is thin but not so flimsy that it falls apart. It's a crust with some crunch and bite to it yet it's perfectly thin. The sauce is this really delicious blended house tomato sauce. Rich, smooth, sweet, and the perfect compliment to the crispy crust. Some of the pizzas come with a charred Roma sauce and it is equally as good and might even be my favorite.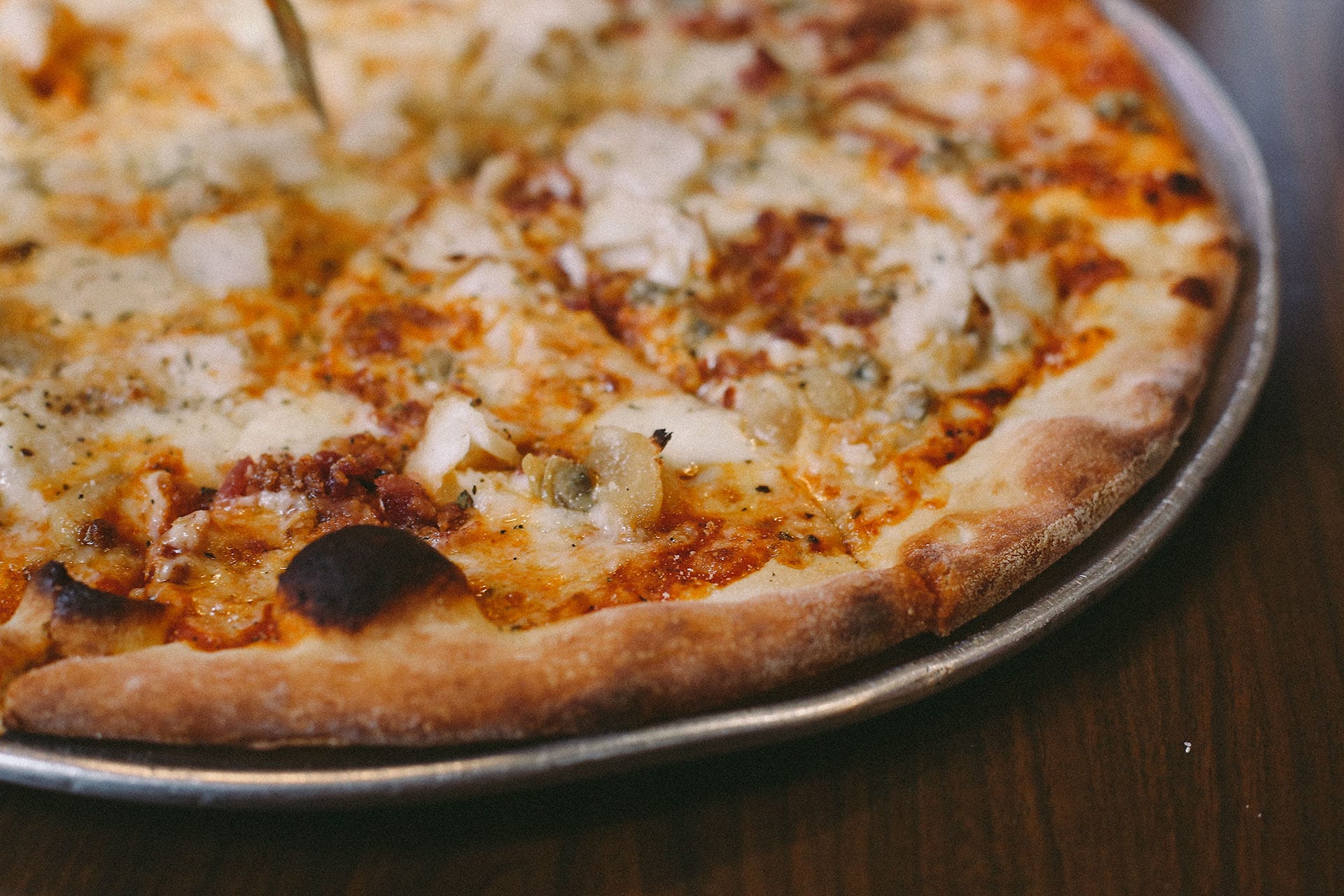 The service at Village Tavern is also solid. I literally recognize half the staff from the first time I came in back in 2009. The place is always packed, especially in the winter when the patio is too cold to sit on. But the servers are always all over it and humming around the place taking care of everyone. Even though it always looks busy, it doesn't ever feel busy. Everyone eats slowly and enjoys their time, yet there is never really a wait for a table unless you go in on the busiest weekends during the busiest dinner times.
I couldn't more highly recommend a pizza spot – and not just in North Georgia, but in the entire country. Between the good beer and wine, delicious appetizers, spot on pizza, and friendly staff, they are doing it and doing it right at Village Tavern in North Georgia.