Rory is a Wander North Georgia Campus Rep at University of Georgia. All words and photos are hers. Campus Rep positions are offered seasonally. 
Nestled into the square in downtown Dahlonega rests a charming lunch spot called The Picnic Cafe, but known to locals simply as "The Dessertery" or "Picnic". Local, cozy, and all things delicious, it is a quintessential North Georgia cafe with lunch or evening desserts a staple for anyone who grew up around Dahlonega. Their slogan is "Where food is cherished and people are treasured" and I'm not sure I could pick a better tagline for my experience with the cafe if I tried. Recognized by Southern Living as a place to visit in Dahlonega, it is home to locals, college students, and North Georgia visitors.
Eleven years ago, when we first moved to Atlanta, Dahlonega became a retreat for my nature-loving mother and me. We had some family friends, a retired couple named Edie and Frank, that took us to their horse barn on the weekends in this mountain town. Edie quickly became the closest I had to a grandmother in Georgi. She taught me how to knit, garden, and ride a horse. She would take her actual granddaughter and me to lunch at The Dessertery after morning rides. We had a special spot in the window seats up front, and I would order, every time without fail, the Wild Rice and Mushroom Stew in a bread bowl.
When my mother moved permanently to Dahlonega, we let the tradition continue. Post-horseback riding meals were always that wild rice stew, in the window table, at The Dessertery. Sometimes on warm spring days we'd bring the dog, grab some food to go, and take it to a nearby park. Now my mother works at a horse ranch outside of town late into the evening. so when I come home from college for the weekend, I order my wild rice stew, and her favorite, the Brunswick stew, and bring it to her at the barn as we eat and catch up while she keeps an eye on the horses.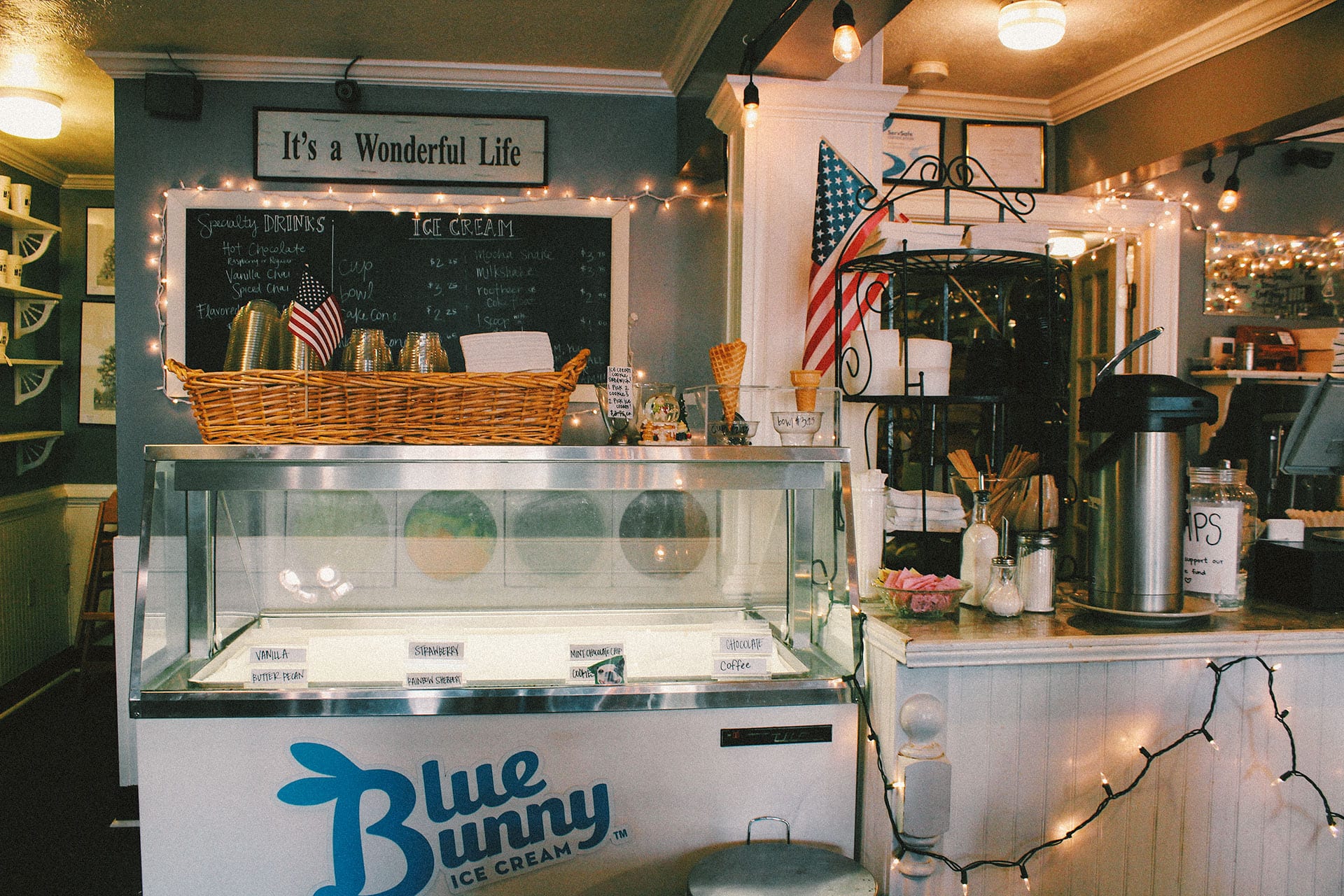 The Dessertery is about as local Dahlonega as it gets. It is owned by Sam and Julia Norton (Sam is the current Dahlonega mayor) and opened in 2001 with local college students as the servers. The cafe sits directly across from the famous gold museum on the historic downtown square. Tea cups for sale line shelves on the walls and glass display cases are filled with tempting baked goods made fresh daily.
I highly recommend splurging on a slice of their cake of the day which are consistently some of the best treats in downtown Dahlonega. The cafe has a warm and homey atmosphere, a mix of comforting southern and old-timey vibes, much like Dahlonega itself. Dahlonega truly has a charm like no other North Georgia town. Situated in the middle of the North Georgia mountains, options for waterfalls and trails to explore are limitless. I grew up learning to hike, mountain bike, and camp in this little slice of Appalachia. The city frequently has arts and cultural fairs and markets making it a great weekend getaway. My favorite is the annual Christmas parade which I used to ride my horse Pebbles in.
The Dessertery is an integral aspect of Dahlonega to me, a key part of my trips home that now make me feel more relaxed and stress free. I will always love this little town as my escape. In high school I'd come to my mom's mountain cabin for a respite from the overwhelming feeling of metro-Atlanta traffic and commotion. Now I escape when schoolwork and college life in Athens become too much. The quiet and calm of drinking coffee in a rocking chair on my mom's porch, going on a horseback ride through the tranquil woods, and then bringing our favorite soups from our favorite lunch spot to my mother, is therapeutic in deep and meaningful ways. Dahlonega – the Dessertery, the mountains, my mother – all of it together will forever hold a huge part of my heart and be what I think of when I think of home.
Our family friend Edie passed away from breast cancer about 5 years ago, and ever since, going to The Dessertery has also been a way to reconnect with her. It was our girls' spot. Those seats became the place where she and later my mother inspired me to be the strong person I am today. I know it seems silly so hold such a connection to a cafe but to me it is a constant in my churning life. I hope and look forward to a day in the future when I can bring my daughter there as well and keep our tradition alive. It'll be even better if she likes wild rice and mushroom stew as much as I do!