Wander North Georgia is a family run small business with a values driven mission. We are committed to helping support local makers, businesses, artisans, and anyone who shares our love of outdoor spaces and the unitive power they provide.
ABOUT THE "WANDER WITH" PARTNERSHIP PROGRAM
The "Wander With," partnership program is a new community initiative by Wander North Georgia in collaboration with our friends at Outdoor Journal Tour. In an effort to decrease the racial and cultural inequities present for the BIPOC outdoor community, WNG has created a grant program for those doing the good work to diversify outdoor spaces. The $3,500 grant is open to BIPOC owned/operated organizations with an outdoor focus and majority BIPOC constituency. The grant is being funded by Wander North Georgia and Outdoor Journal Tour.
More than just a grant however, WNG is seeking a community partner with whom they can develop a significant working relationship. WNG is both willing and interested in facilitating in-person touch points, joint events, in-kind sponsorships and other partnership activities with the grantee.
MEET OUR FIRST 2022 GRANT RECIPIENT
100% of the Wander With grants go directly to these recipients, helping them expand their vision and mission of increasing diversity and making the outdoor community a more welcoming space for all.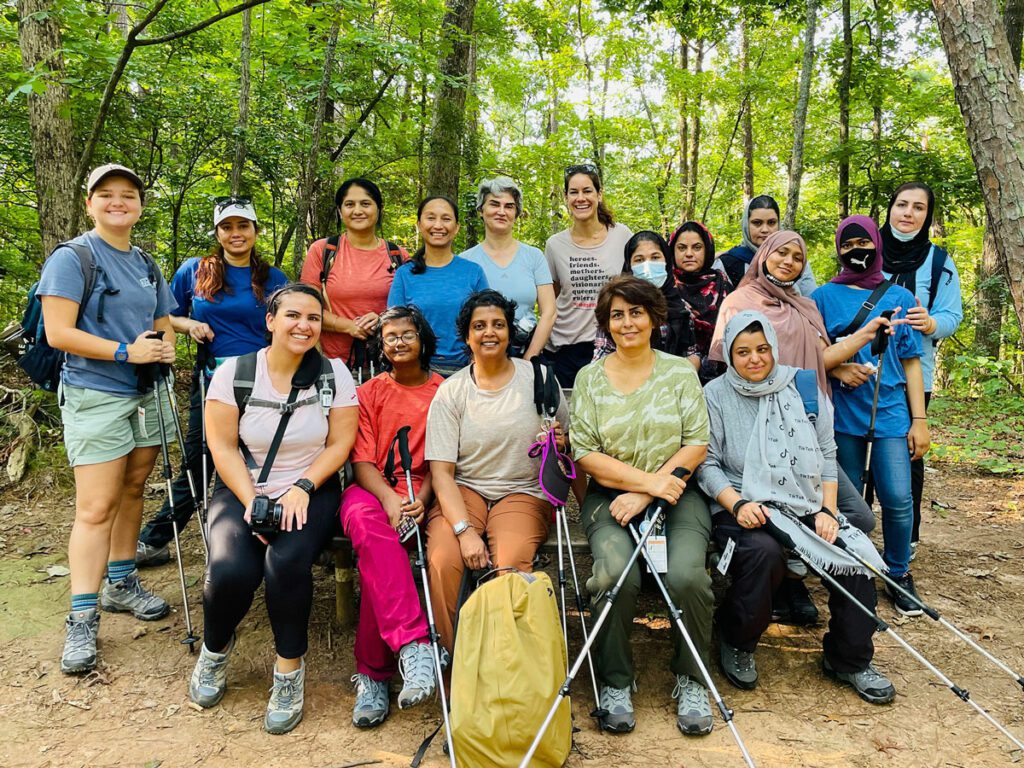 REFUGEE WOMEN'S NETWORK HIKING GROUP
Refugee Women's Network inspires and equips refugee and immigrant women to become leaders in their homes, businesses, and communities. RWN is serving refugees resettled in the state of Georgia. 
RWN's spectrum of services meets women where they are; whether they've been in the US for three months or three years. Whether they need help enrolling their children in school or they're preparing to open their own business, we help women on their journey to become independent and self-sufficient.
The Refugee Women's Network launched a Women's Hiking Group in March of 2021 to facilitate healthy activity, community integration and inclusion, and environmental stewardship for a group of women survivors of war, conflict and displacement.
The Hiking Program promotes equity and inclusion by reducing barriers to participation in healthy, outdoor activities for a diverse community that is traditionally underrepresented in the outdoor experience. Through this community-based program, participants build confidence, develop a sense of belonging, and establish positive relationships with peers and community members within the natural spaces of their new Georgia home.
RWN coordinates monthly hikes that begin with walks in local parks and gradually build the strength and stamina to climb mountains. The program aims to uplift non-traditional voices by including experts from diverse backgrounds to demonstrate the different ways that immigrants, POC and women are actively engaging with Georgia's environment. Outdoor leaders educate our hikers on trail safety, environmental education, physical fitness, conservation, indigenous and local history, and wellness.
Refugees and immigrants are not thought of as a typical audience for outdoor activities but stand to benefit immensely from the physical and therapeutic benefits of engaging with nature. By decreasing barriers to accessing the outdoors, this program builds a platform for non-traditional audiences to be welcomed outdoors, increasing their physical and mental health in an active, communal way.
Open to all BIPOC owned/operated, outdoor focused organizations in the state of Georgia. 501(c3) status is encouraged but not required.
Eligible applicants must:
Have an outdoor focused mission/program structure. Meaning 50-75% of all programing must be allocated to outdoor activity, conservation, stewardship, exposure, education or other adjacent categories.
Be BIPOC owned/operated. 51% of the owners of the organization must identify as Black, Indigenous or a person of color.
Serve a predominately BIPOC demographic. The intention of this grant is to provide economic support to organizations that have a primary constituency of people who identify as BIPOC. The goal is to support diversity, equity and inclusion in outdoor spaces.
Be able to demonstrate an immediate need for funds in the support a specific program or activity. For example: Gear for a BIPOC campout, program materials for a retreat, support for an outdoor outreach program etc.
Be willing to commit to a 6-month engagement with Wander North Georgia. Organizations must be willing to form a partnership with WNG designed to enhance both organization's mission. The details of said engagement can be determined after grant award by both parties.
Should have a total operating budget of $100k or less. This grant is designed to help boost the program and outreach efforts of organizations that may not be eligible for traditional funding. Because of that, we want to be sure that we are supporting organizations with the greatest need.
Agree to submit a mid-term and final grant report.
There will be 2 grant periods every year. Organizations will only be eligible for one grant period per calendar year.
Timeline: The application period for Grand Period 1 is now closed. Applications for Grant Period 2 will reopen in September 2022.
MEET OUR 2021 GRANT RECIPIENTS
100% of the Wander With grants went to these recipients, helping them expand their vision and mission of increasing diversity and making the outdoor community a more welcoming space for all.
Ch8sing Waterfalls, organized and led by Deborah McGlawn, were chosen by our ownership team as the first of our two yearly grant recipients.
Deborah has been leading hikes for years and her plan is to build a gear library and provide free transportation and meals for her community meetups with the grant funds. Deborah's passion is to increase diversity and access to the outdoors and she has been doing so for years by celebrating the common ground we all stand on. She named her group Ch8sing Waterfalls as she wants all of us "to embrace the chase as we continue to evolve and share and shine."
We've had the privilege of meeting her and her group a couple of times along with a ton of messages and phone calls back and forth the last few weeks. And we are so excited to be able to play the tiniest of roles in helping her expand on her vision. She's an amazing person who is never not smiling or being positive. 
Makers' Haus is a small business collective run by four awesome women out of Atlanta. They are creating a small business marketplace that will be part tea room, garden, bar, and creative agency for black and brown creatives while simultaneously hosting their first annual BIPOC campout that will include workshops on birding, outdoor photography, meditation, and outdoor education.
We got a lot of great applications for this round of funding but Adriana, Michela, Kiana, and Kaitlyn got us excited with their vision for a physical and digital space that combines everything we love about small business and the outdoors. Adriana is a co-founder of @latinxhikers and has been coordinating hiking events for 3+ years. Michela runs @blacktooearth which focuses on connecting black environmental organizations to volunteers. Kiana is a certified herbalists and bartender specializing in natural and herbal cocktails. And Kaitlyn is the founder of @roseritualapothecary which focuses on herbal healing and integrative wellness.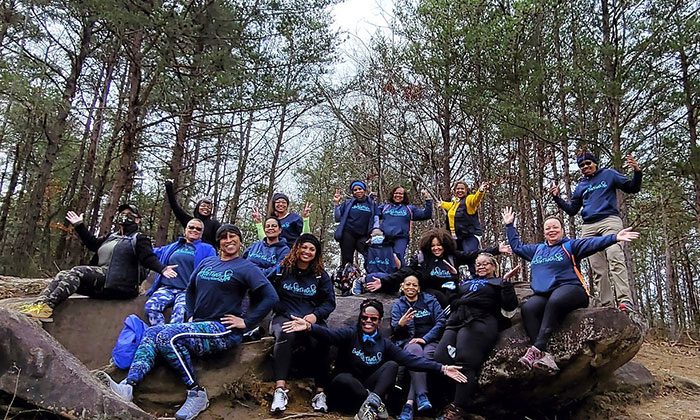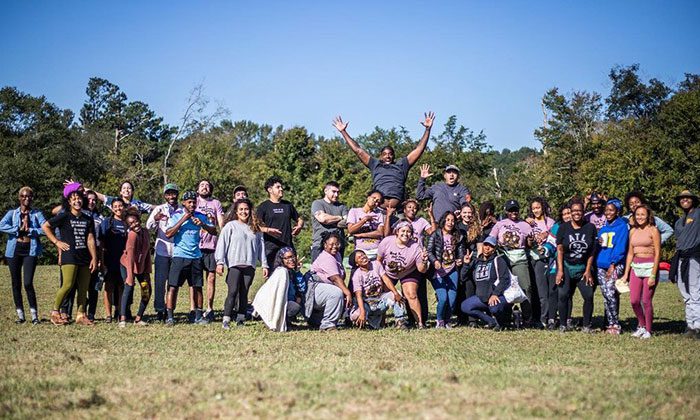 MEET THE OUTDOOR JOURNAL TOUR TEAM
The Outdoor Journal Tour was created by Kenya and Michelle as a community based platform for women to facilitate personal growth and alignment. We use a beautiful combination of physical activity, guided journaling and meditation to help women create this balance. ODJT provides a sacred space for women to reconnect with themselves and with nature. Our tours challenge women to think outside of the box, and make their self-care a priority. ODJT is for the woman who wants to explore herself and the woman who won't back down from the challenge of creating herself vs. finding herself. We have combined 3 of the most effective emotional management tools (physical exercise, journaling and meditation) in one custom experience that is sure to provide both clarity and connection for participants.