Announcing Our 2nd Location
We are excited to announce we are opening our second location in partnership with our friends at Tallulah Adventures! The location will be in the old Georgia Power welcome center in Tallulah Falls. The location is adjacent to Tallulah Gorge State Park and straddles Habersham and Rabun counties. The location will include our second retail location, a cafe, a covered pavilion for events, an outdoor adventure zone for families, and a ton more. 
To be honest, we never really thought we'd do a second location. For a lot of reasons. We didn't want to drive across Georgia on a weekly basis. Or try to manage things remotely. Or to step on what any other small business outdoor stores are doing in other North Georgia cities. But when we got approached by the Tallulah crew, something just felt different. Conversations felt natural. The energy was good. The vision was right up our alley. And most importantly, it is a location in the heart of the community where we already work and live.
The nearby Tallulah Gorge State Park was the first place in Georgia we ever hiked and one of the first places we ever camped. It's where we took our kids on their first day hikes and where they learned to make their first fires and burn their first marshmallows. And as the town is made up of Habersham and Rabun County, the location is in our own backyard where we already live, work, and play.
On top of the physical space, the location includes some pretty great folks. Tallulah Adventures is made up of Bill and Carlita Turk and their daughter Spencer along with Kyle Jerome. Tallulah Adventures have purchased and are renovating the old Georgia Power property bordering Tallulah Gorge State Park. The Turks are long time residents of Habersham County where they have run their own small business for nearly 25 years. At Wander, we've always prided ourselves on being a family run business where our kids are involved and help around the shop. So to meet another family with roots in the area, a passion for community, a family run business model, and a love of the North Georgia outdoors, has us energized to realize this vision.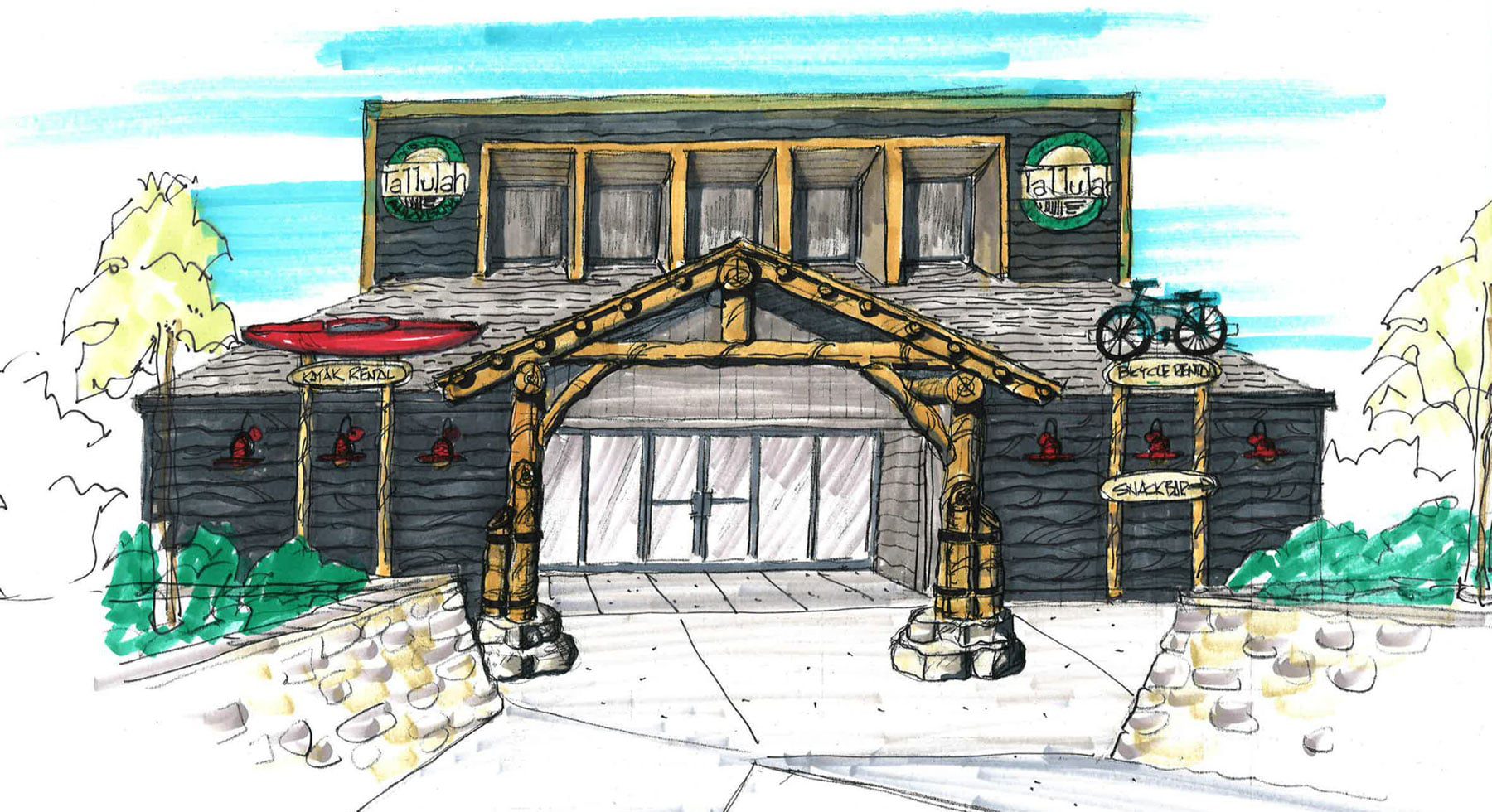 Tallulah Adventures was born out of an idea to repurpose the old Welcome Center building off Hwy 441 in Tallulah Falls as an adventure hub and event space for visitors and locals to enjoy. Once touted as a premiere vacation destination in the 19th century, Tallulah Falls and the surrounding area hold supreme beauty and offer an ample amount of outdoor adventure and recreational opportunities for those looking to explore.
As Tallulah Adventures and Wander North Georgia share a collective passion for outdoor recreation and feel a strong sense of gratitude towards nature and the importance of spending time outside. Being in nature makes us realize we are connected to the natural world and we're not separate from it. When we see ourselves as part of nature, it also helps connect us to everyone else, making it clear that despite our differences, nature and our natural resources are the common threads that sustain us as humans. It is our ultimate goal to provide access to unique outdoor experiences and to encourage people to broaden their horizons, try new things, and explore their edge of adventure.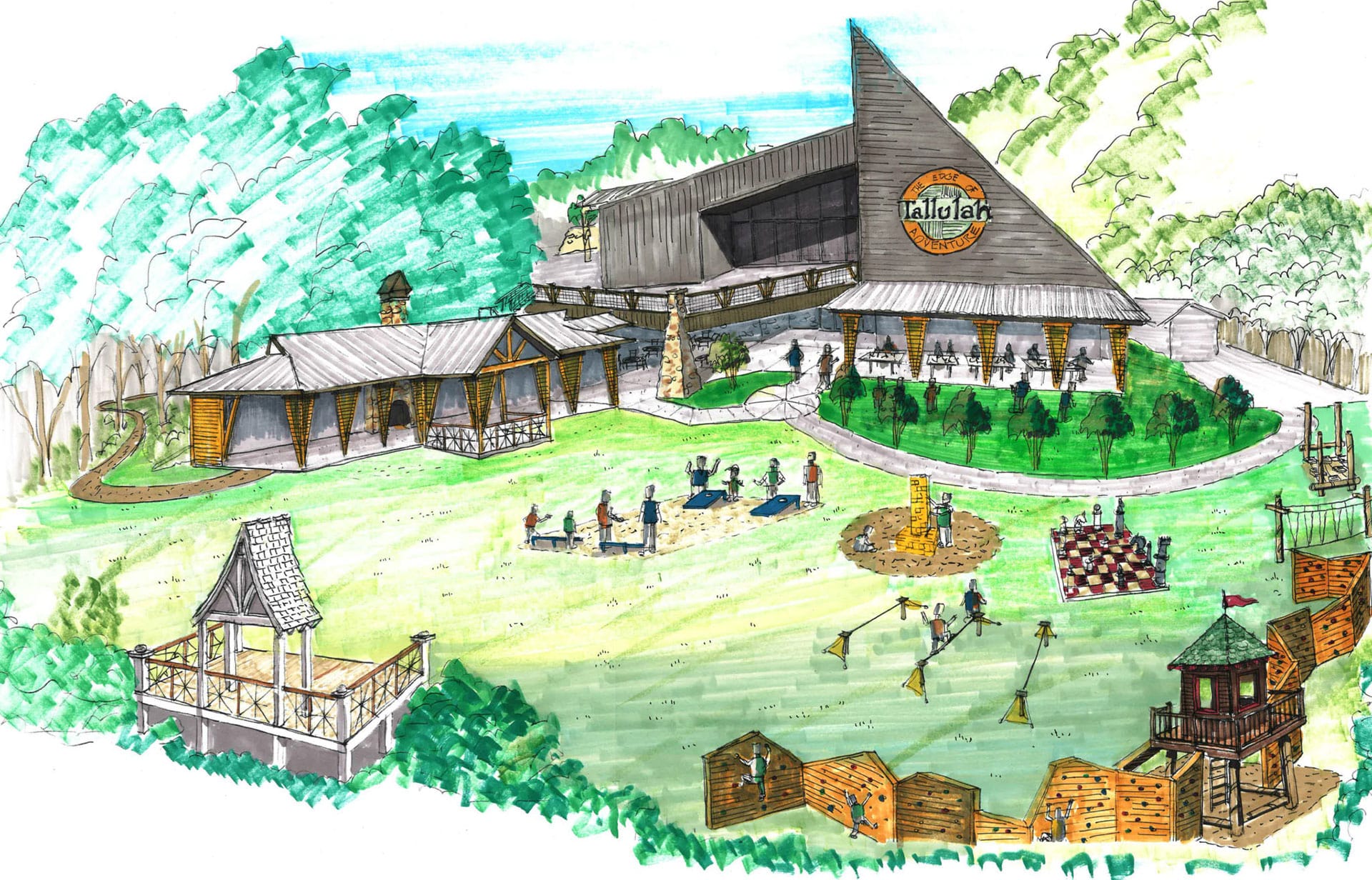 The most exciting part of this whole project will be the ecosystem of small businesses and services that will work together to create an amazing experience for locals and visitors alike. Beyond our retail store, Tallulah Adventures will operate a cafe for local food, an adventure zone for individuals and families, a climbing wall, a covered pavilion for events, a stage for music, guide and adventure services and so much more.
This location will invite people to choose from a variety of activities ranging from outdoor recreation to art & music. For some this might be learning how to rock climb or slackline, kayaking or stand-up paddle boarding, going on a white water rafting trip for the first or hundredth time. While others may find adventure in learning about the local history of the area, going on a nature hike to learn about the native species, or even taking a painting class while snacking on something from the cafe.
While we love our shop, our goal has always been to create a platform that helps connect good people to other good people while encouraging everyone to get outside and experience all that nature provides. This new location will allow us to truly create a space that gives everyone that opportunity.
The location will be located in the old Georgia Power building next to Tallulah Gorge State Park. The store will be adjacent and accessible to the extensive trail system within the State Park including the popular suspension bridge, Tallulah Lake, and the Shortline Trail. 
Monday
10:00 AM - 5:00 PM
Thursday
10:00 AM - 5:00 PM
Friday
10:00 AM - 6:00 PM
Saturday
10:00 AM - 6:00 PM
Sunday
11:00 AM - 5:00 PM
Stay tuned for more information soon.